Lapland's natural product industry has grown, and top expertise has been significantly developed over the past few years, but there is still lots of unutilised potential in the industry. Natural product companies are supported by the Lapland brand, which conveys, e.g. the purity and safety of the natural products.
Latte made of spruce sprouts and shots made of garden angelica. Arctic Warriors is a Lappish natural product company, which was established in 2014. The company produces superfood products using Northern nutrient-rich plants and sells raw ingredients to other manufacturers and operators.
The company's facilities are located in the village of Narkaus in Rovaniemi. At the premises, for example, plants are processed, and products are bottled and packed.
– We have been a leading company in the industry, praises Managing Director Ilkka Kauppinen.
Arctic Warriors uses wild herbs and plants in its products, which are not appropriately utilised for commercial purposes. Nutrient-rich and pure Arctic plants have been forgotten in the Lappish nature, but the company has wanted to make people aware of them again, or for the first time, with its products.
The wild herbs and plants used in the company's products include e.g. garden angelica, roseroot, nettle and spruce sprouts. In addition to the less well-known plants, Arctic Warrior utilises berries, such as blueberries and lingonberries.
Wellness from Lappish plants
All the plants that are used originate from the Finnish Lapland. According to studies, Lapland's harsh and varied circumstances, such as the summertime nightless night and the cold and dark winters, make the plants more durable than those that have grown in the south. The herbs gathered by Arctic Warriors are registered as organic.
For example, the nettle is one of the most nutrient-rich plants: it is rich in vitamin A and K1, and when freeze-dried, it contains a lot of iron too.
– We strongly believe in these raw ingredients. All trends also indicate that people are interested in purity, which is linked with safety, health, well-being and genuine flavours, says Sales and Marketing Manager Tuija Kauppinen.
The person behind the company's idea is Product Manager Katja Misikangas; plants and herbs have been used for a long time in her family. The traditional knowledge from the family's healer has been carried on over generations. Modern researched information supports traditional knowledge, such as that spruce sprouts are health food due to their high vitamin C content.
In addition to its own products, Arctic Warriors also sells processed ingredients onwards to other operators, such as restaurants and manufacturers. In particular, spruce sprouts, nettles and berry powder are sold onwards. The sale of ingredients was not started until about a year ago, and it is also highly demanded abroad. The sale of ingredients has increased to form a fifth of the entire company's turnover.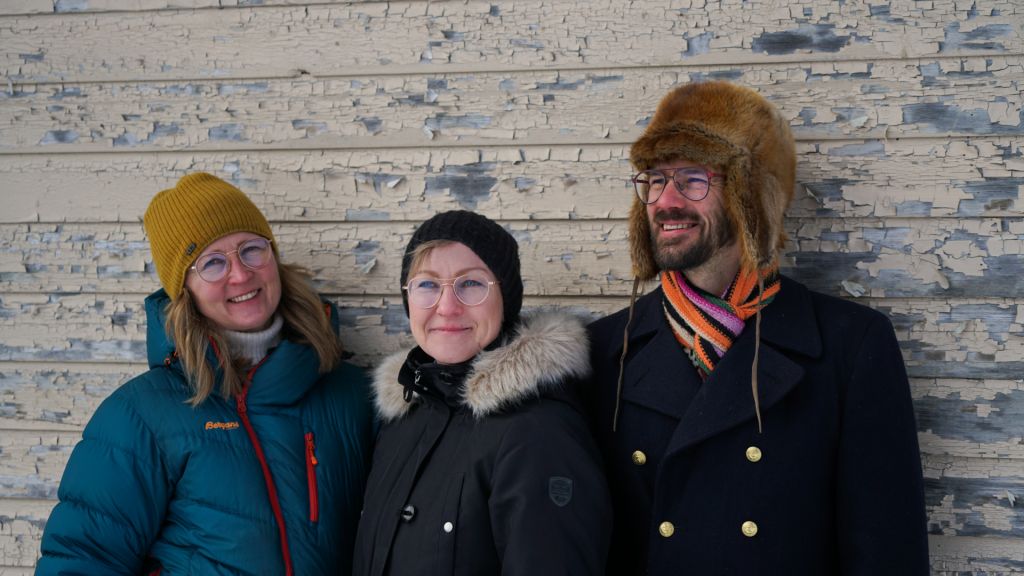 Arctic Warriors Managing Director Ilkka Kauppinen (right), Product Manager Katja Misikangas, Sales and Marketing Manager Tuija Kauppinen (left)
The Lapland brand supports the potential of the natural product industry
The natural product industry in Lapland has developed over the years. For a long time, the industry has been considered to be "lifestyle entrepreneurship". Arctic Warriors have been involved in progressing the natural product industry's development in an even more professional direction. In Lapland, we are sitting on a treasure chest, says Tuija Kauppinen as she describes the northern natural resources.
– We have a strong belief that this industry has only just taken its first steps.
A lot of work has been done in the Lappish tourism industry to ensure that Lapland is recognised as a holiday destination. Ilkka and Tuija Kauppinen consider that tourism's strong branding will also help other sectors succeed and be recognised.
– When it is known that Lapland is an exotic, clean and safe place, it is also beneficial to us, states Tuija Kauppinen.
One of the company's missions has been to increase the awareness of Lapland's plants. For example, spruce sprouts are nowadays used in entirely new ways. It is used to produce chewing gum, chocolate, hot chocolate and kombucha.
– We find it significantly better to do something totally new and add an edge of our own to it, says Ilkka Kauppinen.
– Why bring maca from abroad when our own plants can be adored? Says Tuija Kauppinen poetically and continues, – Even the maca powder imported from Southern America was not well known among Finns until it was commercialised and began to be imported to Finland.
Top skills and expertise in the natural product industry are also indicated by the company's operating methods to gather, preserve, and process spruce sprouts. Challenges for gathering are brought on by, for example, the extremely short gathering time and their sensitivity to go off after being gathered. Still, Arctic Warriors has developed solutions for the problems.
– A lot of work has been done to ensure that we can gather thousands of kilograms of spruce sprouts, Tuija Kauppinen explains.
During the preservation process of spruce sprouts, the raw ingredient is freeze-dried so that it and its nutrients are preserved for a long time.
The company ensures its operations' responsibility by being transparent: Arctic Warriors bold communications campaign "Kusetamme reilusti [Fair hogwash]", which delves into the business operating methods, has received positive feedback. Simultaneously, Arctic Warriors wants to favour continuous development – there is always room to improve.
A growing company with an excellent forecast
Arctic Warriors has vigorously developed its operations, and in the future, it has many growth opportunities, which are supported by various factors.
– Despite coronavirus, our sales have grown. The company has good growth elements, such as the sale of ingredients, private labelling, the opening of Amazon and the rapid growth of its own online store. Many things can be scaled to a larger scale, says Ilkka Kauppinen.
The sales on Arctic Warriors' online store increased by 300 per cent during the last year.
According to Ilkka and Tuija Kauppinen, and Katja Misikangas, Lapland is an excellent business environment for many reasons. They particularly praise how many entities provide support if necessary and at a low threshold, such as local business advisors, the ELY Centre and the Lapin Yrittäjät entrepreneurship association.
– There is a local joke according to which, if you whisper "a growing international company" in the ELY Centre's hallway, five different doors will open. Lapland is a very good place for entrepreneurship. It is entirely different to, for example, Helsinki, where you are one among thousands of others, describes Ilkka Kauppinen as he explains how easy it is to stand out in Lapland.
Misikangas also points out that establishing a business in Lapland also has good financial benefits, such as lower property and salary costs.
In general, the northern business environment has "a good attitude". Networking is quick for those who have arrived from elsewhere and set up a business, and at least an acquaintance-level relationship is formed with other local operators. Cooperation is used to created new types of operating methods.
Published 3/2021
Arctic Warriors was sold in the autumn of 2021 as part of the Finnish food company, Nokkos Company. The company produces nettle kombucha which main raw material, nettle, comes from Lapland. Nokkos Company had received financing for business growth which made the successful acquisition possible. The acquisition will give small farmers and wild herb collectors in Lapland even more work and livelihood.
"Arctic Warriors is our familiar partner and it's great to have them under one roof. Their intergenerational knowledge and experience of herbs as well as unique industry expertise bring a truly tremendous addition to our team," says Lari Laurikkala, brewery master and co-founder of Nokkos Company, in the company's press release.