Inari
The municipality of Inari is home to a cluster of fells that are especially suitable for audiovisual productions thanks to their easy accessibility. On a relatively small area of land, you can find four fells – Kaunispää, Urupää, Palopää and Kuusipää – as well as the Finnish national road 4, all the way from the capital Helsinki in Southern Finland. The fell cluster offers foresty landscapes, as well as areas with a more tundra-like look to them. It is also a great place to capture a wilderness road – the view of the national road is quite impressive, and the old, unpaved Magneettimäki has been declared a built cultural heritage site of national significance by the Finnish Heritage Agency.
Kaunispää is the fell with the easiest access. A road leads all the way up to its top, where you can also find a café and a cozy souvenir shop. Thanks to their close location to the national road, the other fells are also easy to conquer, while offering a bit more peace and wilder landscapes.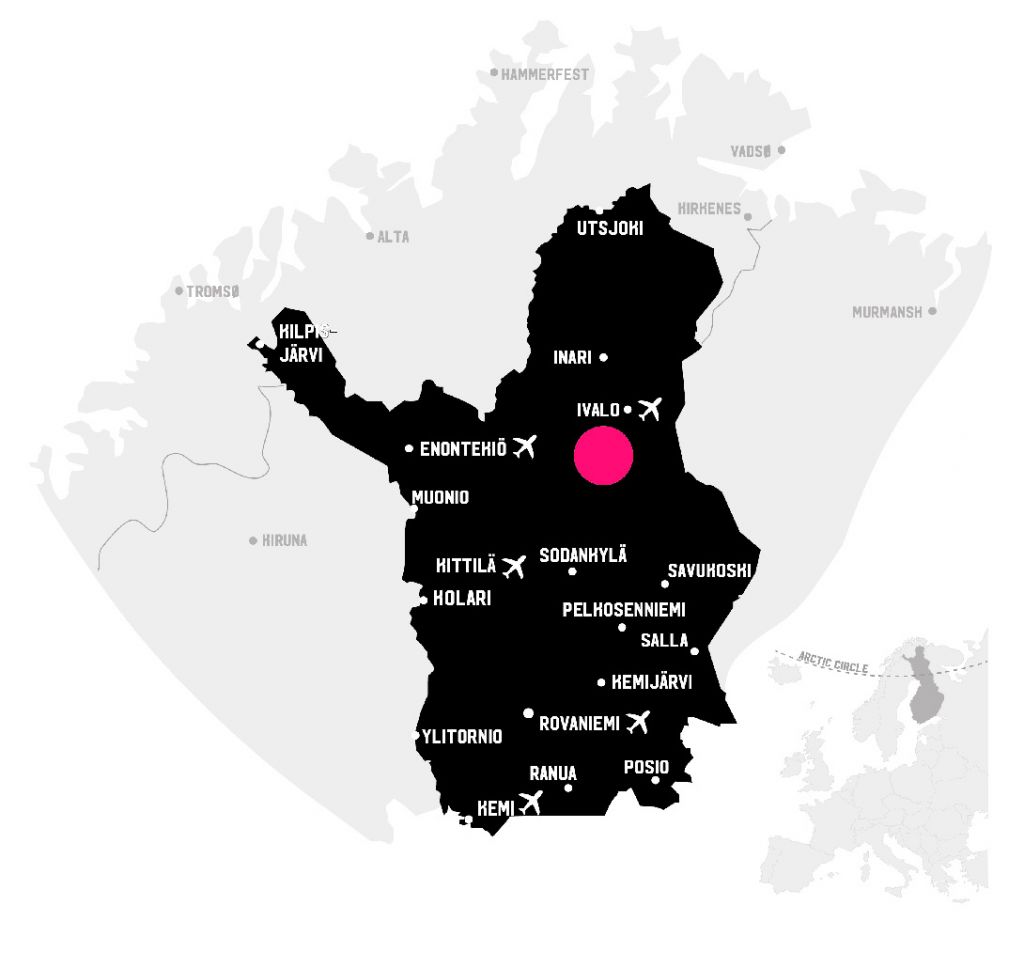 Accommodation
There is a good selection of accommodation available across the municipality of Inari. The fells of Kaunispää, Urupää, Palopää and Kuusipää are located near the the popular Saariselkä travel area (5 min by car), which features hotels, cabins and holiday villages.
The accommodation capacity of the Saariselkä travel area is 6400 beds, while the number for the rest of Inari is 2900.
Restaurants & Catering
As with accommodation, there is a wide range of restaurant options to choose from in Inari and the Saariselkä travel area, from fast food eateries and cafés to high-end culinary experiences. Some local businesses also offer catering services.
Other Services
Some additional local services that may be useful when filming in the fell wilderness of Inari include:
Guide services
Transportation services
Snowmobile and ATV rentals
Snowshoe and other snow equipment rentals
But this is just to name a few. For more information on the services available in the area, visit the Inari-Saariselkä travel site.
Lapland is the most connected wilderness in the Arctic. Thanks to its five airports, vast and well-maintained road network and efficient public transportation, getting around is effortless throughout the year.
By Plane
The Ivalo International Airport (20 min by car from Kaunispää) offers a daily connection to Helsinki year-round, and there are direct connections to some European cities during the winter season. The second-nearest airport is in Kittilä (2 h 45 min).
By Train
The nearest railway stations are in Rovaniemi and Kemijärvi (both 4 h by car). For timetables and tickets for trains, visit VR.
By Bus
You can travel to Inari by bus. For example, there is a direct bus line from Rovaniemi to Inari, which operates multiple times a day. For timetables and tickets for buses, visit Matkahuolto.
By Car
As all of Lapland, Inari and its fells are easy to reach by car. There are multiple options for car rentals across the region.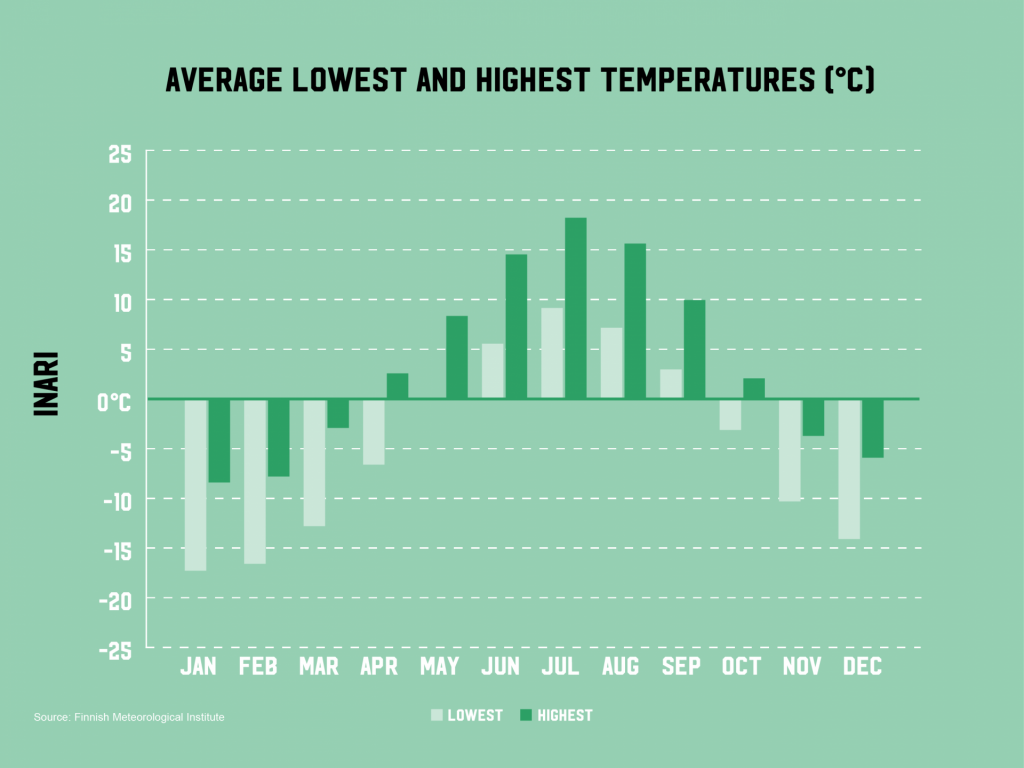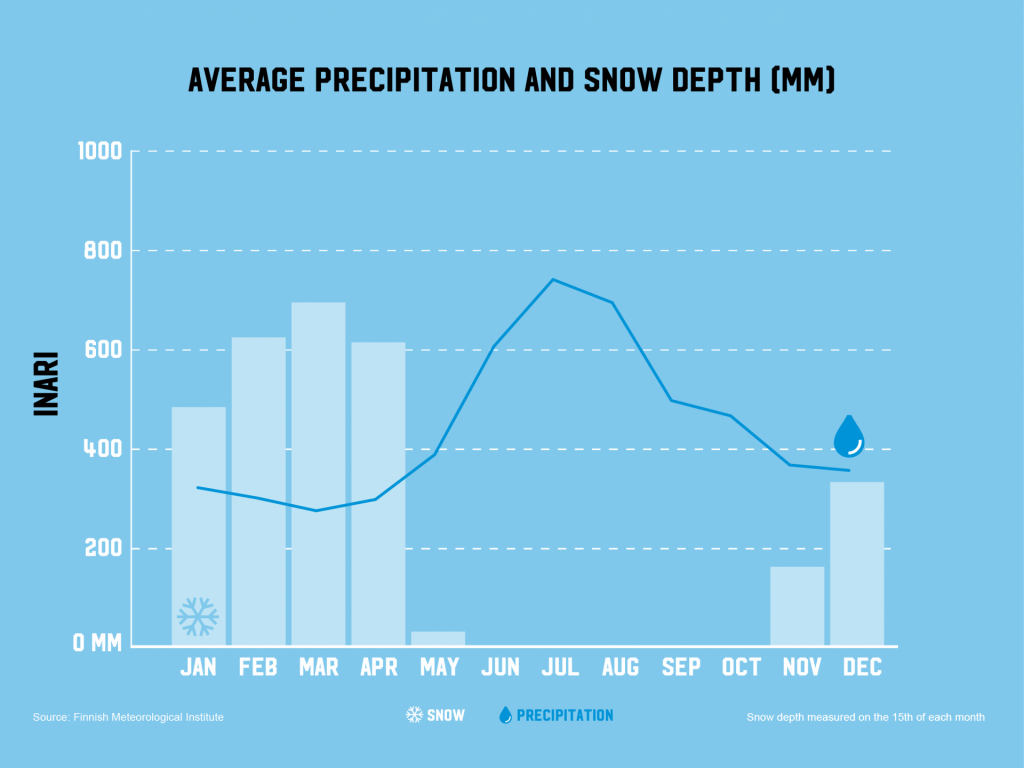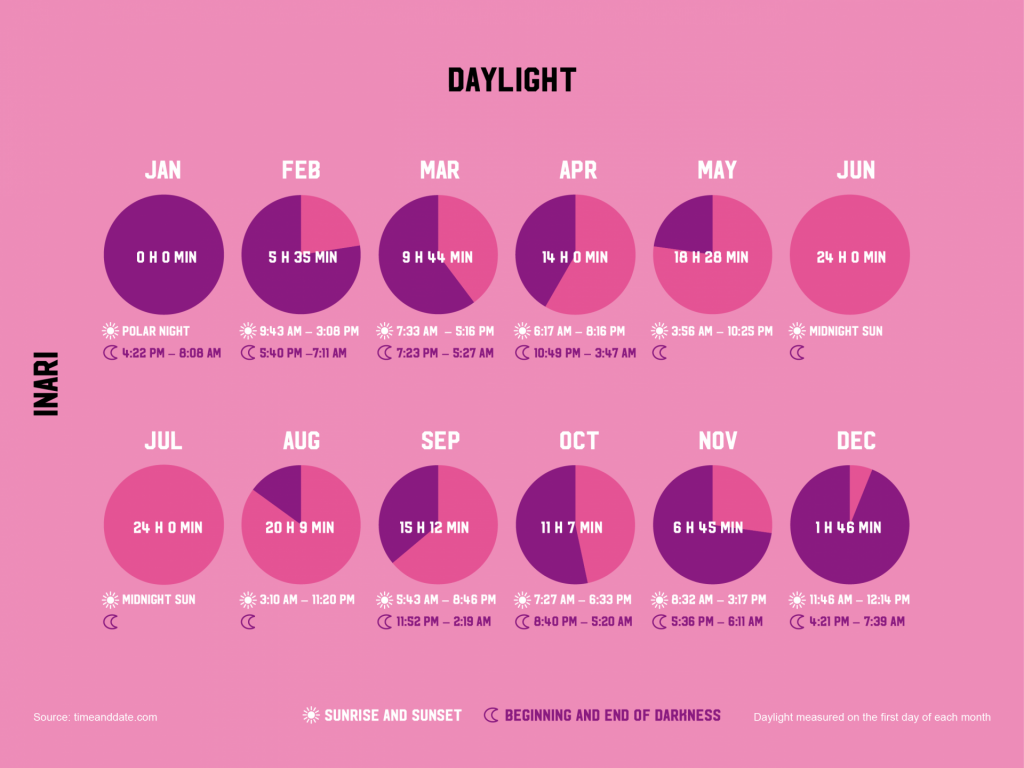 Crew & Filming Equipment
There are a number of production service companies that operate across Lapland. We're happy to tell you more, so please get in touch.
Permits
Thanks to the Finnish concept of Everyman's Right, most of the Lapland nature is free to film in. In the case of the fell wilderness of Inari, this means that if your production is on a smaller scale and does not cause disturbance to the nature, there is a chance you may not need to worry about permits at all. But if you're unsure, it's always best to ask.
The area is managed by Metsähallitus (Parks & Wildlife Finland), and permits are required for off-road traffic and any temporary structures. Metsähallitus handles filming and permit applications on a case by case basis. For more information, please see their instructions for permits for film production in state-owned areas in Finland.
Film Lapland does not issue permits, but we're more than happy to help you determine whether you need one and with the permit process, so please don't hesitate to contact us.
Filmed Here