Over the last few decades, the thriving tourism industry in Finnish Lapland has produced some world-class accommodation. Productions that film here, whether it's for a day, a week or months at a time will find luxurious suites, innovative hotels, and convenience unmatched anywhere else in the Arctic world.   
Luxury on the top of the world
You wouldn't put Dwayne Johnson in a shack by a frozen river. Nor would you expect Emma Stone to stay in a roadside motel, even when filming at the edge of civilization. Lapland features some world-class luxury accommodations, whether your production is happening in the center of urban Rovaniemi or the far reaches of Enontekiö.
1. Tundrea
At the northwestern border, where Finland, Sweden and Norway meet, lies the lake village of Kilpisjärvi. This Arctic locale features photogenic landscapes, from Finnish fells to the Scandinavian Mountain range. Full-service holiday resort Tundrea offers privacy and comfort with their Malla chalets. After a hard day's shoot on the frozen Lake Kilpisjärvi, your star can relax in the large sauna and then cool off on the terrace, with a full view of the iconic Saana fell. Those looking for luxury in the far-flung corners of Lapland can do little better than Santa's Chalets Rakka holiday village. These modern apartments feature kitchens and sauna, and of course, commanding views of Saana rising in the distance
2. Hullu Poro
In the center of Fell Lapland, Levi Ski Resort is Finland's most popular ski resort. It should come as no surprise, then, that luxury at Levi is the rule rather than the exception. Hullu Poro (Crazy Reindeer) has a penthouse suite that ensures privacy and peace when the cameras aren't rolling. With a direct elevator from the underground garage, moving through the lobby is unnecessary. This four-bedroom apartment has easy access to all of Hullu Poro's services without the risk of being mobbed by curious Finns and other travelers. The penthouse features a private sauna and two balconies overlooking the village, the perfect way to wind down between scenes.  
Just outside Levi, the three-story Hullu Poro Blueberry Villa rests on the shore of the Ounasjoki river. With almost 1000 m2 of floor space, eight bedrooms and the Romeo & Juliet penthouse, the Villa is perfect for your stars and other VIPs to rest and recharge in between shoots. The Villa features elegant dining space for 29, a library, porcelain fireplaces, a sauna, terrace with swimming pool and more.  
No ordinary hotel room
Queen-sized bed. Mini-fridge. Windows that don't open. We all know an uninspired hotel room when we see it. No actor or director wants to feel like they're as insignificant as single-use shampoo. These artists have unique visions, and accommodations should suit.  
3. Wilderness Boutique Hotel Nangu
In the middle of Sámi country, almost as far north as north goes, the Wilderness Boutique Hotel Nangu combines the rustic textures of log cabins with modern amenities. Their most luxurious room features log walls, a private sauna, and a panoramic window. In summertime, catch the Midnight Sun hovering over Lake Inari. In winter, the Northern Lights dance above the frozen waters.
4. Arctic Treehouse Hotel
And just like Tinseltown, the capital of Finnish Lapland has its share of stars. From the award-winning Arctic Light Hotel to the four-star City Hotel, Rovaniemi features some of Lapland's best hotels. But perhaps the most innovative and expressive hotel in Lapland is the Arctic TreeHouse Hotel. Meticulously crafted to have as little impact on Arctic nature as possible while providing an experience unlike any other, each room has a floor to ceiling glass window with a commanding view of the Arctic treetops and the endless Lapland sky. The winter night provides its own special effects with the Northern Lights. In summer, the Midnight Sun bathes the rooms in warm light all hours a day. (Curtains are, of course, provided.) 
At your service
Having access to infrastructure, services and staff can often make the difference in a film production. When you need all-inclusive accommodation that can house a crew of any size while connecting you with the staff and services you need, Lapland delivers.  
6. Santa's Hotels
Located in the heart of Rovaniemi, you couldn't ask for a more central location than Hotel Santa Claus. With easy access to the myriad services and operators working in Europe's biggest city (no, really), you're never far from a snowmobile ride, a location scout or a late-night pizza. The hotel has 169 rooms ranging from standard to suites, and productions can book entire floors for extra privacy and security. In their large underground garage, production trucks and equipment can stay warm and safe. As your production moves around the varied landscape of Lapland, you're never far from Santa's Hotels and their services. In Luosto, put your star up in an aurora igloo made of glass. In Saariselkä, keep your crew together in a five-bedroom apartment suite at Hotel Tunturi. Whatever your production needs, Santa's Hotels will help you find. You don't even have to write a letter to ask. 
7. Lapland Hotels
Just like life, the internet and Hollywood, connections in Lapland are everything. And there is no better connected accommodation provider than Lapland Hotels, the largest hotel chain in Lapland. Need a room in the heart of the Levi Ski Resort? Or a private cabin in an idyllic Ylläs? As their name implies, they offer rooms and suites of every size and sort across Lapland. Lapland Hotels also builds the Lainio SnowVillage every year, which houses a hotel (with beds of ice), an ice bar, an ice restaurant, as well as new ice sculptures and decorations every year. Luxury? Check. Unique? Check. Convenient? Check. With Lapland Hotels' extensive accommodation and services, you can focus on what matters: the production. 
Your artists, actors, directors and crew deserve the best accommodations, perfectly suited to match their desires for fine furniture and penthouse views. Or waking up in a hotel room made of ice. Or simply having access to all the products, services and crew they need for a smooth, efficient shoot.  
Check out our Film Friendly partners for more accommodation and service choices.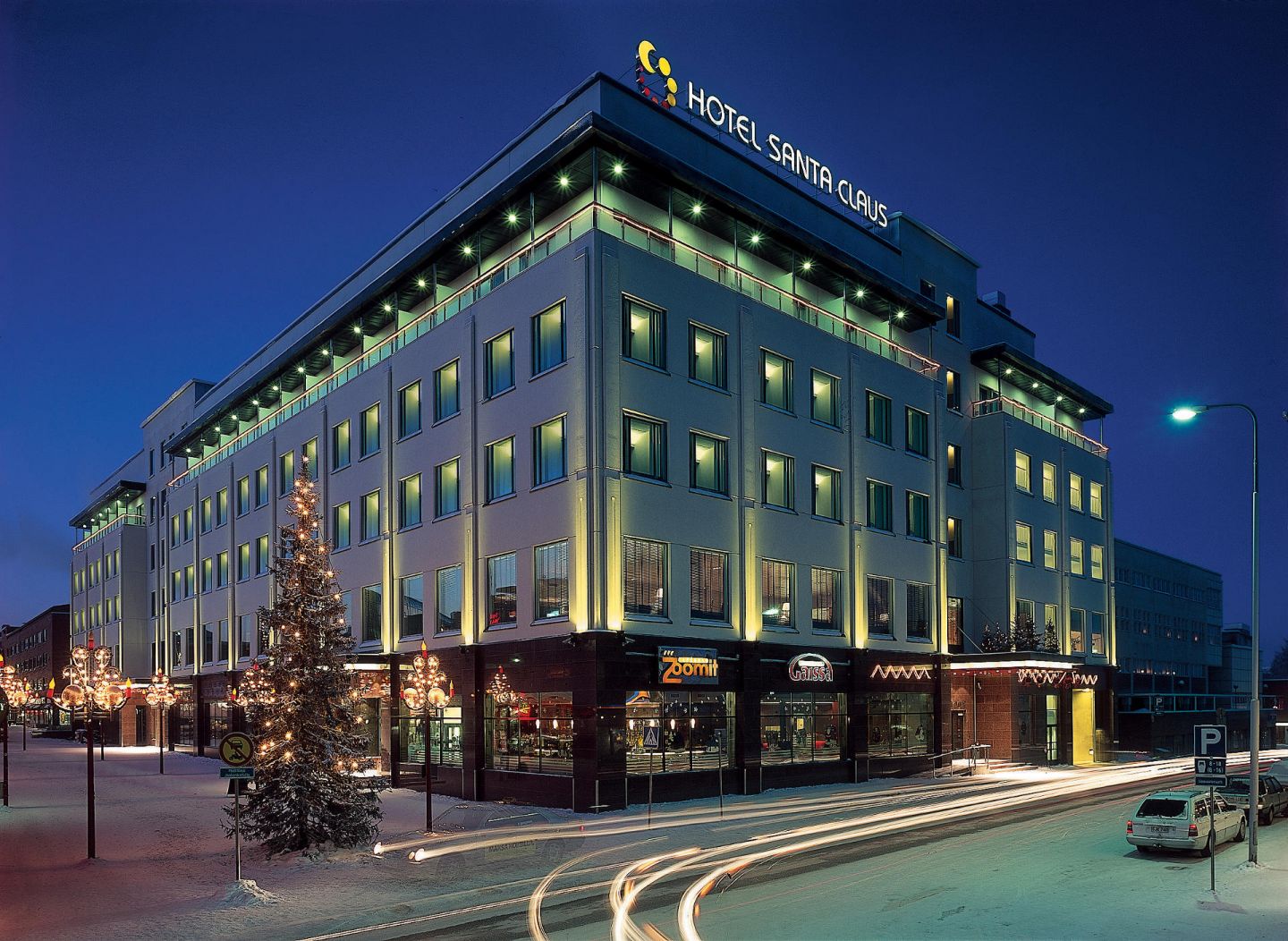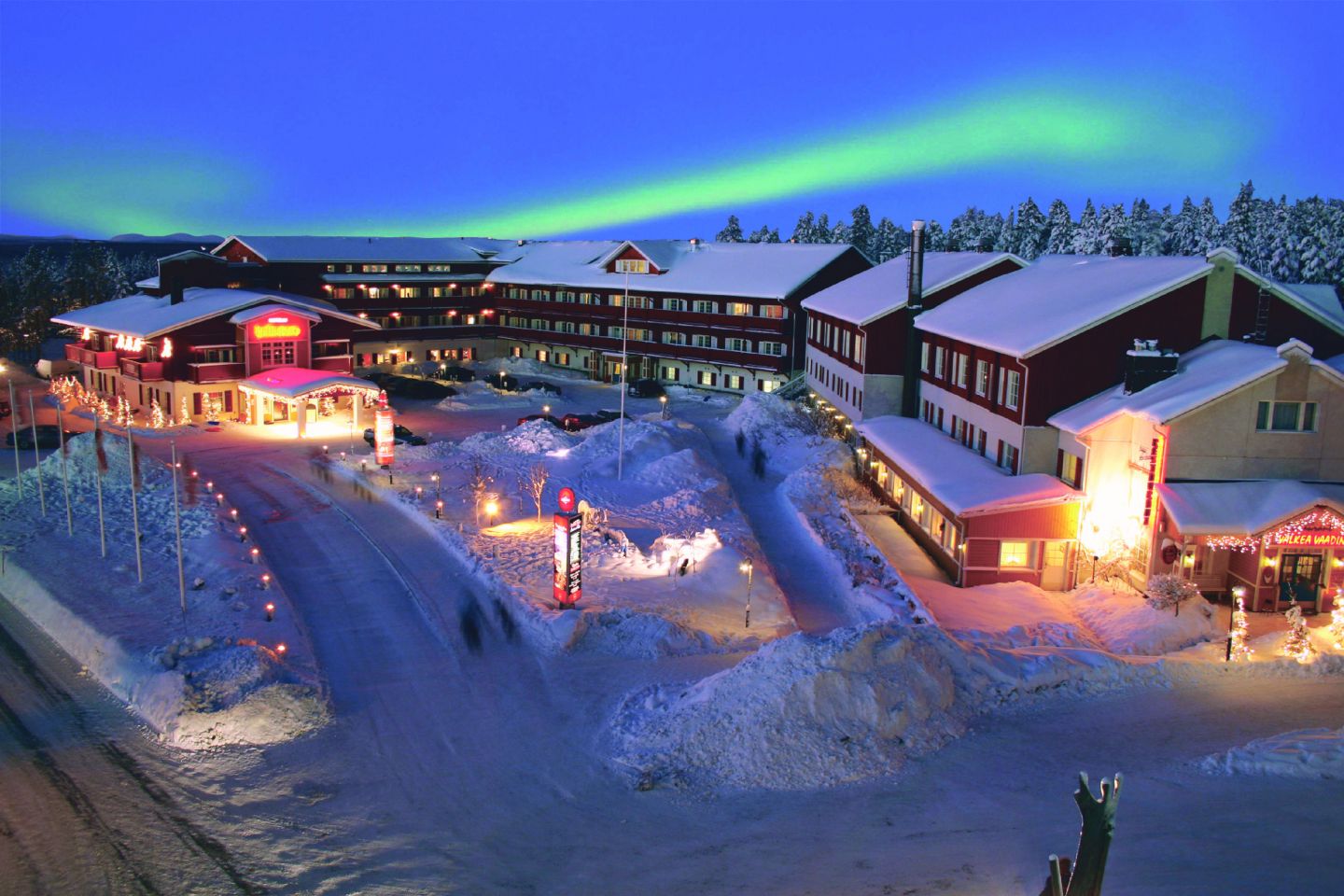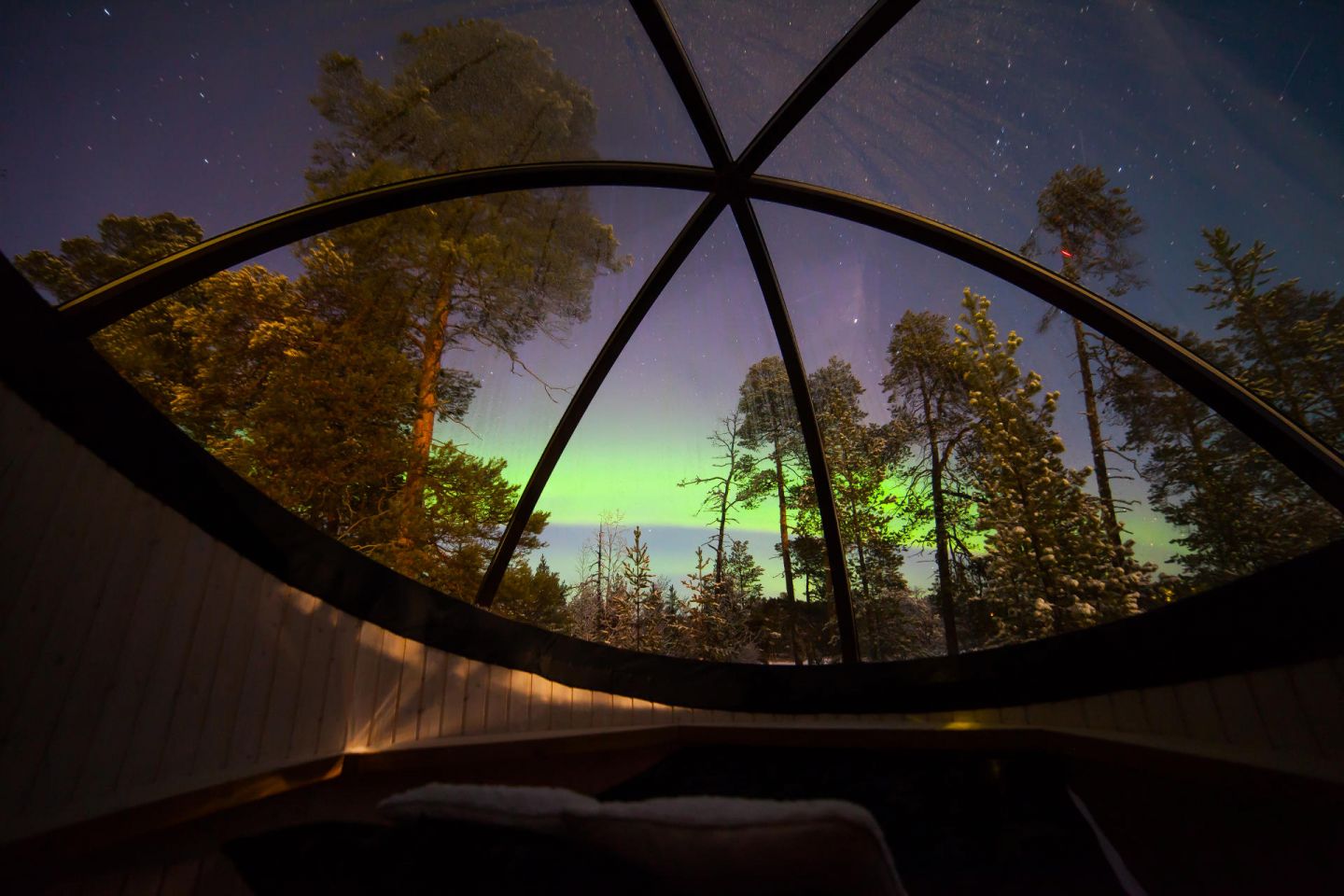 Photo by:
Wilderness Hotel Nellim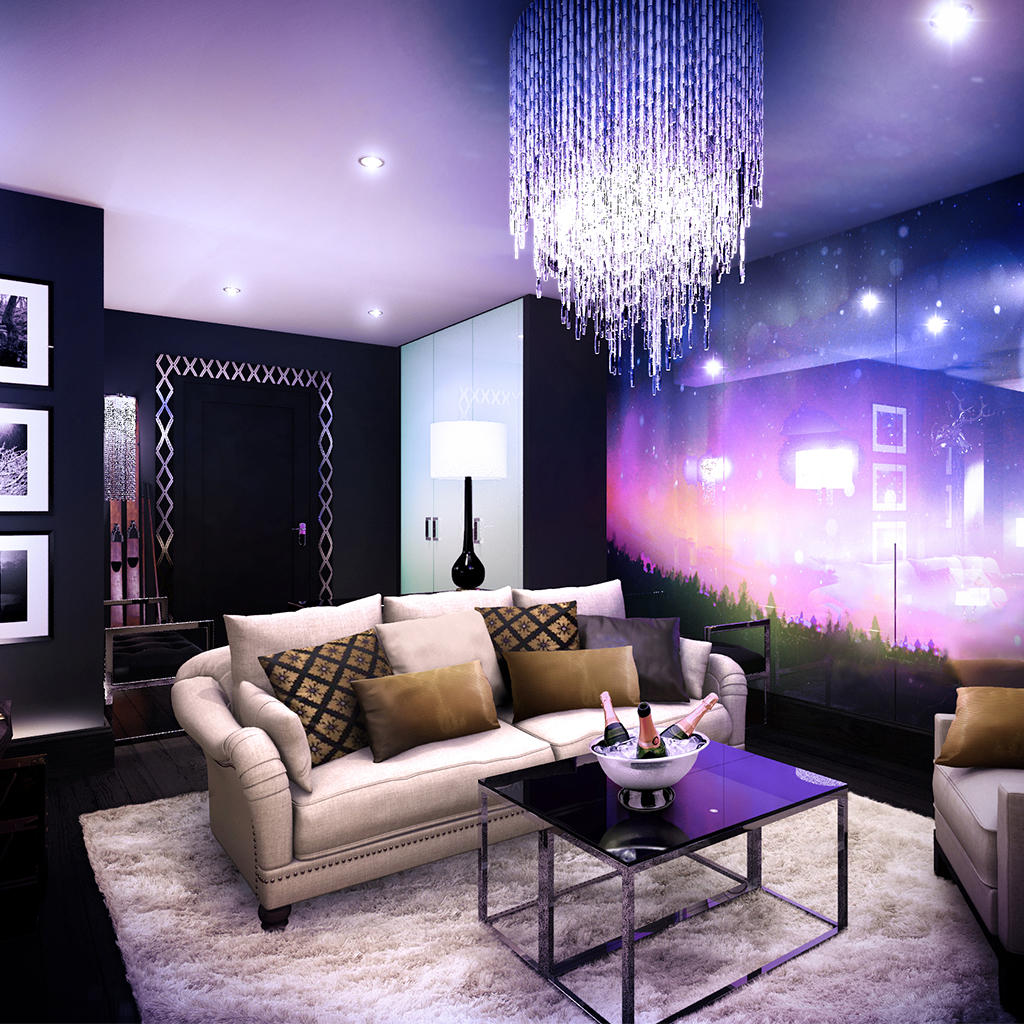 Photo by:
Arctic Light Hotel