Combine the Northern Lights with a fell landscape or a thrilling electric snowmobile safari, and you'll have an unforgettable experience! Here's our 8 best places to see auroras in Lapland.
It only takes a little luck to see the Northern Lights in Finnish Lapland. They appear about every other night on average, and the farther north you go, the better your chances. And you can enhance your aurora experience with the right Arctic landscape, animal companions or a cozy suite. Here are eight of our best places to see the Northern Lights in Finnish Lapland, and maybe cross a few items off your bucket lists while you're at it!
Lights out!
It takes time for your eyes to adjust to the incredible darkness that blankets the North during winter. Even an errant ray of light can reset your eyes, making it much more difficult to experience the Northern Lights. For example in Ylläs you can find your private spot on the side of fjell for aurora observation. When the lights go out, you've got a much better chance of seeing the green fire dance over the Seven Fells, whether it's just a subtle glimmer o' green, or a full-scale cosmic inferno.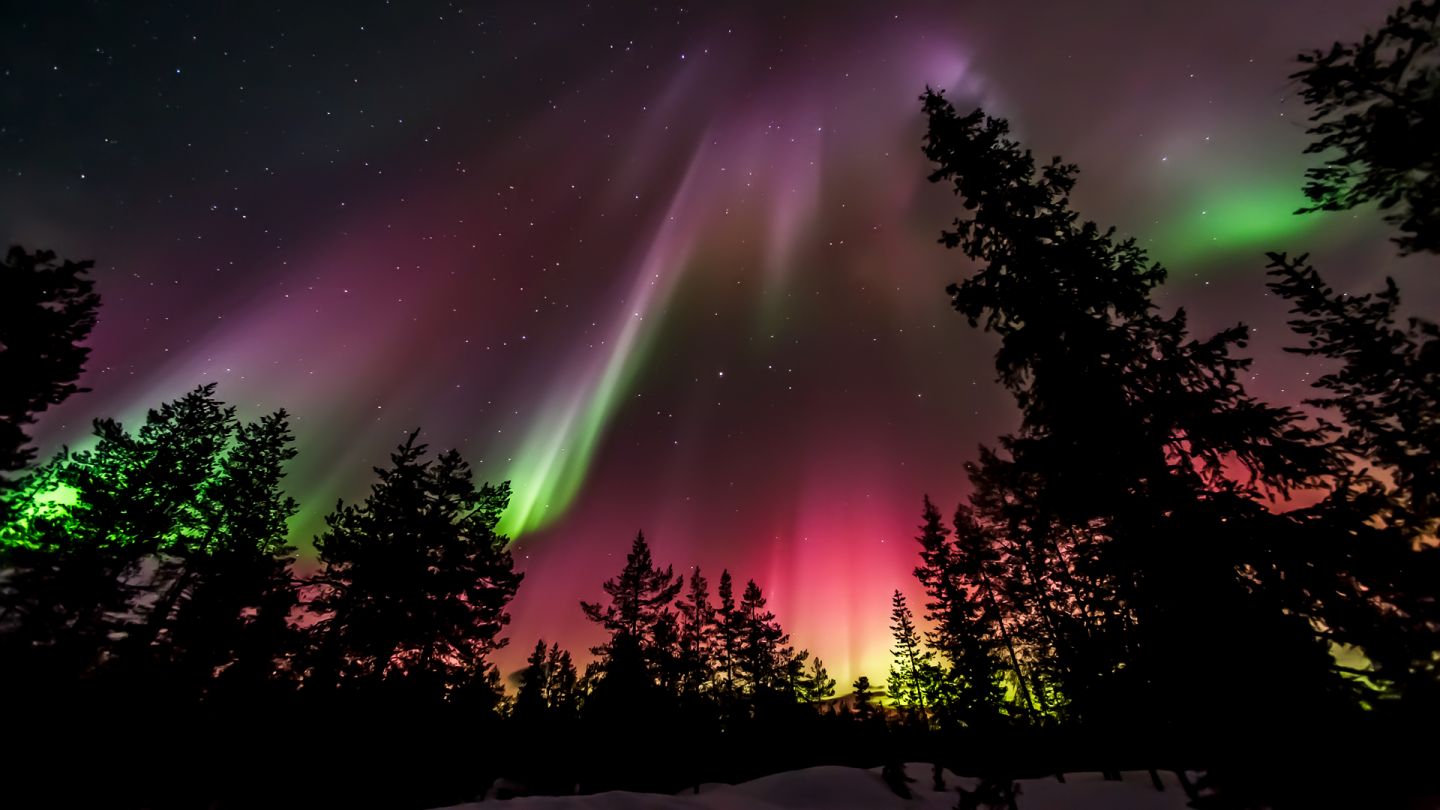 Photo by:
Markus Kiili | Lapland Material Bank
Magical Lapland
Snow? Check. Reindeer? Check. Auroras … fingers crossed. Hop in a sledge and let some of Santa's reindeer take you on a hunt across the untouched snow at night for the Northern Lights. In Luosto reindeer sleigh-ride will take you on a journey to a wilderness cabin far from any lights, giving you plenty of time and the best chance of seeing auroras in the sky. If nothing else, you get to experience a reindeer ride par excellence and have a warm drink in a wintry wilderness hut, surrounded by the quiet magic of Lapland.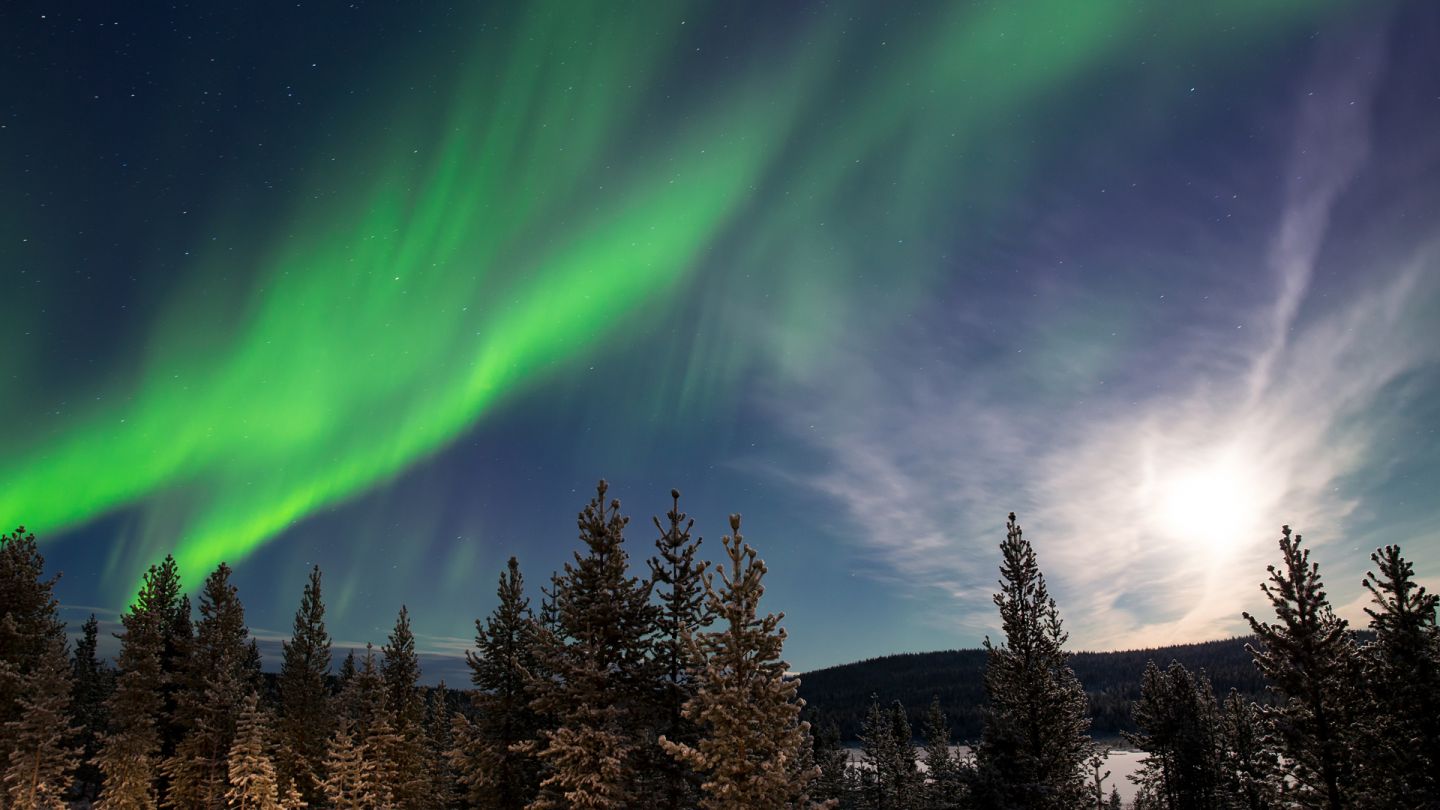 Photo by:
Terhi Tuovinen | Lapland Material Bank
Saddles & snowcover
Are you ready to wrangle some auroras? Mount a friendly Finnish horse and head into the whispering, snow-crowned pines in search of the elusive spectacle. The warm, whickering horses are sure-footed, experienced Arctic travelers. Let relaxing rocking from side to side lead your group to the best spots in Levi for seeing the Northern Lights.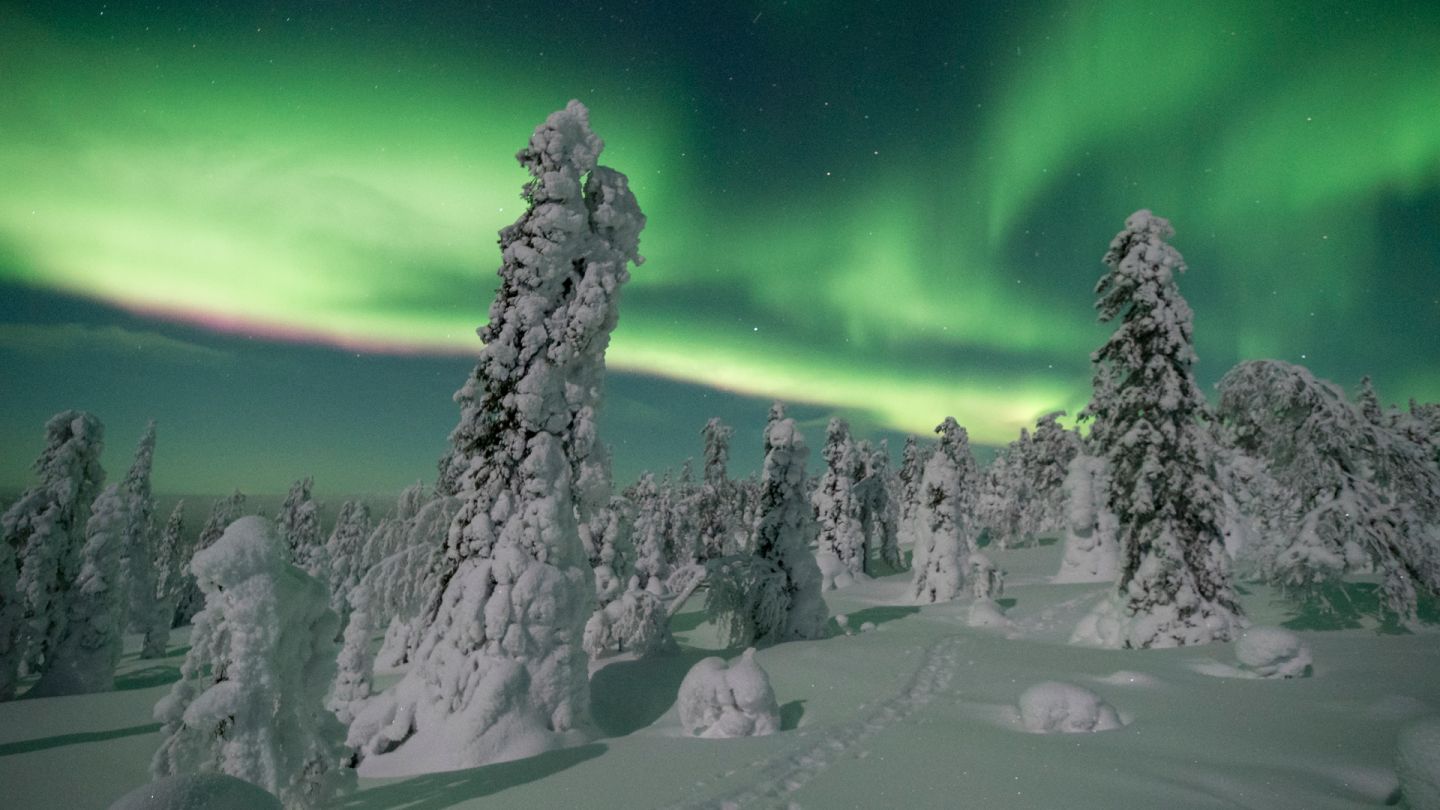 Photo by:
Markus Kiili | Lapland Material Bank
Capture the moment
Watching the silent dance of the Northern Lights is one thing. Getting them ready for Instagram is another. Not only is Utsjoki an excellent location for seeing Northern lights, it has attracted professionals to visit and photograph Auroras throughout winters. We also collected best ways to capture stunning aurora images.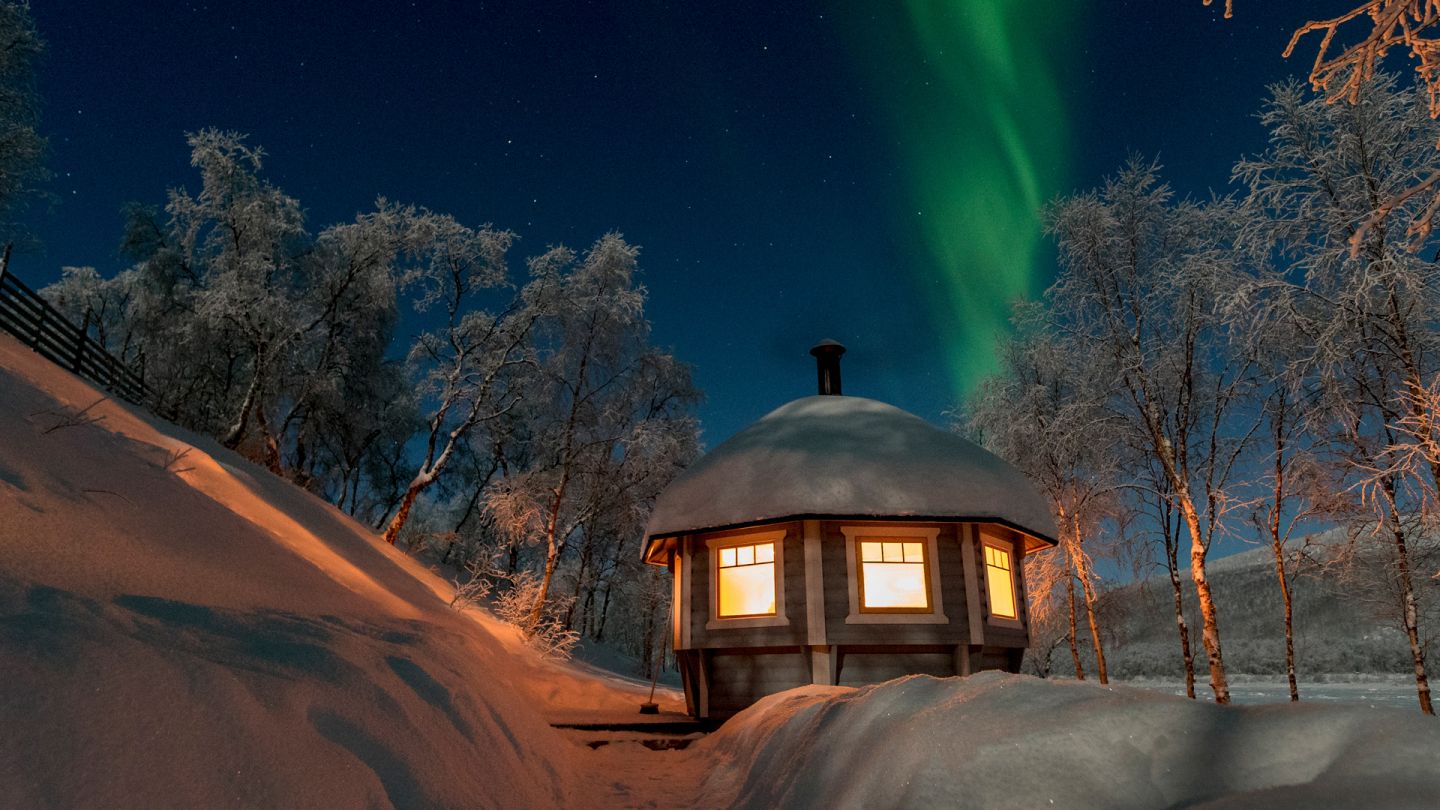 Photo by:
Markus Kiili | Lapland Material Bank
The sounds of Lapland
You will hear the snow crunching under the wide plastic-and-metal snowshoes. When heading out to see Northern lights in Ruka, you can see rabbit tracks, reindeer tracks and maybe even wolf tracks! Warm up by a campfire, enjoy the bubbling of pot-coffee, and if you're lucky, there will be gasps, curses, and camera shutters when hint of green is getting stronger and stronger. The Northern Lights make no sound as they shimmer and wash across the twinkling stars.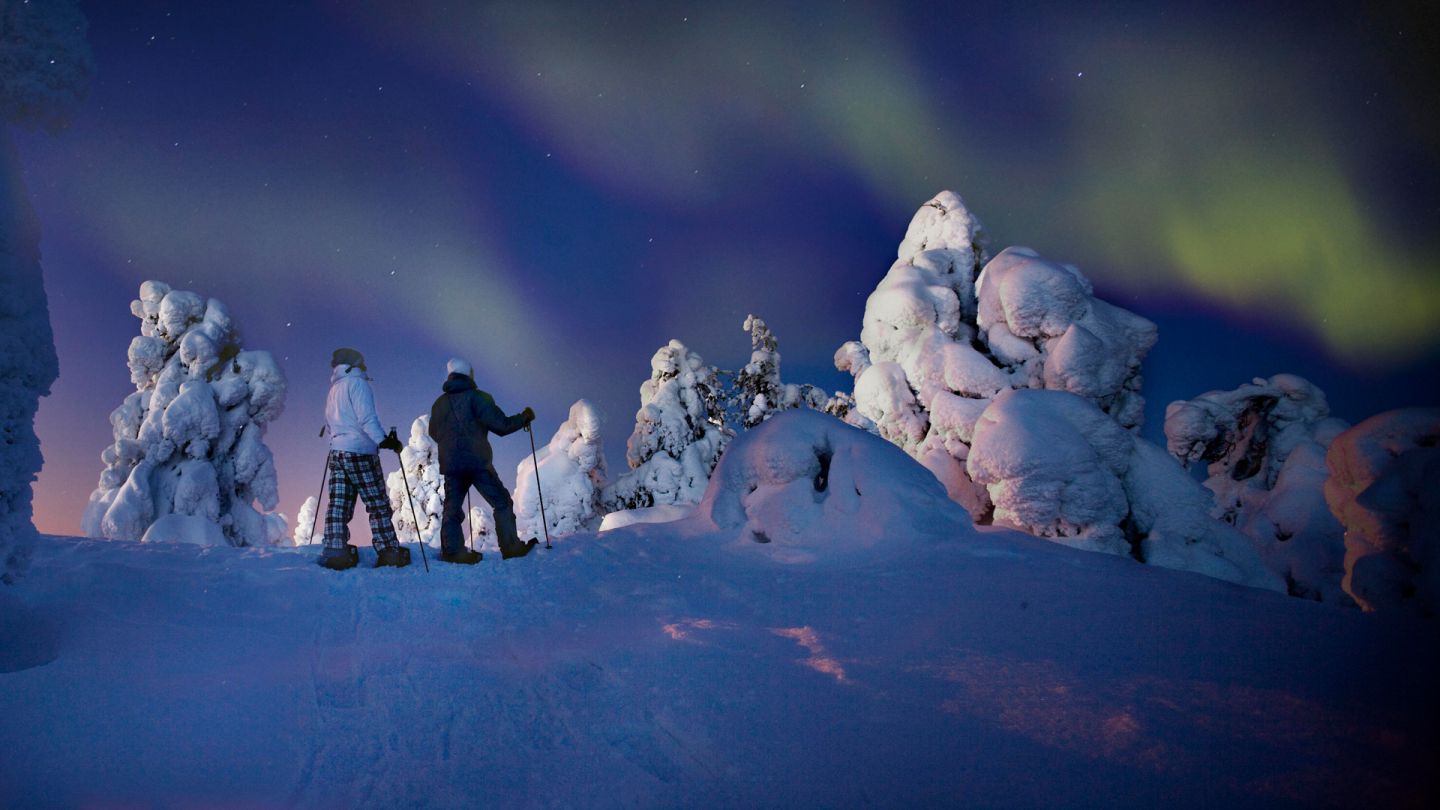 Photo by:
Lapland Material Bank
Ride the future
Snowmobiles, like disc golf and Pokémon Go, are not exactly Lapland traditions. They are, however, very popular, and Finnish Lapland is one of the few places in the world where snowmobile technology is pushing ever forward. In Rovaniemi you can go for an Aurora trip on a silent, fully electric snowmobile. It is an adventure across a frozen lake, through snow-clad forests and up Arctic hills. With a little luck, the sky will open up and reveal the waving, shimmering Northern Lights.
Learn more about eco tours and green adventures in Finnish Lapland.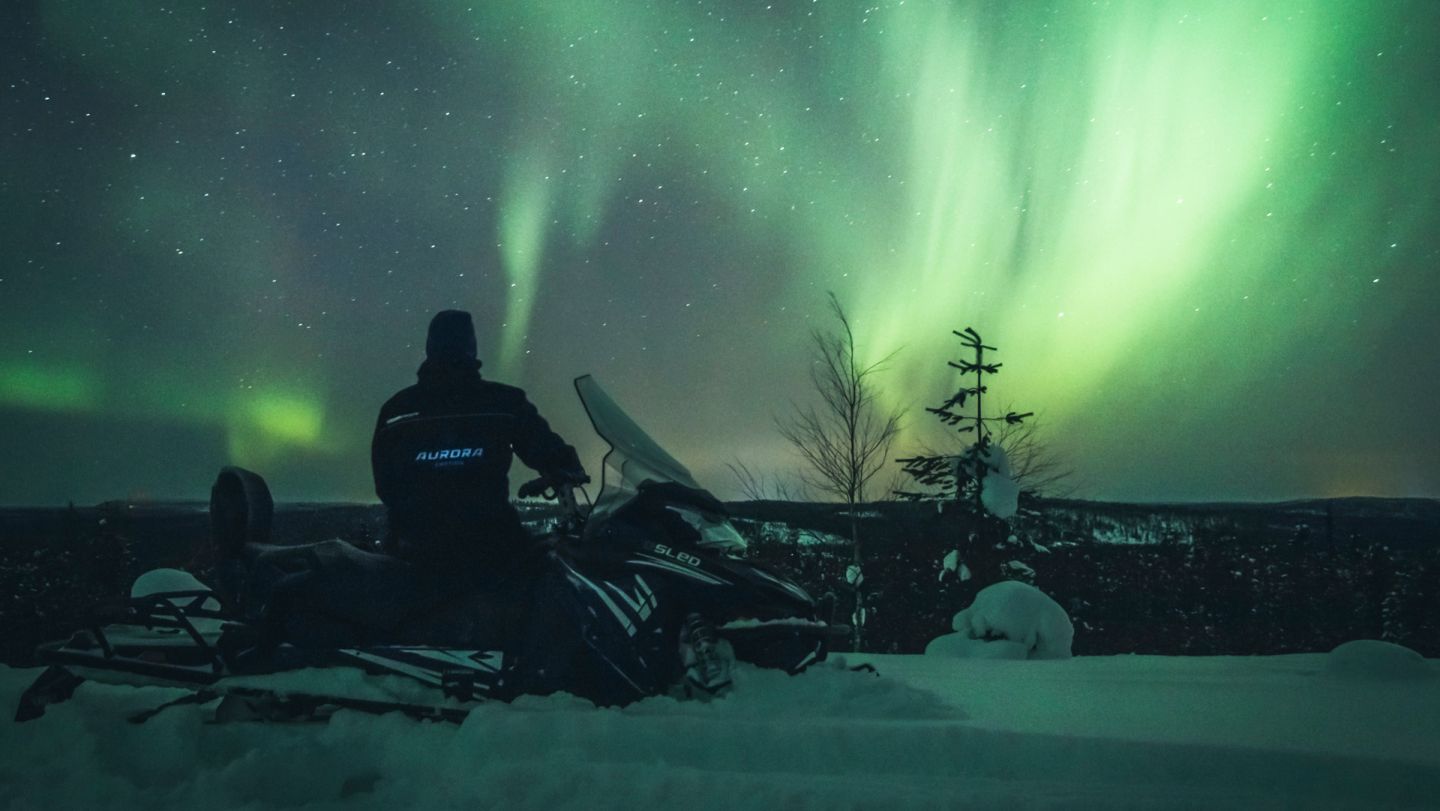 The highest road in Finland
Even though there is no other light than moon and stars, you can sense the vastness of landscape seeing the rocky giants shaping horizon. The highest point of Finnish roads is in Enontekiö. Muotkatakka is 565,8 meters above sea level and from the point the scenery opens up to different directions. Far above the rolling hills and stunted trees, the Northern Lights appear on average three nights out of four. There may be no better place in all of Finland to catch the auroras above a stunning Arctic landscape.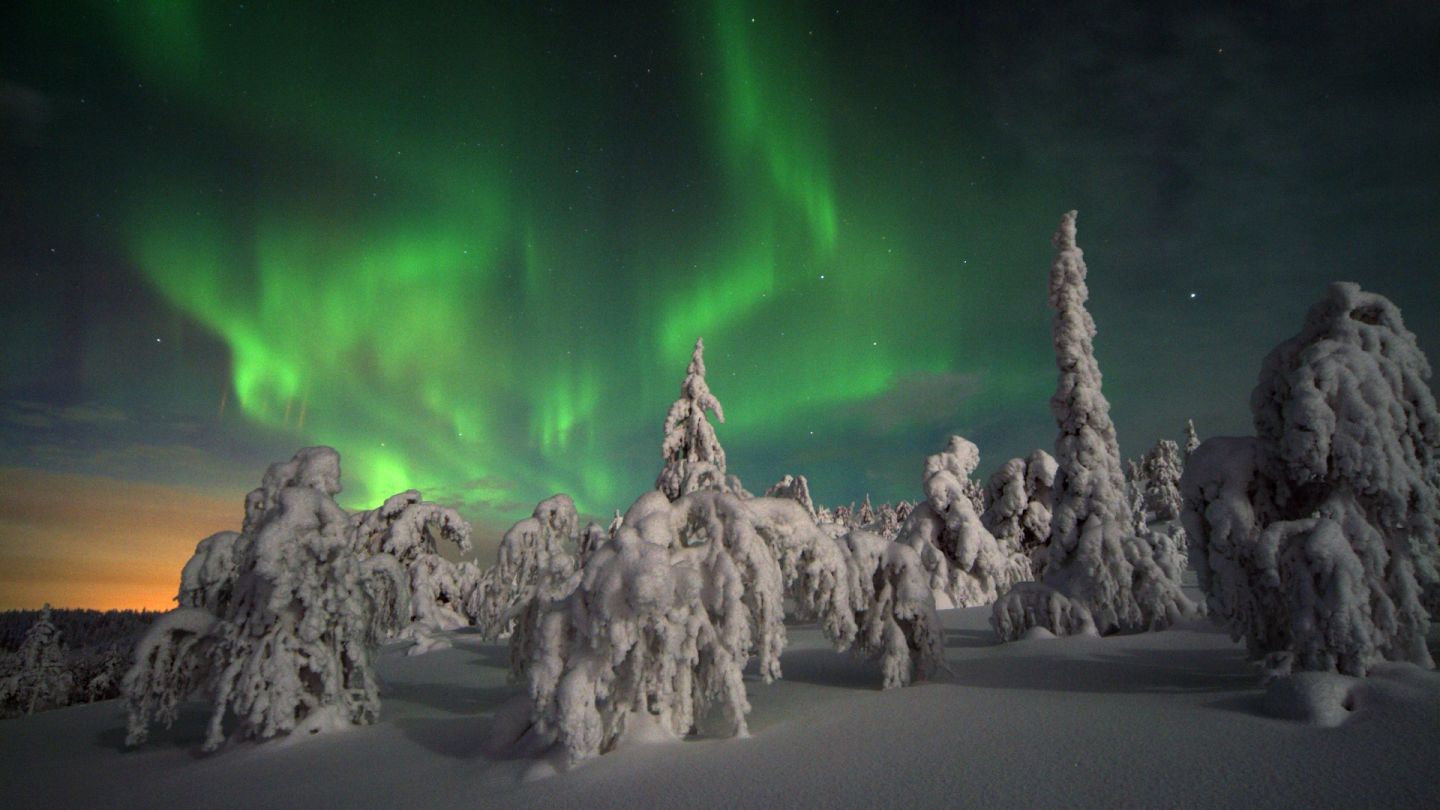 Northern Lights & Chill
Up until this point, you've needed to go outside to see the Northern Lights. But there are other ways to experience them. For example in Iso-Syöte, you can lounge in comfort in a warm bed, legs entwined, and wait for the auroras to come to you. The suite features large windows facing up and out, so you don't need to put on a heavy safari suit or woolen gloves. In fact, you don't have to wear anything at all. Just enjoy the cozy warmth and wait for the magic to happen.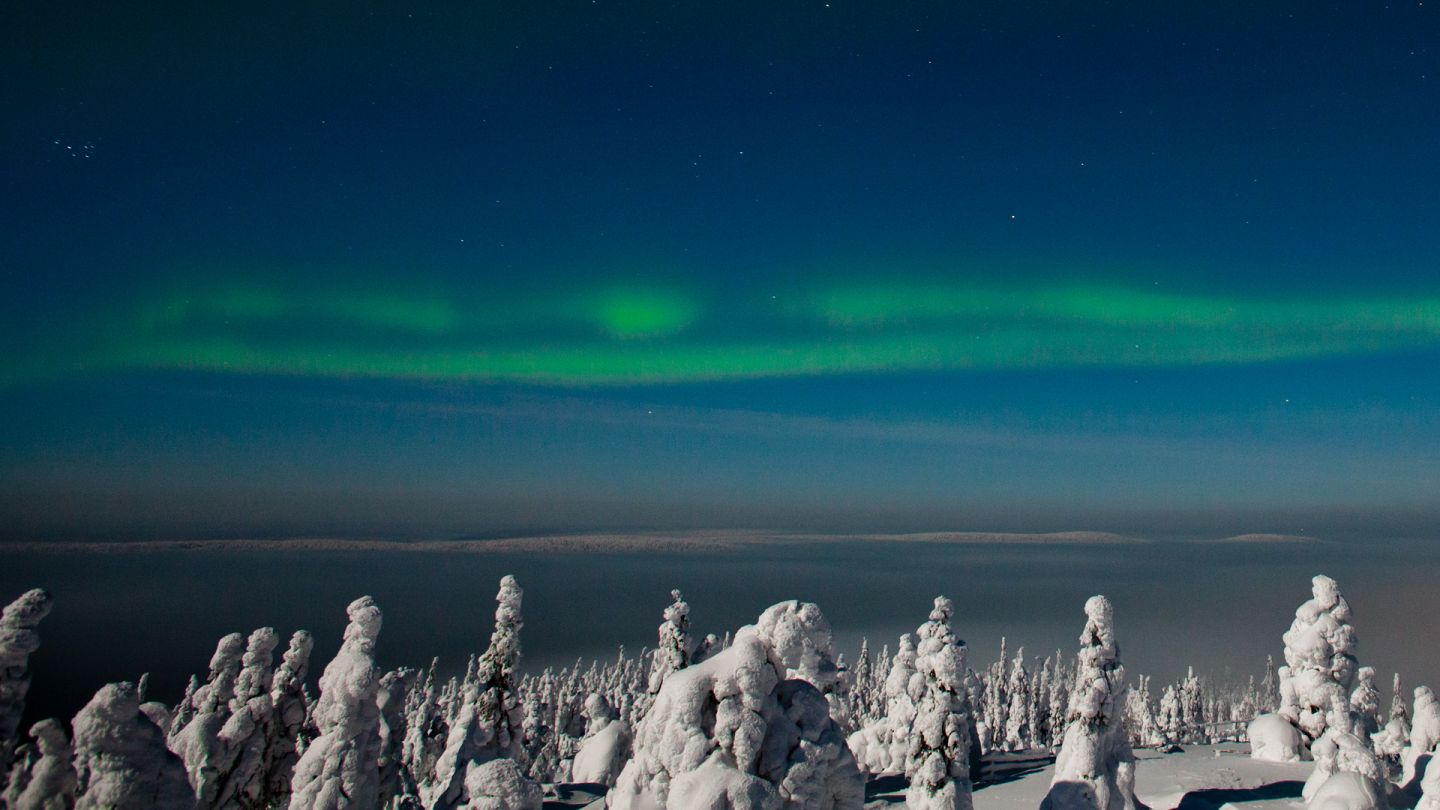 Photo by:
Tiina Törmänen | Visit Finland