We are featuring a new guest photographer every month, with their top 3 photo picks and professional tips for filming in Lapland. Our photographer of April  2017 is Markus Kiili, who says photographing is about serious planning and pure luck.
If something is interesting, it really is interesting. I'm a total on/off person. If I'm keen on something, I put enormous amount of energy in it. And photography is one of those things.
I bought my first DSLR in 2013, and it  instantly hit me like a hammer. I had a feeling that this is the thing for me. I don't like sports, but I do like spending time in nature, so nature photography was a perfect choice for me. I can be in nature with no hurry to go anywhere.  But because of my temper, I couldn't just leave it there. I wanted to be as good as possible. I spent hours and hours reading books and watching videos about photography. One day I noticed that people wanted to buy my photos, and now I work as a part-time nature and travel photographer.
Here are my top 3 pics and tips:
1. On top of the fell
When I bought my first camera, I thought a good photo is mostly based on good technique and if I know enough about technique, I'll get good photos. I also thought a good photo is based on good luck. Like something just magically happens when you are photographing. Now I've learned that photographing is mostly about planning.
As in this photo where my dogs are walking on Kuertunturi fell at Äkäslompolo, Lapland. It looks like they are accidentally walking into a photo. In reality, I waited months for a nice day with perfect light and snow covered trees. When that day finally came last December, I asked my wife to hike up to the fell with me and the dogs. On top of the fell, I found a nice view with sun and a tree and asked my wife to walk the dogs back and forth with the help of food. I took just over 100 photos until I got what I wanted.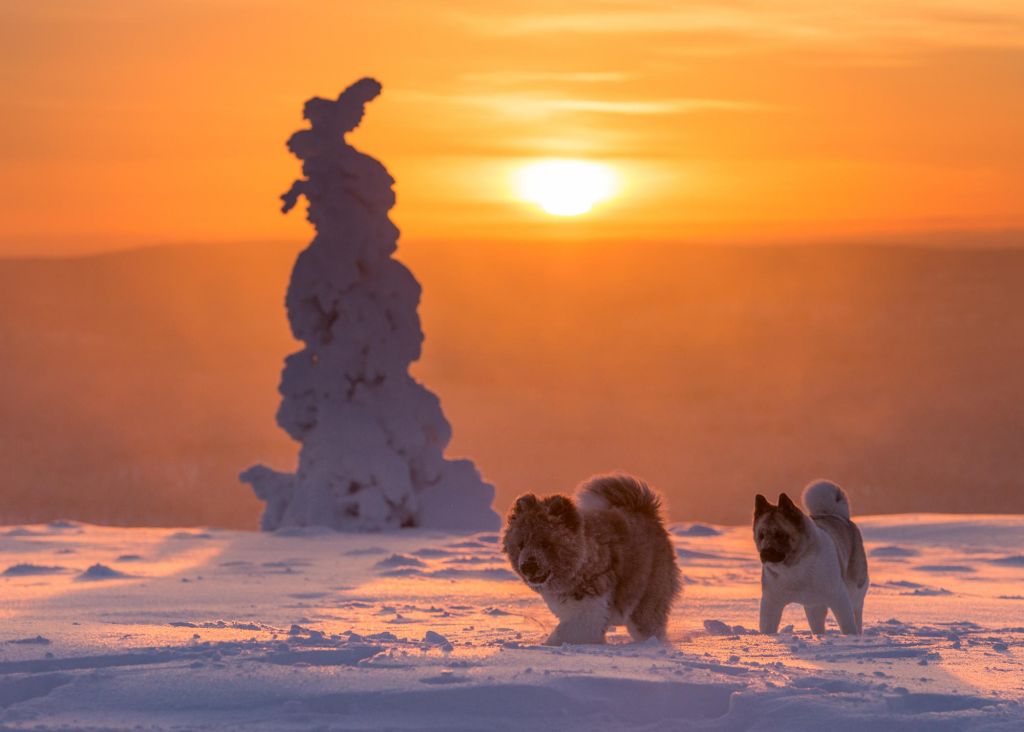 2. The running reindeer
The second photo is a story about planning too but also about reindeer; my favourite animal both on a plate and in photos. I got an idea of a photo that looks like a painting and has running reindeer in it. Chance to get that kind of photo is limited, because you need  long exposure time and most of photos will be ruined. The only time when a heard of reindeer would run again and again in front of my camera would be when reindeer are collected in autumn. I tried and tried, with no luck. I spent several days in different reindeer fences and took over 2000 photos of running reindeer. Then one day I was checking my photos on a computer and there it was. Exactly what I wanted and what I had planned over two years. The first and the only photo I have ever been totally satisfied with. Tears came to my eyes. I got what I really wanted to get.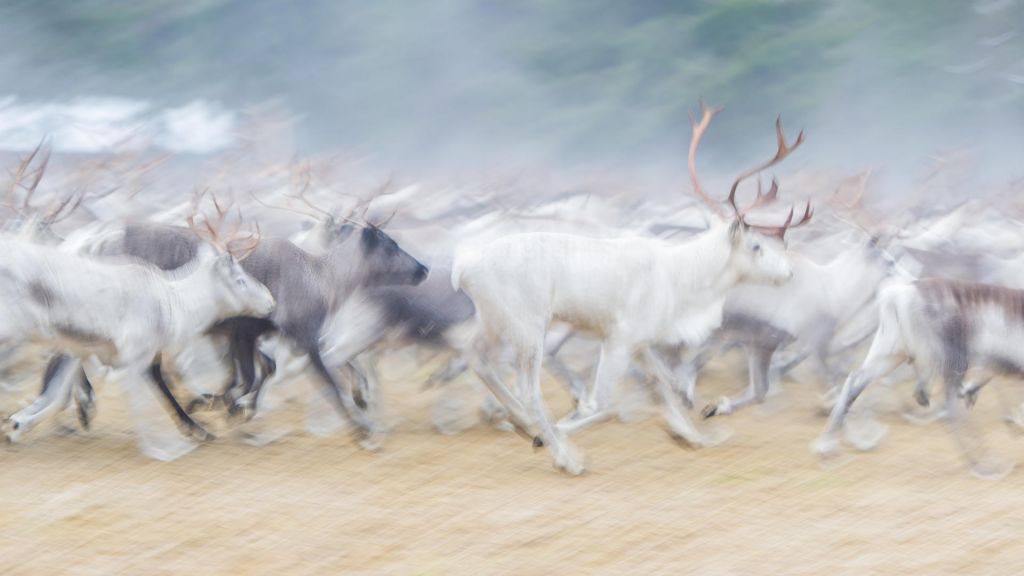 3. The moment of heavy rain
The third photo was a lot harder to pick. I wanted it to be totally different. No planning, just fast action in a right moment. I keep my camera with me almost all the time, because something can always happen. I was in a meeting at Nature Centre Kellokas in Ylläs, when the weather suddenly changed. A huge amount of water came down from the sky, and two ladies who were collecting berries on a marsh ran away from there. I took my camera from my bag and captured this moment of heavy rain.