Stretching from the peaceful village of Luosto across the fells of a national park to the bustling resort in Pyhä, there's no better place for exploring the whispering wilderness of Lapland via ski, fatbike, snowmobile or husky sledge. Come for a day and find your breath. Stay for a week, and you might find yourself.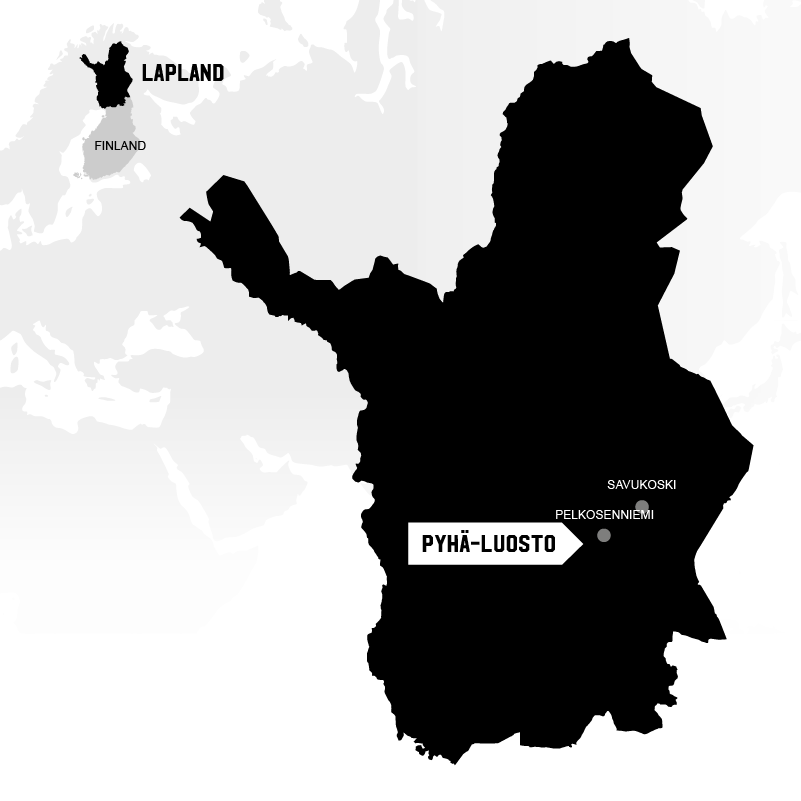 How to get here?
Pyhä-Luosto is situated 1.5 hours from Rovaniemi. There are daily bus connections to Rovaniemi's airport, railway and bus stations nearly all year-round (excepting May). In winter, there are 4 buses per day, and in summer twice a day. Trains run to Kemijärvi, about 45 minutes south of Pyhä.
Surf the fells
There's a reason Pyhä and Luosto are so popular. It's the call of the fells, away from the lights of the big cities. In the winter, the untouched snow creates natural slopes, and all it takes is the will to reach the peaks. Those who prefer the tried-and-true can ride the lifts at the Pyhä and Luosto Ski Resorts, each with their own charms and challenges.
The deep snow, heavy winter and long spring days are perfect for snow surfing, fatbiking and ski trekking the vast wilderness of the Pyhä-Luosto National Park, which lies between the two resorts. Only 20 minutes apart, the two resorts work in tandem to provide travelers and nature lovers a smorgasbord of activities, all-year-round, and more importantly: the freedom to do what you want, when you want. Local operators put together programs that pack your day with sweat and smiles, often at the same time. Climb the ice fall at Tajukangas. Wander into the wilderness at midnight to marvel at the #darkskies, and maybe even catch an aurora. Marvel at the iced waterfall in Iso-Kuru. The truly brave will spend an Arctic night wrapped in a sleeping bag, in a cave made of snow!
In addition to its pristine slopes and powder runs, Pyhä-Luosto is a natural place to begin an epic cross-country ski journey. Over 150 kilometers of groomed ski trails, both lit and unlit, thread through mystical old-growth forest and deep ravines, connecting the two ski resorts. You can even ride your fatbike from the ski resort to the Lampivaara Amethyst Mine, the only one in Europe that allows visitors. Here, you'll ride the Amethyst pendolino to the top of the hill and learn all about the mine and why it produces amethysts. Then you'll descend down a few flights of wooden stairs and dig for your own precious gem, winter or summer. Finders keepers!
The sparkling skies of winter also make it the perfect time for Northern Lights adventures. And you can spend your days ice-fishing on frozen Lake Pyhäjärvi or exploring the unspoiled fells by snowmobile or snowshoe. You can sit back and let Santa's most important helpers take you on a journey through the snow-capped trees with a reindeer safari.
When summer comes, the fells of Pyhä-Luosto emerge from the snow like green giants. The resorts become launching pads for cycling and hiking trips through the Pyhä-Luosto National Park. You can ride the scenic chair lift to the top of Pyhä and watch the landscape unfold. There's disc golfing on the hills, canoeing on the Pyhäjoki and Kitinen rivers. Like their cousin fells far to the north, the vegetation here is sparse and Arctic. Take a mountain bike and explore the rocky peaks at your leisure on a day's ride between the villages. Stop at a laavu, a Finnish lean-to, and enjoy a campfire. You might see an eagle soar over the distant forests, or even get a friendly visit by a curious Siberian jay. Or maybe just park yourself atop a fell and listen to the world breathe for a while.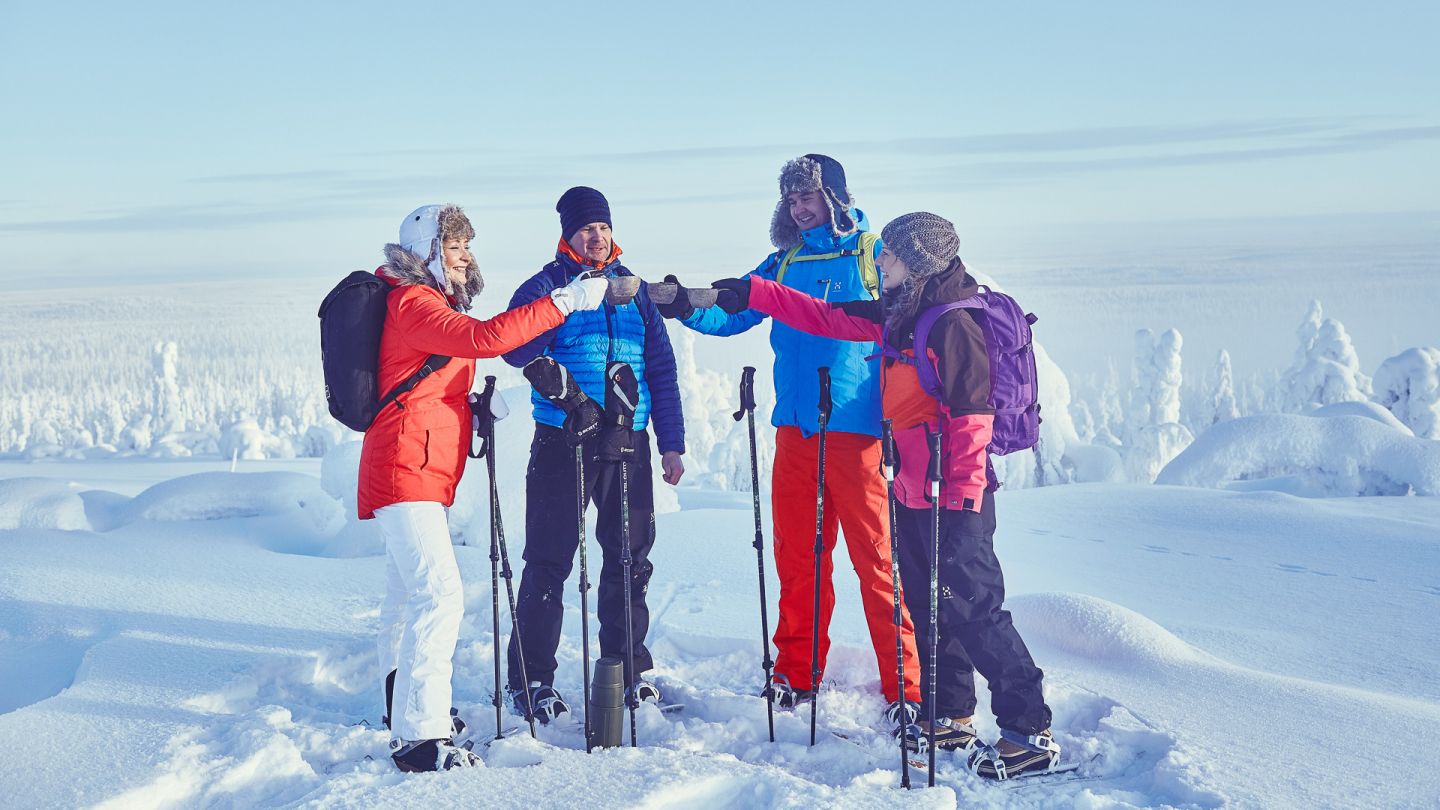 Photo by:
Pyhä-Luosto Tourism Ltd.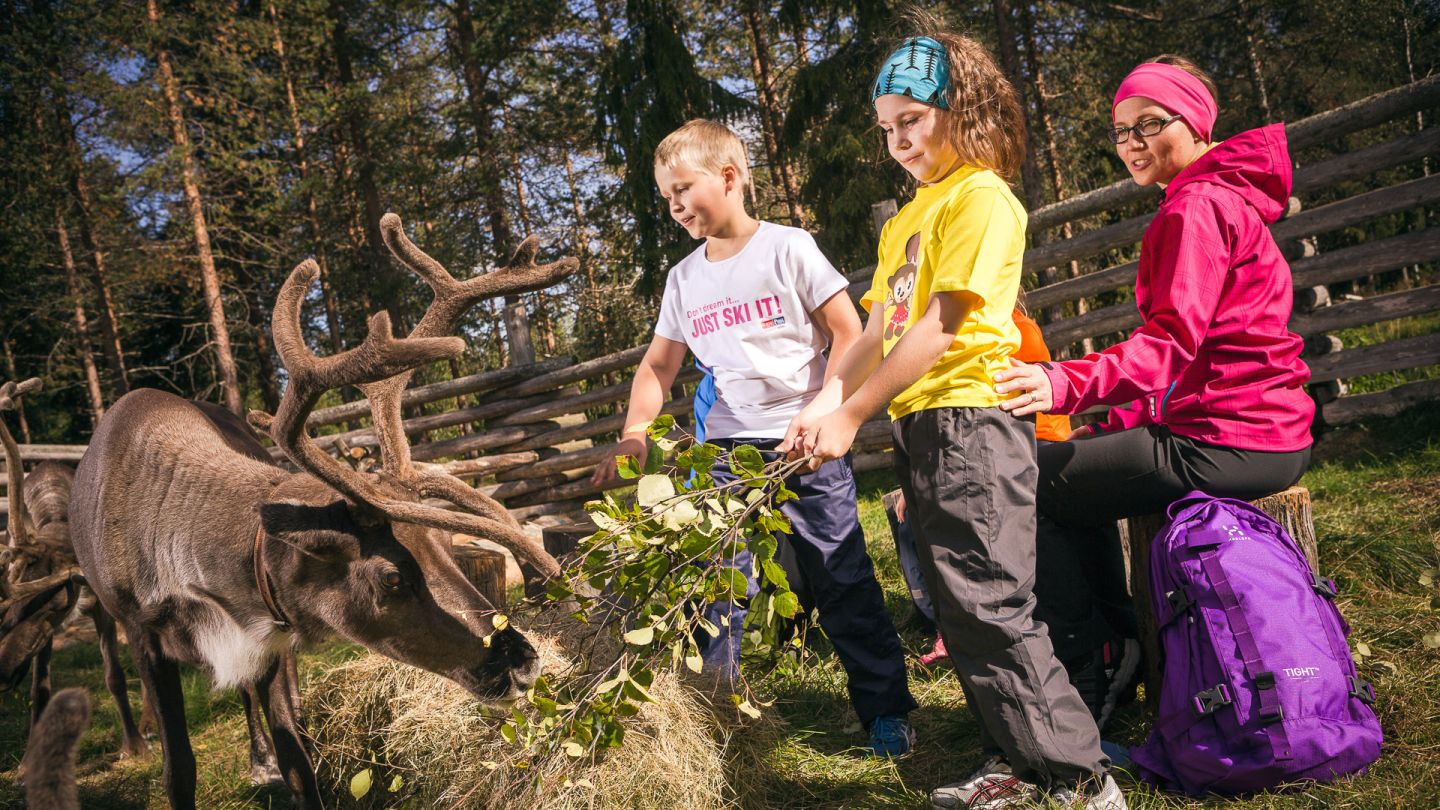 Photo by:
Pyhä-Luosto Tourism Ltd.
Photo by:
Anna Muotka | Lapland Material Bank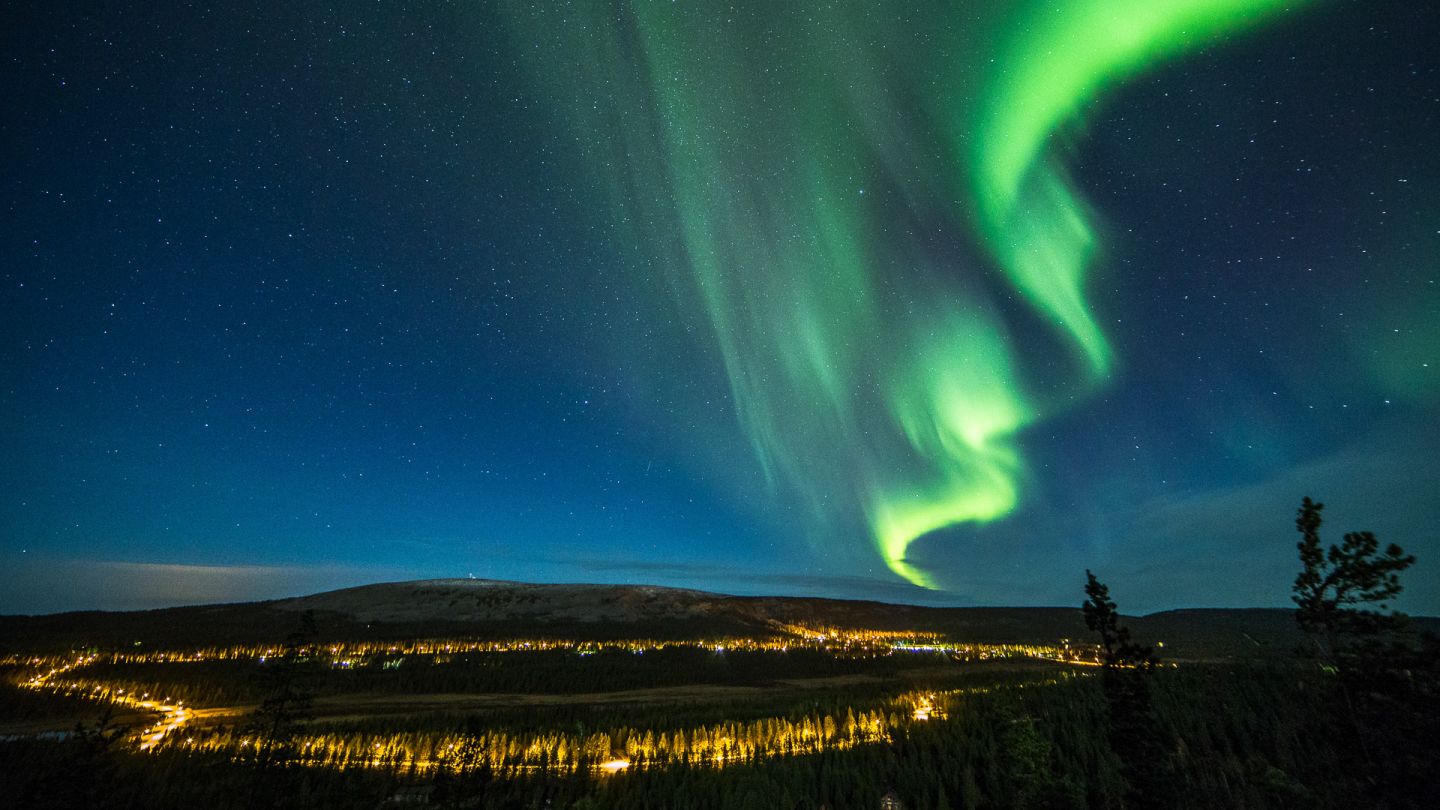 Photo by:
Jani Ylinampa | Lapland Material Bank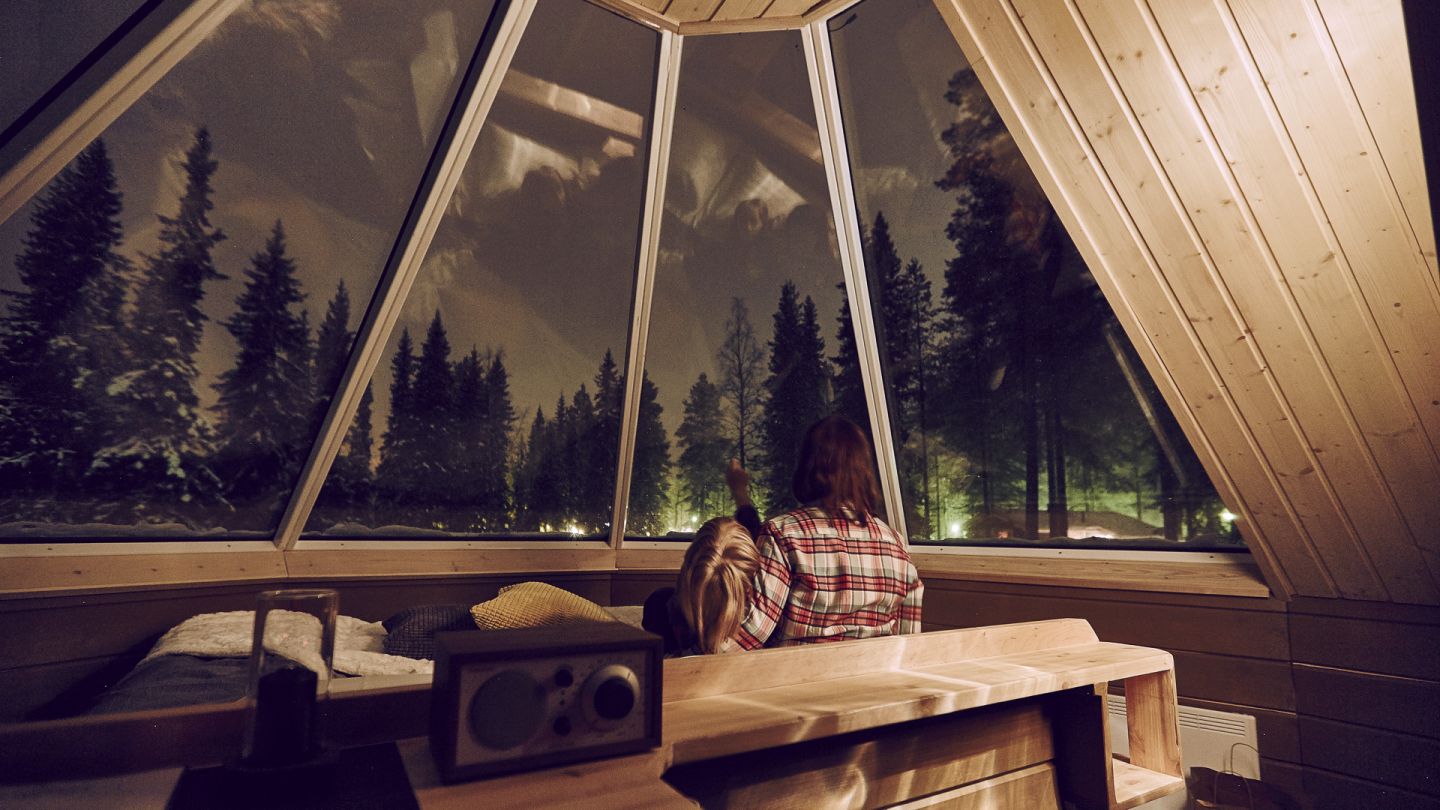 Photo by:
Pyhä-Luosto Tourism Ltd.
Highlight: Pelkosenniemi
Pelkosenniemi is a bundle of villages east of the Pyhä-Luosto National Park, sprinkled throughout some of Finland's most beautiful sceneries. With less than 1000 residents, this is one of the least populated municipalities in the country. The rural villages are small, and time moves slower here. Places like Suvanto offer rare glimpses into the past—most other villages were destroyed in the second World War or the Winter War.
In Pelkosenniemi, you can explore untouched Arctic nature by ski, hiking boot or mountain bike. There are trails that wind their ways through the national park, the epic forests of eastern Lapland and even across the frozen rivers and hundreds of lakes in winter. Watching the Midnight Sun roll around in the big sky, or seeing the Northern Lights dance across the face of the Milky Way is like communing with nature itself.
Be sure to stop by the central square in the main village and take a selfie with the wooden statue of legendary rocker and Pelkosenniemi native Andy McCoy (of Hanoi Rocks).
Hygge after hiking
The village of Pyhä is a bustling place, with hotels, shopping and dozens of restaurants, cafes and pubs. On the other side of the national park, Luosto is more rustic, but all services are still within walking distance. You might spend a week in one or the other, but with such a short distance between them, adventures are never far.
After skiing, biking, and exploring endless nature, let Pyhä's and Luosto's wellness services melt your stress away. At the Amethyst spa and gym, sweat it out in a Turkish bath before taking a dip in their 30°C swimming pool.
For eating well there are several options. Sit down to dinner at the world's largest log restaurant, Kelo. Their weekly theme dinner buffets offer a wide selection of Lapland delicacies and authentic dishes. At the Hotel Aurora restaurant in Luosto, sample their grilled Arctic Ocean salmon and cloudberry creme brulee.
When the sun sets and the sky turns blackest of blacks, you don't have to spend your time and energy waiting outside to see the auroras overhead. Santa's Hotel Aurora, Pyhä Igloos and the Pyhän Asteli Holiday Village offer glass aurora igloos, combining luxury accommodation with the possibility of nature's silent fireworks overhead.
If comfort and coziness is what you're after, Luosto's hotels offer traditional accommodation with modern conveniences like saunas and kitchen appliances. More cabin accommodation is available through Pyhähippu and PyhäBooking cabin booking agencies.
To Pyhä-Luosto and beyond
Getting to the Pyhä-Luosto area is as easy as buying a bus ticket, as the ski resorts are situated only 1.5 hours from Rovaniemi. There are daily bus connections to Rovaniemi's airport, railway and bus stations nearly all year-round (excepting May). In winter, there are 4 buses per day, and in summer twice a day. Trains run to Kemijärvi, about 45 minutes south of Pyhä.
Once you get a taste of the unhurried freedom of Pyhä and Luosto, you might get the urge to stretch your legs and expand your horizons. A 30 minute drive north from Luosto will bring you to the bustling village of Sodankylä, home to the world-famous Midnight Sun film festival and the Alariesto art gallery. Farther north still, the Nattanen Fells in Sompio offer some of Lapland's most famous vistas and authentic Sámi cultural sites.
Less than an hour south from Pyhä brings you to the town of Kemijärvi, one of Lapland's best kept secrets. Home to almost 30 villages, some almost 500 years old, Kemijärvi is the best place to experience rural Finland, authentic Lapland and the culture of the lakeland.
Need more Pyhä & Luosto? Visit Pyhä and Luosto, and follow the stories in Facebook and Instagram for Pyhä and Luosto.