Yllästunturi, or Ylläs Fell, rises between the authentic Lapland villages of Ylläsjärvi and Äkäslompolo. The fell and its six sisters nearby offer a wonderland, not just in the cold twinkling days of winter, but all year round, with cultural, sports and recreational events.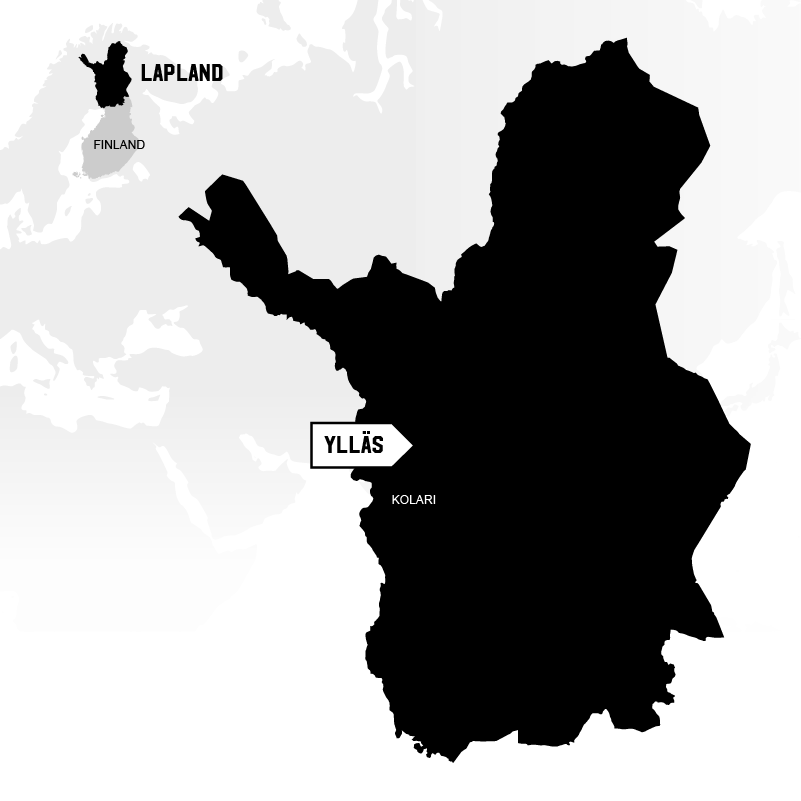 How to get here?
The international airport in Kittilä has flights to other Finnish airports, and depending on the season, flights to European destinations. Of course, you can always come via Helsinki by road or rail, no matter the time of year.
Lace up & take off
When you visit Ylläs, what you wear on your feet depends on what you want to do. If there's snow on the ground, you'll likely wear ski boots as you speed down the 63 different slopes on offer. Once you're at the bottom, you might lock into a pair of cross-country skis for a journey across the great white wilderness. Of course, once the snow is gone, you can lace up your hiking boots and discover the radically different landscapes of the Pallas-Yllästunturi National Park.
The National Park recently opened up all its summer trails to bicycles, effectively creating hundreds of kilometers of bike paths throughout wild western Lapland. You can put your endurance to the test and ride Finland's oldest trail, the Hetta-Pallas (55 km). In winter, suit up and climb Kukas fell on a fatbike. The snow-capped forests and the gently rising fells in the distance are a sight to behold.
Ylläs sits on the cusp of Fell Lapland, the Tornio River Valley and central Lapland, giving rise to unexpected and delightful natural locations. On warm summer days, you can ride the gondola up the fell to enjoy a snack at the Ylläskammi 718 café. Tour the rolling fields and pine forests on horseback. Take a week-long trek into the last true wilderness Europe has to offer. After you've roasted a sausage or two over a campfire, sit back and see if any Siberian Jays are interested in your company. These little guys will often eat seed right out of your hand.
To the west, the mighty Tornio River offers exciting rapids and placid pools, and salmon fight their way upstream every May and June. In winter, grayling, perch and burbot move under the deep ice, in a contest against the patience of bundled-up fishermen waiting up top.
Two Villages
The two villages of Ylläsjärvi and Äkäslompolo are as authentic as they are wonderful. These original villages are some of Finland's earliest tourist destinations, and here visitors can still see and experience life in a traditional Lapland village.
Part of the fell villages' authentic nature comes from their food: real restaurants, not franchise chains. Restaurant Rouhe offers the gourmet touch, whether its escargot and parmesan or Arctic char in crayfish sauce. Many of the hotels also feature gourmet restaurants and cafes. At night, check out the reindeer burgers and Lapland almond potato fries from the restaurant Kitchen & Northern Cafe Well. A special treat for winter visitors, the restaurant at the Lapland Hotels SnowVillage serves up traditional cloudberry appetizers, reindeer entrees, raspberry sorbet and more!
Attractions and services include an 18-hold disc golf course in both villages, lakeside saunas, ice swimming. In winter, many operators provide husky and reindeer rides through the quiet, sparkling countryside. And no matter the season, you can enjoy horseback riding, bowling, or wellness treatments. Or maybe just put your feet up by a crackling fire and enjoy a traditional Lapland evening. In the winter, the villages turn off their streetlights in the nights from November to February so you can see the Northern Lights swirl and dance above the fells.
With 55 km of ski slopes, Ylläs claims the title of Largest Ski Resort in Finland. As such, it has accommodation to suit, with almost 25 000 available beds. Isolated cabins on the forested fells. Luxury hotel rooms replete with the comforts, conveniences and services one expects. For any number and size of beds and rooms, Ylläs has the perfect place for you to unwind and plan your holiday adventures.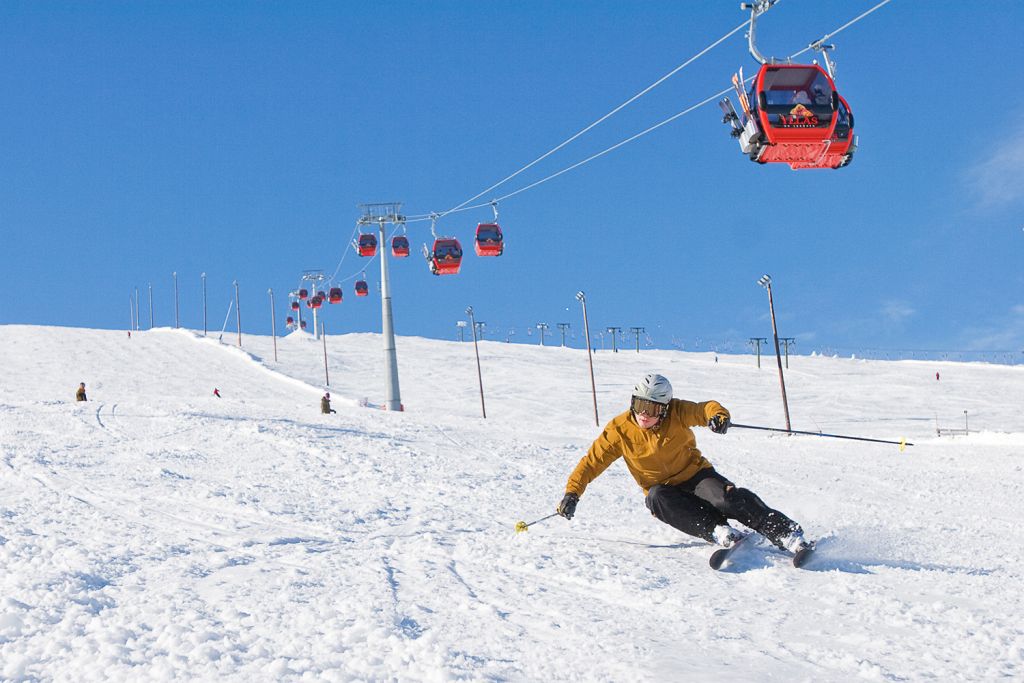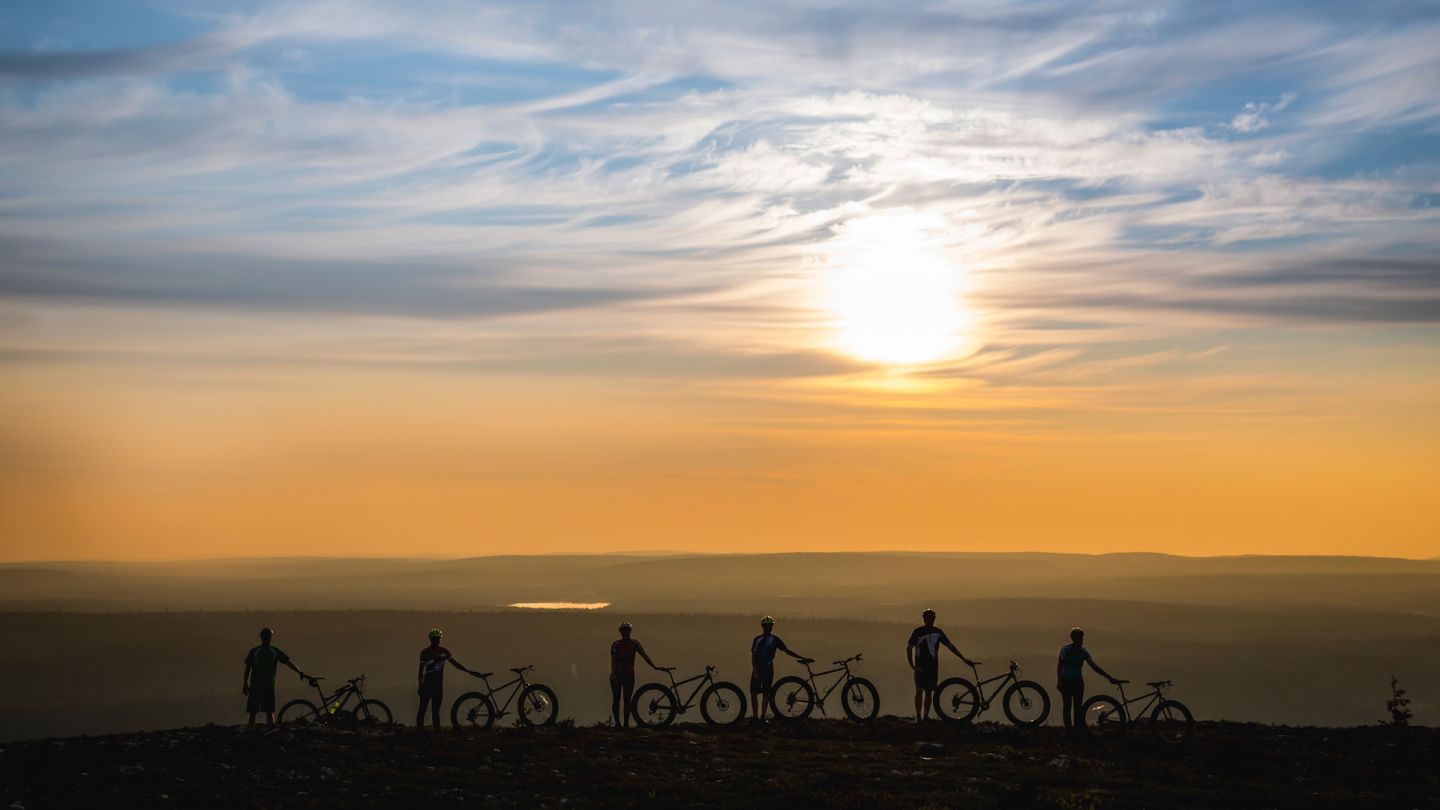 Photo by:
Timo Veijalainen | Ylläs
Around Ylläs
About half an hour's drive southwest of Ylläs sits the town of Kolari, nestled in the Tornio River valley. This valley has a long, rich history entwined with the Swedish side of the river. Check out the 200-year-old church on Kolarisaari island, or take a scenic hike on the Lukkarinvainio Natural Trail (3.5 km). And birdwatchers will love the Teuravuoma-Kivijärvenvuoma Protected Mire. Considered one of the best birdwatching sites in the whole of Finland, this area features duckboards, lean-tos, campfire sites and observation towers.
And of course, you can hardly miss the gigantic national park bearing Ylläs's name. The Pallas-Yllästunturi National Park offers endless skiing and hiking trails, as well as Finland's oldest hiking trail, while never straying from great services.
Travel to Ylläs
Whether you're coming from London, Paris, or even Rovaniemi, getting to Ylläs poses no challenge. The international airport in Kittilä (1 hour drive) has flights to other Finnish airports, and depending on the season, flights to European destinations. Of course, you can always come via Helsinki, no matter the time of year.
Lapland has a modern, maintained infrastructure. That means that visiting Ylläs by road or rail is as easy as clicking a few buttons on your phone. The night train from Helsinki terminates in Kolari, only 45 km from the slopes of Ylläs. Depending on the season, the trains may run every day or only a few times a week.
There are direct bus routes from the Kemi and Kolari railway stations to the resort village, and plenty of parking, should you drive yourself. The road between Ylläsjärvi and Äkäslompolo is called Maisematie, or Scenic Road, and for good reason. The fells rise to the east, perfect for freeriding in winter, and Lapland rolls away to the west, a promise of adventure, any time of year.
Looking for more adventure? Learn more about visiting Ylläs.