The economic growth in Lapland has been more positive than in Finland in general. Lappish companies have gained new business opportunities from international markets, and international tourism is also growing significantly. In the next coming decade, the total value of planned investments in Lapland is almost 14 billion euros.
Check-out the figures from our infographic: Lapland investment potential up to 2030. The infographic is based on Arctic Business Forum Yearbook 2019 by Lapland Chamber of Commerce.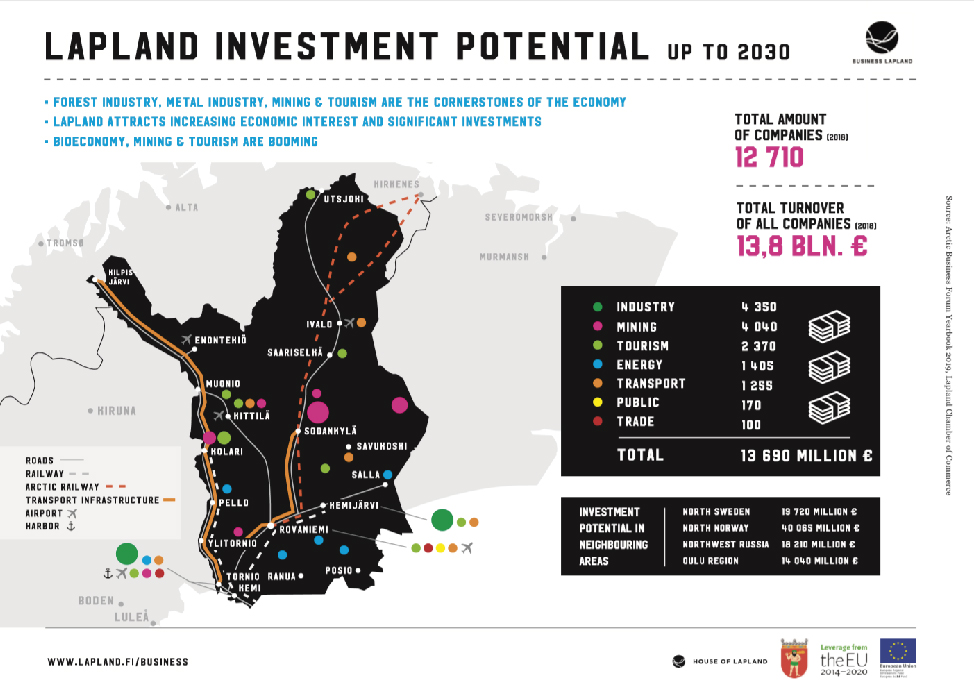 The single biggest planned investment is Metsä Fibre's Polar King project, a bioproduct mill located in Kemi. Other big bioproduct projects, Boreal Bioref in Kemijärvi and Kaidi in Kemi, have Chinese investors as main partners.
Current mines in Lapland are investing in their operation, the total value of the ongoing mining expansion projects is almost 0,5 billion euros. Sakatti nickel mine is a big investment plan expected to be started in the 2020s. Sokli phosphate mine by Yara has also begun a new evaluation of the possible implementation of the project. Prospecting and exploration in Lapland are growing and thus more mining plans can be expected in the future.
The growth of tourism demand can be seen in the investment plans for new resorts and hotels in Lapland. The total value of tourism investment plans is over 2,3 billion euros.
Transport infrastructure in Lapland needs investment in roads and railways for more than one billion euros. New bioproduct mills and growing mining activities need deeper seaport, railway electrifications and investments in highways as well as smaller roads. At the moment Finavia is investing 55 million euros to expand the airports in Rovaniemi, Kittilä, and Ivalo.
View a full-size version of Infographic: Lapland Investment Potential Up To 2030