Motor Trends and Range Rover combined Lapland's snow-how for a unique production in northern Finland: an exciting race atop frozen tracks between two famous racecar drivers.
Finnish Lapland is popular for productions looking to film wintry races, chases and dramatic drives. Recent years have seen, for example, Faster: Race the World (Twenty Twenty, Motion Content Group) spend a week in Ivalo in 2018 for their driving television series. The Grand Tour (W. Chump & Sons, Amazon Studios) filmed their 2016 Christmas special in the snowy forests of Saariselkä. And Shell filmed an action-packed commercial for their Helix Synthetics line in 2017.
Range Rover and Motor Trend are one of the latest to visit northern Finland to film on an ice track. In April 2018, British racecar driver Justin Bell and Belgian driver Vanina Ickx pitted their identical Range Rover Sport SVRs against some of Lapland's most treacherous and thrilling ice tracks.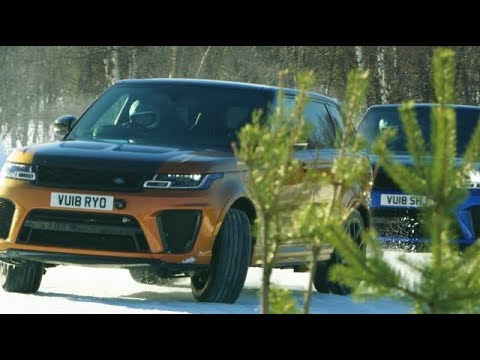 The race was conducted at the Test World tracks in Ivalo, Finland, about 300 km above the Arctic Circle. Test World is a vehicle testing facility that provides snow and ice tracks all year round. Their large, private and exclusive area includes fast tracks, slow tracks and can be customized, for example, for use with drone angles. The safe and secure premises feature a small forest road and a lake-like area that is popular with productions. Test World facilities include a garage for vehicles and equipment, large office spaces for the production crew, and restaurants for lunch and catering.
— Test World has between 5 to 10 productions filming on its frozen tracks every year, the majority of commercials for car brands and tire manufacturers. The outdoor snow and ice track featured in the Range Rover race video is over 3 km long, 10 meters wide, and features snow and ice. Filmed later in spring, the track in the video also featured frozen mud and rocks, says sales and marketing manager Minna Rissanen from Test World.
Of course, the frozen tracks are only one side of the story. Production support services were provided by Flatlight Creative House. In total, eight members of the Flatlight team worked for 25 days alongside the crew from abroad. In addition to offering cultural knowledge and local contacts, Flatlight organized part of the crew and equipment for the production, scouted locations and arranged logistics.
According to Flatlight producer Maria Gullsten:
— The weather during the production was typical of late April, with warm days and frigid nights. Luckily, late April has plenty of daylight, so the production worked mostly in the early mornings to capture the frozen characteristics of the ice track. The production also cleverly utilized the different weather conditions in their script and during filming for versatile driving conditions and to make the video more interesting.
Flatlight also filmed the aerial images used in the video: the exciting shots of the Range Rovers slipping and sliding around the ice track, the overview of the Test World facilities, and the epic pine forests and snowy fells of northern Lapland.