Inari
Conveniently located near an int'l airport and a top tourism destination, Inari in winter is a perfect film location for anyone seeking a vast, frozen lake.
As winter settles over northern Lapland like a white blanket, the country's 3rd largest lake freezes. Called the Sámi Sea, Lake Inari is massive, with more than 3000 km of shoreline and thousands of islands, great and small. Used since time immemorial as a travel route, it's common to see reindeer-pulled sleighs and snowmobiles traversing the lake, traveling from village to village. Ice fishing and skiing are also common traditional activities on the frozen lake.
From certain angles, the vastness of the snowy lake resembles the Arctic Sea. From others, there are winter-kissed forests crowding the shoreline. Behind them, gentle fells rise up in the distance. For about a month around the solstice, Polar Night combines with the snow to create stunning colorful landscapes from horizon to horizon. After polar night, the crisp winter weather and heavy snow cover create the most perfect winter film location one could ask for.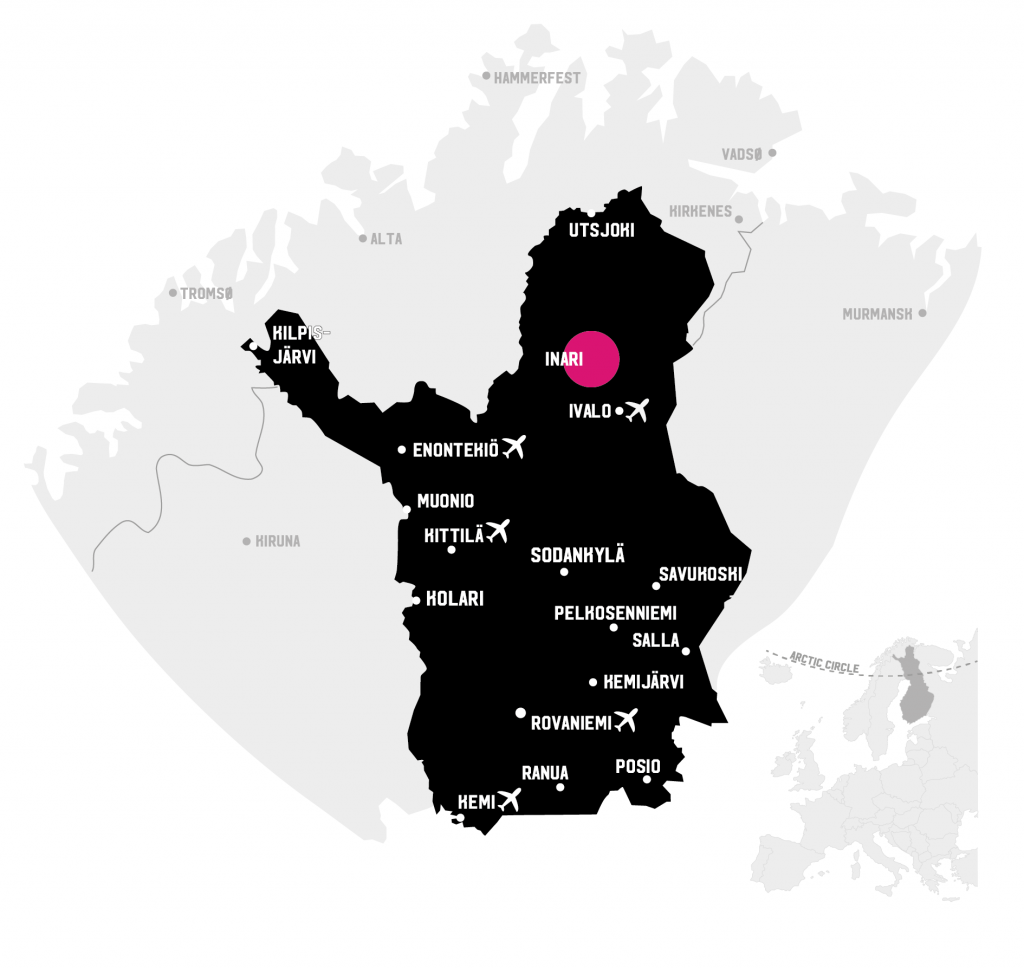 ACCOMMODATION IN INARI
As one of Lapland's most popular tourist destinations, there are accommodation options throughout the area, including lakeside. Saariselkä village (about 1 hour by car from Inari village) has many hotels, holiday villages and cabin options.
There are about 6400 beds available in the Saariselkä area, with about 2900 more throughout Inari.
INARI EATS
From fast food and cafes to fine dining, there is a wide range of options in Inari when it comes to restaurants and food in Inari. There are also catering services offered by local businesses.
OTHER SERVICES
Additional local services that may come in handy when filming the frozen lake include:
Guiding services
Transportation and travel services
Snowmobile rentals
Reindeer & husky farms
This barely scratches the surface, however. For more comprehensive information on the services available in Inari, Lapland North and the Finnish Forest Administration list of local services.
Even in winter, Inari is not hard to travel to or around. Thanks to an international airport and a well-maintained network of roads and highways, getting here and getting around is easy, no matter the season.
BY PLANE
The most direct route to Inari is the Ivalo International Airport (40 min by car to Inari, 20 min to Saariselkä), with daily connections to Helsinki, as well as European and worldwide cities during the high season.
BY TRAIN
Unfortunately, there is currently no train route directly to Inari. However, there are terminuses in Rovaniemi and Kemijärvi, and you can continue via car (about 4 hours from either city.) Visit VR for information on tickets and schedules.
BY BUS
Bus is a popular way to travel to Inari. There are multiple routes and bus companies that travel from, for example, Rovaniemi to Inari. Matkahuolto is the best source for tickets and timetables.
BY CAR
The frozen lake is easy to reach by car, as the highways and roads of Lapland are maintained all year round.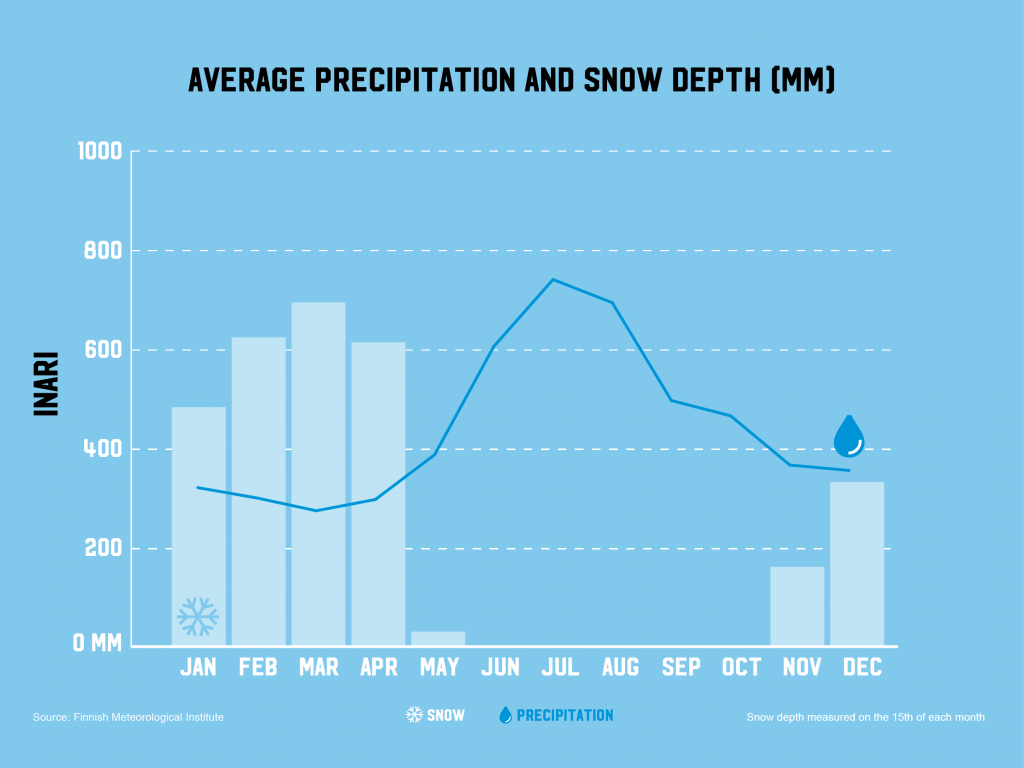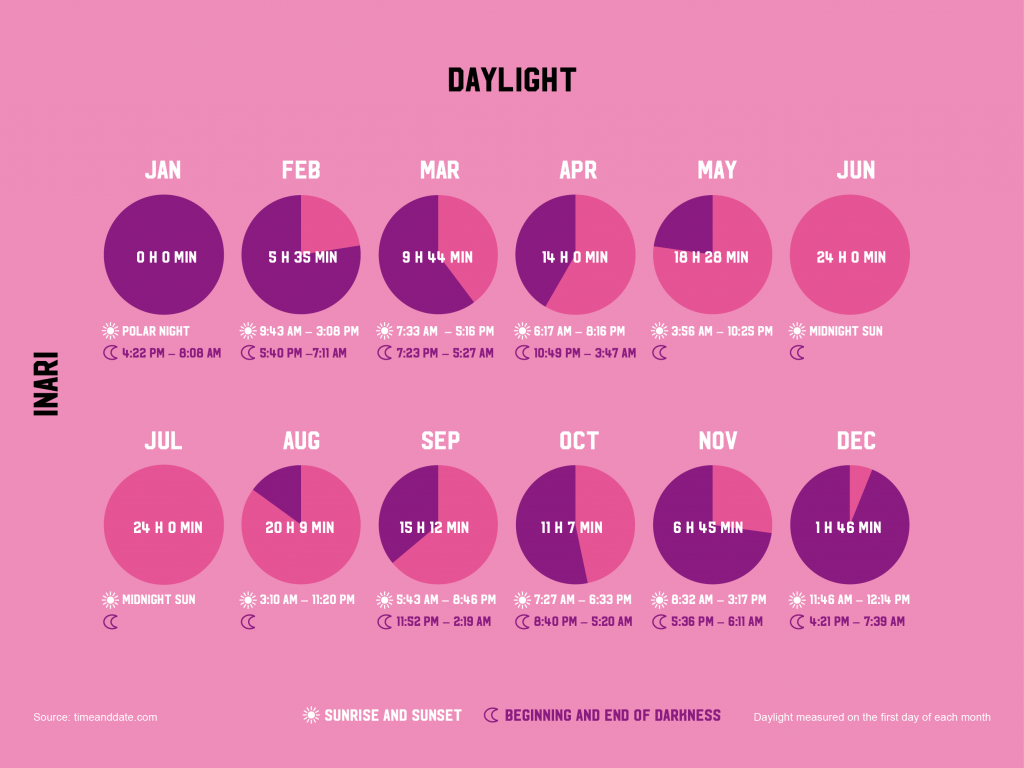 CREWS & PRODUCTION SERVICES
Lapland is home to many different production services. If you need help finding the right one, drop us a line.
PERMITS
Everyman's Right, or the Right to Roam, allows film productions to film on and around the frozen lake without a permit (some restrictions apply.) If your production is small and does not disturb nature, you probably won't have to worry about permits. If you're not sure, we're happy to help you find out.
Some of the shore of Lake Inari is in lands protected by Metsähallitus (Finnish Forest Administration). In these areas, permits are required for off-road travel and temporary structures. Metsähallitus grants permits case-by-case, and they have instructions for permits.
Everyman's Right covers walking, snowshoeing, skiing and some ice-fishing on the lake.
The Finnish Lapland Film Commission does not grant permits, but we can help you figure out if you need one and how to manage the permit process.