Lapland Ambassador Tuija Seipell:
I was born and educated in Finland, but have lived and worked outside Finland for the past 35 years.
I was never a fan of cold or skiing and had visited Lapland only in the summertime when I was about five years old. So, eight years ago, when I was invited to speak in Finland – and also in Lapland at the Arctic Design Week – for the first time, I was really getting to know Lapland for the first time. Since then, I have visited many times and each time, I learn something new and cool. Here are just a few of my current favourites, in no particular order.
Reindeer boots
If you are lucky like me, you get to know master instructor Hilma Länsman at the Sami Education Institute in Inari and eventually become the owner of custom-created reindeer boots, painstakingly handmade by Hilma's student Ida Pirttijärvi. I was especially fortunate because they decided I deserved the rarer and more valuable white boots because they felt I am a "Powerful Woman." The boots will forever be the most special footwear I will ever own.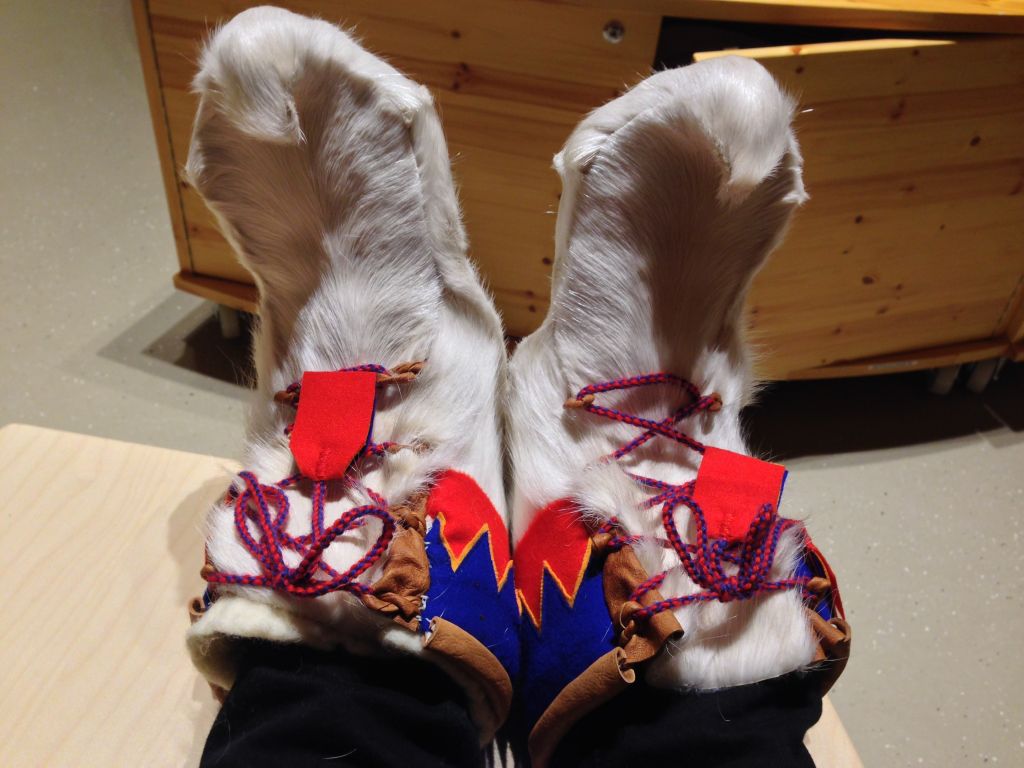 Alvar Aalto
If you are into architecture, functionalism and Alvar Aalto, you must visit Rovaniemi. The city's street plan (in the form of reindeer antlers), its City Hall, main library, main theatre (Lappia House) and several residential projects were all designed by Finland's most famous architect.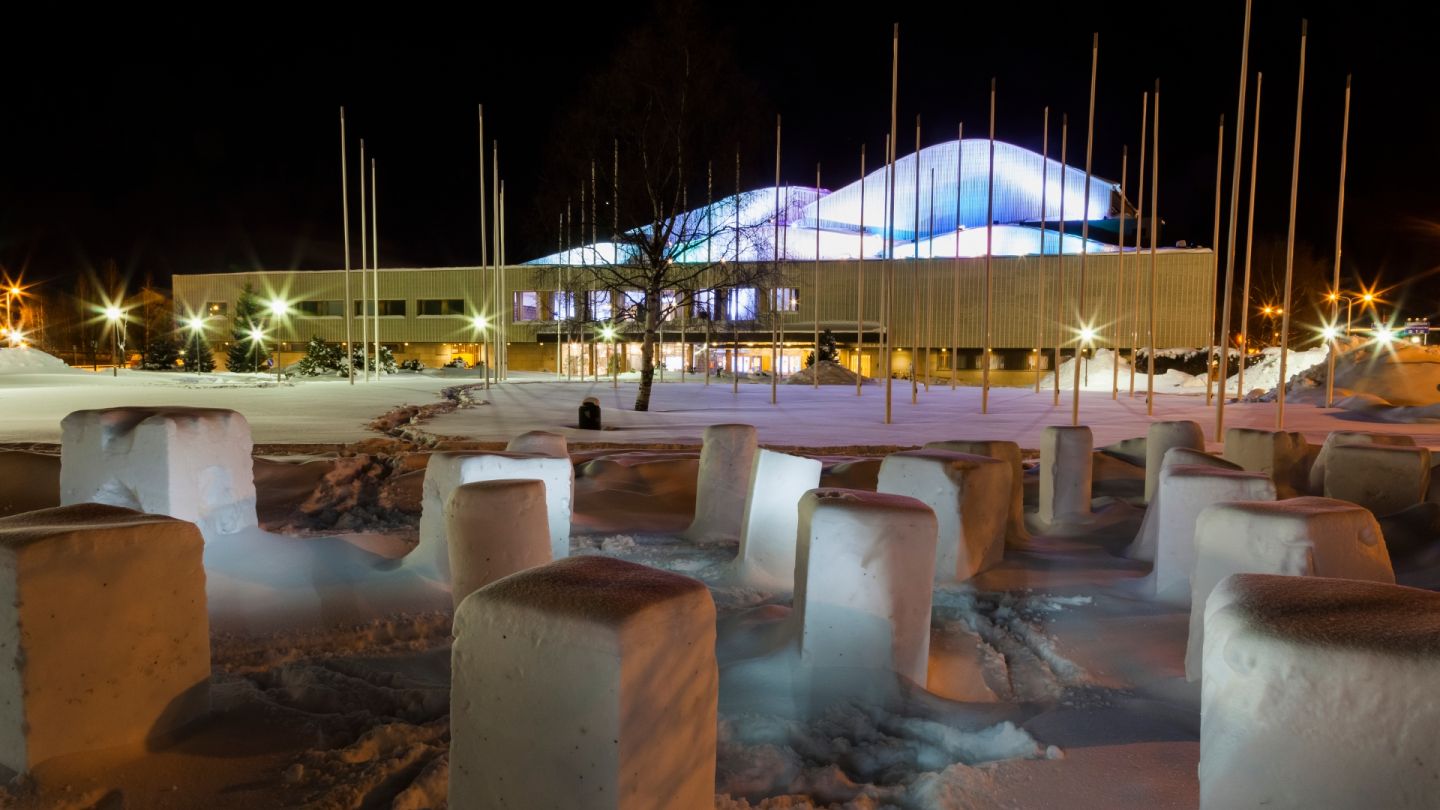 Photo by:
Visit Rovaniemi
Sajos
One of the coolest little villages in Lapland is Inari, population 500. It is located by Lake Inari in the country's largest and most sparsely populated municipality, also named Inari. The village is home to several important and impressive institutions, all featuring and supporting various aspects of the life and culture, both past and present, of the indigenous Sami people. Architecturally the most stunning of the three is Sajos.  It is the Sami cultural centre and Sami parliament house, designed by Tampere-based HALO architects. "Sajos" is an Inari Sami word meaning a place where people camp for a longer time.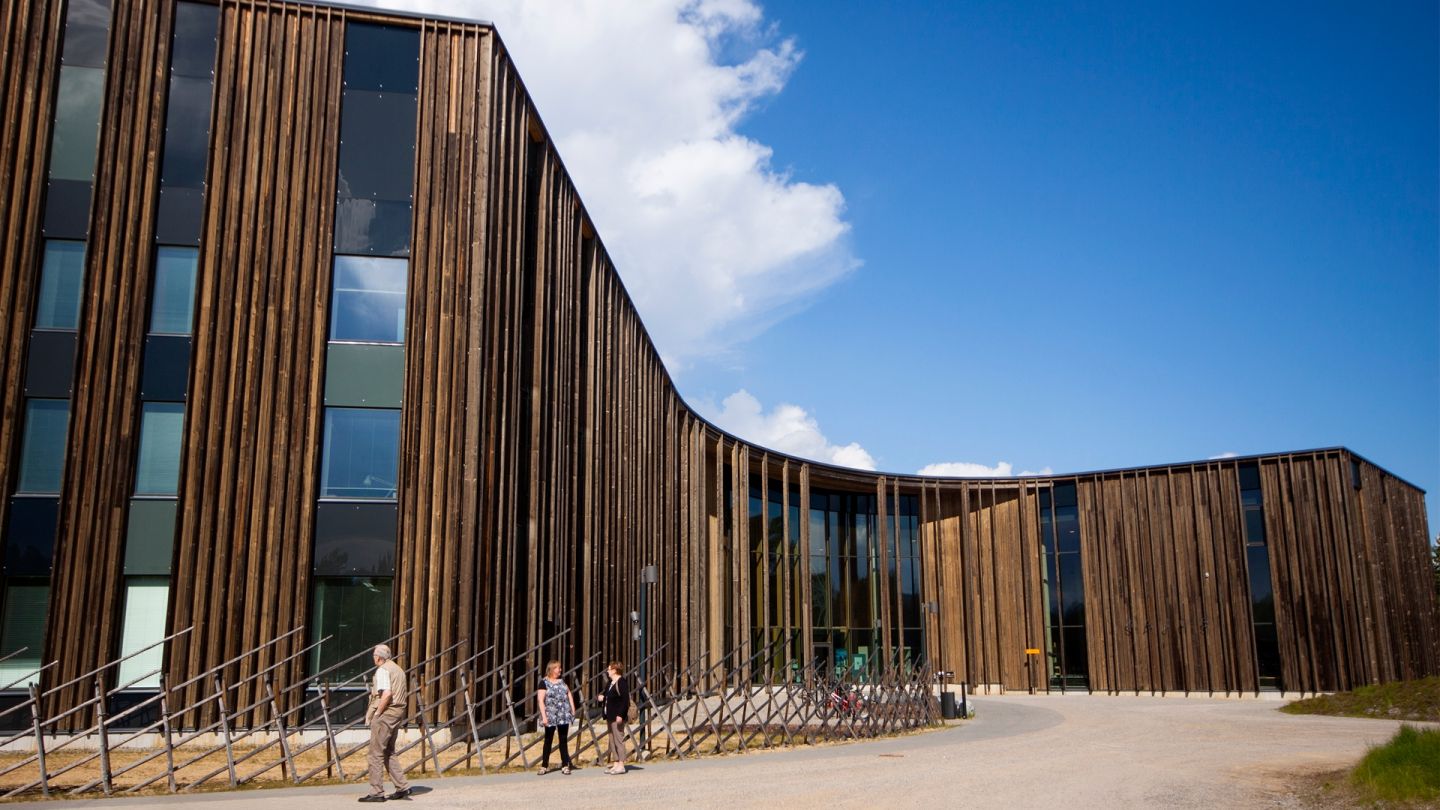 Photo by:
Lapin Materiaalipankki | Terhi Tuovinen
Siida
Within walking distance from Sajos, is Siida, the museum of Sami Culture and a Nature Centre. Siida has both permanent and temporary exhibitions, indoor and outdoor nature services and a restaurant. Opened 20 years ago, the building is bursting at the seams – and expansion plans are underway – because of its incredible popularity with both locals and tourists. Siida is an absolute must if you want to understand the Sami culture and history.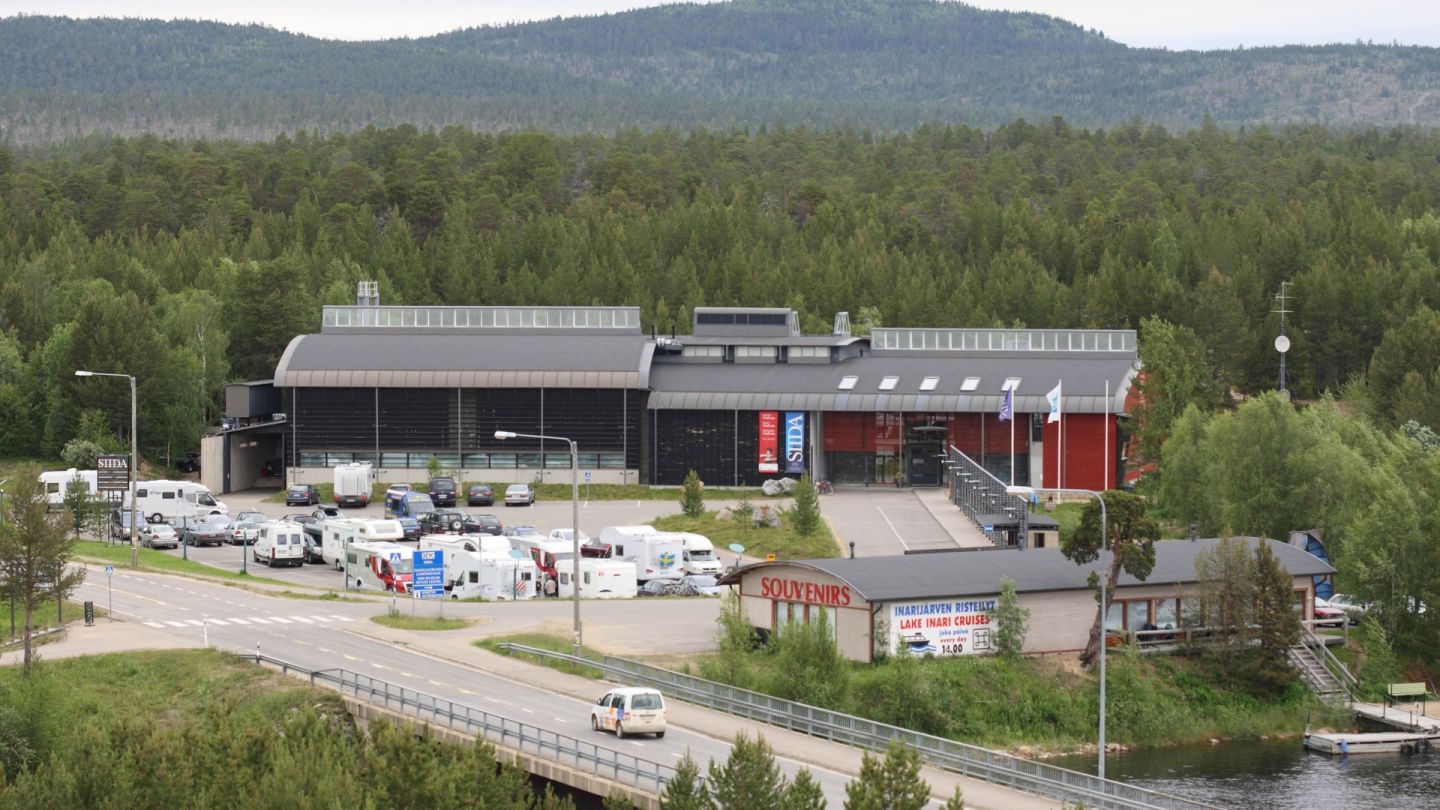 Sami Education Institute
A few hundred meters to the opposite direction from Sajos is the Sami Education Institute, an incredible establishment that provides a variety of vocational training and promotes Sami culture. I've had the pleasure of visiting a couple of times and talking with the students and instructors. I've learned more there in a three-hour visit than I ever imagined possible, about topics such as reindeer husbandry, traditional woodworking, jewelry-making, clothing design and the various Sami languages.
River Ice
During my Inari visits, I have stayed at Hotel Inarin Kultahovi located right by the river Juutua. When I checked into my room in one late, cold February night, stressed out from my travels and my heavy speaking tour schedule, I almost called the reception to complain about an annoying hissing sound I heard in my room. I'm glad I opened the door to my balcony before I did that. The hissing sound turned out to be the ice moving majestically on the river, just a few metres from my balcony. From there on, I kept the door open as much as possible, to better hear the soothing sounds of nature.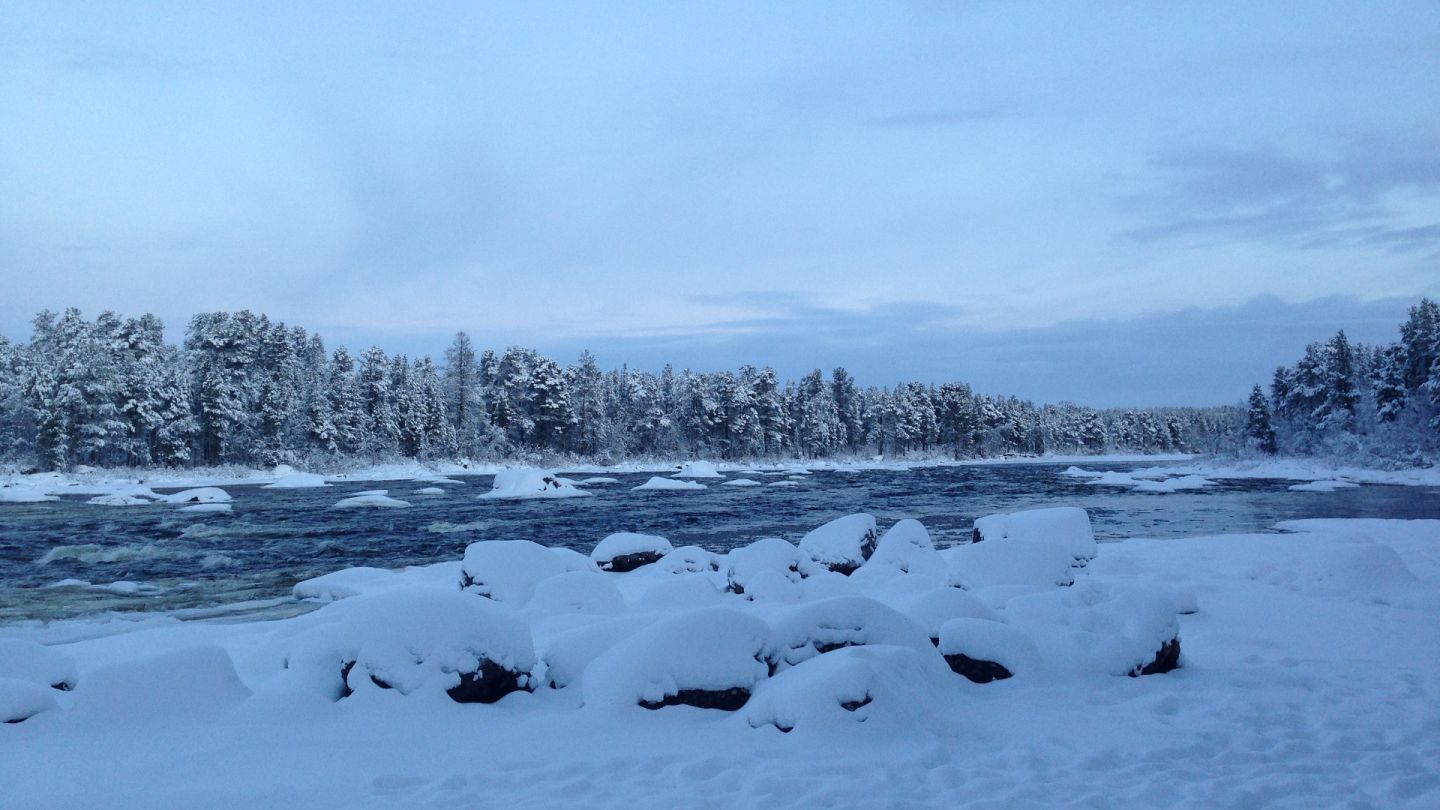 Huskies
In 2015, when I led workshops in the Levi ski resort in Kittilä, I learned at Polar Lights Tours that their Huskies and Alaskan Malamutes all have names, different personalities and individual little houses. The hard-working dogs are fun and energetic and incredibly strong!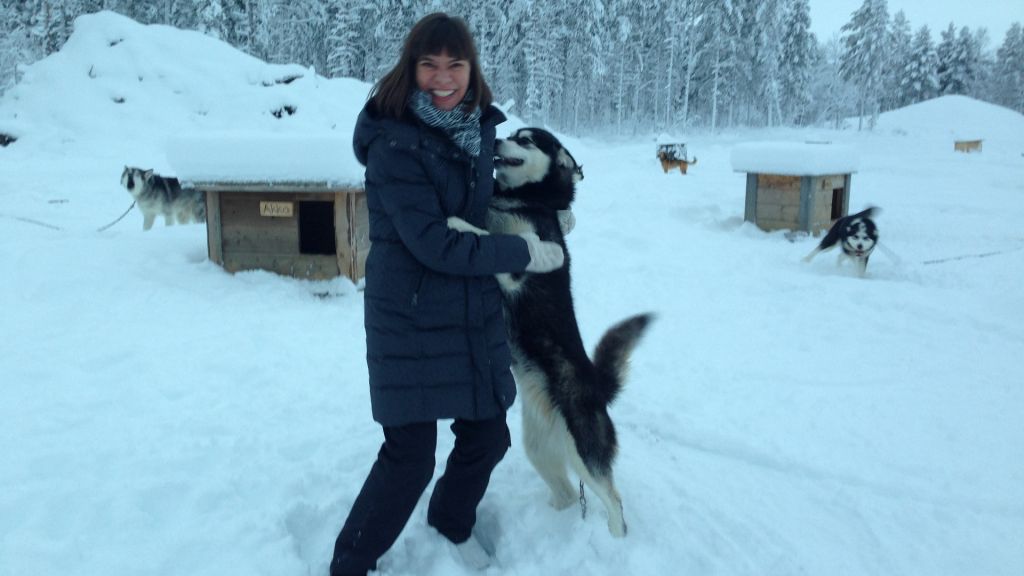 Sexy reindeer herders
One of my most memorable hours so far in Lapland was a chance visit to a seasonal Sami reindeer-round-up somewhere between Levi and Inari. From the road, it looked like a well-lit hockey rink, but up-close it was a fenced area with a churning whirl of hundreds of reindeer running around the outer edge and the various herds' owners standing in the centre, grabbing their own reindeer by the antlers as they ran by and separating them from the larger herd. Each owner can recognizer his or her personal markings on the reindeers' ears. Incredible! After the round-up, the younger reindeer owners looked very sexy as they walked nonchalantly to their pick-ups texting busily on their iPhones.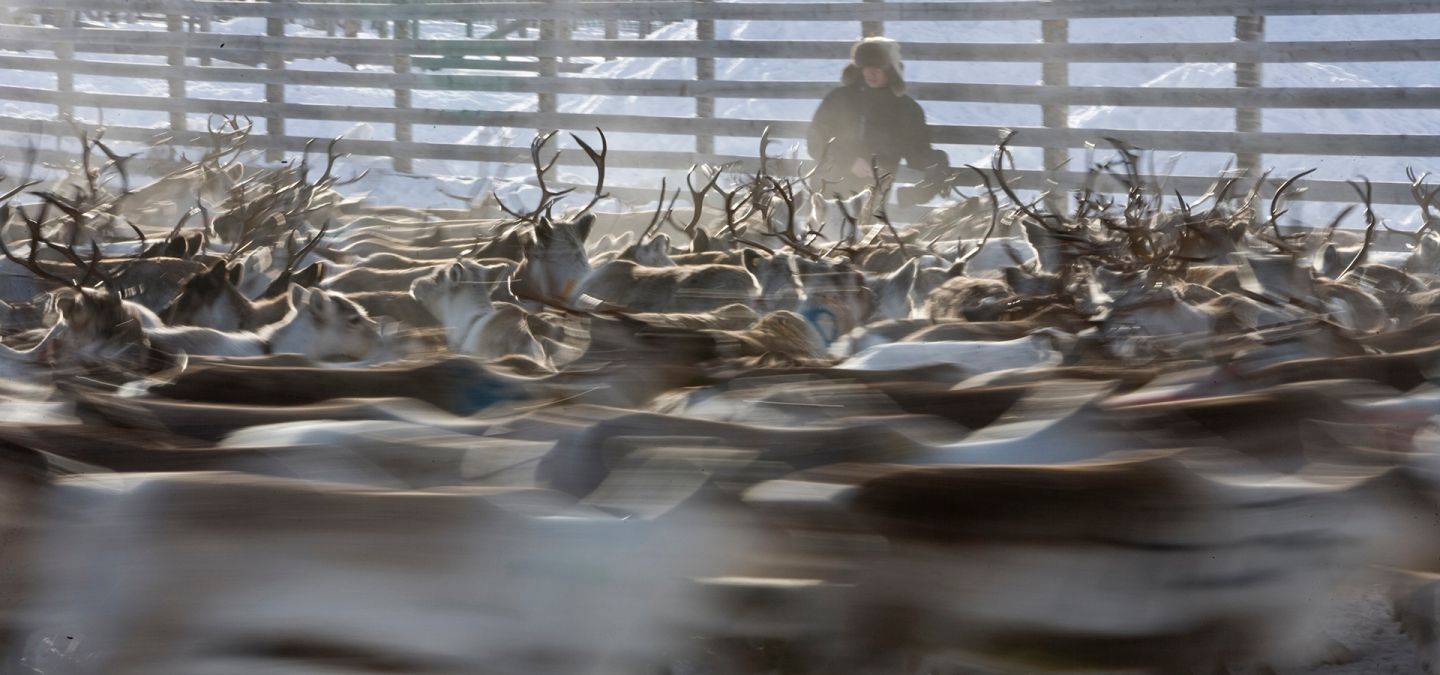 Photo by:
Lapin Materiaalipankki