Lapland is an internationally renowned tourist destination, and the growth rate of winter tourism in particular has been strong. Before the spring 2020 Corona crisis, winter tourism in Lapland was growing at a record pace, but travel restrictions hit the brakes on tourism development.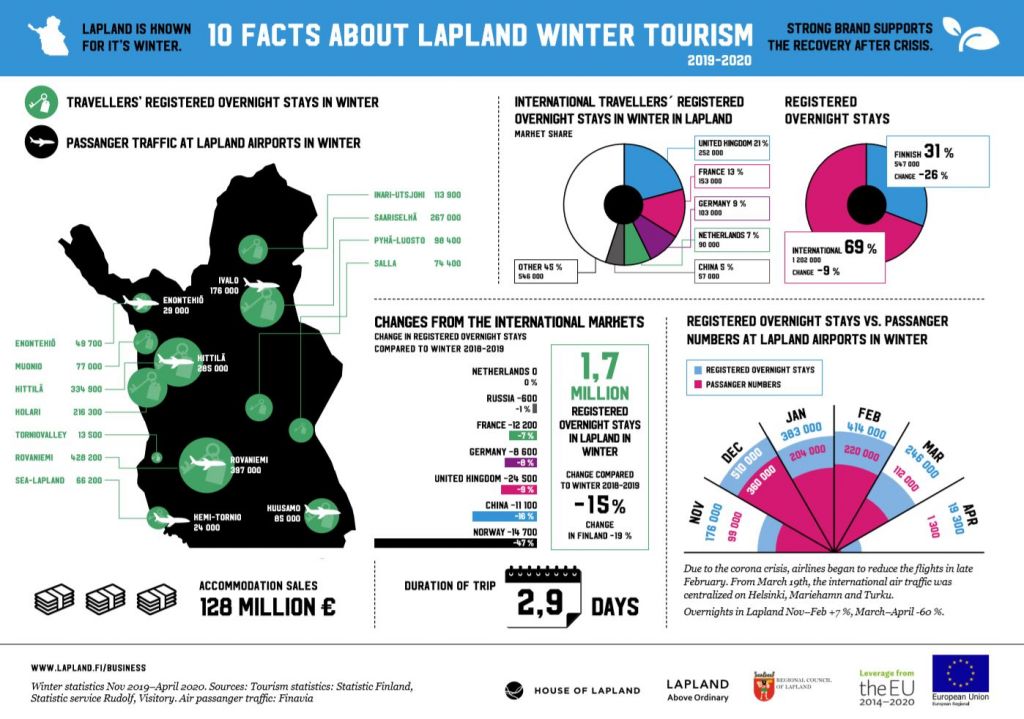 Last winter (November 2019–April 2020) 1.7 million overnight stays were registered in Lapland, which is 15% less than the year before. During the same period, overnight stays in the whole of Finland decreased by 19%.
At the beginning of the season, before the travel restrictions, there was considerable growth in overnight stays registered in Lapland. During November–February the number of overnight stays increased by +7%.
Airlines began to reduce their flights at the end of February. In accordance with the Government's guidelines, international air traffic was centralized on 19 March at Helsinki, Mariehamn and Turku airports. There were also strict restrictions on domestic travelling. As a result of the corona crisis and the travel restrictions overnight stays in Lapland fell by as much as 60% in March–April 2020.
Last winter, the domestic overnight stays decreased more (-26%) than the international overnight stays (-9%). The difference is explained by the fact that the travel restrictions imposed due to the corona crisis hit the late spring ski season, when a relatively large proportion of tourists staying in Lapland are typically domestic.
The value of accommodation sales in Lapland in the winter of 2019–2020 was 128 million euros, which is 6% less than in the previous year. In Finland as a whole, accommodation sales decreased by 16% during the same period.
The recovery of air traffic and the return of consumers' sense of general safety are key issues for the development of tourism. In Lapland, there is confidence that a strong international brand supports the recovery of the industry and the pent-up demand for tourism will focus on functional, safe and clean natural destinations such as Lapland.
Click to enlarge the Infographic winter tourism in Lapland 2019–2020.