Lapland is an excellent choice for testing autonomous winter driving, with Arctic winter conditions and challenging rural terrain, both with and without infrastructure. Research and development related to autonomous traffic are promoted in Lapland actively through cooperation between various parties.
The most important reason to test vehicles in Lapland is the arctic environment. This also pertains to autonomous vehicles. Lapland has sufficient snow cover and the conditions are cold and dark enough in winter. Tire, component and vehicle manufacturers test their products at the several test centers in Lapland in Muonio, Inari and Rovaniemi, but also outside the centers.
In addition to weather conditions, autonomous vehicle manufacturers are also interested in the challenging rural environment in Lapland as well as the infrastructure or lack thereof, i.e., how autonomous vehicles fare in arctic winter conditions. This makes the entire road network in Lapland ideal for tests.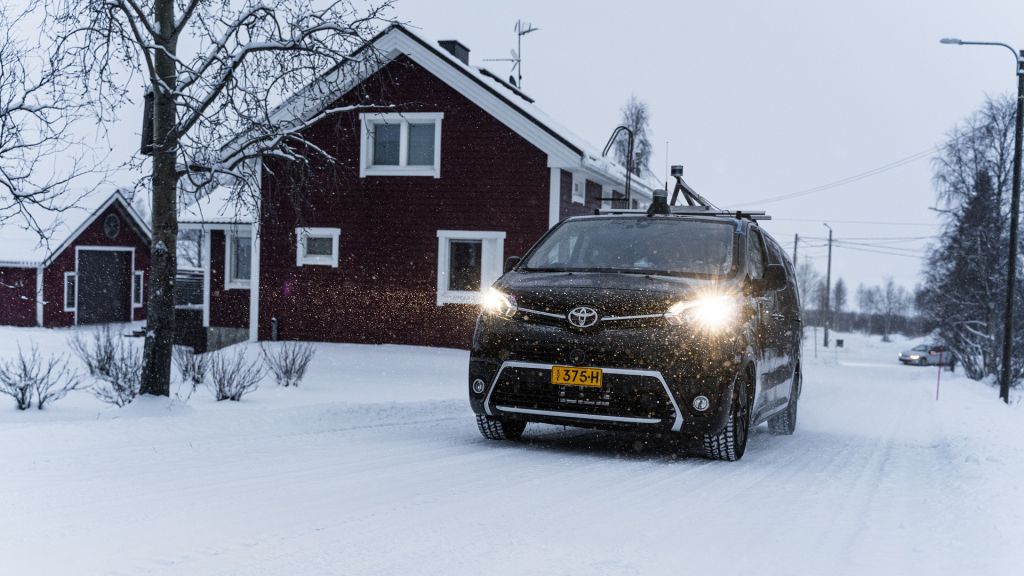 Winter testing in Lapland is an important step in software development for Sensible 4
Sensible 4, a Finnish robotics and software company that has automated numerous vehicles produced by various manufacturers, tested its software on the Toyota Proace in the center of Muonio in December. There, road users include anything from adults, children and cyclists to even reindeer, in addition to cars. The purpose of the test phase was to collect measurement data in adverse weather conditions and test the newest features of the Sensible 4 autonomous software to be released in 2022.
Sensible 4 had already conducted a two-month pilot project in Helsinki in summer 2020. The remote control center developed by the company was implemented during the pilot along with connecting the vehicle to the public transportation system and reducing the number of staff travelling in the vehicle from two to one.
– Testing must also be absolutely safe. Because we are not operating a finished product yet, the self-driving vehicle needs a safety driver, says Managing Director Harri Santamala.
The vehicle tested in Lapland utilized the preliminary version of the first commercial application designed by Sensible 4. The finished product will be the first of its kind in the world due to its ability to drive in all weather conditions without a safety driver. Winter testing is an essential phase in its development.
– We have conducted tests in Lapland since the first year of operation in 2017. We have aimed for three to four test campaigns each winter, and the focus has been on collecting data on adverse driving conditions.
During its latest stint in Lapland, Sensible 4 tested sensors installed in vehicles, among other things.
– As the weather conditions changed, the LiDAR sensors creating 3D models were afflicted by moisture and frozen vapor, which altered the measurements. This was valuable information for us. There are many LiDAR sensor suppliers on the market at the moment, and we do not want to buy the high-end sensors if they cannot function in all conditions, says Testing Expert Antti Hietanen.
Sensible 4 has also tested its overall solution for testing autonomous vehicles in Lapland.
– All operations, such as location and the vehicle steering system, must function on their own and together. We also need example image data of winter infrastructure to ensure image recognition algorithms function in winter conditions. This means images of buildings, trees, cars and roads covered in snow and the snow whirling around on the road.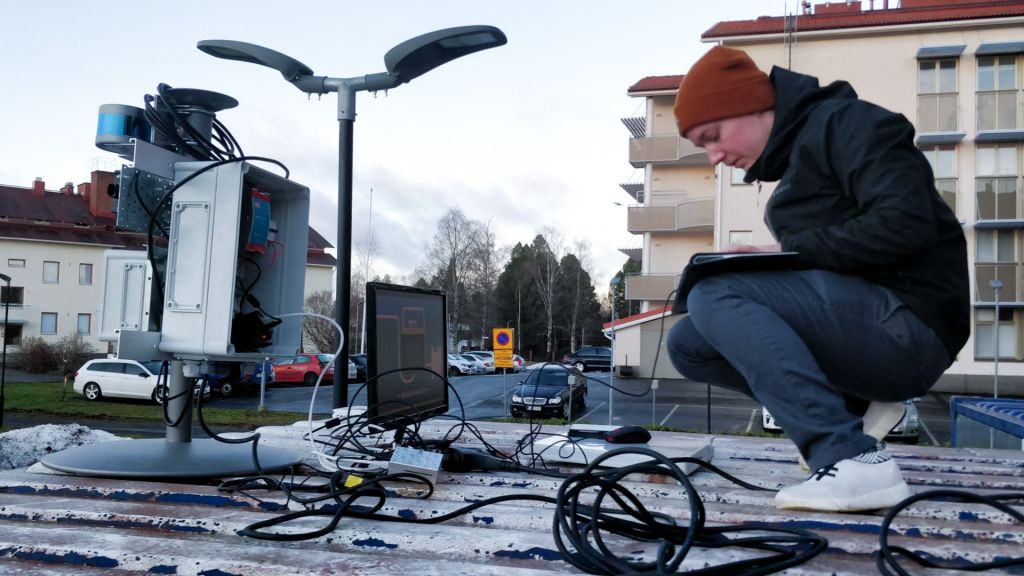 Photo by:
Lapland University of Applied Sciences, WinterSIM project
Winter in Lapland is introduced to the CARLA simulator in the WinterSIM project
In Lapland, different operators engage in active cooperation to respond to the developing needs of vehicle testers. The WinterSim project that started at Lapland University of Applied Sciences in summer 2020 transfers arctic winter conditions to the simulation testing system intended for autonomous vehicles.
– The FrostBit software laboratory at Lapland University of Applied Sciences is one of the oldest virtual reality software labs in Finland. We utilize modern gaming technology in multidisciplinary research, development and innovation projects, and we have just published the Virtual Forest 2.0 tool for the use of the forestry industry, for example. In the WinterSIM project we are building a Lapland winter testing environment in the CARLA simulator, which is commonly used in vehicle testing, Project Coordinator Pertti Rauhala explains.
Two areas will be simulated: the Aurora Intelligent Road in Muonio and the urban environment in Rovaniemi.
– We are currently collecting reference data at our measuring stations. We are also comparing the data from fixed measuring points to that from mobile measuring stations. The purpose is to create arctic winter scenery and road conditions in CARLA, corresponding to our northern driving conditions—even in real-time. We are aiming at simulating the behaviour of the sensors employed in the vehicles in winter conditions, meaning that autonomous vehicles can be tested and developed in arctic conditions virtually, as well.
The expertise in institutes of higher education in Lapland is widely utilized in building digital twins.
– The arts department of the University of Lapland is located right next to the FrostBit software laboratory. In addition to the data, the visuals in the simulation will also correspond with arctic weather conditions. We have high expectations for the end result, Rauhala says.
Incorporating the Finnish winter into simulation tests is a significant step in developing automatic systems, but according to Reija Viinanen, Managing Director of Aurora Snowbox, who is in charge of coordinating the commercial projects of the Snowbox testing environment, it works as a bridge for vehicle manufacturers to come to Lapland for winter testing.
– Our goal is to build a winter testing environment where the simulation model and the automatic driving testing environment Snowbox meet in Fell Lapland.
Performing virtual testing in advance will save time and cut costs, but the test must be verified in real conditions in Lapland.
– Simulating tests is not always successful and any issues must be resolved on-site. And, conversely, tests results from Lapland can later be verified in the simulation, Viinanen says.
The adverse winter driving conditions have also been taken into consideration in the testing standards that are currently being drafted.
The cooperation partners of the WinterSIM project managed by Lapland University of Applied Sciences include Lapland Proving Ground, Ramboll Finland, Roadscanners, Toptester and Sensible 4, in addition to Aurora Snowbox.
– The winter data collected in Lapland will allow for the testing of sensor, system and vehicle behaviour in winter conditions through simulations. This will interest our international partners who have a long-term approach to development work and want to access the global market, says Aurora Snowbox Managing Director Reija Viinanen.