Director Niklas Lindgren's first feature film, Huonot naiset, starring Leea Klemola and Emma Kilpimaa, is a Finnish wedding comedy filmed throughout Lapland in the spring of 2021.
Huonot naiset (Bad Women in English) tells the story of a wedding that takes place in a sleepy village in Lapland. The hostess of the parish house (played by seasoned Finnish actor Leea Klemola) and her teenage daughter (Emma Kilpimaa) are responsible for wedding arrangements, but end up having to deal with a busload of unexpected guests.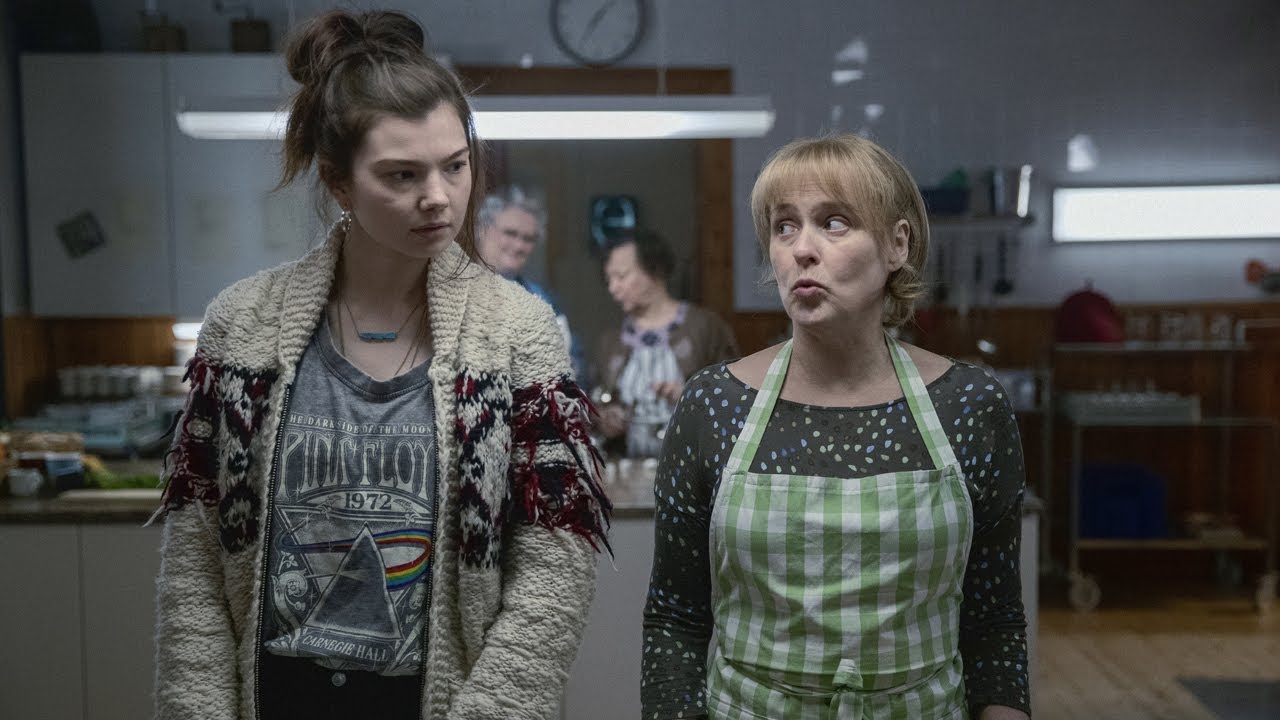 The film is director Niklas Lindgren's first feature-length film, co-written with his partner Karoliina Lindgren, who is from the Tornio region of Lapland.
Filming took place over 6 weeks in 14 different locations around the northern tip of the Gulf of Bothnia from March until the beginning of May 2021. Although the number of unit moves had an impact on the schedule, a decision was made to film everything in Lapland.
Producer Miia Haavisto of Tekele Productions, whose successes include the hard-hitting Unknown Soldier (2017) and Lost Boys (2020), explains:
– Typically, when a story is set in the north, only exterior shots are done there and interiors are done around the Helsinki metropolitan area for budget reasons. Now that we had very little time for pre-production and we had to shoot during Covid-19 crisis, we chose to stay in one region for the entire shoot.
Architecture in Lapland
Snow and an open landscape, both of which are abundant in Lapland, were key elements for the story, but finding the right kind of architecture was also extremely important. Most of the story is set around a large old parish and the team were searching for a particular type of log building to create the right atmosphere. They were pleasantly surprised by the architecture that was on offer in the region.
However, filming close to the coast came with its own risks. Haavisto reveals:
– We were warned a little bit by the fact that when the snow starts melting, it would go first in that region, but even knowing that, we still chose it.
As predicted, snow started to disappear around Easter. Luckily, locals were on hand with their tractors to shift what snow there was from one location to the other. It seems that none of the magic was lost, with Haavisto exclaiming:
– The locations were beautiful and look very good on camera!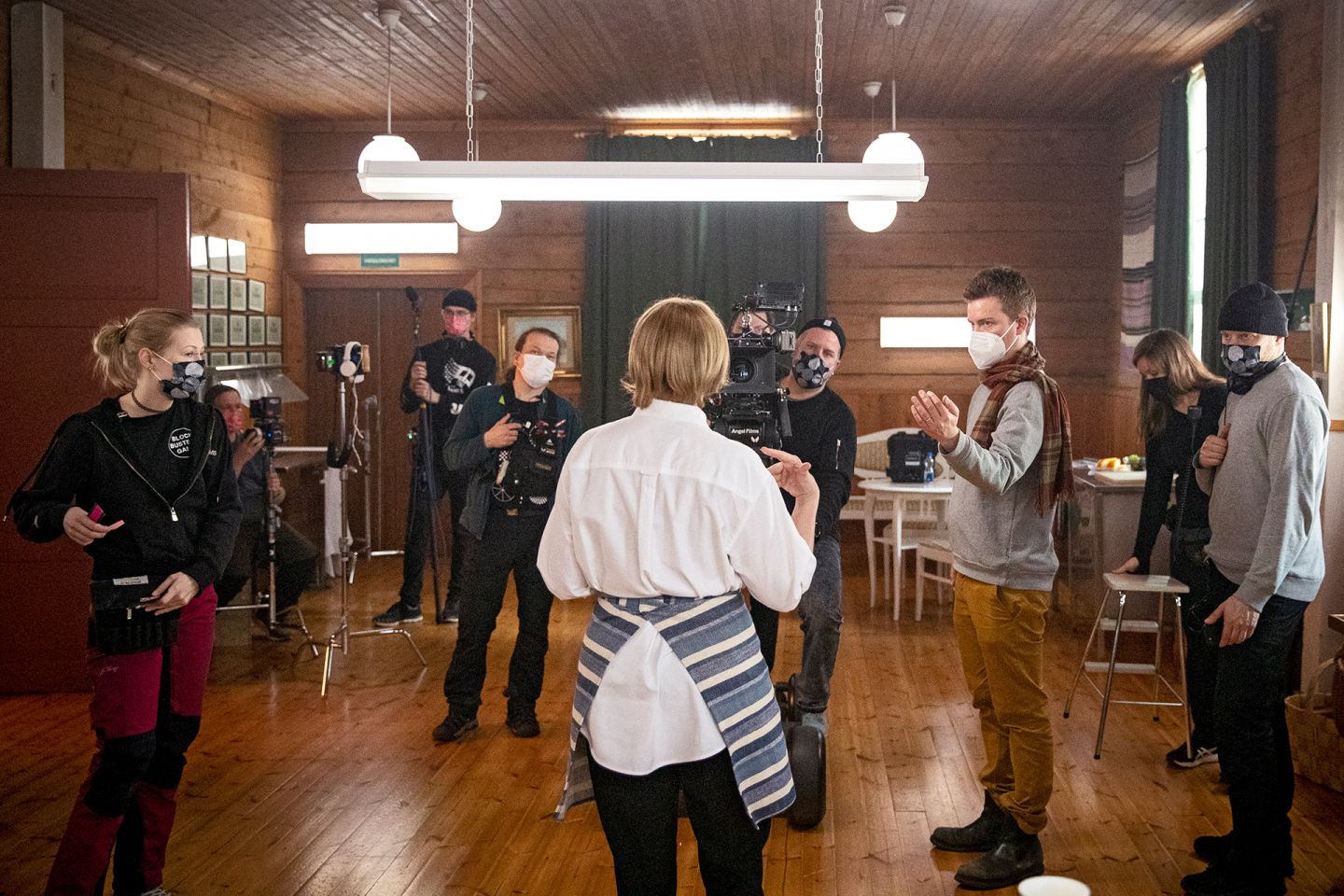 Photo by:
Maiju Pohjanheimo | Tekele Productions
Laidback local heroes
Along with moving snow around, it seems that nothing was too much trouble for the area's residents. When the production team realized that a chemical that they needed to use for a particular car scene was not suitable for actors, they had to quickly find some stand-ins. Haavisto herself headed into town.
– It's not something I often do as a producer, to go to a shop and ask if there are any mannequins available for tomorrow, and they're like "yeah, sure, how many do you need?"
Overall Haavisto was pleasantly surprised about the warm reception that her team received. It seems that everyone knew that there was a film crew in town and was more than willing to help.
– In places where it is more commonplace to see film crews at work, the curiosity tends to wear out. In times of the Covid-19 crisis it seemed that people were eager to have uplifting news and we maybe served the purpose with our production, too.
Locals were eager to be involved on-screen as well as off, despite the pandemic, filling around 80 roles as extras. Unfortunately, some elderly people who were very keen to take part had to be turned away to avoid putting them at any risk to their health.
A working retreat
Lapland often conjures up images of remoteness, emptiness and vast distances, the very elements that film crews come here for. However, Haavisto found that all the accommodation, catering and shopping services that they needed were readily available and frequent flights and train connections made it easier for actors to travel to and from location from their homes in Helsinki and Tampere.
Most of the crew members were from Helsinki but some vital staff were sourced locally, including location scouts and the second assistant director.
Despite having to take the pandemic into consideration in all aspects of production, working in Lapland was a positive experience for the crew overall.
– It was like a camp to the crew and we could really focus on the work at hand… The fact that we were working away from home, brought a special intensity to the work in Lapland, Haavisto says.
But even with the location moves and a tight schedule, it wasn't all work and no play. Crew went to the cinema within the hotel as well as on walks and outings whenever they had some spare time. Haavisto summarises:
– It was a very nice adventure to come over to Sea Lapland for six weeks in connection with this project. It was inspiring to have this change of scenery in these strange times.
It's no surprise then that Miia Haavisto said that she would recommend filming here to her colleagues. It sounds like fun was had by everyone!
– It's wonderful to make a comedy movie. Laughter and hope are always needed.
Check out our production references for more laugh-out-loud Lapland.