Salla
Nestled among old Lapland forest is a ravine with high slopes & a wilderness lake squeezed by a narrow gorge, a one-of-a-kind Arctic filming location.
The Salmijoki Ravine and the nearby Lake Kalliojärvi, located along the same hiking route in Salla, combine two natural features that offer an incredible Arctic setting for productions.
The Salmijoki Ravine is surrounded by high stony slopes and old Arctic trees. The narrow Salmijoki River runs at its bottom, forming a small waterfall right by a campsite. The campsite includes a campfire spot, a lean-to for shelter, and a dry toilet.
Only a stone's throw away, Lake Kalliojärvi offers a picturesque wilderness lake location. The lake is located in a narrow gorge, and the steep rock walls give is a unique look.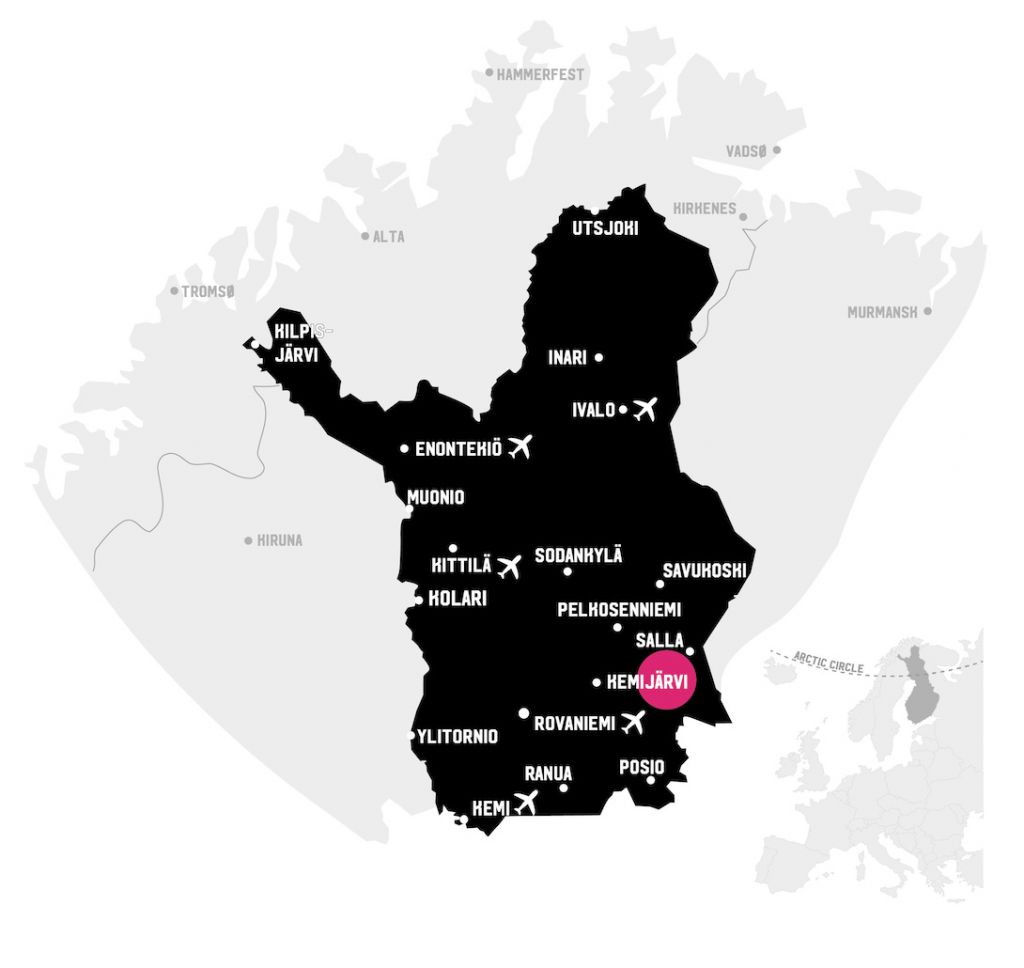 Accommodation in Salla
Salla is one of Lapland's most popular tourism destinations, so they have plenty of accommodation, including hotels, cabins and apartments. Most options are near the ski resort.
Salla-vating
There is a variety of restaurants to choose from Salla, from small cafés and pubs to à la carte restaurants. Some local restaurants also offer catering services.
Other Services
The villages of Salla offer many additional services you might find useful, including:
Guiding services
Activity services
Transportation services
Wilderness and activity equipment rentals
Visit Salla has all the details and information on accommodation, restaurants and other support services.
Thanks to our five international airports, as well as maintained highways and public roads, you won't find a more accessible and connected Arctic wilderness anywhere else in the world.
By Plane
Salla's nearest airports are in Rovaniemi and Kuusamo (both 2 h by car). Rovaniemi offers daily flights to Helsinki and other cities around the year, as well as connections to Asia during the busier winter season.
By Train
Salla's nearest railway stations are in Kemijärvi (1 h) and Rovaniemi (2 h). For ticket info and timetables, visit VR.
By Bus
You can travel to Salla by bus, but unfortunately there is no bus line directly to the Salmijoki Ravine. Matkahuolto has all the info you need on bus tickets and schedules.
By Car
As all of Lapland, the Salmijoki Ravine and Lake Kalliojärvi are easy to find by car. Car rentals are available in many locations across Lapland.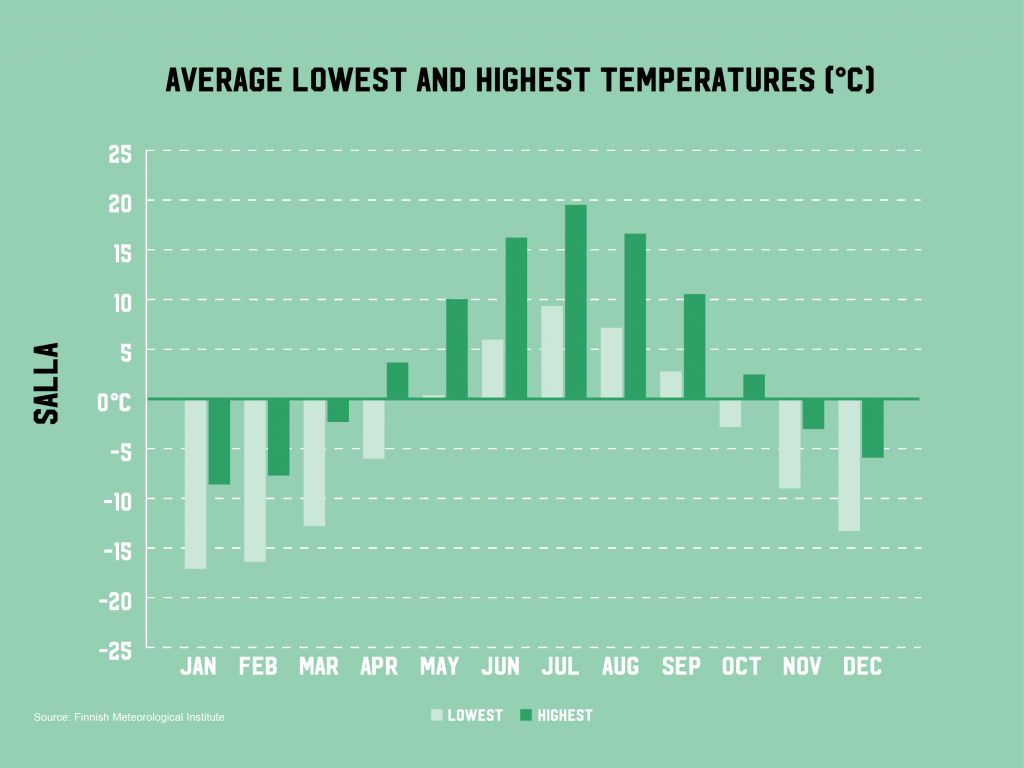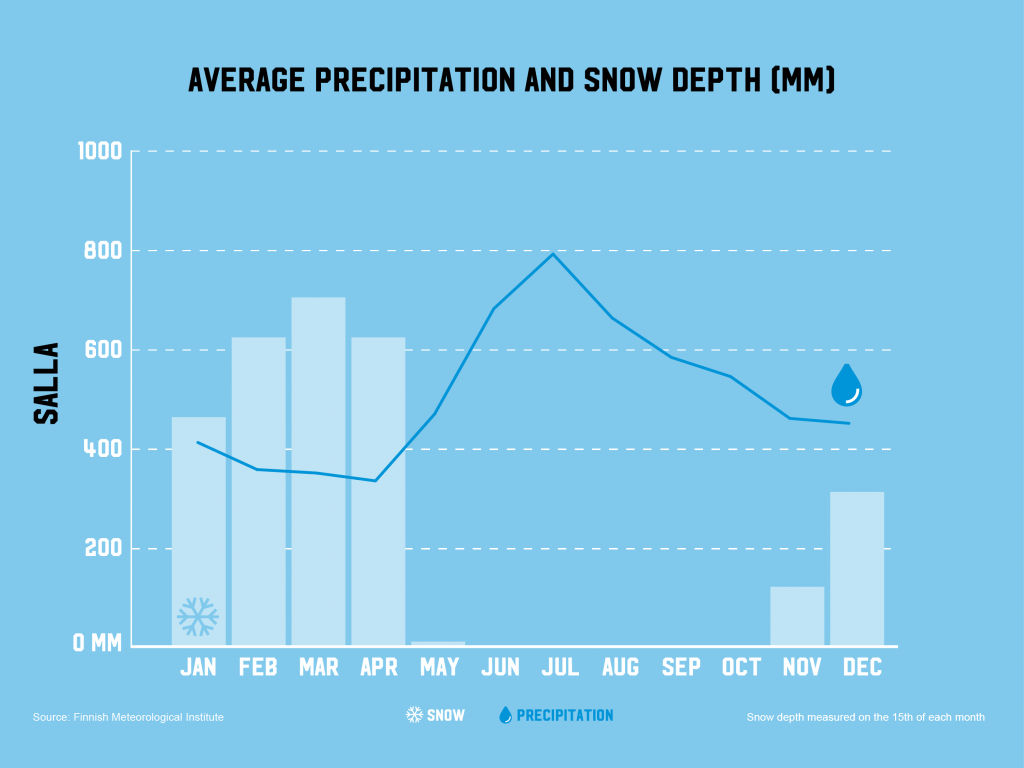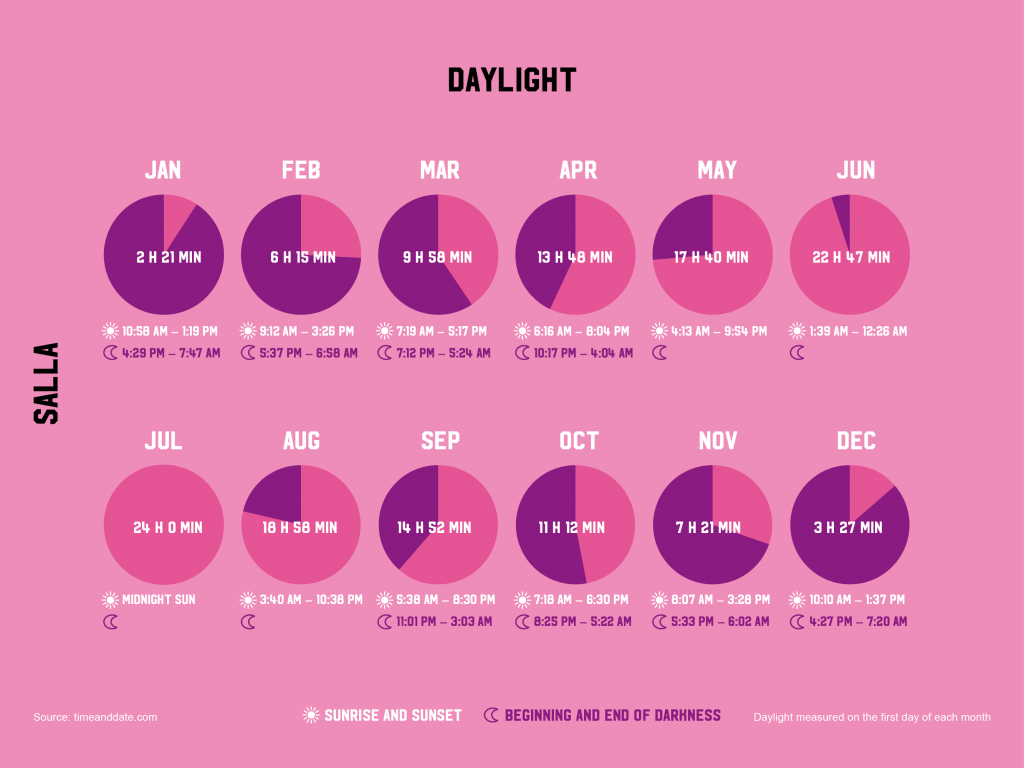 Film Equipment & Crew in Salla
Lapland offers professional production service companies who operate across the region. For more information, contact us.
Permits in Salla
Everyone's Right in Finland means you are free to film in nature (within some limits.) This applies to Salmijoki Ravine and Lake Kalliojärvi, especially for smaller productions. If you're unsure about your rights, drop us a line.
Metsähallitus (Finnish Forest Adminstration) manages this area, and they require permits for off-road traffic and temporary buildings or structures. For more info, check out their permit instructions. They grant permits on a case-by-case basis.
We cannot issue permits ourselves, but we can help you navigate the process. Don't hesitate to get in touch.