Have you crossed the Northern Lights off your bucket list yet? We covers all the basics: where to go, when, how to follow forecasts, what to wear & what to pack.
If you're here, you wanna see some auroras in person. By far, the simplest way is to book an aurora tour through one of the myriad operators throughout Finnish Lapland. A seasoned guide will show you the best spots, give you insights about the auroras and help you with your camera settings. Many service providers have special programs like aurora floating and Northern Lights flights too. You can find more info on tours on local travel websites.
1. Where can I see the Northern Lights?
Most Northern Lights occur in an oval-shaped band around the magnetic North Pole. The geographical area where auroras are common is called the aurora zone–which covers the entirety of Lapland.
In fact, northern Finland is one of the best inhabited regions for aurora hunting. According to statistics by the Finnish Meteorological Institute (FMI), the probability of visible auroras is roughly 75% during dark and cloudless nights in the Utsjoki region, and 40–50% in Rovaniemi, on the Arctic Circle.
The chances drop quite rapidly when you travel south of the Arctic Circle. For example, in Helsinki, the probability of auroras on dark and clear nights is only 5%.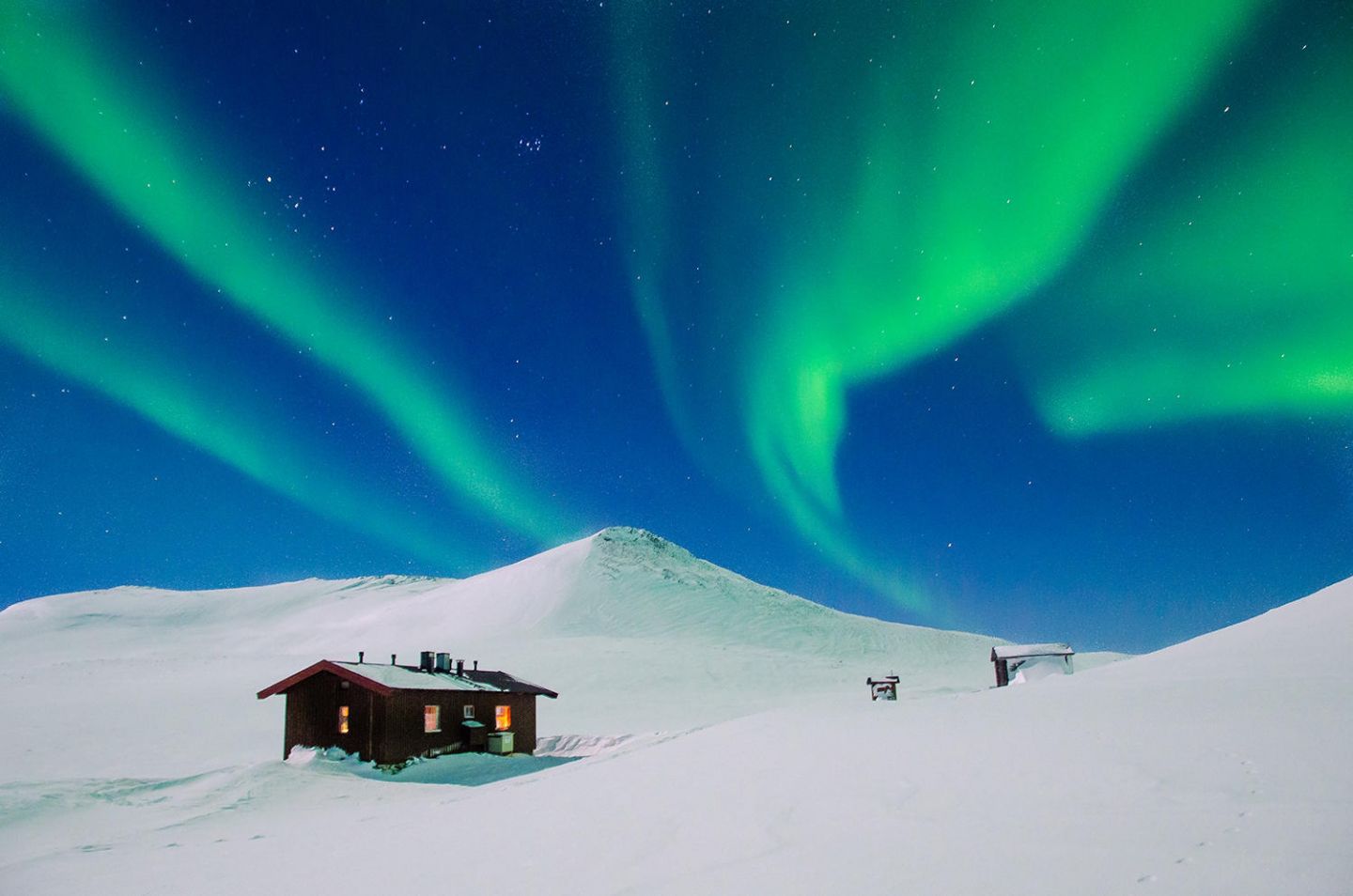 2. When is the best time of the year and day for auroras?
To see the auroras from the ground you need three things: 1) auroras, 2) darkness and 3) clear sky.
The Northern Lights are not visible in sunlight. From mid-April to mid-August, the nights are too bright for hunting auroras. In late August, though, nights grow darker, and the aurora season lasts until spring.
Aurora activity peaks around the equinoxes: in September–October and in March. In Lapland, the whole winter period between equinoxes is also very active.
The probability of visible auroras is highest around midnight. Aurora hunters should stay alert at least between 21:00 and 02:00. Sometimes Northern Lights can appear and disappear within minutes.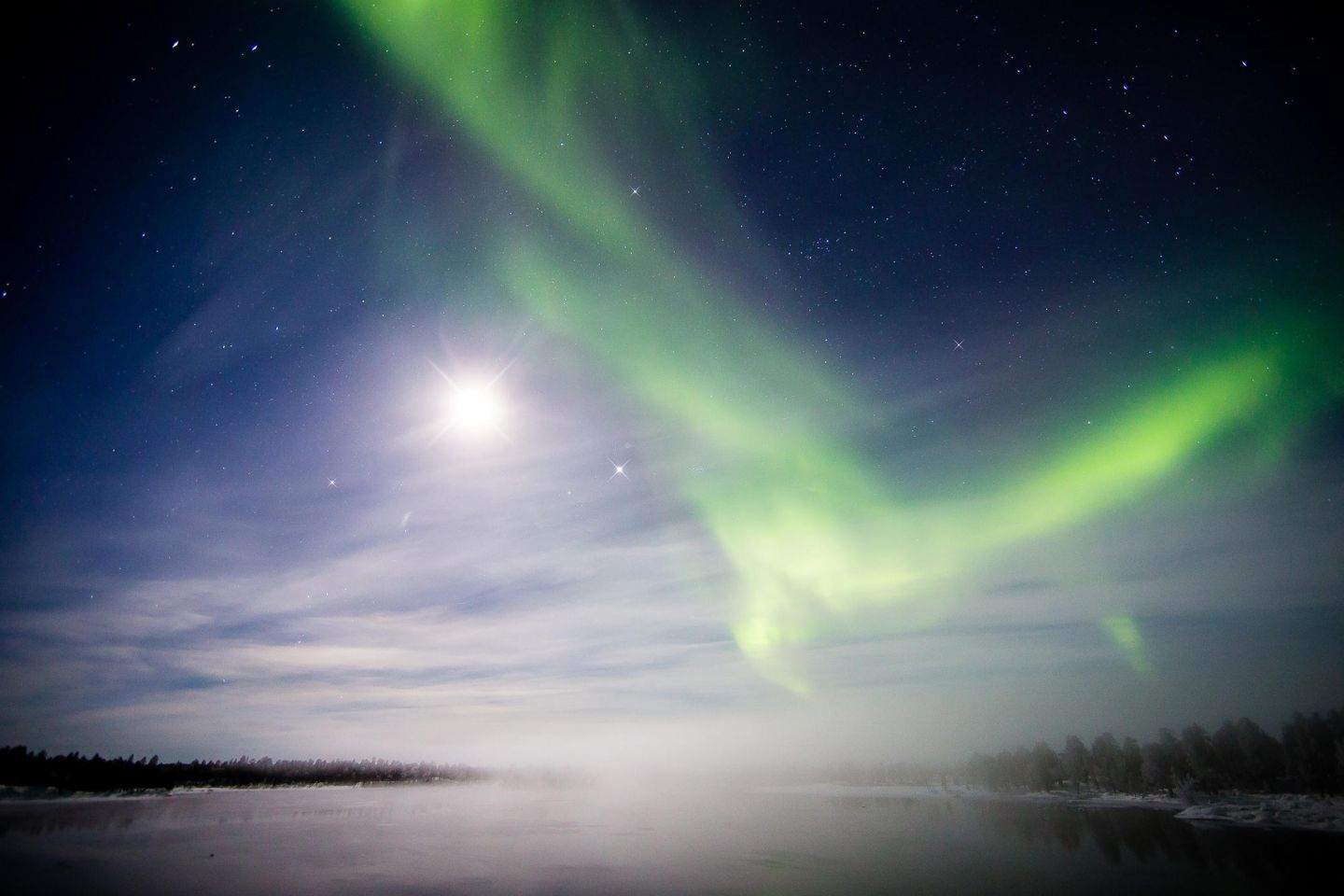 3. How can I check for aurora forecasts and weather?
Short term forecasts indicate the probability of visible auroras right now. You can find the current situation in Finland from FMI space weather and Auroras now!. You can also find a simple 30-minute forecast on the global map by the US National Oceanic and Atmospheric Administration (NOAA). There are also dozens of apps which will inform and notify you of the aurora situation.
Long-term aurora forecasts are fairly unreliable and should be treated as estimates.  You can find a brief 3-day forecast of geomagnetic activity by NOAA.
Keep in mind that the weather can change fast and vary locally. Thick clouds will prevent you from seeing auroras. Check FMI cloud maps.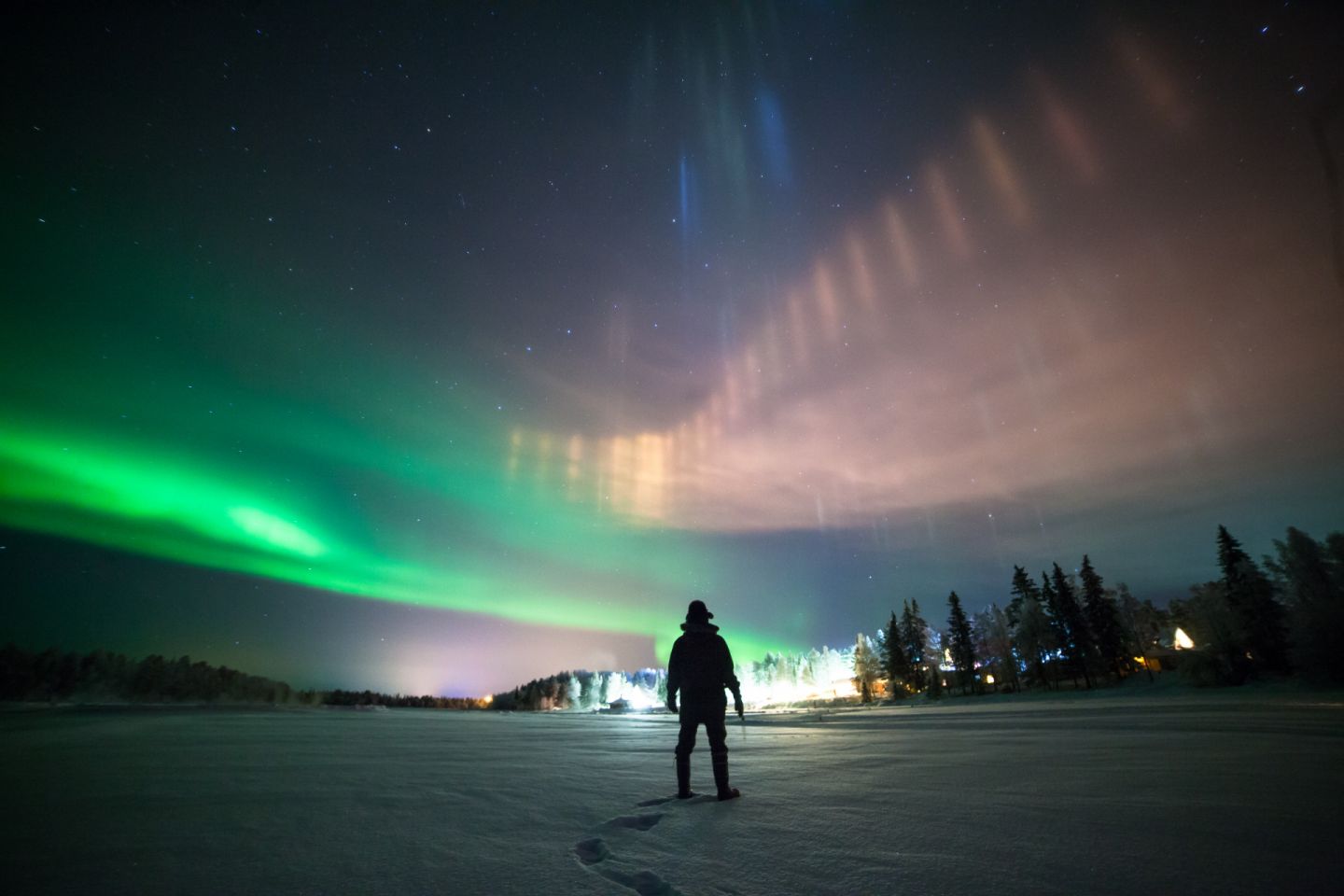 Photo by:
Antti Pietikäinen | Lapland Material Bank
4. Where exactly to go for a night of aurora hunting?
Avoid areas with artificial lighting: cities, towns and roads with streetlights and traffic. Look for dark areas with an open view. If you are spending your holiday in the city of Kemijärvi or popular ski resorts like Ruka or Suomu, you should head away from the brightly lit areas.
The best spots are usually on top of treeless fells, in marshes, or on the shores of lakes or the sea. You should at least have an open view toward the north from your vantage point, because auroras usually first appear in the northern sky.
When you reach a good location, set up your camera, turn off your headlamp and let your eyes adjust to the darkness. A good rule of thumb: if you can't see the stars, you will not be able to see auroras.
An ideal location is by a house, cottage or even a tent, where you can spend the night. Lapland also has many resorts providing special accommodation for aurora watching like the glass igloos in Rovaniemi, cabins with glass roofs in Ranua, and even aurora caravans in Inari. Imagine spending the whole night in full comfort gazing at auroras!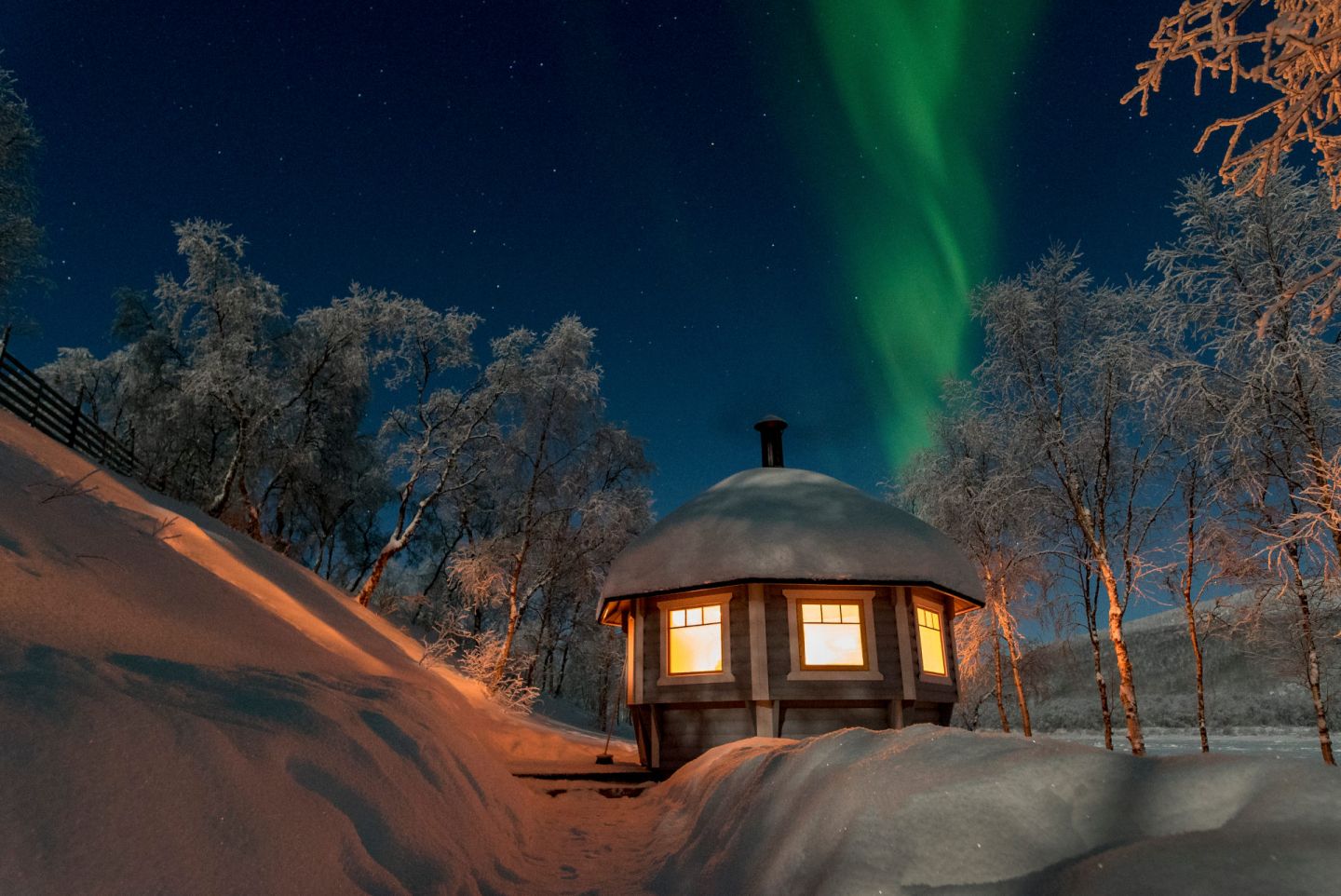 Photo by:
Markus Kiili | Lapland Material Bank
5. How to make the most of a Northern Lights hunting trip?
No one can predict with 100% accuracy when or how long the auroras will appear. You should always plan your trip so you will have fun even if the auroras are shy. You can try a new sport such as snowshoeing or snowmobiling in Posio, or spend a night at one of the wilderness huts or lean-tos of Lapland. A short nighttime hike across a snow-covered forest is an adventure in its own right!
As you're in Lapland, and it's probably winter, it's vital for your comfort and safety to dress properly. A thick thermal jumpsuit is fine if you are mostly staying still or riding on a snowmobile. If you are going to do some hiking, you should use layering, and add or remove insulation according to your activity levels. For example, long woolen underwear and socks, fleece or woolen mid-layer, light down jacket for extra insulation and a wind- and waterproof outer layer. Pick pants that have snow locks. Avoid cotton, which gets wet and makes you cold!
Keep your legs warm, as nothing ruins a trip like cold feet. Pay attention to your boots. Pick a pair with a higher bootleg and thick soles. Take a pair that are slightly loose and add extra woolen socks. Winter boots can be 2-3 sizes bigger than your normal shoes!
Put gloves under a set of thermal mittens, especially if you are going to operate a camera.
Pick a warm hat that protects your ears. You should also wear a balaclava, neck-warmer or a scarf to protect your neck and face from the cold.
Bring a headlamp or a flashlight for moving safely in the dark. You could also take a thermal pad – or maybe even an authentic reindeer hide – to lay or sit on. Remember to move around from time to time, too. It will get your blood flowing and keep you warm.
Take hot drinks, water and snacks along. Bring coffee, tea, hot chocolate or warm juice in a thermal flask, sandwiches, nuts and chocolate for snacks or even sausages to grill if there is a firepit nearby.
Finally: bring a friend. Like all great things in life, aurora hunting is best when shared, and a lot safer too!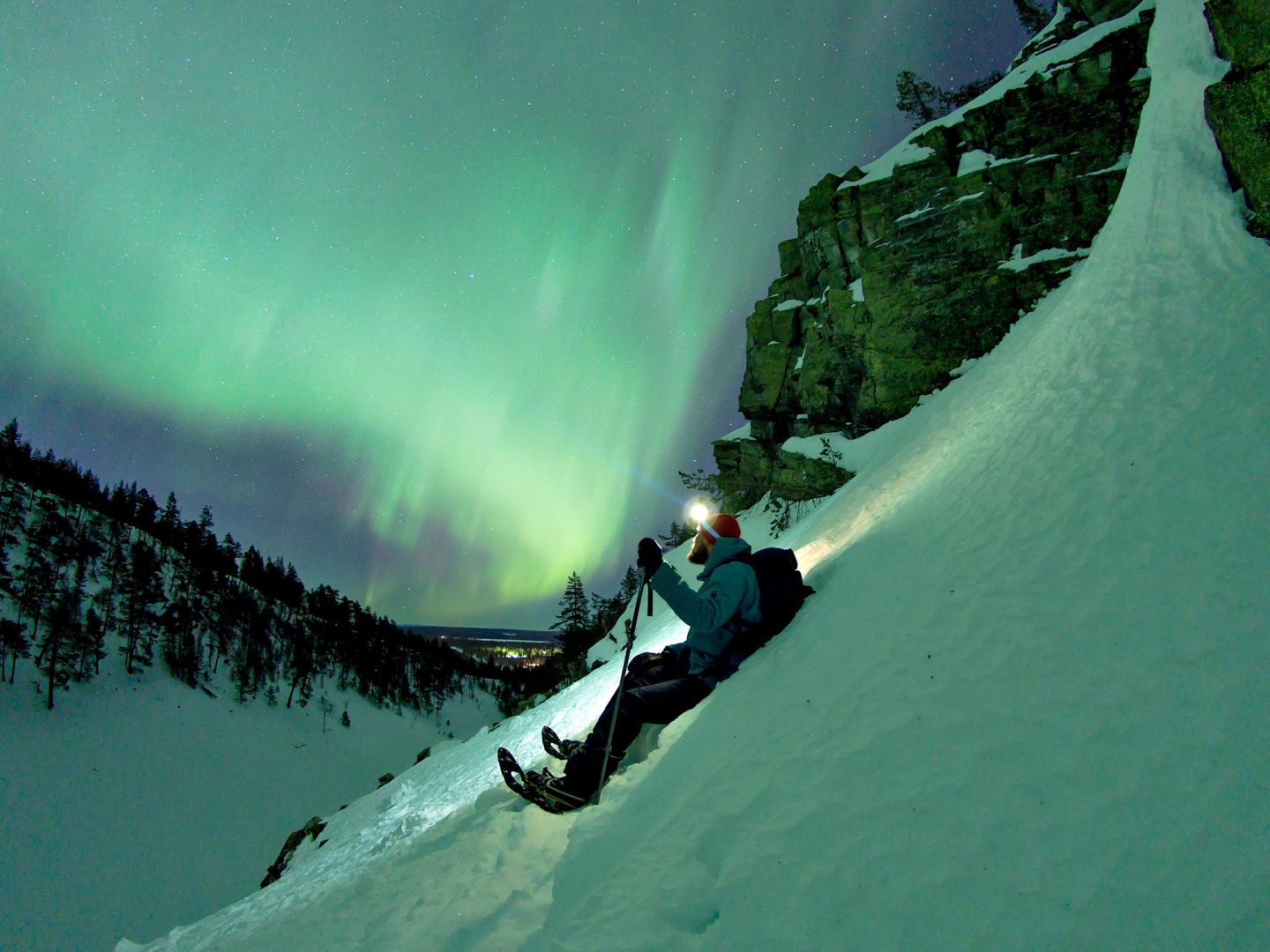 Photo by:
Simo Vilhunen | Lapland Material Bank