People love to visit our reindeer, huskies, horses and more. But it's also important to enjoy animals responsibly. Here's how Finnish Lapland ensures responsible animal tourism.
Animals are a major reason to visit Finnish Lapland. From Santa's helpers to wild bears, people travel all over the world to encounter animals here. We've put together some guidelines to reassure visitors that animals are treated humanely in Lapland, and some tips on how visitors can ensure participation in responsible animal attractions.
Animal attractions in Lapland
You hear Lapland, you think reindeer. Or maybe huskies. For the last few decades, the image of Santa's helpers or fluffy Siberian huskies is one Lapland has cultivated. But Lapland is huge, and it's home to more animals than just reindeer or huskies. According to the Animal Tourism Finland project, there are five main animal attractions in northern Finland.
Reindeer. While there are more reindeer than humans in Lapland, the vast majority are semi-wild creatures that roam the Arctic wilderness. Only about 650 reindeer (or 0.3% of the total) are used for tourism purposes. These are kept on farms set up for visitors and sometimes pull sledges.
Huskies. There are about four thousand huskies living in Finnish Lapland. Since huskies are not native to this part of the world nor are they a traditional mode of transportation, virtually all of them have been bred in Lapland for animal tourism. (Huskies are also popular pets.) They are generally kept on husky farms and are used to pull sledges across the snow in winter.
Horses. Horses are kept on farms and in stables throughout Lapland. Service providers arrange riding trips and various sledge ride tours. There are around 150 horses kept in Lapland as tourist attractions, and most are breeds acclimated to the north. The Finnhorse is the only native horse breed in Finland and is well-suited to the harsh cold and deep snow. Icelandic horses are also a popular breed in Finnish Lapland.
Zoos. There are only a handful of zoos in Lapland. The largest and most well-known is the Ranua Wildlife Park which is home to Finland's only polar bears, as well as about 200 other animals, most native to the Arctic regions. In addition to nursing and caring for lost and hurt animals in Lapland, the Ranua Wildlife Park has a number of protection programs specializing in northern and Arctic animal species. Other zoos in Lapland include various petting zoos.
Wild animals. As the last wilderness in Europe, northern Finland is home to many wild animals. Being wild, they are of course the most difficult to experience. However, there are a number of tour operators who take interested parties to the special huts in forests and bogs and fells to observe and photograph wild animals such as bears, wolves, wolverines, a plethora of birds and more.
Animal tourism & welfare
On one hand, it's reassuring not to see articles about animal abuses in Lapland appear in the news or on the websites of PETA, World Animal Protection, and the like. On the other, it can be frustrating when trying to find information about how Lapland treats animals in the tourism business. Caring for animals is part of the culture of Finland, and to most Finns, it's so self-evident that it's taken for granted. Which means many animal tourism attractions don't boast or post information about it. To most of them, it's just obvious.
But TripAdvisor suggests that visitors familiarize themselves with the 5 Freedoms – Best Practice Standards for Animals in Tourism when planning a trip that includes animal tourism. Here's how those 5 Freedoms apply to animal attractions in Lapland.
Good Feeding. Reindeer (for tourism) and horses are farm animals. The best way to get information about the diet of farm animals is to talk to the owners or handlers. Almost ⅔ of animal tourism providers in Lapland are micro-businesses with less than three full-time employees. It's not hard to get straight answers face-to-face most of the time. The same applies to husky farms and zoos, although they usually have more staff on hand.
Good housing. A common attraction of husky farms is the ability to visit the housing. Here you can see for yourself the size of the enclosures, the quality of the winter housing and the overall conditions of the animals' homes. If a husky farm doesn't offer to show its housing, inquire why. Horses are kept in stables which may not be accessible to visitors for health and safety reasons. Reindeer are usually kept in fenced areas. The Ranua Wildlife Park, like any reputable zoo, has enclosures visible to visitors and privacy areas for their animals.
Good health. This is one of the trickiest freedoms to gauge. In summer, a healthy, molting reindeer can look quite mangy. But looks can be deceiving. There are animal welfare standards in Finland, and any visitor is free to ask questions from operators about the overall or specific health of the animals under their control.
Freedom of expression. Animals that are happy or satisfied generally express themselves in positive ways. They are not skittish, nervous, or angry. Every animal is an individual, with its own emotions and behaviors. While husky dogs might literally jump over each other for more attention, reindeer and horses are more calm, quiet and sometimes camera-shy. They probably won't object to a bit of gentle scratching, if their handler permits.
Protection from fear. Animals at the Ranua Wildlife Park have separate enclosures where they can get away from the cameras and pointing fingers. Reindeer, horses and husky dogs, however, are usually harnessed. But good operators know when their animals don't want to participate, take a selfie or pull a sledge.
The key takeaway from TripAdvisor's suggestions is that responsible visitors must establish good communication with animal tourism operators. Finns are traditionally quiet and avoid small talk, so it's often up to you to ensure peace of mind regarding animal welfare when taking part in animal activities.
One exception to this rule is Kota Huskies in Posio. This small family-owned operation takes pride in how well they treat and love every dog in their care, and they're happy to tell you all about it.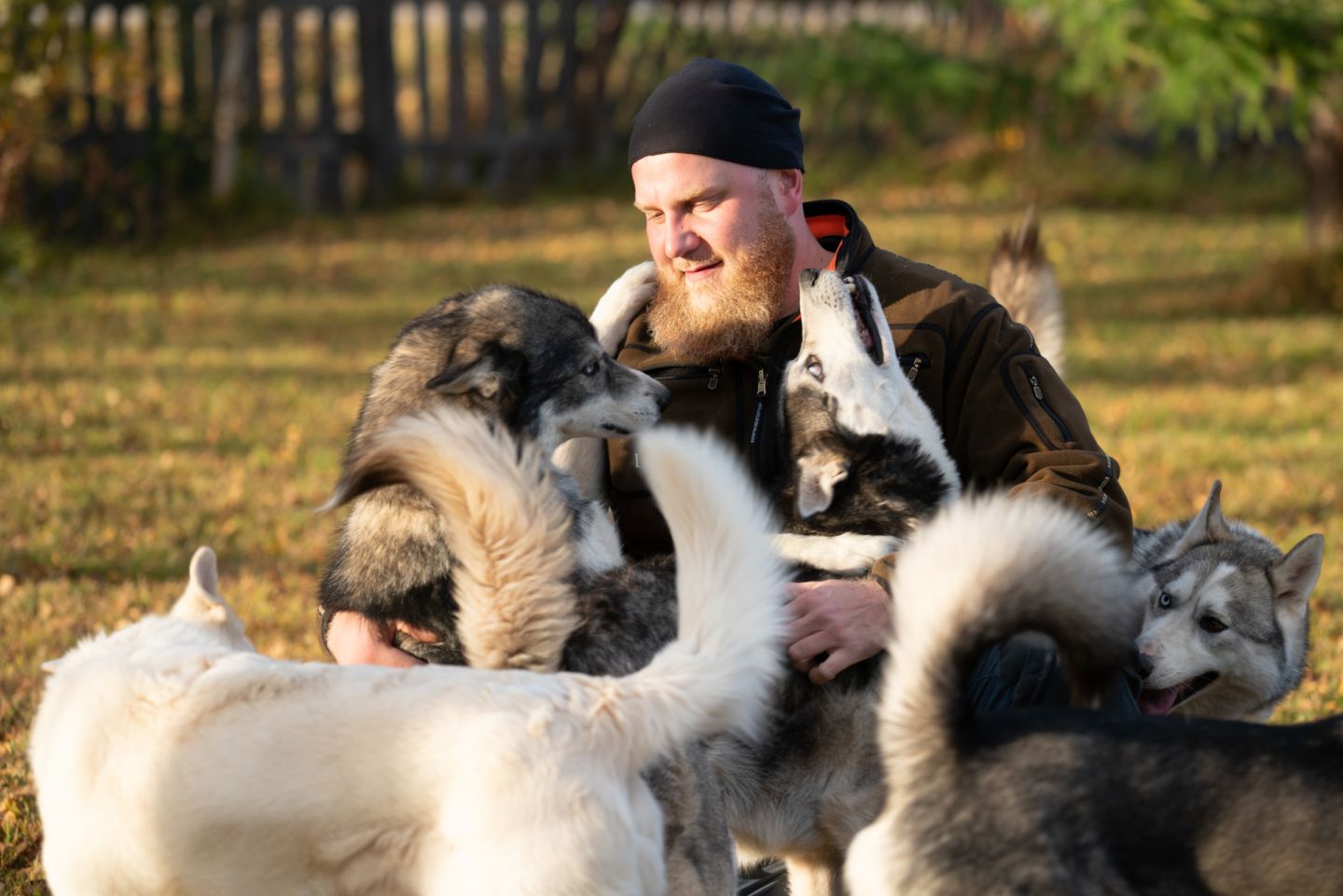 But Kota Huskies is only one of dozens of husky safari providers in Lapland, and there are no industry-wide standards currently in place to ensure a high quality of life for sled dogs. Before booking a husky safari, please research the company or individuals that run the husky farm and ensure they treat their dogs with the respect and care they deserve.
Wild animals
Lapland is vast, and much of it is protected nature reserves or national parks, which offer habitat for wild animals to thrive. Various operators throughout Lapland offer services to head into the wilderness in the hopes of seeing wild animals.
World Animal Protection offers principles for tourists wishing to experience wild animals.
Wild animals belong in the wild. Outside of the Ranua Wildlife Park, very few wild animals are kept in captivity for tourism-related purposes. According to the Animal Welfare in Tourism project, less than 700 wild animals in total are kept in captivity for tourism in Lapland.
Wild animals in entertainment is animal abuse. Lapland does not offer wild animal shows or circuses.
See wild animals in the wild. Lapland is full of national parks and strict nature reserves, and experienced operators can take visitors to see their natural habitats (and maybe the animals themselves.)
Visit responsible wildlife attractions. The Ranua Zoo has a number of wildlife protection programs for northern and Arctic animals. There are no programs in Lapland that permit hunting endangered or threatened species, and rescue centers generally do not allow tourists to visit.