Hile, tykky, räntä, loska, nuoska, kuura and puuteri. These Finnish words for snow are only the tip of the iceberg. Here are some great ways to have fun in the snow.
Whereas puuteri means light, newly fallen snow in freezing temperatures, räntä refers to the heavy and wet snow that falls when the temperature is near zero. The state of snow changes with the temperature, and it also affects the way people live with snow at any given time.  Lapland has snow cover from November to early May. As a result, we have also invented many snow activities to enjoy the winter weather. Try these 8 ways to fall in love with snow:
1. Follow the footprints of a mountain hare in the snow
A snowy forest is like something straight out of a storybook, and the trees slumbering under the white blanket are as beautiful as sculptures. It is easy to find a forest in Lapland. Follow the marked nature trails you can find in national parks, for example. If you want to make your own trail, rent a pair of snow shoes and take a headlamp with you for when it gets dark. The days are short in the heart of winter in Lapland. When you enter a forest, be quiet and listen. You can hear the cracking of tree trunks caused by frost and the faint whisper of the wind. You may also hear animal sounds and you will most definitely see their tracks. Can you recognize a bounce made by a hare? How about the weaving tracks of a fox that resemble a string of pearls? When exploring nature in Lapland, you will also probably encounter reindeer that wander freely, looking for something to eat under the snow. Walking amidst snow-covered coniferous trees is a meditative experience and completely free of charge!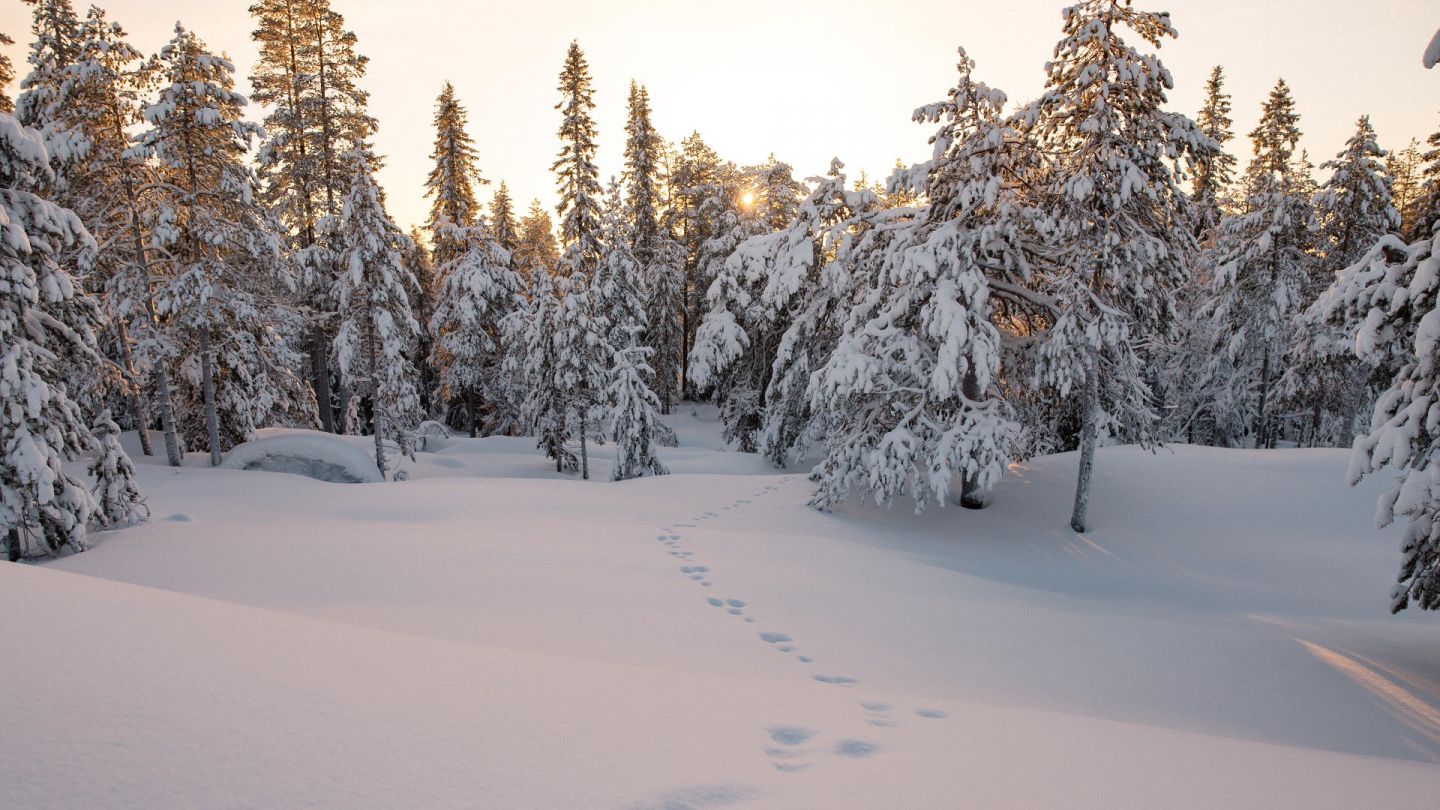 2. Go snowsurfing on a fell
Grab a surfboard and head for the waves of powder snow! Surfboards for snow conditions are manufactured by the Rovaniemi-based company Treeform. Made from Finnish birch wood, this innovation seeks to promote more ecological downhill skiing. The idea was born when Maxim Narbrough and Jan Leutola, who are interested in skateboarding, snowboarding and surfing, decided to combine these sports and develop a unique board for the conditions in Lapland. The 'snurfboard' is a board shaped like a surfboard that has no bindings, intended for gliding in soft powder snow. This board cannot be used to glide down the maintained slopes of a ski centre, and that is the whole point. So head for unmaintained terrains and enjoy the peaceful rhythm of nature in Lapland.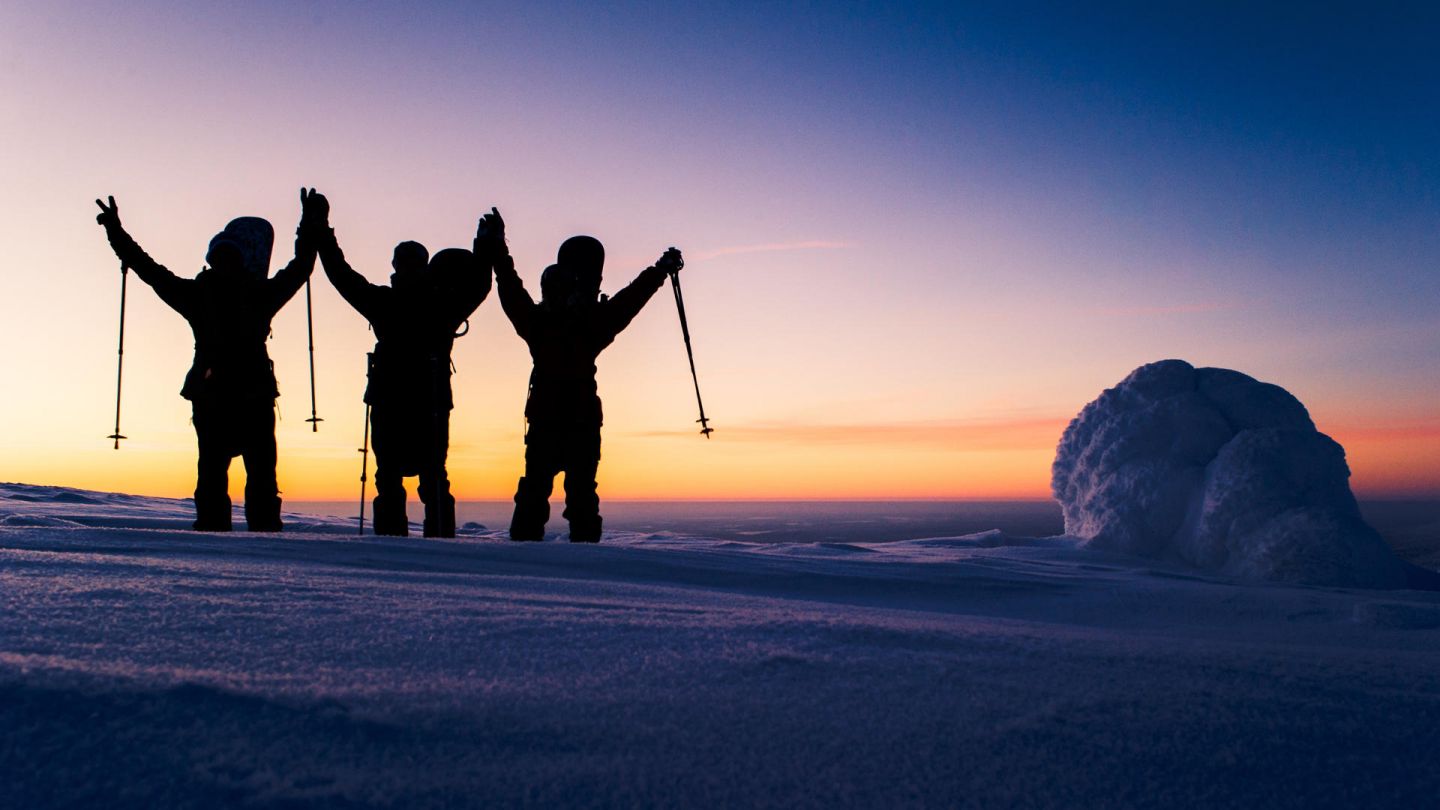 Photo by:
Jaakko Posti | Lapland Material Bank
3. Try cross-country skiing, the #1 sport of Finns
Cross-country skiing can be called the national sport of Finland with good reason. Everyone from young children to pensioners likes to go cross-country skiing. Lapland is abundant with ski routes and trails. You can go skiing at the edge of town or amidst fells in the wilderness. There are two styles in cross-country skiing: classic and skate skiing. Start with the calmer classic style and climb up a hill in the 'V' angle used in skate skiing. Remember that you will get your reward on top of the hill, from where you can swiftly slide downhill and feel a rush of freedom. Skiing is both an enjoyable experience and effective exercise. Going outside will brighten your mood, and a trip to the sauna feels wonderful after skiing. Equipment for cross-country skiing is available for rent across Lapland.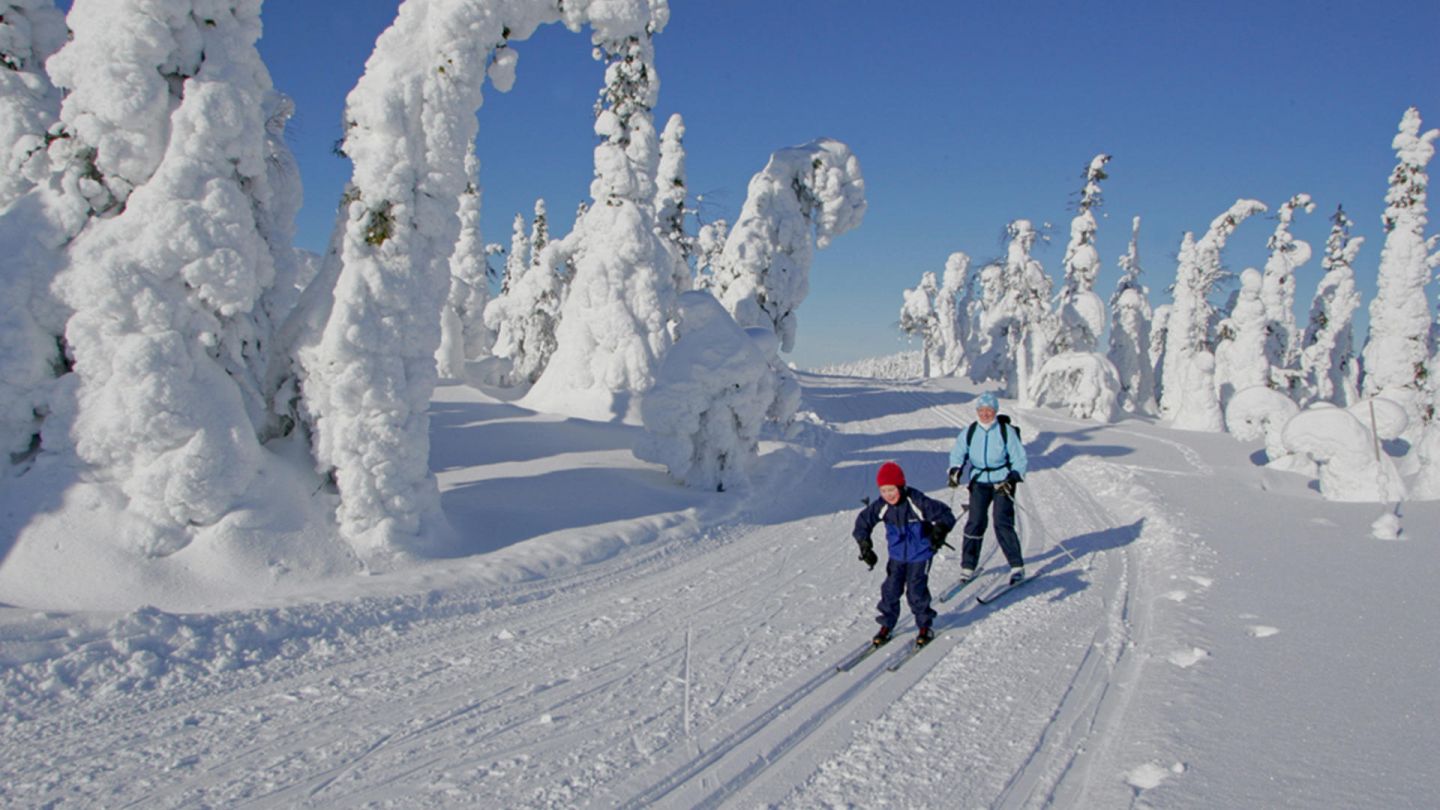 Photo by:
Arto Komulainen | Lapland Material Bank
4. Build a snow lantern
When the snow on the ground is wet, you can indulge in some childish fun. Instead of the traditional snowman, you can build a delicate snow lantern. Make snowballs the size of your palm and pile them on top of each other in the shape of a circle. A big circle at the bottom and a smaller circle of snowballs on top of it. Continue until you have an almost finished, hollow pile of snowballs. Before setting the last snowball on top of the pile, slip a candle inside the lantern to finish your beautiful illuminated work of snow art. When the weather gets chillier and the temperature falls below zero, your snow lantern will harden and endure until it is melted by warm weather. Ecological creative work at its finest.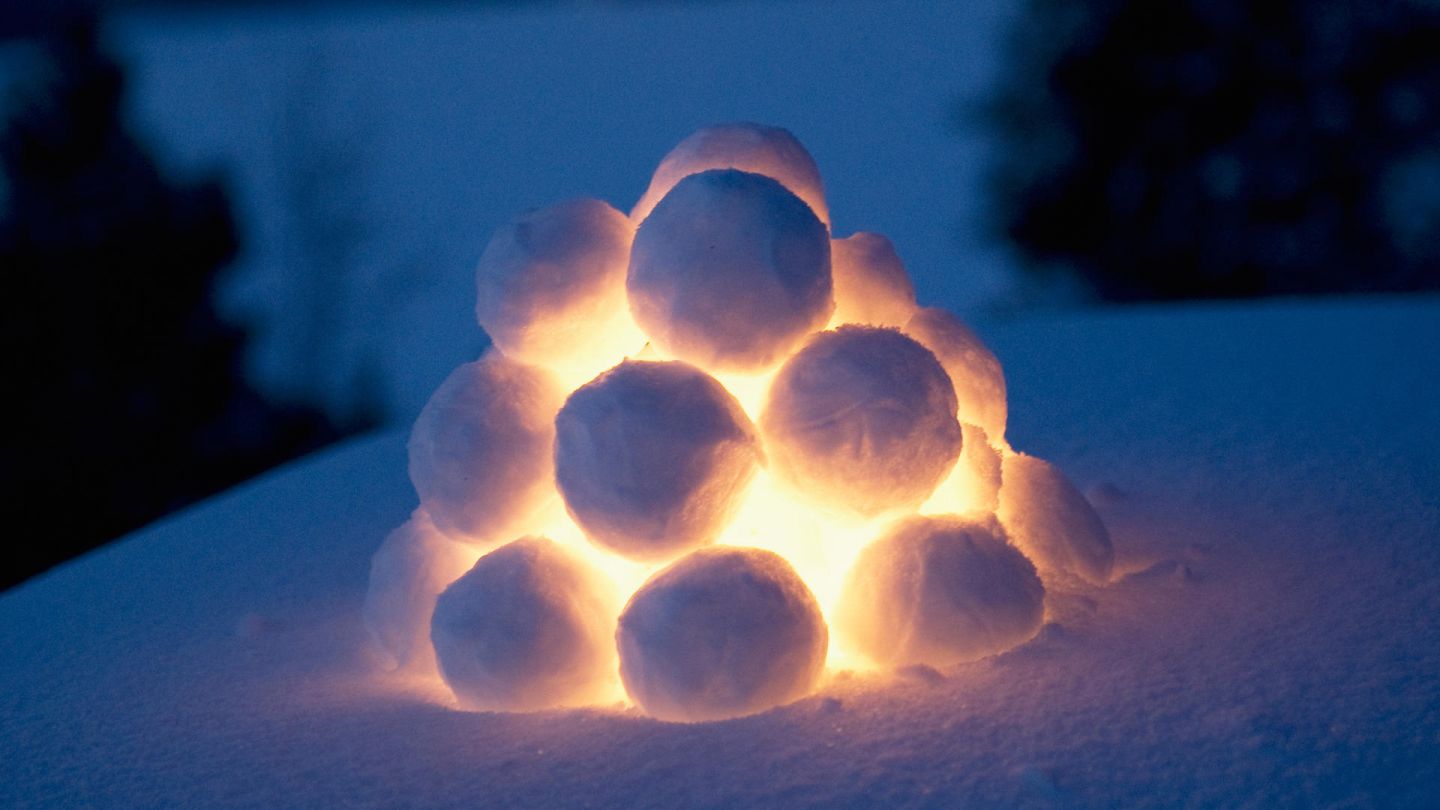 5. Skinny dip in fresh powder snow
If you want to experience something crazy and truly Finnish, try skinny dipping in snow! When there is soft snow on the ground, Finns commonly like to cool down in the snow after being in a sauna. So make your way to the famous Finnish-style sauna, get naked as the day you were born, throw water on the hot rocks, enjoy the resulting steamy warmth and roll around in the snow afterwards. This is definitely the closest you can get to snow. After a refreshing snow bath, you can return to the sauna and throw some more water on the hot rocks to warm yourself up. Feel the blood swish through your veins! Alternating between a hot sauna and a cold snow bath is good for you and feels heavenly. That I can promise!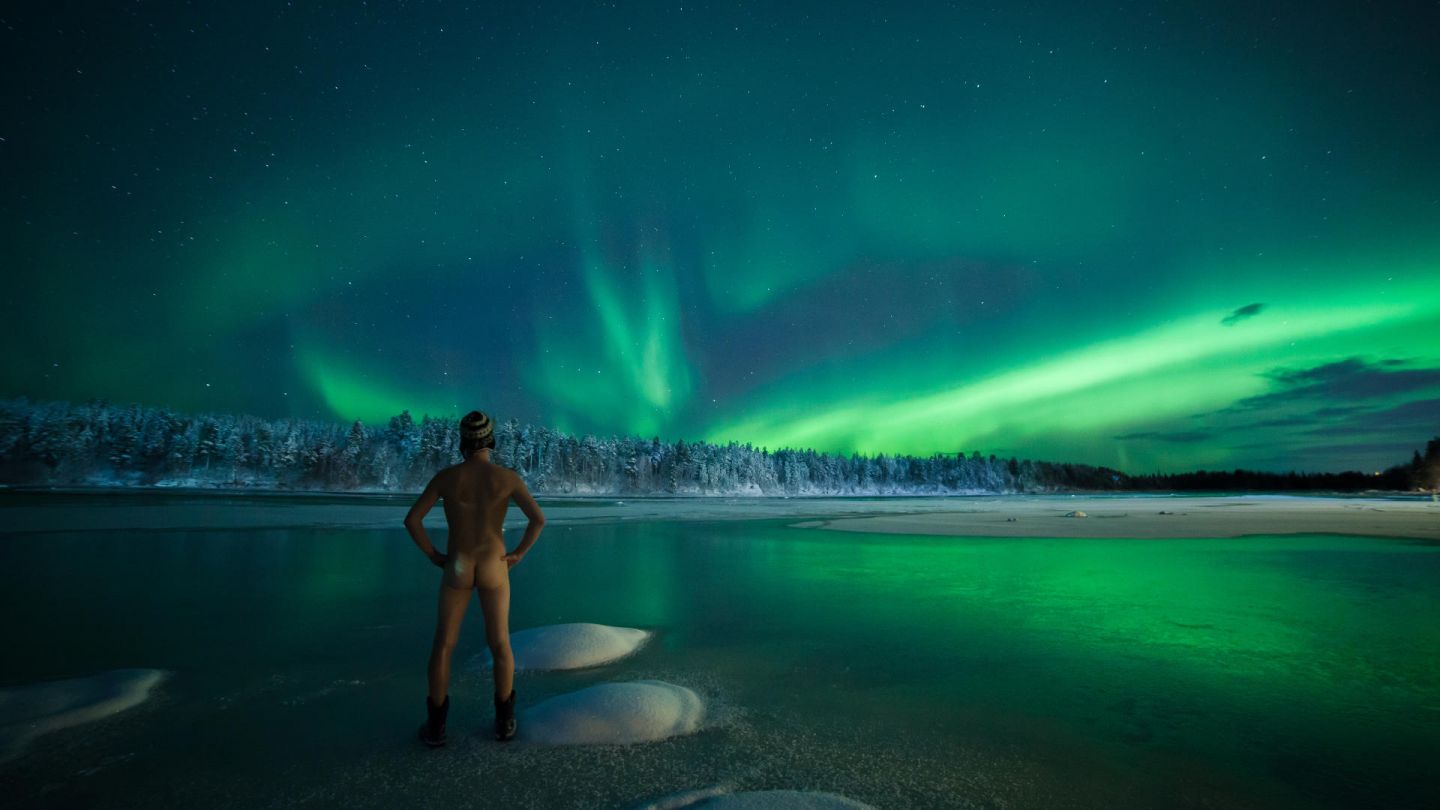 Photo by:
Antti Pietikäinen
6. Explore snow architecture
Lapland is the mecca of snow and ice architecture. You can visit the largest snow castle in the world, get married in a snow chapel, go to an ice sauna, enjoy a drink in an ice bar or sleep on top of a reindeer hide in a snow hotel or ice igloo – the opportunities are numerous. Lighting can transform ice into a rich variety of art works, whose transience and beauty enthrall not only the viewer but also the designers. Moreover, the work will be gone without a trace once it melts. There can be nothing more ecological than that!
Examples of ice architecture that you can visit in Lapland include the SnowCastle of Kemi, the Arctic Snow Hotel in Rovaniemi, the Lainio Snow Village in Ylläs and the igloos across Lapland.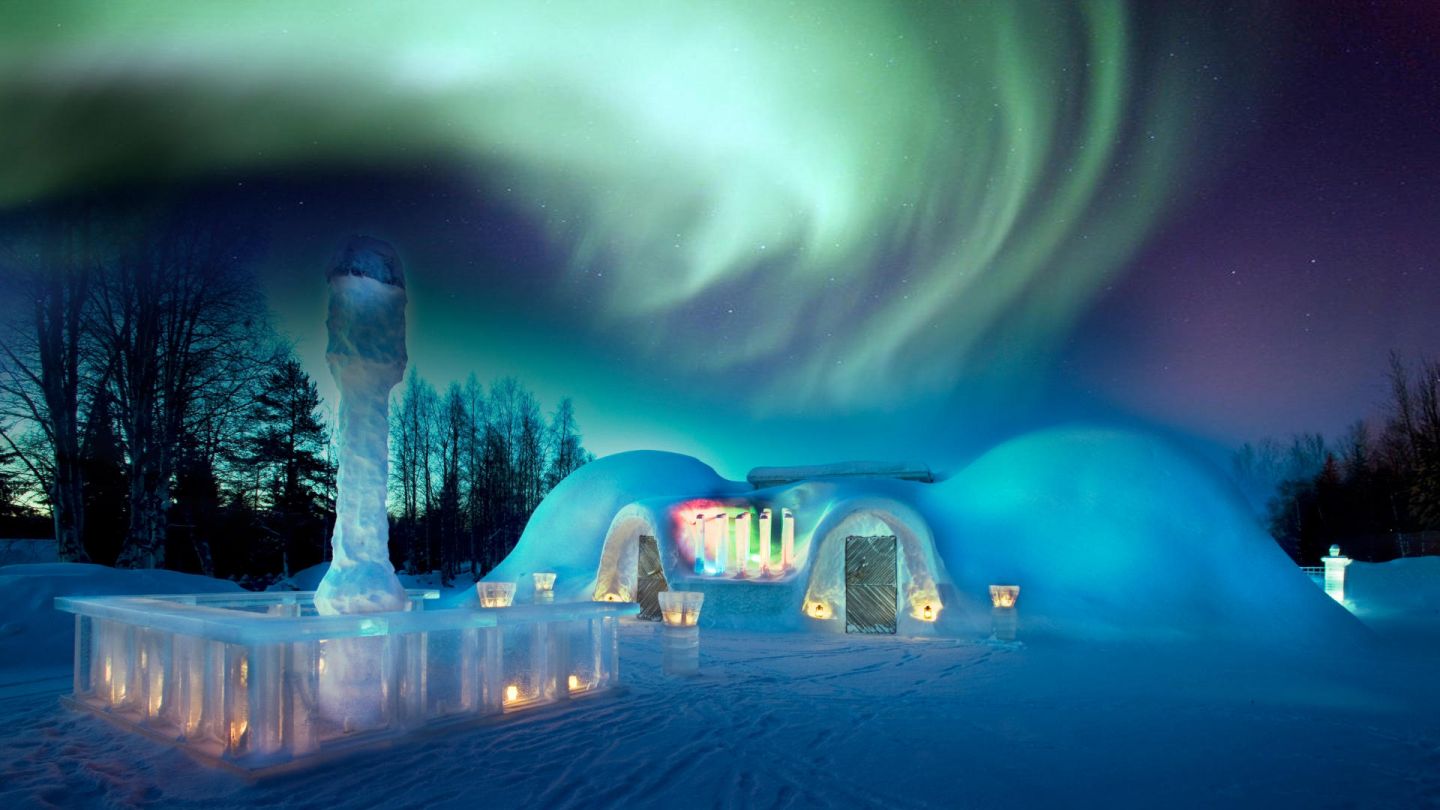 Photo by:
Visit Rovaniemi | Lapland Material Bank
7. Reindeer & husky sleigh rides
You can also take a trip through the snowy landscape in a sleigh pulled by reindeer or a husky team. On a reindeer sleigh ride, you can sit comfortably under the blankets and enjoy the leisurely ride. A husky team, in contrast, can offer you a more intense ride. At reindeer and husky farms, you can learn more about these northern animals and their keepers. You can pet a sweet husky puppy or feed hay to one of Santa Claus's reindeer. Husky and reindeer safaris are available across Lapland.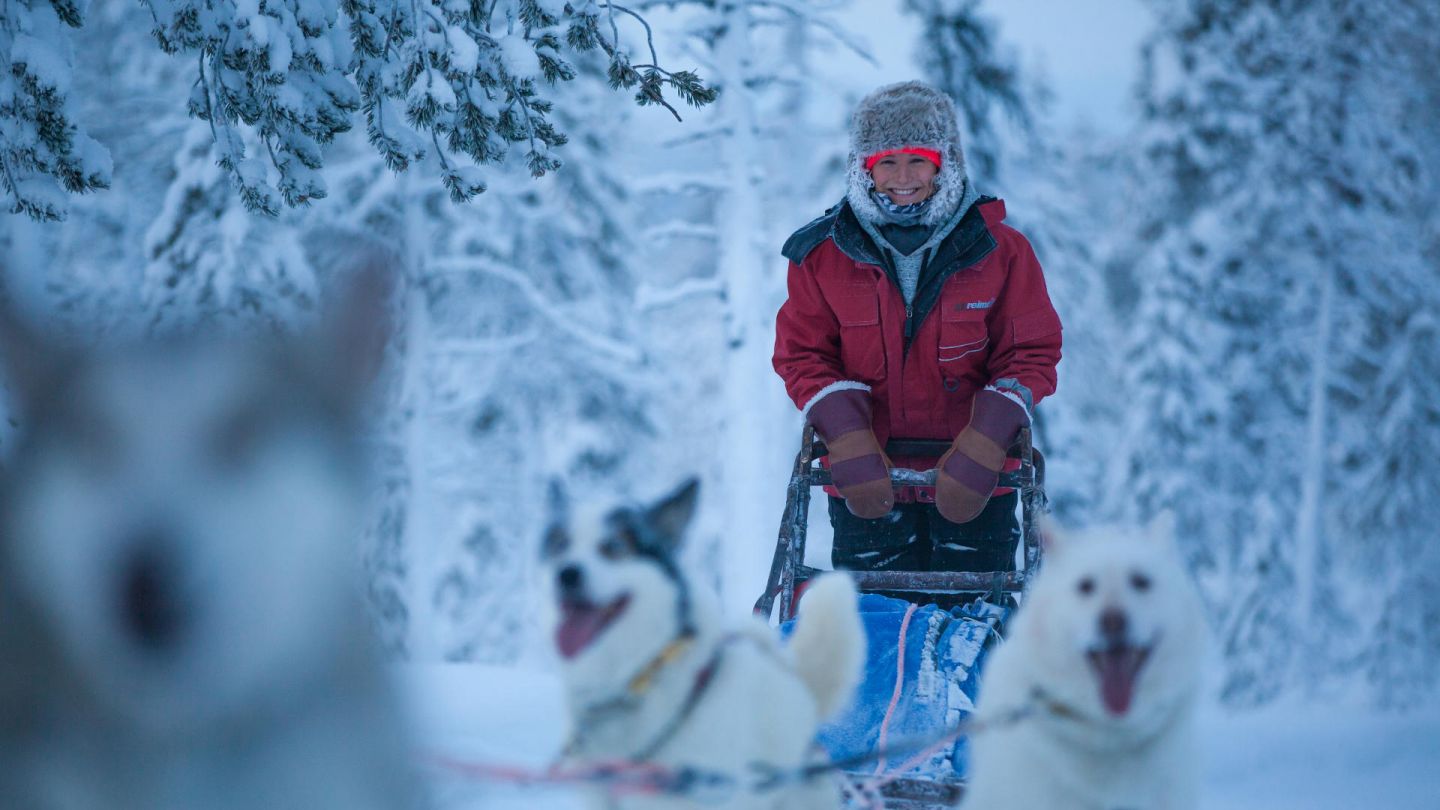 Photo by:
Antti Pietikäinen | Lapland Material Bank
8. Winter driving and ice-karting
If you're looking for speed and thrilling situations, jump behind the wheel of a car and go to an ice track. Every Finn is familiar with winter driving, and the skills needed to drive in slippery conditions are already practiced in driving school. There are ice tracks across Lapland where you can safely practice driving in winter conditions. If you do not dare get behind the wheel of an actual car, try ice-karting. Ice-karting with a group of friends involves warm-up rounds, time trials and finals. You will notice that despite studded tires, controlling a vehicle in winter conditions requires a new type of driving skill.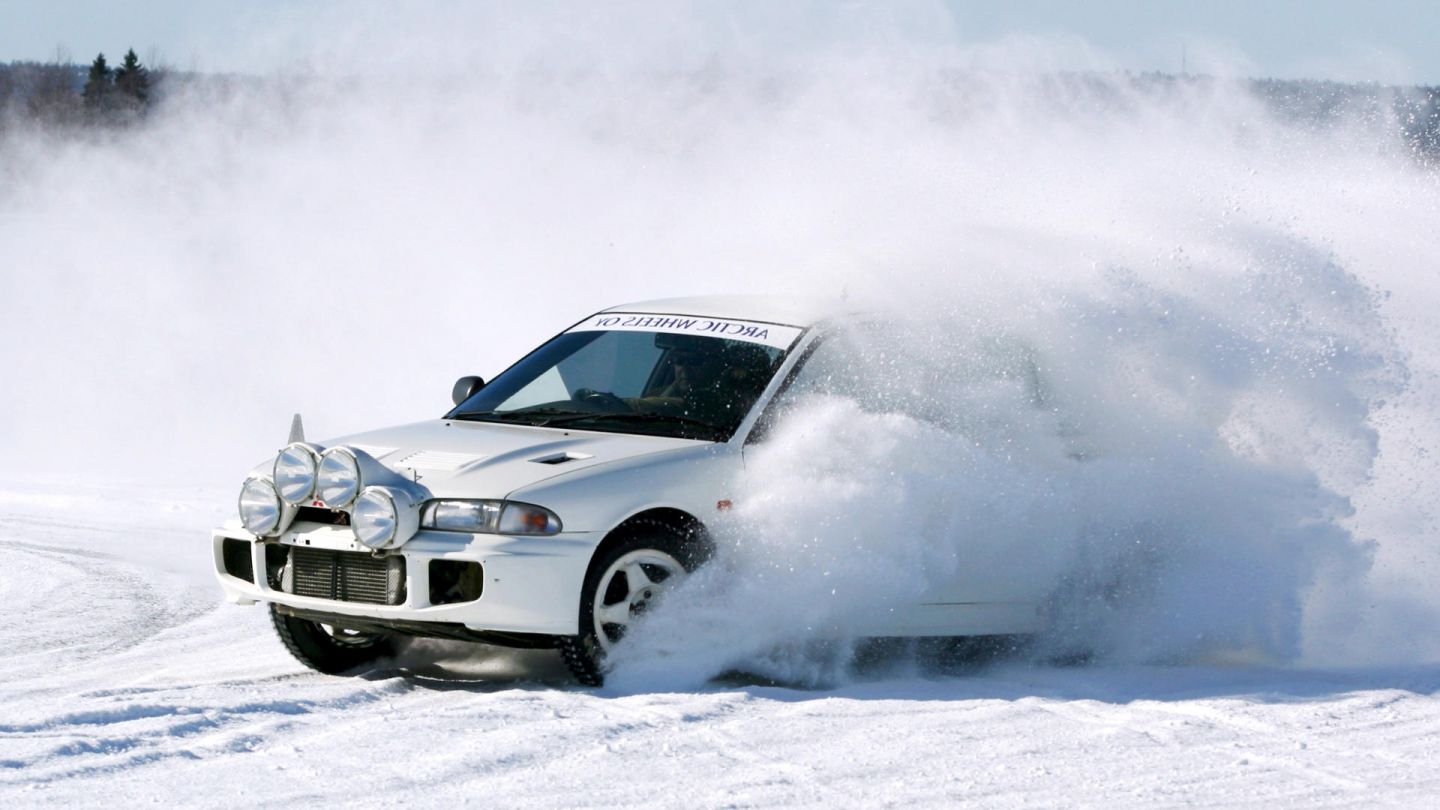 Photo by:
Lapland Safaris | Lapland Material Bank