During the snow-free period (May-October) 2019 more than one million overnight stays were registered in Lapland and the growth was 7% compared to the previous year. In Lapland, summer tourism grew faster than the average in Finland, with both domestic and international markets growing.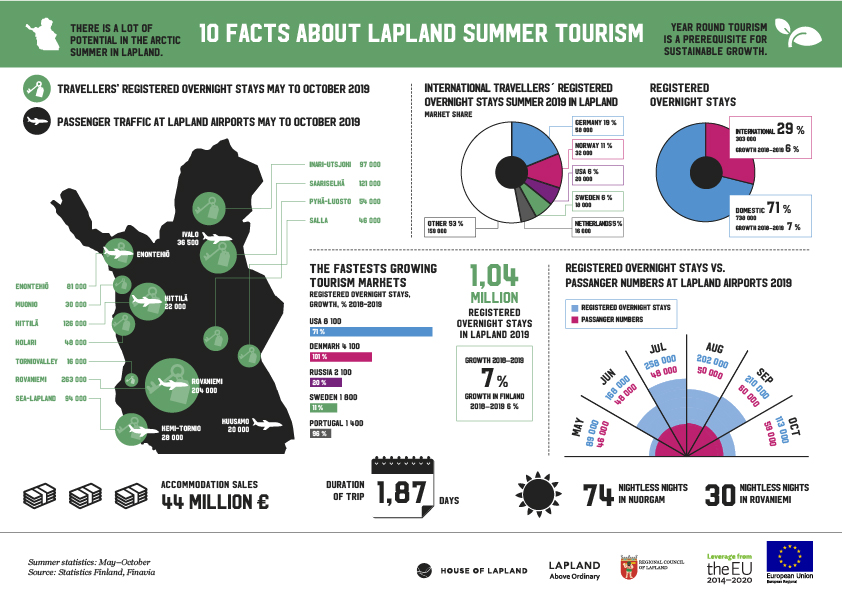 During May-October, the share of international overnight stays is less than one third and there is strong potential for increasing international tourism in the future. In winter, the share of international overnights is much higher, up to over 60%.
From May to October 2019, Germany, Norway, the USA, Sweden, and the Netherlands were the biggest international tourism markets. The biggest growth numbers came from the US market. The growth is estimated to be the result of both international military training activities in Lapland during summer 2019 and increased leisure travel. The US travel market is seen as having great potential in the future.
Accommodation sales grew from 38 million to 44 million, with the growth rate higher than the national average. The room occupancy rate also improved from last year's figure, but the overall room occupancy rate in Lapland during summer is lower than the Finnish average.
View a full-size version of Infographic: 10 facts about Lapland summer tourism 2019.
---
Visit Lapland Material Bank for downloading infographics as images.