The Covid-19 crisis hit tourism globally in 2020. There were 2.1 million registered overnight stays in Lapland, which was around one-third less than in the previous year.
At the beginning of 2020, tourism was still growing strongly, +12% in January and +7% in February. After the travel restrictions came into force in March, overnight stays decreased by 40%, and from then on decreasing numbers, compared to last year, were recorded every month. Domestic tourism recovered during the summer and autumn but the lack of international customers kept the overall development clearly in the negative throughout the rest of the year. However, Lapland's market share increased by one per cent in 2020 and sales revenue per available room (RevPar) was higher than the Finnish average.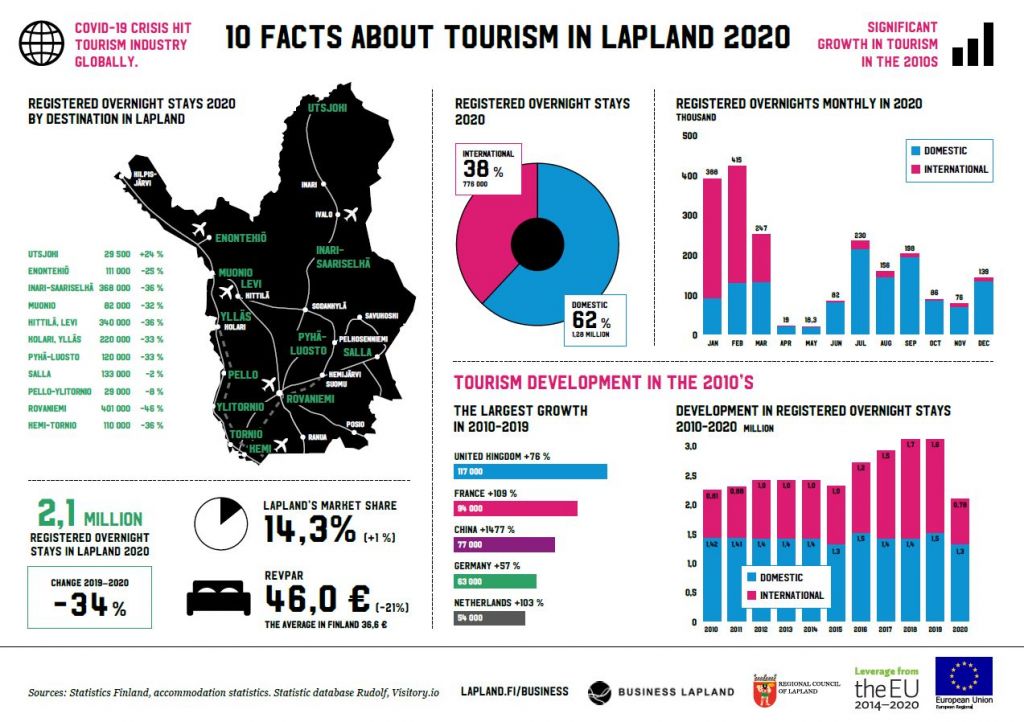 There were significant differences in the development of overnight stays between the destinations in Lapland. The highest decreases were recorded in Rovaniemi, Sea Lapland, Kittilä and Inari. The smallest decrease was in Salla and Torniolaakso, and growth was even recorded in Utsjoki.
The Covid-19 pandemic thus interrupted the long-lasting positive development of Lapland's tourism sector. During the last decade (2010–2019), international customers' overnight stays in Lapland doubled. During that period, the five most growing markets were the United Kingdom, France, China, Germany and the Netherlands, with by far the fastest growth coming from China.
See the full-size infographic: 10 facts about tourism in Lapland 2020