Four laplanders who live and breathe of freeriding share their tips and favourite spots.
Freeriding or off-piste skiing and backcountry riding has become more and more popular during the last decade all over the world and also in Lapland. Before there was only reindeers on the fells during the winter but now skiers, snowboarders and powsurfers are becoming a common sight. There are many reasons for the rising popularity of freeriding: the backcountry gear has developed a lot, there is more knowledge, yearning for turning and peaceful nature, the lure of untouched powder snow and more challenging slopes and the rise of the outdoor culture in general. People are after more authentic nature experiences. What could be better than to earn your fun powder turns with sweat in an amazing winter wonderland? The recipe is irresistible for all adventurous riders.
It is hard to explain to an outsider why would one want to hike in deep snow for hours just for a few minute ride. But freeriders do know and it brings enthusiasts together maybe just because the feeling is so unique. Wild and awe-inspiring nature experiences combined with gliding weightlessly on snow easily create fellowships among people who share the same passion. The freeriders also like to share their own adventures and stories with friends and the growing freeride community. The word, pictures or video of good lines and snow conditions spreads fast in the social media and build up the hype. But the best spots are usually kept secret as exploring and joy of discovery are a big part of charm of freeriding. Backcountry adventures to new places are like mini expeditions to the wild.
Freeriding is not a solo sport and one should never venture into the backcountry alone. The adventures should be made in a familiar company of which at least one is experienced. Trustworthy companions are the most important safety measure in the nature because in emergency situations the outside help is usually hours away. The information from fellow riders also increases safety: the word of avalanche danger and conditions gets out fast in the freeride community. Everybody are willing to help out others and share knowledge and tips in the this somewhat risky passion. The knowledge and tips from the experienced riders are usually worth of gold in the backcountry.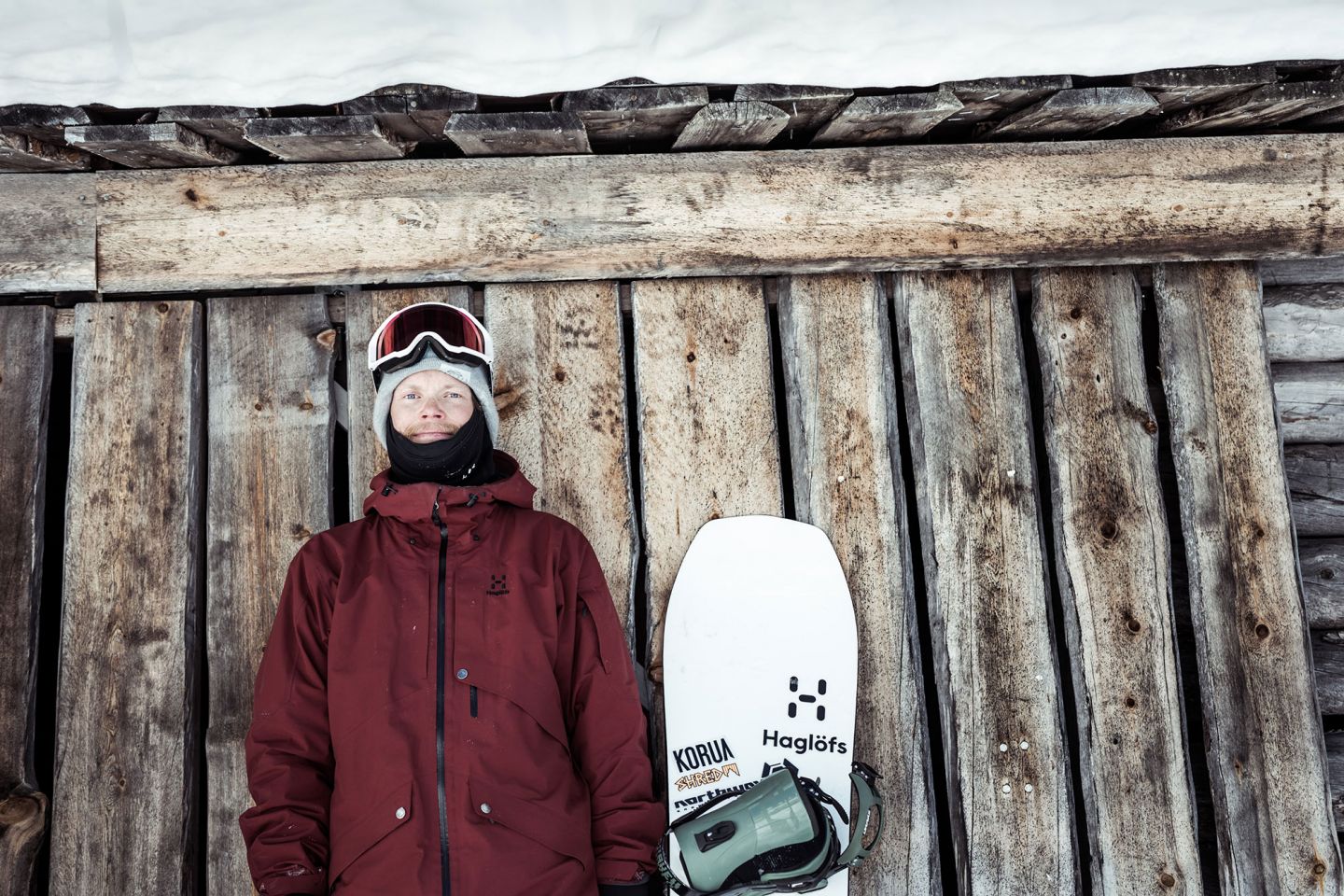 Photo by:
Kota Collective
Antti Autti, professional snowboarder, IG: @anttiautti
1. My favorite freeriding spot in Lapland is Pikkukuru in Pyhä-Luosto national park. It requires a lot of snow to work properly but with the right conditions it's world class! It is a versatile zone where you can find steep and tight lines but also more mellow rides down into the forest.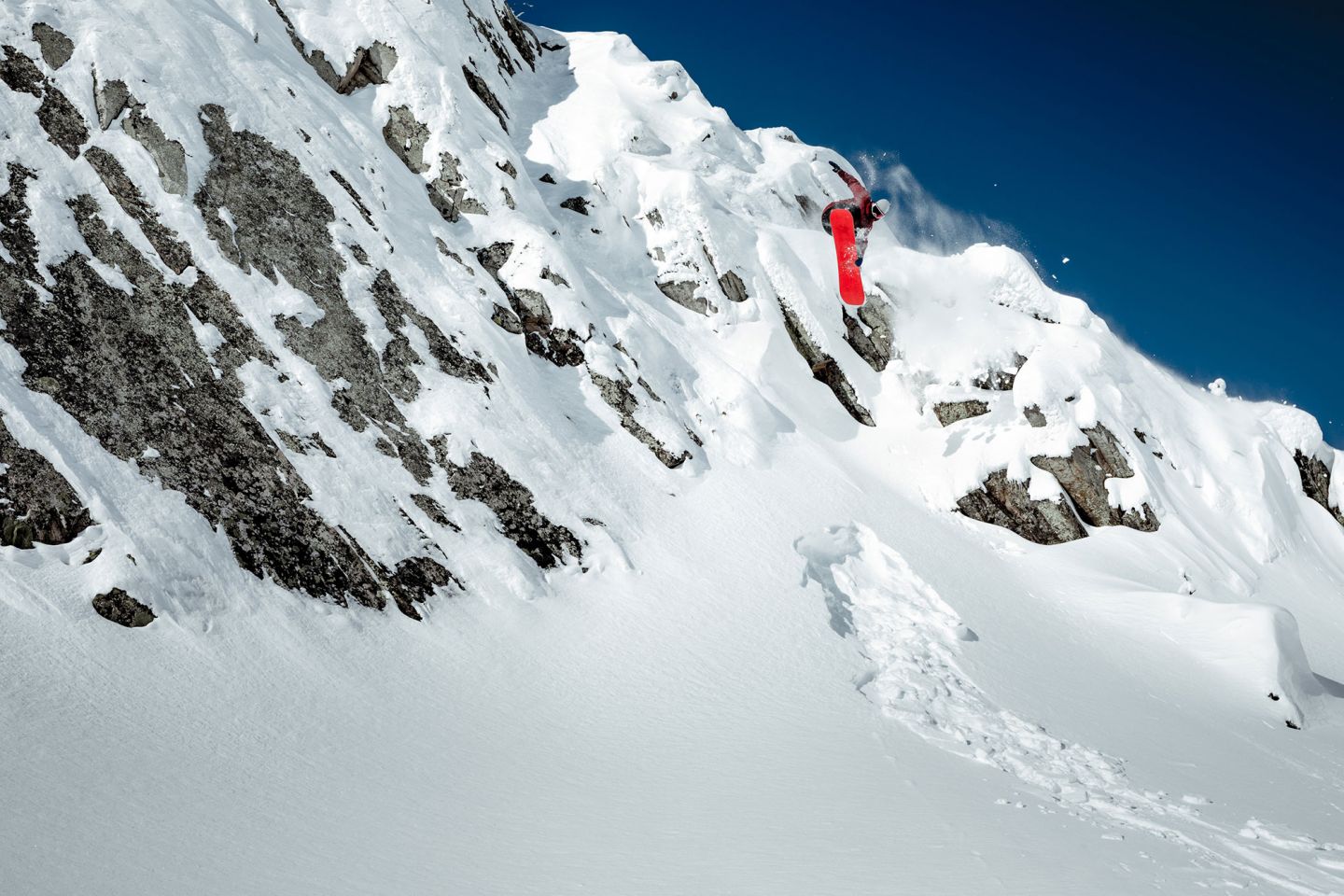 Photo by:
Kota Collective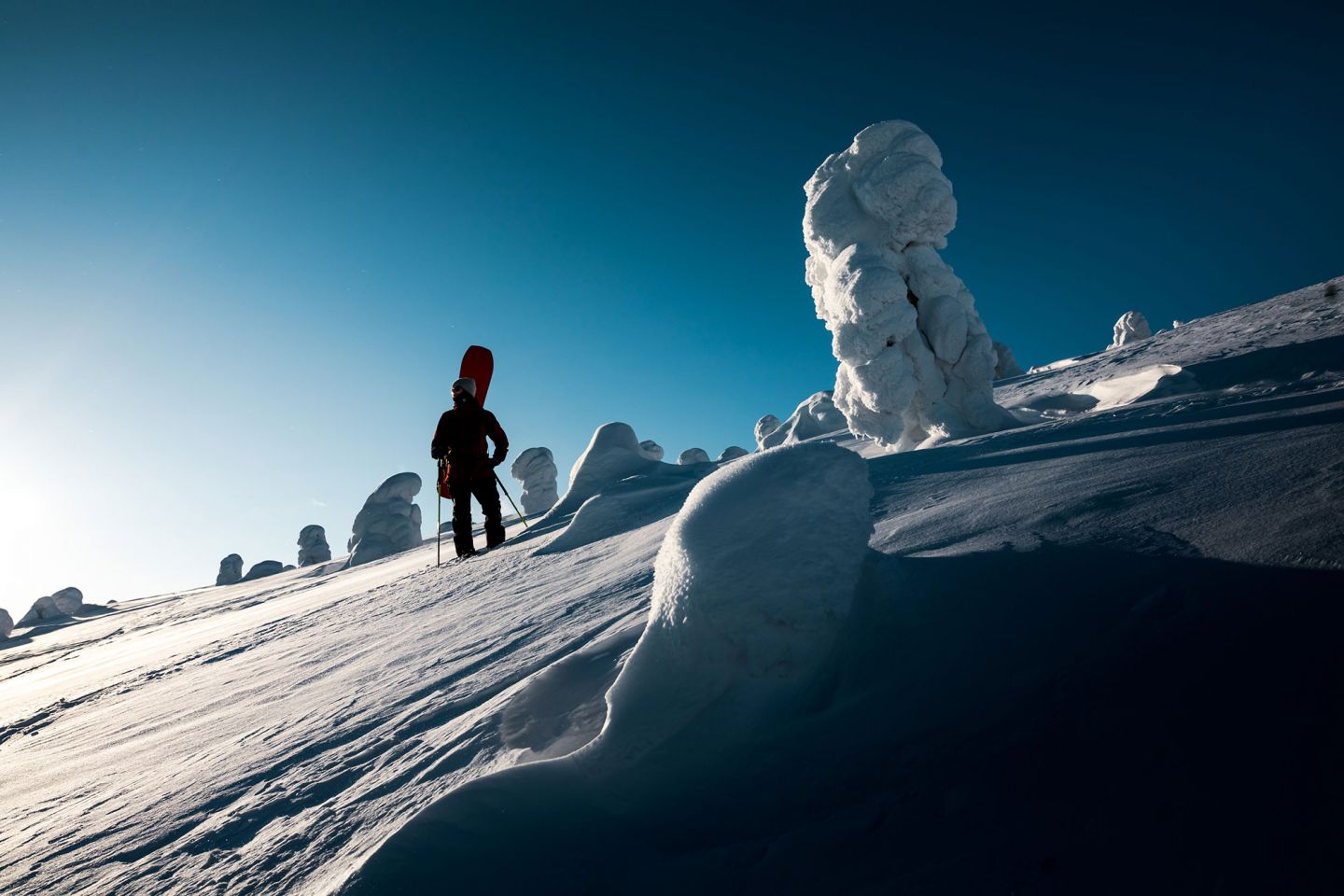 Photo by:
Kota Collective
2. Observe the wind! Wind howls and moves snow constantly in the fells of Lapland. It might be rocky and hardly any snow on one side of the fell but the other side holds meters of snow. Learn to read the wind direction and study the latest winds and you can still find good powder weeks after the last snowfall!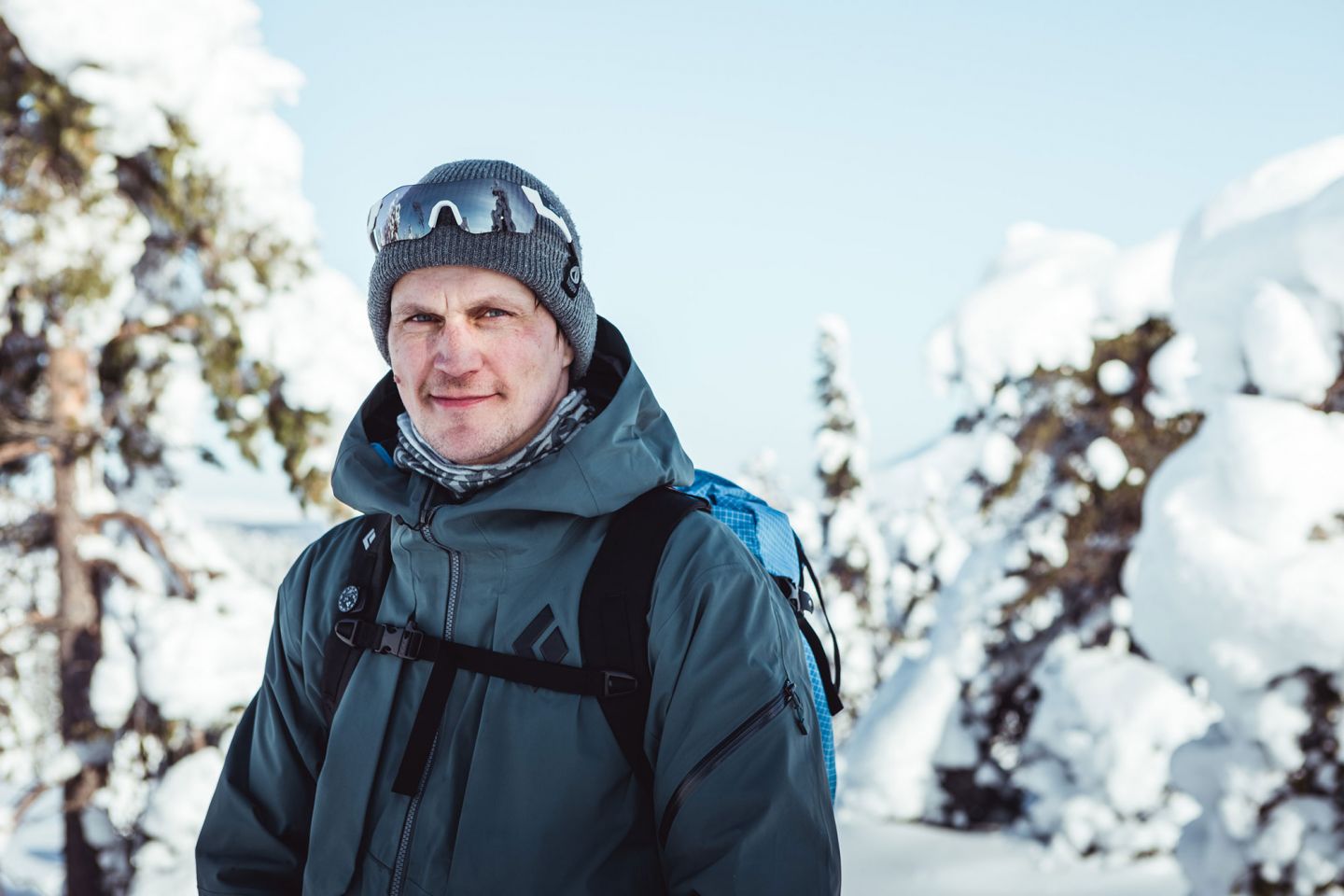 Antte Lauhamaa, freerider, skis, telemark and powsurf. IG: @anttelauhamaa
3. My favorite spot is Kesänkitunturi in Ylläs. It is versatile and there is always something for everyone. And the access is easy. In my opinion the whole Pallas-Ylläs national park area is amazing. The scenery with big fells is unique, snow is deep and the rides are longer than any where else in Lapland.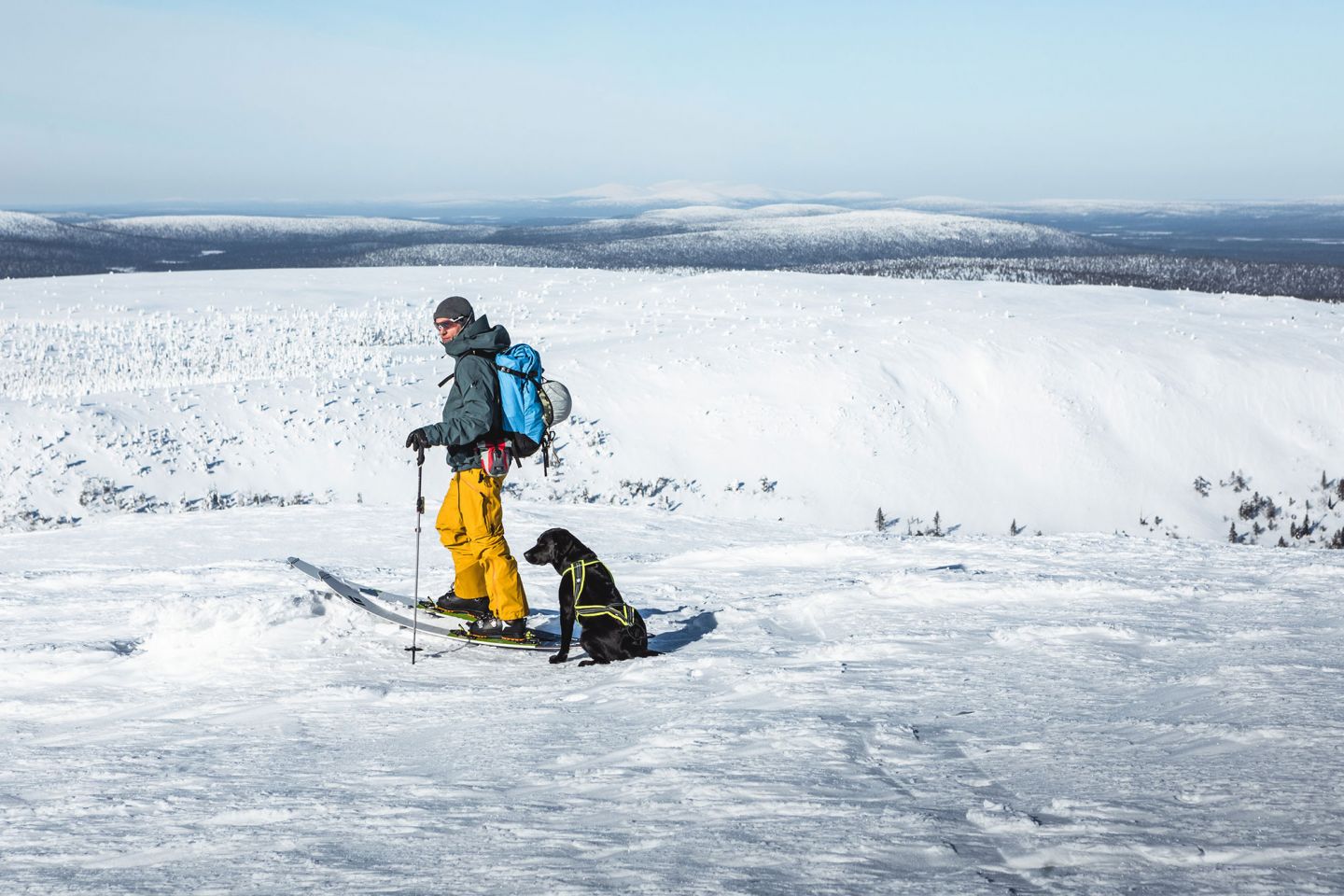 Photo by:
Kota Collective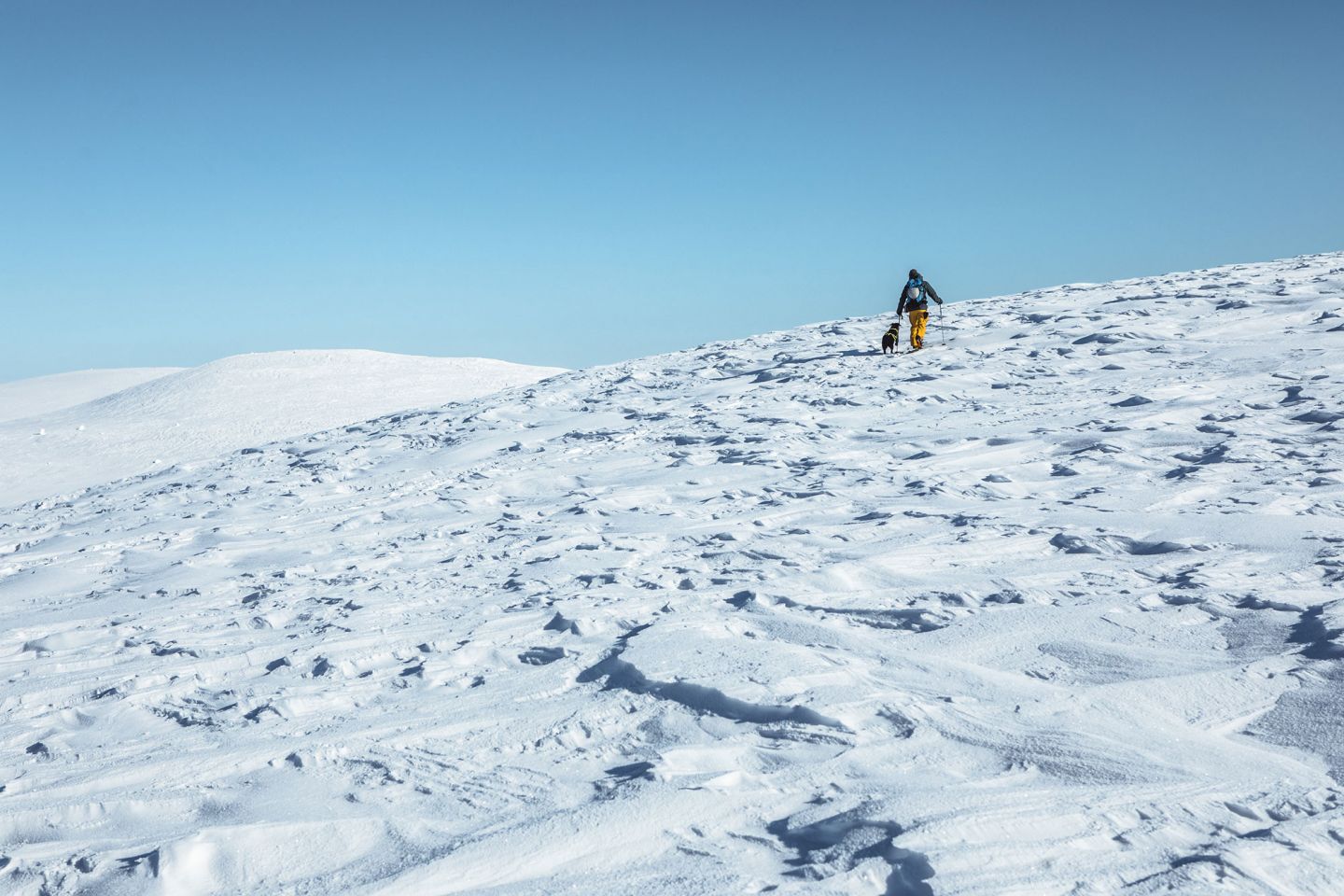 Photo by:
Kota Collective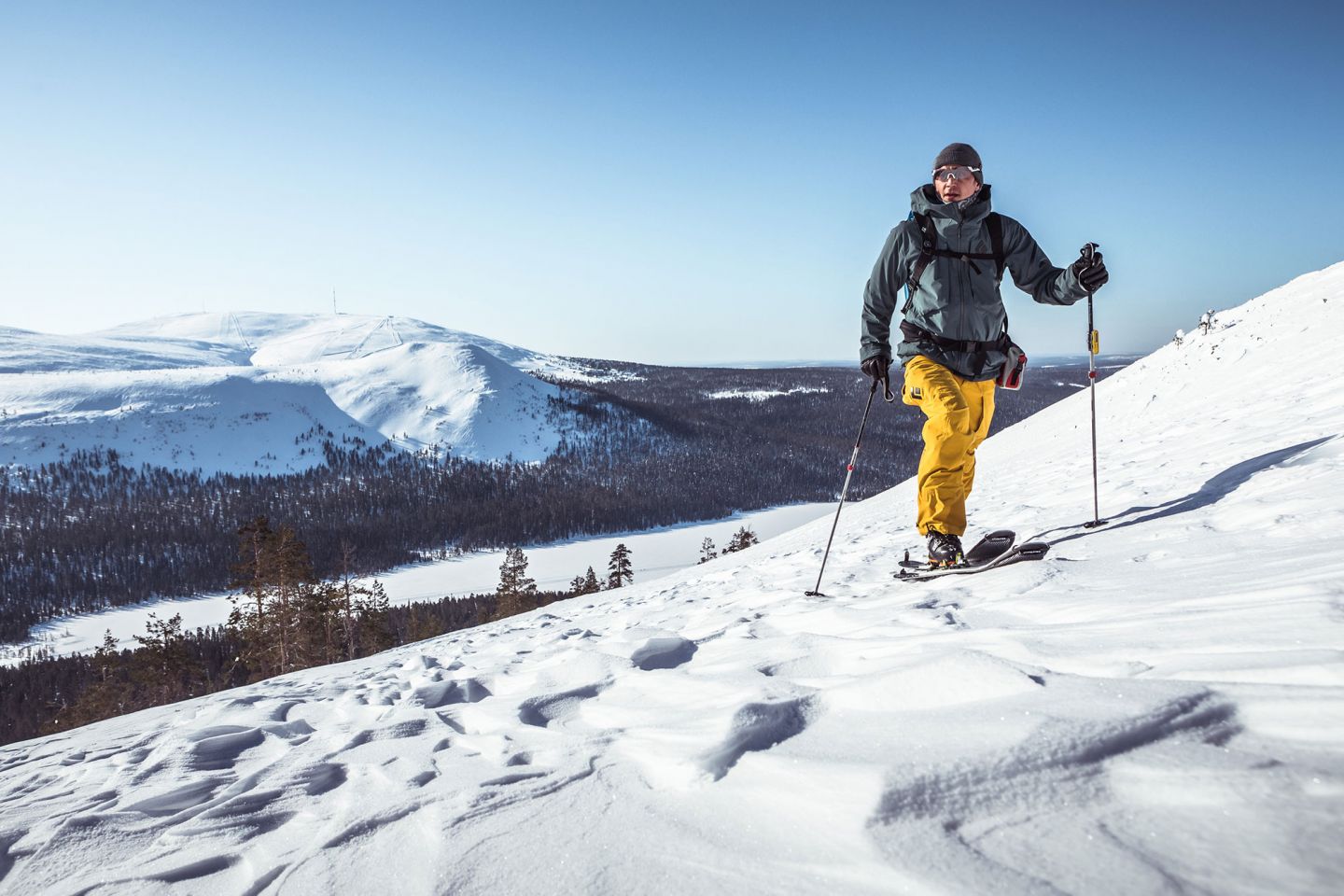 Photo by:
Kota Collective
4. Safety first! Always check the avalanche and weather forecast before you venture in to the backcountry. Finnish Meteorological Institute provides a general avalanche forecast for the whole Lapland area but you can also find more detailed ones from some of the ski resorts, like Ylläs. Besides the mandatory avalanche safety equipment; beacon, shovel and probe, you should also download the 112 – application for your phone. In a case of emergency the rescue party will locate you easily and get to you faster with this app!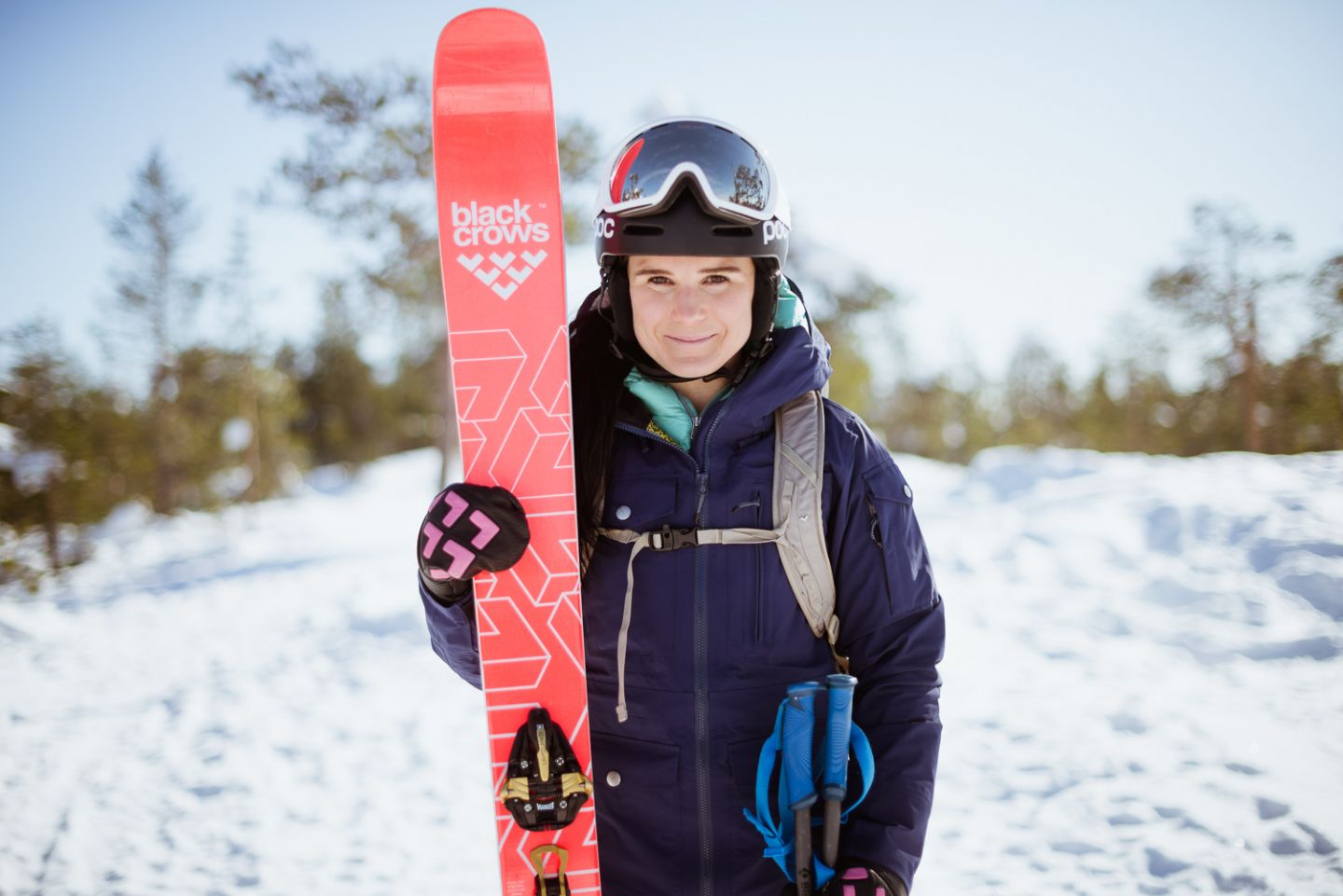 Photo by:
Kota Collective
Merle Soppela, skier, IG : @merlesoppela
5. The fells of Pyhätunturi are my favorite in Lapland. They are also called by numbers from 1 to 5 and can be easily accessed from Pyhä Ski Resort. It is so vast and versatile are that you can always find something good or new spots to ride. You can also do many different kind of trips, from short few hours to longer overnight tours. There are many nice huts and lean-tos where you can have a comfortable break or stay the night.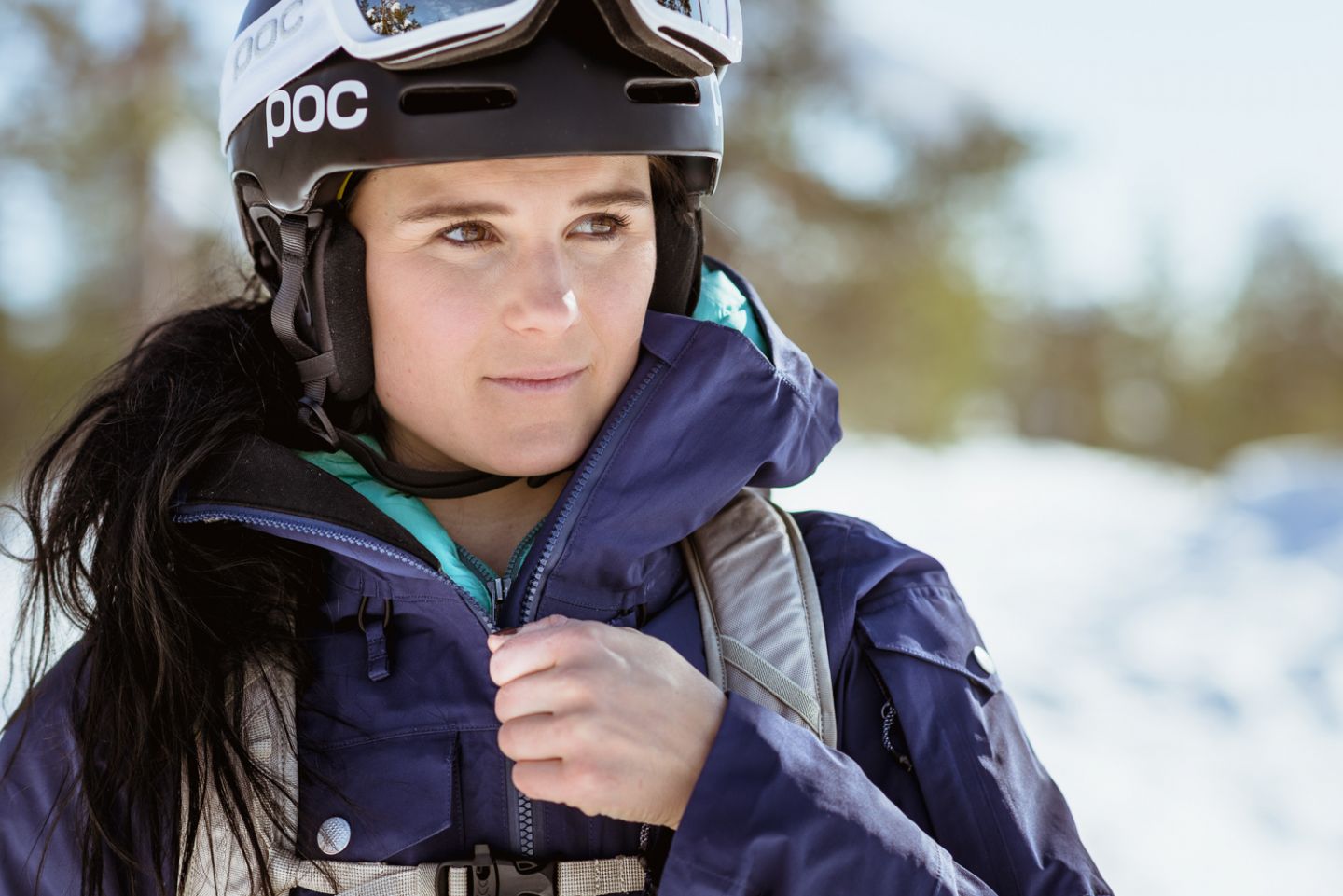 Photo by:
Kota Collective
Photo by:
Kota Collective
6. The right clothing guarantees a comfortable tour. I always use layering which basically means : technical first layer then the warmth layer out and finally the shell. Right layering will let the sweat out and keep the weather outside. I also pack extra pair of gloves, beanie and dry shirt in the backpack that you can change after the climb. It is also good to have a light puffy jacket for extra warmth. It can get cold fast on the fell tops and during breaks! I recommend to invest in quality when it comes to clothing. Quality garments are functional and last for years. Eventually you save when you don't have to buy new ones every year and it's better for the environment too!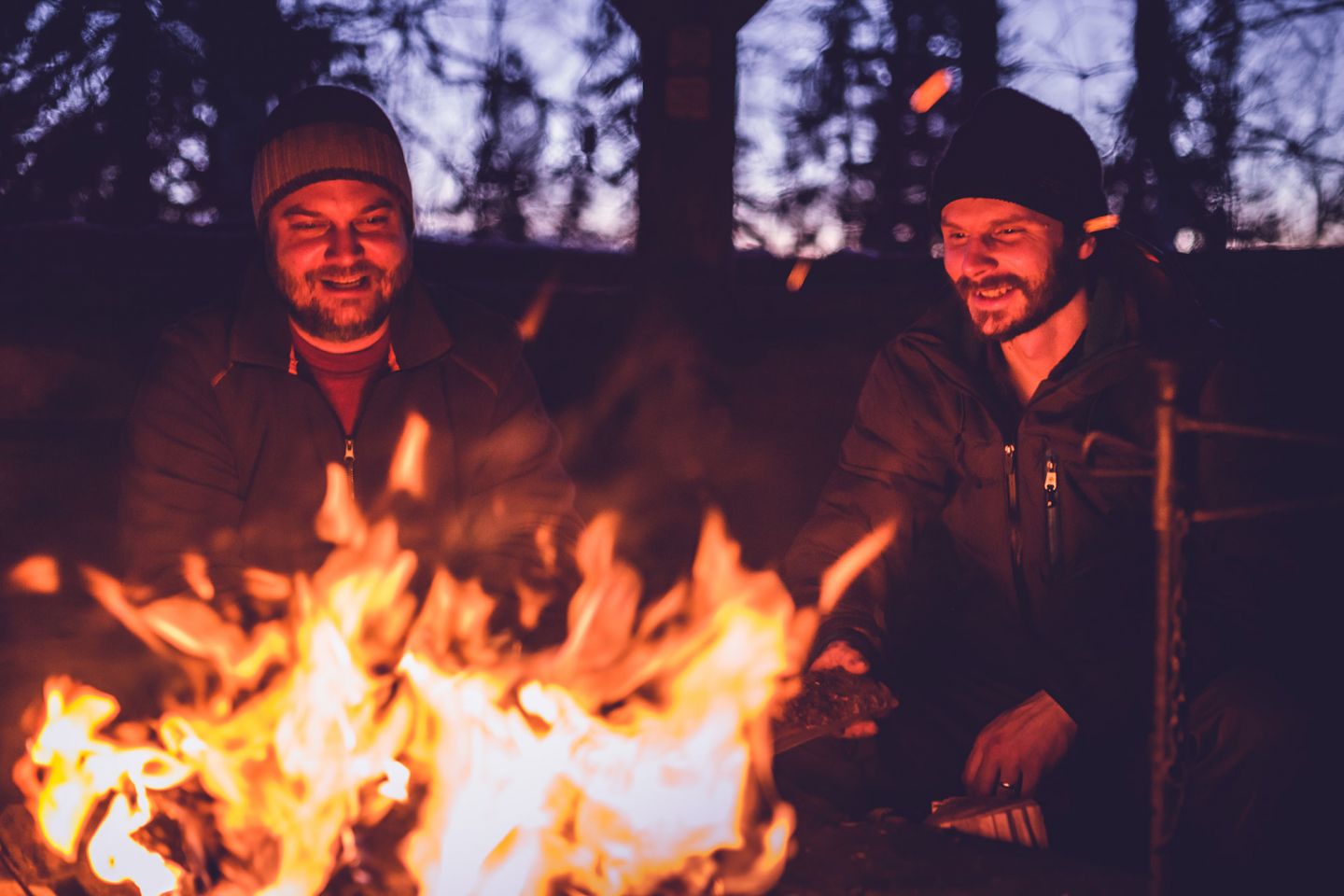 Photo by:
Kota Collective
Jan-Erik Leutola, powsurfer and board shaper, IG : @ilahuboards
7. My favorite powsurf spots are located in the fells of Luosto area. The whole fell line from Yli-Luosto all the way to the Luosto Ski Resort is full of good spots. You can pick the best according to the sunlight (time of the day) and snow conditions. There are lines to every direction of the compass and always lots of snow, too!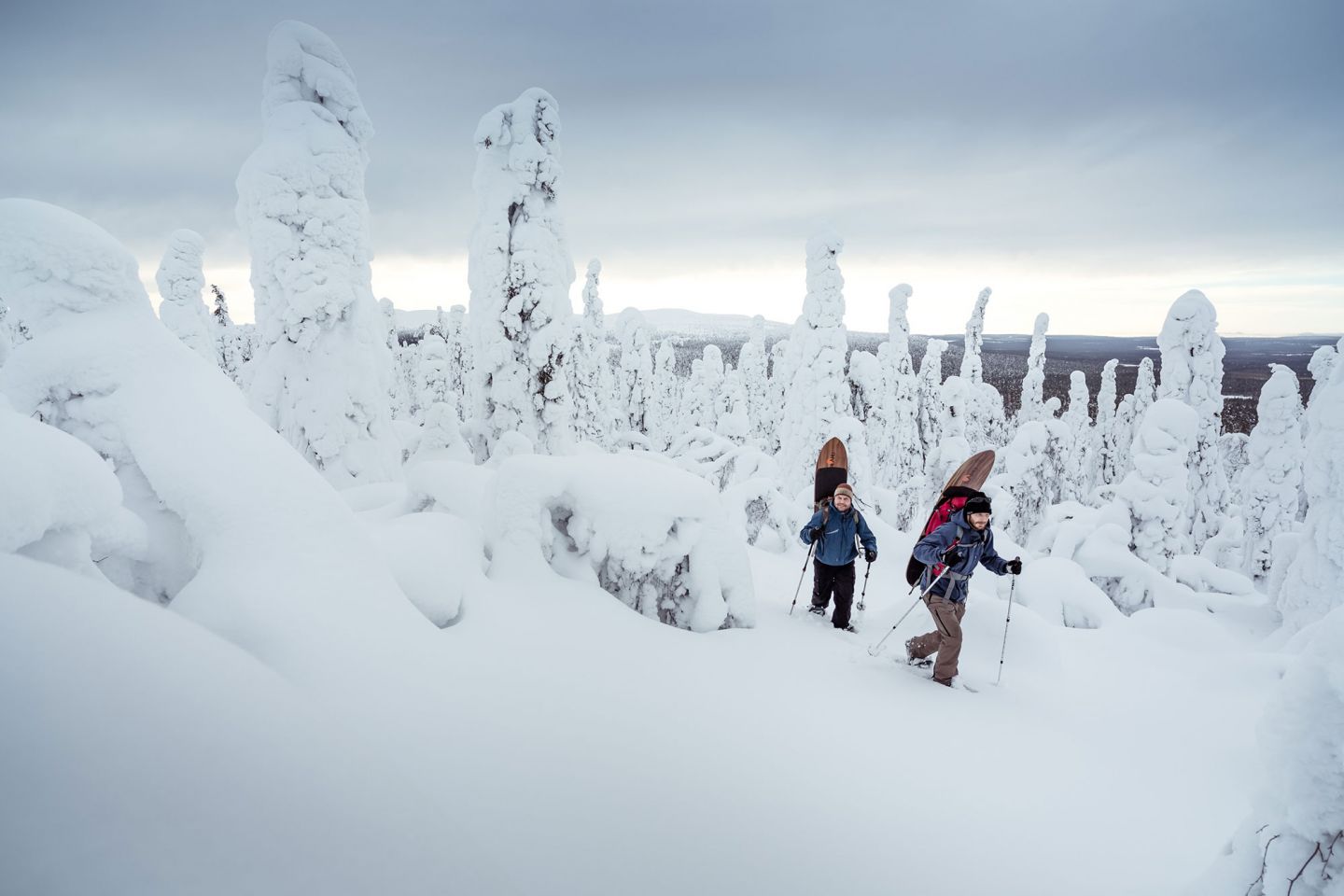 Photo by:
Kota Collective
8. I recommend to try different riding equipment and shapes. For example there are many different powsurf board shapes and each has its' own characteristics. Variation will bring always something new to riding and make even the shortest lines fun! Study the topographical maps of your surrounding areas and go explore the hills! It is local tourism at its best!