Although there is still some room for improvement in terms of energy efficiency and the circular economy, tourism in Lapland is already relatively sustainable and responsible by international standards. Many notable tourism businesses have already achieved carbon neutrality, or are well on their way towards it. In addition to ecological considerations, responsibility also includes social and financial dimensions that combine to make up a significant attractor for tourism in Lapland.
The interviewed tourism industry operators think that significant developments are needed in communications and in recognizing and bringing out the completed actions to promote sustainability.
NIINA PIETIKÄINEN, CEO, HARRINIVA OY
– Our company has changed the heating systems of our three largest resorts. Geothermal and lake water heating has saved us about a million liters of heating oil in five years. We recycle everything we can and utilize local food to the greatest extent. We exclusively use renewable energy, and our next objective is to become carbon neutral.
In addition to environmental themes, we also take into account social, financial, and cultural accountability. We support local children and youth activities in Muonio and try to employ as many local people as possible. We present Lappish and Sámi traditions and cultures with respect.
Our challenge is in recycling because the infrastructure in our region is lacking. We are for example unable to recycle plastics here in Muonio, and the closest processing facility is in Oulu.
Customer awareness concerning responsibility has increased recently, and for example, a notable German travel agent compensates for all the holidays they sell by buying forest in Bolivia.  We communicate our responsibility actions to our customers by writing a blog and having our staff explain to customers how they can make responsible choices. We want nature, our most important product, to survive for future generations too.
We already operate with a high level of responsibility in Finland. Our values do not accommodate any oppressive policies, and our legislation and control systems are at a high level by international standards. I think we are even overly self-critical when it comes to communicating how responsibility is achieved in Finland. We could be bolder in branding ourselves as pioneers and take a leading role in the responsibility discourse.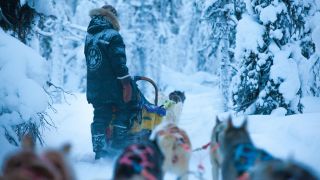 JUSU TOIVONEN, DEVELOPMENT DIRECTOR, PYHÄTUNTURI SKI RESORT
– We have improved our energy efficiency by various technological means such as snowmaking system automatization and by changing our practices. We have been able to reduce our energy emissions by about 90 percent. We use renewable energy for power and heating, and we also compensate for our fuel and travel emissions every year. Our efficient use of resources and energy savings are reflected in lowered costs too.
Pyhä has been a carbon-neutral ski resort since 2011. It is our objective to become the cleanest ski resort in the world. Here in Lapland, we enjoy the world's purest air and groundwater, and we operate close to Finland's oldest national park. Our operational environment is thus among the purest in the world, and we must protect it. We support local young people with their skiing hobby by offering free season passes for all 10-year-old children and by running a free downhill skiing club for children in the region. We also take responsibility for the financial well-being of the region and sustainable business practices. We pay our taxes to Finland, and 75 percent of our profits go into developing the resort. We are always looking to increase the number of full-time jobs we offer.
Developing recycling is a big challenge for us, as waste management services in Lapland are not as good as in larger population centers; for example, we are completely unable to sort our biowaste currently. This is something that our customers are always giving feedback on. Customer awareness of environmental issues has increased significantly in recent years. Research shows that such considerations are becoming ever more important criteria in the selection of holiday destinations. Long-term efforts in improving responsibility are among our competitive advantages.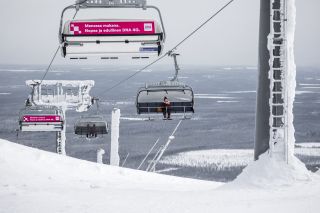 ILKKA LÄNKINEN, CEO, SANTAPARK ARCTIC WORLD
– Responsibility has been a part of our operational model ever since the beginning. We have been practicing circular economy even before the concept was properly established. We, for example, built a building in Santa's Secret Forest in Sierijärvi with logs and roofing tiles that were 150 years old. We prefer building with wood, as it binds carbon from the atmosphere.
We use geothermal heat and solar panels for energy. I think it is very respectable how we can utilize solar energy on the Arctic Circle where the sun won't shine for 52 days a year, while in many warmer countries the sun is not utilized for energy as efficiently.
We favor local food as much as possible. In the summer, the self-sufficiency ratio of our kitchen is about 65 percent, but in the winter cannot achieve this as we need to import vegetables from elsewhere. The cold weather is also a challenge for energy consumption.
Our sustainable actions affect other parts of society too. We have taken the locals into account in our planning since the very beginning, and we arrange activities where we can for immigrants, occupants of transitional housing and shelters. Tourism radiates well-being all over Lapland, and many regions would look very different without it. There would be fewer traffic connections and people than there are now.
Many responsibility issues are obvious in tourism in Lapland, and therefore difficult to recognize. We should learn how to communicate responsibility better, for it is a clear attractor which will only grow in significance.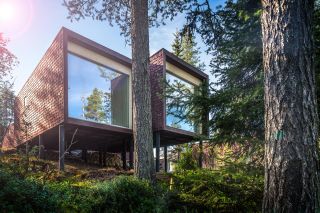 RAMI KORHONEN, COO, LAPLAND SAFARIS
– Responsibility is ingrained in our company values, covering customer safety, the welfare of personnel, partners, and the surrounding community as well as nature as our most important resource.
In December, we committed to compensate for all of our carbon dioxide emissions generated by our snowmobile safaris. We have been involved in the development of safer and more environmentally friendly snowmobiles, and next winter we will introduce electric snowmobile safaris in Rovaniemi and Luosto. The electricity we use is all certified eco-power. We operate in cold weather, which means that we need energy just to keep people warm.
For now, we have been focusing on the most significant and recognized impacts that our operations have, but in the future, we will determine the environmental impacts of our entire subcontracting chain.
We take responsibility for customer safety and cooperate closely with for example the rescue services, municipalities, and the police to improve the safety practices in the industry. In recent years, we have invested in personnel training and well-being which is reflected in increased occupational satisfaction and improved personnel retention rates.
95 percent of our customers are international customers who do not get the chance to spend time outdoors in nature at other times. By taking them out into the wild we reinforce their positive relationship with nature. I think that this will be reflected in their everyday choices later on.
For us, responsibility means patient and long-term business practices. It is about whether we want to maintain and develop our operating conditions or eat them away.