From the beginning of the project, the entrepreneurs of SantaPark Arctic World, Ilkka Länkinen and Katja Ikäheimo-Länkinen, didn't want to build just accommodation, they wanted to create an experience for their guests.
A strong vision of embracing nature and creating different emotional feeling whilst honoring Lapland's heritage brought Ilkka and Katja to find young architects with the same vision and shared values.
The Arctic TreeHouse Hotel project started with a concept design that was developed in close cooperation between Ilkka, Katja and Studio Puisto. The inspiration for the accommodation concept – set on a steep natural slope just outside Rovaniemi – came from Nordic nature and culture as well as the magical world of SantaPark. A vision started to form: small individual accommodation buildings set in nature, their spirit highlighting characteristics of the area and creating an optimal setting for experiencing both nature and arctic mysticism.
— We are truly happy that the vision that we had became reality and our wonderful team is working everyday to bring the best of the Lapland hospitality to our guests. Everything that we do, we do with great heart and passion. We highly appreciate the cooperation and professionalism with Studio Puisto. It has been a delight to work with them to bring our dream into life, Katja says.
—The spirit of nature in Lapland is strong, and we wanted to respect that, says Emma Johansson, architect of the Arctic TreeHouse Hotel in Rovaniemi.
The wooden hotel won the first prize in the Worldwide Hospitality Awards in Paris in November 2017.
Architect Emma Johansson co-founded Helsinki-based Studio Puisto, which focuses on sustainable accommodation design. The company's key rule is to empower people through comprehensive design – making buildings in tune with their surroundings.
One of Studio Puisto's designs stands in a coniferous forest in Rovaniemi, the capital of Lapland. Emma Johansson and co-designers got the assignment to design the Arctic TreeHouse Hotel in August 2015. The next year in November, the unique luxury hotel with treetop views opened on the Arctic Circle.
The suites that stand on stilts draw inspiration from a classic Finnish toy, käpylehmä, meaning pine cone cow. All suites have window walls facing north for viewing the Northern Lights and the surrounding forest in comfort.
— The trees, the stones and the downward slope set a phenomenal ground for creating a whole new experience of Finnish nature. It's challenging to build something that gives credit to the raw landscape but also makes one feel warm and safe, says Emma Johansson.
The nest-like feeling in the suites of Arctic TreeHouse Hotel is not an accident. By using natural materials like wood and wool, Emma and the team wanted to make sure the overall experience is complete. The end result lets the guest not only see but also feel the nature of Lapland.
— As a designer I want to ensure sustainable and healthy choices for both nature and people, Emma says.
Each Arctic TreeHouse Hotel suite was built elsewhere and then brought to Syväsenvaara hill. This way the landscape stayed as untouched as possible.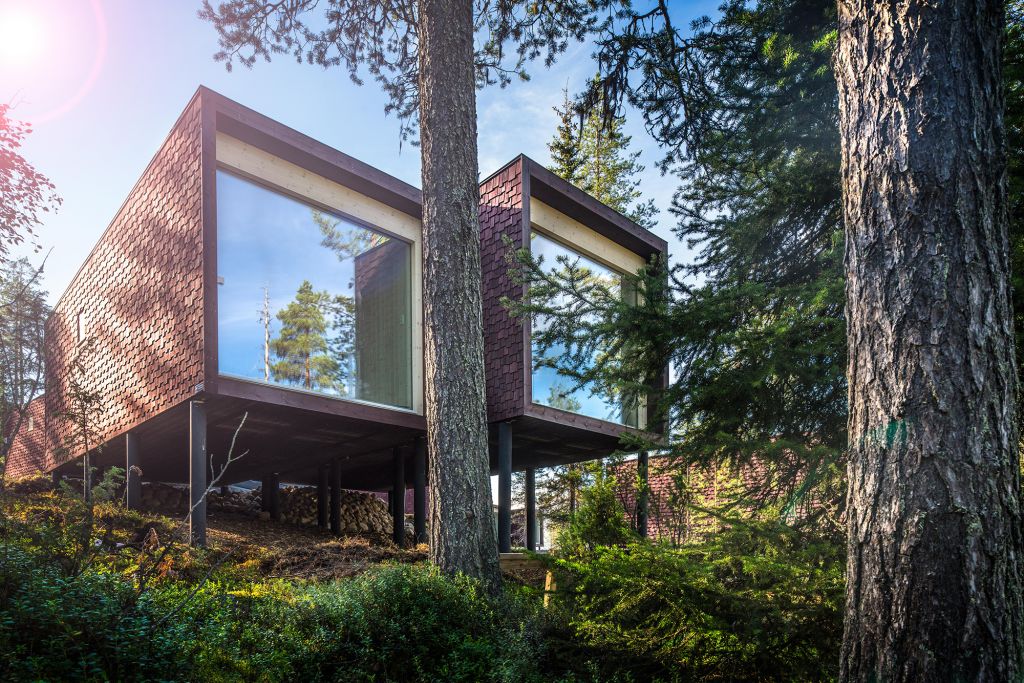 Photo by:
Arctic TreeHouse Hotel
Emma Johansson specialises in carbon neutral architecture. She lives in a hundred-year-old villa in Helsinki that she and her husband bought six years ago. The log house required massive renovation.
— It's been a long but very rewarding process. We've tested and used traditional repair methods like cooking paint ourselves. It´s all coming together slowly but surely.
Emma's favorite place at home is her office with a desk in front of the window. In springtime, it almost feels like there's no wall between the room and the garden.
— There's green leaf tapestry on the wall. When roses start blooming behind the window, it's where I feel good.
This is something Emma highlights in her work. She looks to create spaces that make one feel good by bringing nature closer.
— I want to design spaces that deepen the presence of nature, spaces that make you want to pause. We should seize the moment and be more aware of our surroundings.
When Emma travels she looks for inspiring destinations. As an architect, it's hard to find places that meet her high standards. When designing the the Arctic TreeHouse Hotel, she stayed in a Vietnamese hotel that really made an impact.
— It was a modern concept that respected local tradition – a well-designed space that tickled every sense. That's what we wanted to bring to the Arctic TreeHouse Hotel.
A year after opening, the Arctic TreeHouse Hotel received international recognition for its design, as it was voted Best Innovation in Hotel Concept by 500 travel professionals at the Worldwide Hospitality Awards in Paris.
— I was very pleased when I heard our work had been noticed in the tourism industry and honored with the award, says a happy Johansson.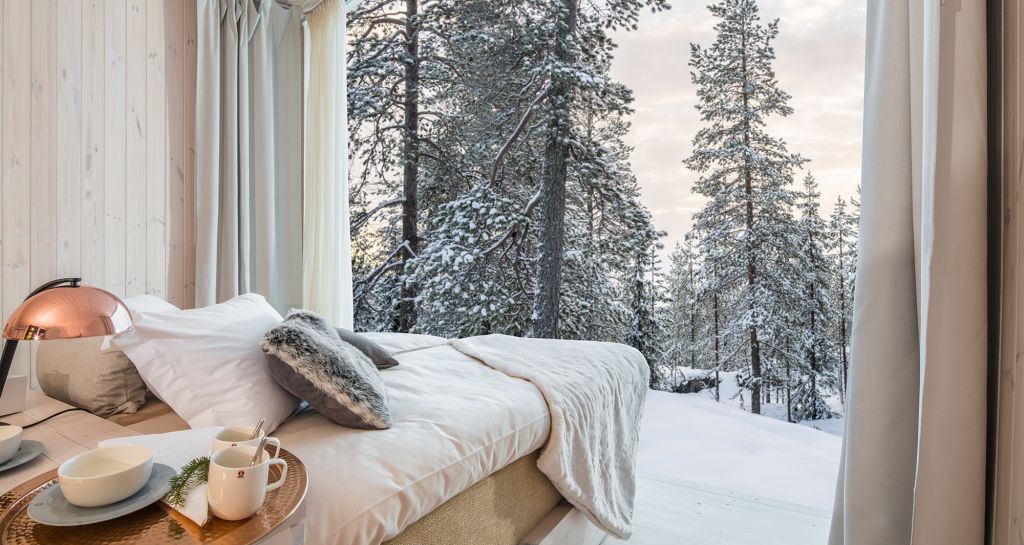 Photo by:
Arctic TreeHouse Hotel