Rovaniemi. Hometown of Santa. Capital of Lapland. But what does that mean exactly? Maybe you've heard of Rovaniemi, the town adopted decades ago by Santa Claus. His office sits on the Arctic Circle, where it's Christmas every day of the year. Maybe you've heard of the award-winning luxury hotels, or the magical glass igloos that sparkle under the Northern Lights. Rovaniemi is the heart of Lapland, its connection to the world at large. With wilderness that weaves throughout the town and an authentic and lively culture, Arctic adventures await the moment you step off the airplane.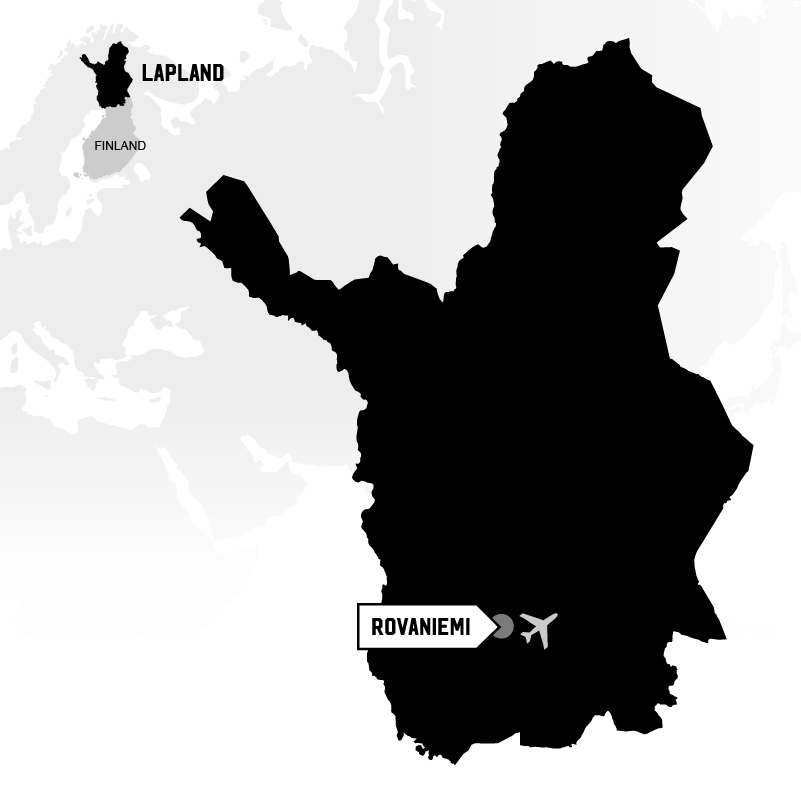 How to get here?
As the most connected place in Lapland, Rovaniemi has an international airport with connections to other airports in Finland, Europe and the world at large. There is a bus terminal and train station with dozens of daily connections, both within walking distance of downtown.
Santa Claus Village
You can't talk about Rovaniemi without mentioning his most famous resident, Santa Claus, or his office at Santa Claus Village. What was once just a small cabin erected on the Arctic Circle, has grown into an inclusive resort where you can meet the Big Guy every day of the year, Christmas included. After a meet-and-greet with Santa, you can hop in a reindeer-pulled sledge or spend an afternoon among yapping huskies. Explore his underground grotto at SantaPark. There are many service providers who specialize in the kinds of adventures you can only have on the Arctic Circle, whether there's a meter of snow or you're basking in the Midnight Sunlight.
And don't forget to stop by the Santa Claus Main Post Office, which receives more than half a million letters to Santa every single year! Send a post card, letter or parcel and it will be stamped with the exclusive Santa Claus Main Post Office stamp. You can even delay the delivery until the next Christmas season.
Santa Claus Village also offers modern and unique accommodation including aurora igloos, much within walking distance of the main square, as well as restaurants, luxury shopping, locally-sourced souvenirs and more.
Santa Claus Village checklist: 
Downtown Lapland
Santa Claus Village sits about 8 kilometers north of Rovaniemi, the capital of Finnish Lapland. Like the resort, the town has grown from a modest northern village into a modern city, with all the conveniences, connections and culture you can expect. Downtown features three shopping centers, a town square that hosts markets, events and an ice-skating rink in winter, multiple public parks, and cafes on every other street. The Ounasvaara Ski Resort is less than 4km from Lordi Square in the heart of the city.
Rovaniemi has been the provincial capital of Lapland for decades. Cultural offerings around town include Korundi House of Culture (a contemporary and modern art museum and home of the Lapland Chamber Orchestra) and the Rovaniemi Theatre, which stages more than 200 performances per year. The theater building was designed by Finland's superstar architect Alvar Aalto. The Arktikum science museum will answer any burning questions you have about the top of the world. Rovaniemi is also home to multiple football and hockey teams, with regular games and seasons, as well as the Arctic Rally, reindeer races, and winter sports tournaments.
For travelers, downtown also offers the most extensive network of services and providers in all Finnish Lapland. There are Northern Lights safaris that will take you a few kilometers from the city lights to give you the best chance of seeing the auroras. Or maybe you're looking for a snowmobile excursion that lasts all day and night. Wilderness guides abound, who can take you into the trees and marshes for a taste of wild Lapland. Rovaniemi has tapped into its long history and its rich supply of local guides to offer true Arctic adventures.
Wilderness Waits at Your Doorstep
Speaking of adventure, Rovaniemi is an urban outpost in the heart of Lapland wilderness, part of the great taiga forest that stretches across northern Scandinavia and Russia. You need only take a few steps out of town to find room to breathe, space to move, and broad expanses.
In summer, hikers roam the hillsides and forests that wait only a few minutes' walk from downtown. They wander up the side of Santavaara for the overlook that reminds you of exactly where you are—on top of the world. Or they spend a day exploring the protected hiking area north of the city. Swimmers laze in the gentle waters of the Kemijoki river. Those looking for more speed hop on a jet ski and buzz around under the Midnight Sun.
In fall, sweet berries and delectable mushrooms emerge from the forest floor, and it's not uncommon to see someone carrying a bucket full of delicious morsels. Fall is also when the Northern Lights make their triumphant return to our skies.
Winter brings snow and ice to cover the land, and the snowman sentinels guard Santa Claus Village. The frosty weather and bright sunshine turn Rovaniemi into the perfect place to ski for hundreds of kilometers. Children and parents alike delight at sledding down cityside fells and ice-skating in city parks. The real adventurers snow-shoe through vast and endless wilderness for a taste of life on the edge. In spring, the ice in the rivers breaks up and the world turns green overnight, making for dramatic photo opportunities.
Highlight: Ounasvaara is a small hill that hugs the southern side of the city and offers accessible hiking, biking, cross-country skiing and snowshoe trails.
Highlight: Auttiköngäs allows you to explore old-growth forests, about an hour from central Rovaniemi.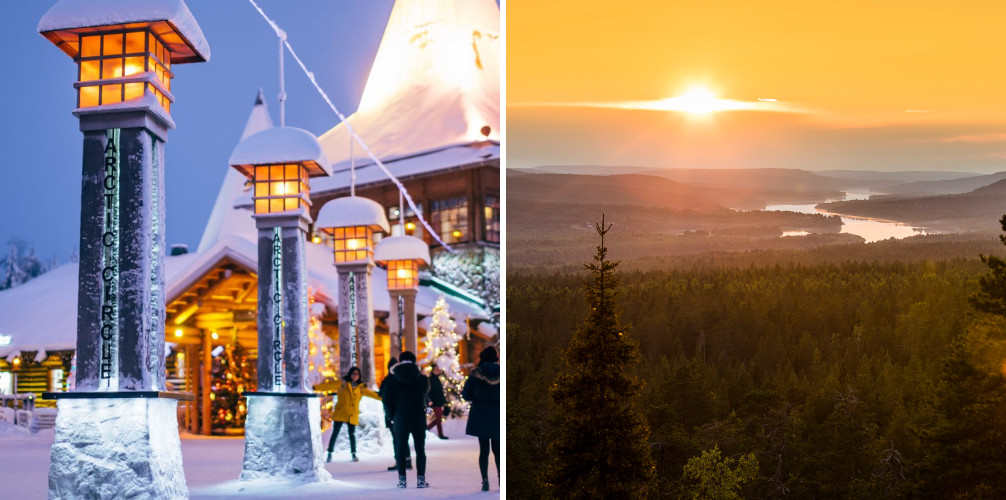 Photo by:
Visit Rovaniemi & Alexander Kuznetsov
Rovaniemi's Most Instagrammable Spots
With adventure just around every corner, the hometown of Santa Claus has some #KillerPhotoOpportunities, like:
Crossing the Arctic Circle at Santa Claus Village
Enjoy an epic sunset at Kuuninkaanlaavu
Check out some more of Rovaniemi's amazing videos and photos.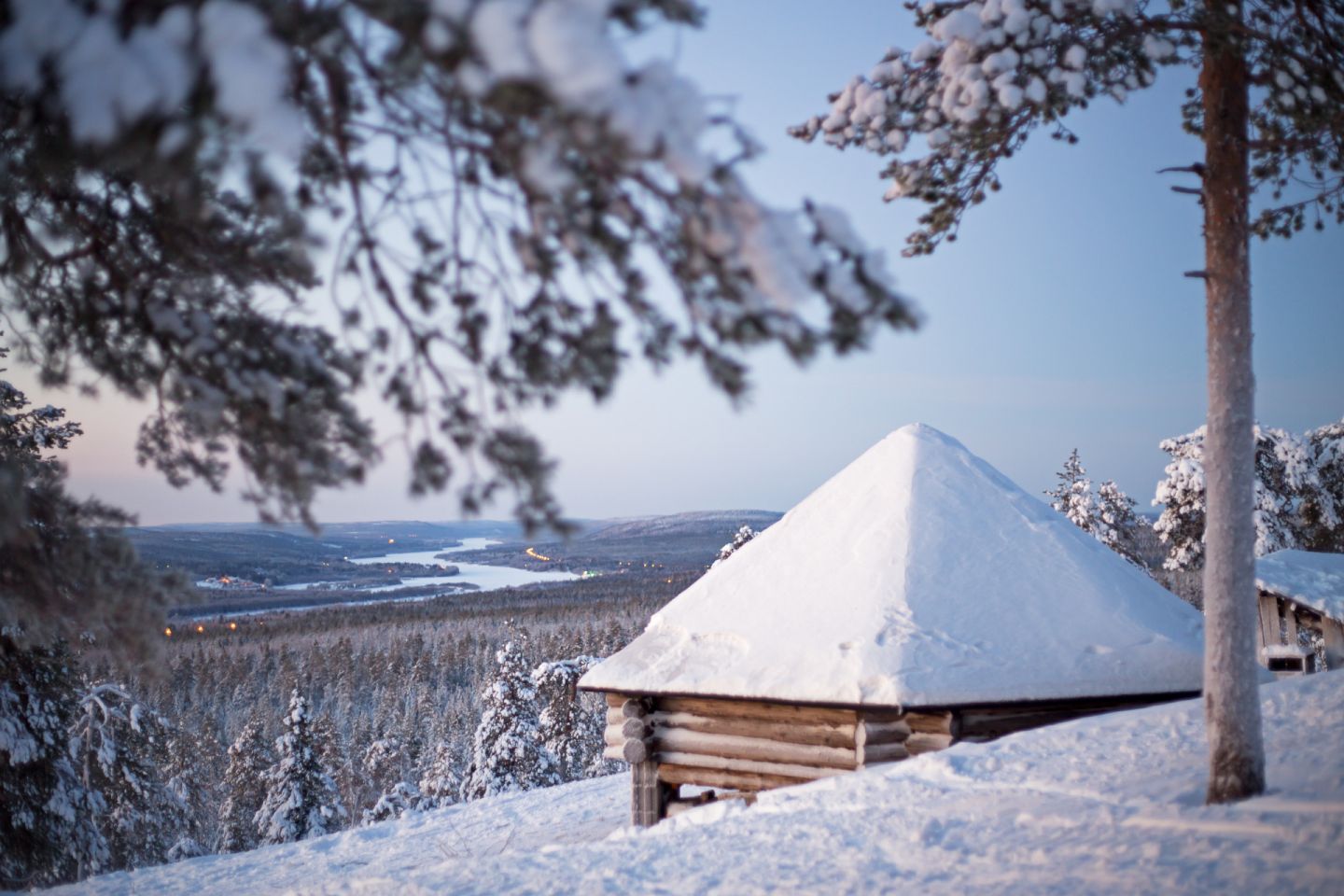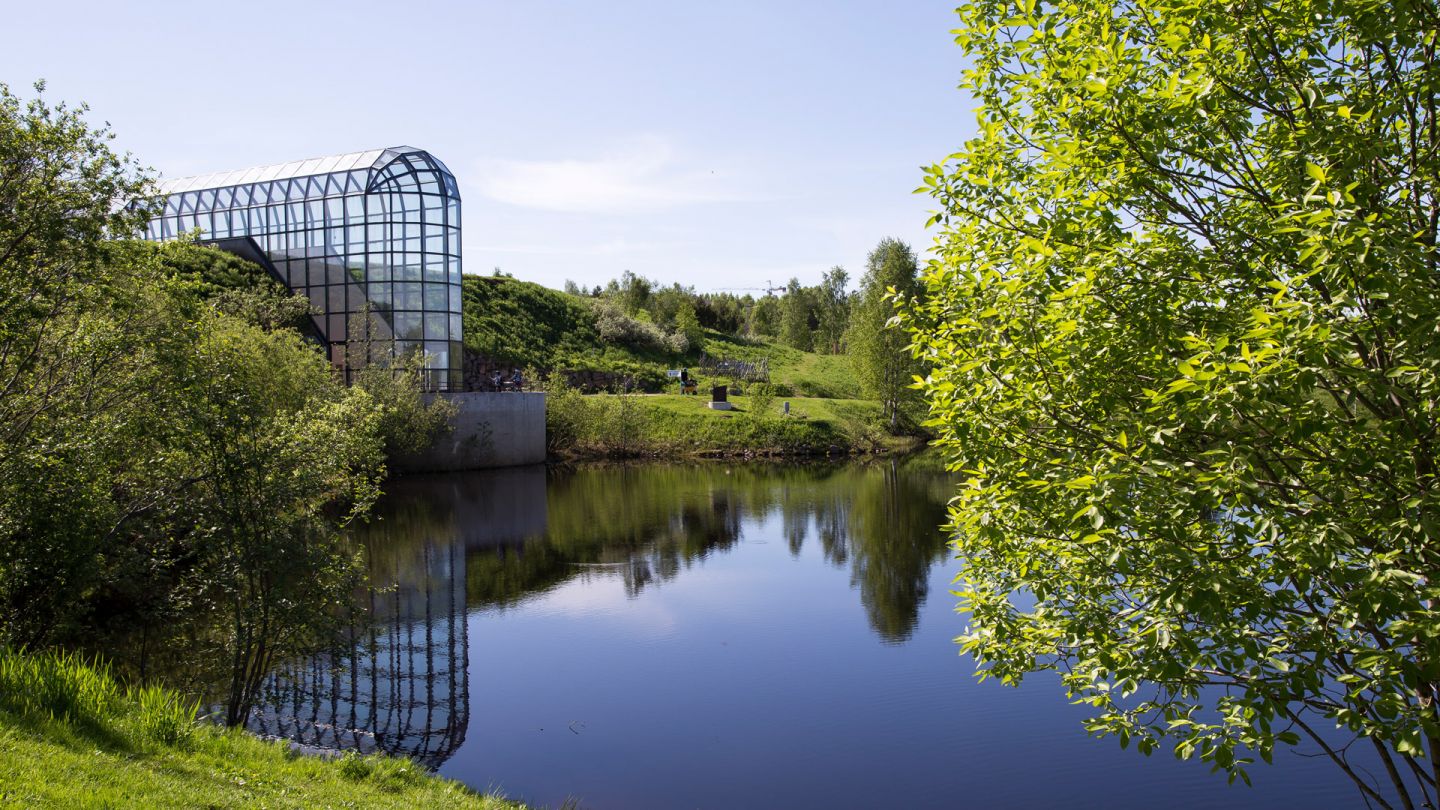 Photo by:
Terhi Tuovinen | Lapland Material Bank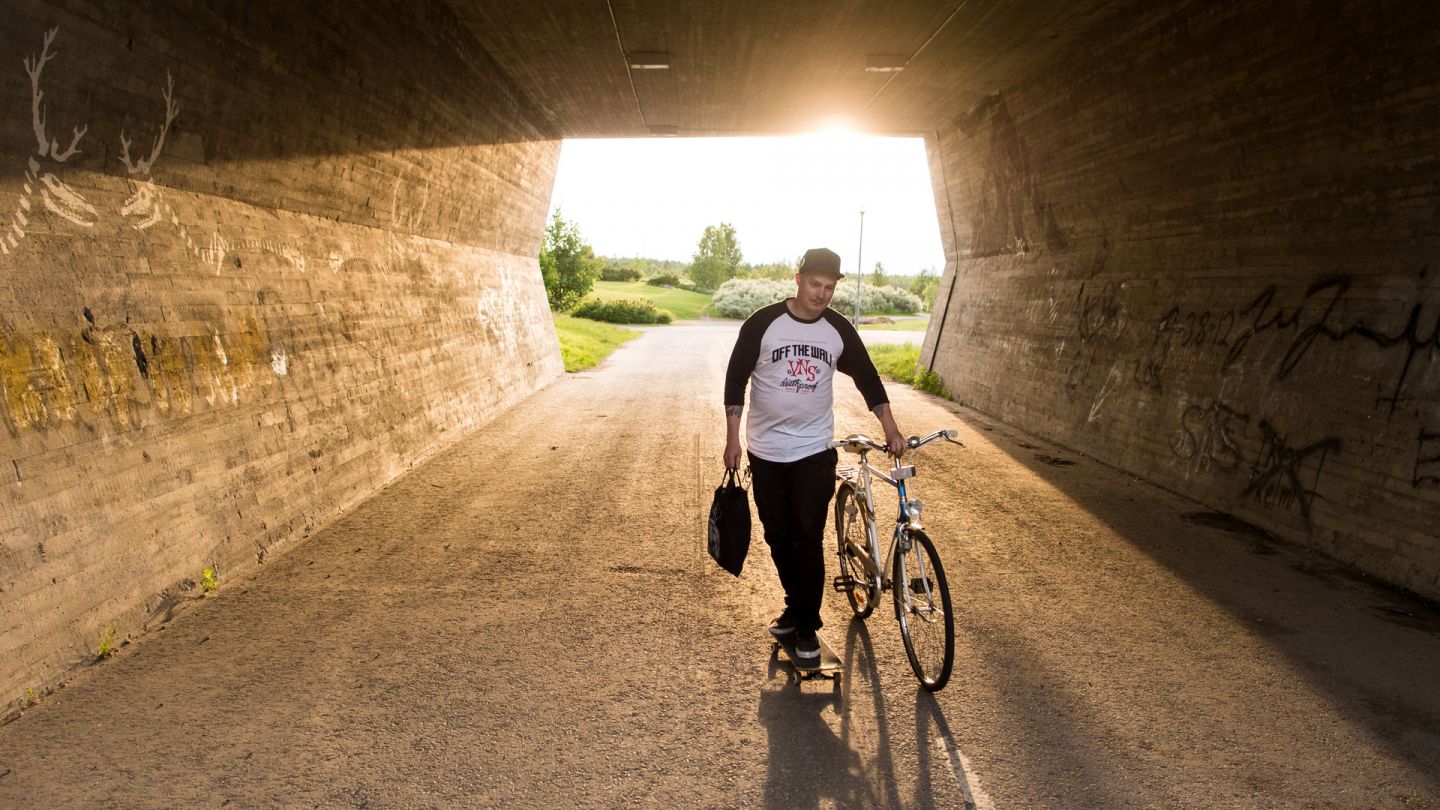 Photo by:
Simo Vilhunen | Lapland Material Bank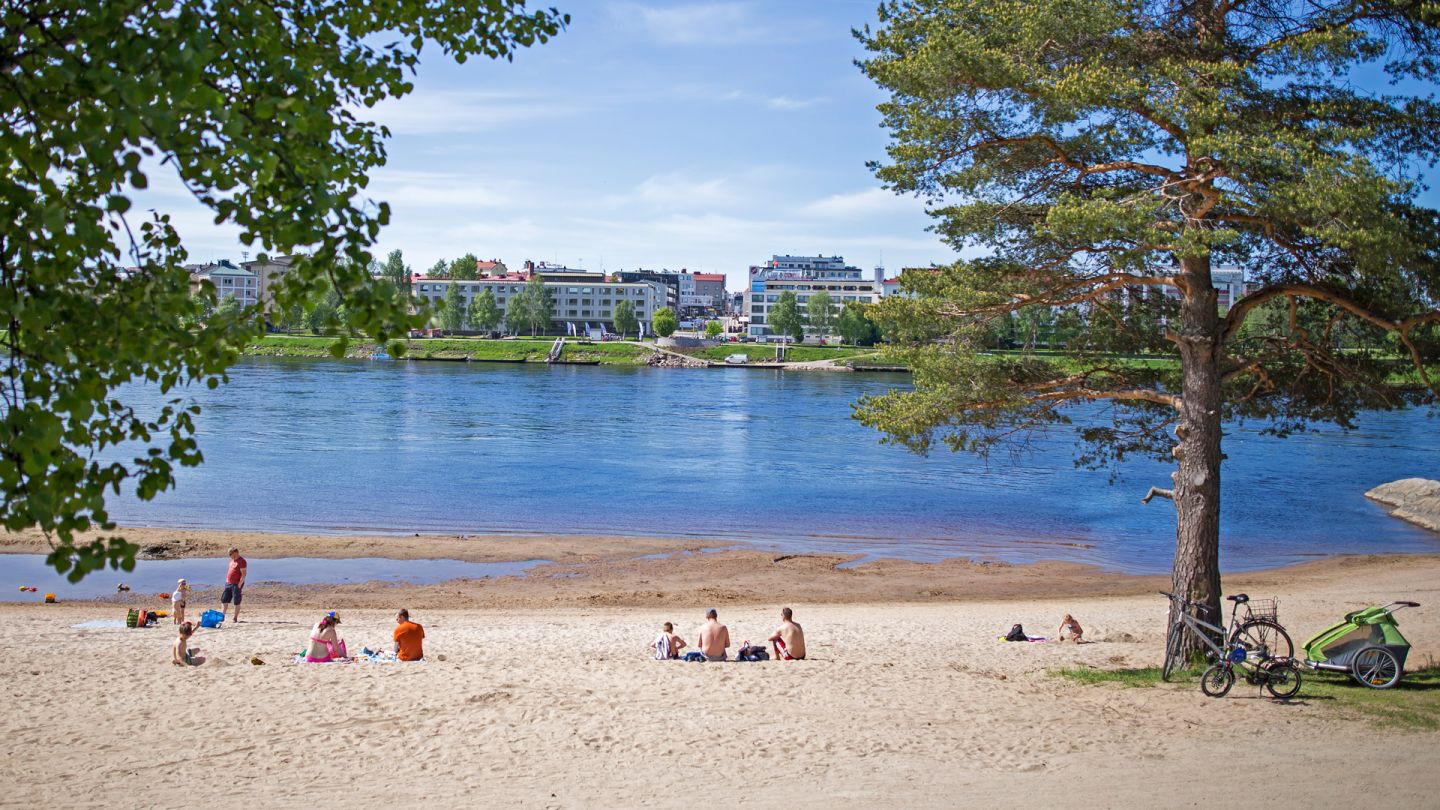 Photo by:
Visit Rovaniemi
Visions of Sugarplums
Those looking for luxury don't have to look far. Rovaniemi is home to many award-winning luxury hotels, holiday villages and resorts. Spend a night staring at the night sky in Apukka Resort's aurora cabins, or stay cozy and warm overlooking pine forests at the Arctic TreeHouse Hotel. Downtown, the Arctic City Hotel offers style and convenience, while the boutique Arctic Light Hotel has dozens of individually styled rooms. On Ounasvaara hill, Lapland Hotels Sky Ounasvaara provides modern comforts and an unbeatable view of the city.
Santa Claus Holiday Village gives you the chance to stay at the Arctic Circle, only a few steps away from Santa's Office or the edge of the forest—your choice. Glass Resort, also at Santa Claus Village, has sleek, modern glass igloos, perfect for stargazing and aurora hunting from bed. The options for comfort, luxury and class go on and on, making Rovaniemi the right choice for anyone looking to elevate their holiday experience.
Rovaniemi is also home to more glass igloos and glass wall accommodations than any other place in the world. There's no better way to experience the Northern Lights weaving and waving in the sky.
In addition to luxury accommodations and glass igloos, Rovaniemi has multiple hotels and holiday villages, not to mention downtown apartments, log cabins, rustic lodges and more. Whatever your accommodation needs, you'll sleep easy in Rovaniemi.
Eat, drink and be merry like a local
Looking for something more substantial than milk and cookies? Because Rovaniemi eats. Locals and travelers alike love the variety, quality and convenience of the cafes, restaurants, bars and nightclubs in the city, at Santa Claus Village and at the lodges and resorts peppered throughout Santa's hometown.
Check out what's on the menu in Rovaniemi.
Your Gateway to the Arctic
Rovaniemi is the most well-connected city in the Lapland. The international airport, a ten-minute drive out of town, connects to multiple cities across Europe and even Asia and North America, with multiple daily flights to the Helsinki airport. The train station and bus station connect Rovaniemi to other towns and villages in Lapland, as well as the cities of southern Finland. Both the train and bus station are within walking distance of downtown.
Those who come by car will be happy to know that Rovaniemi sits at the crux of European Highway 75, which connects Helsinki to the Arctic Ocean, and Finnish Highways 78, 79 and 81. All major roads and streets in Lapland are maintained throughout winter.
Additionally, there are many private tour operators who are ready to take you on adventures throughout Rovaniemi and even deeper into the Arctic, whether you prefer van, bus or even charter plane.
Need more Rovaniemi? Check out Visit Rovaniemi, and follow the stories in Facebook, Instagram, Twitter and YouTube.