Lapland is a home to international and sustainable business. Our stable business environment, strong expertise and good networks support business and investments. We have a good reason to say that you should do business here and invest in Lapland!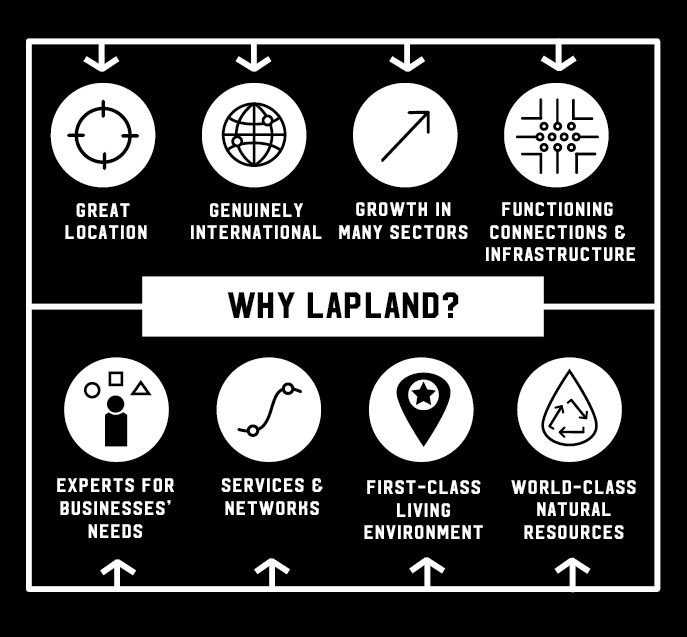 1. Good location in the center of the Euro-Arctic region
Lapland is neighbored by Oulu area but also Sweden, Norway, and Russia. Therefore, the potential of this extensive area is at your reach in Lapland.
2. Stable operating environment and good infrastructure
Finland is a member in European Union, the only Nordic country with Euro and has a low corporate tax rate, only 20 %.
Finland is has been rated as the most stable country in the world (Fund for Peace, Fragile States Index 2019), and as the best business environment in the world (Global Innovation Index 2019). In Lapland, as in Finland in general, you can trust that everything works.
In Lapland, the electricity distribution is reliable, and the price of energy with its transfer costs is quite competitive at the European level. Data connections have improved in Lapland over the years, and a fixed broadband connection is currently as available in Lapland as it is in Finland in general. The optical fiber network is also constantly expanding.
Lapland has five airports. The strong growth in air traffic in recent years has been based on an increase in tourism demand, but good connections serve other business activities in the area as well.
Lapland has two export and import ports, Ajos in Kemi and Röyttä in Tornio, and Lapland is connected to southern Finland by the national railway network. If the planned Arctic Railway is built, it will also give Lapland a logistically significant position in the future in a junction point for the Central European market thanks to northern maritime transport and the upcoming Helsinki-Tallinn Tunnel.
3. Lapland is genuinely international
Lapland's portion of Finland's overall export of goods is 7%, and that number does not include factors such as international tourism, which is largely export trade. Accordingly, Lapland is a driver of Finland's international tourism together with Helsinki. Tourism sector provides many business and investment opportunities.
Sharing borders with three nations, Lapland has a long history and strong know-how in the Barents region networks.
Recent years have shown that international operators' and investors' interest in the North is rapidly growing. The media as well as film productions have also found Lapland, and accordingly, Lapland has become an internationally trendy and interesting location.
4. World-class natural resources
Lapland has vast forest resources and the annual forest growth in Lapland exceeds the current logging rate and natural depletion by far. Due to climate change, the forest resources have been predicted to increase further, especially in Northern Finland. There are two major bioproduct factory projects progressing and the bioeconomy business ecosystem grows.
The bedrock of Lapland has significant mineral resources such as gold, copper, chromium, nickel, and iron. The existing mines of Lapland are expanding their operations, and research for new projects is being carried out. Areas with minerals used in battery production are also being surveyed.
5. Growth in many sectors provides potential for business and investing
In Lapland, the combined turnover of all sectors has increased for several years. The growth in for example tourism, mining and industrial sector provides a lot of subcontracting possibilities in logistics, services, and construction. The demand for rental apartments has grown in several municipalities thus providing potential for housing construction.
Lapland's investment potential by 2030 is estimated to be up to €13.7 billion, with industry, mining operations, and tourism is the most significant investment sectors.
6. Experts for businesses' needs
Finland has the second most skilled workforce in the entire world (Global Competitiveness Report 2019) and the skilled workforce is competitively priced in international comparison. Finns are also known to be straight to the point, very honest, and very efficient in their work.
The University of Lapland is an internationally renowned expert institution in the Arctic region, from which people graduate with degrees in fields such as educational sciences, law, sociology, and design. The University features the Arctic Centre, which is an international center of excellence in multidisciplinary research in the Arctic region.
Expertise in the Arctic conditions is also a point of emphasis at the Lapland University of Applied Sciences (Lapin AMK) which operates in three cities. In addition to the condition expertise, the RDI activities of Lapin AMK show a focus on the economy, bioeconomy, circular economy, digitalization, and Green Care. The vocational institutions of Lapland produce experts for the needs of the businesses of the area, and education is also tailored with the businesses in mind.
7. Knowledgeable services and ready-made networks
The development units of the municipalities of Lapland are robust experts in their region. They support business growth and help new operators establish themselves and find suitable properties, facilities and co-operation networks for their operations. The development companies can also provide you with tips regarding different financing opportunities, which in turn are provided by institutions such as the Centre for Economic Development, Transport, and the Environment and Finnvera.
The Lapland Chamber of Commerce and The Regional Organization of Enterprises in Lapland provides networking opportunities and training, among other services. Additionally, know-how and business activity clusters that increase their operators' synergy benefits have formed around the key industries of Lapland.
8. First-class living environment
Finland has been rated as the happiest country in the world for a third time in a row (UN World Happiness Report). The reasons include good social support networks, social trust, honest government, safe environment and healthy life.
In Lapland, the clean nature and the surrounding peace, the versatile services of the cities and municipal centers and the excellent quality-price ratio of the properties guarantee that, in addition to business activities, entrepreneurs, employees and their families can all thrive in Lapland.
Numbers & Facts to back up our claim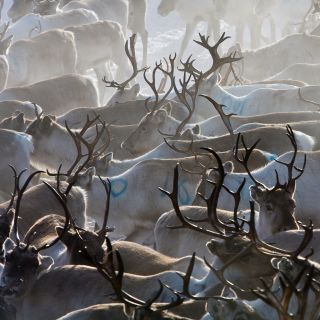 ---
Want to know more about Lapland's business and investment opportunities?
Subscribe to our quarterly newsletter.
---
Follow us on Social Media
Twitter @laplandbusiness / LinkedIn Business Lapland
---