Lapland's gold and potential in travel business persuaded Marko Touru to move to Sodankylä, Tankavaara, and become an entrepreneur. His venturesome attitude made longer travel seasons, growing revenue and investments possible as the demand grew.
Gold and gold panning has intrigued tourists to visit Lapland, Lemmenjoki, at the latest 1950s. Although some travellers heading to Petsamo through Jäämerentie were aware of Lapland's gold mining opportunities in the 1920s and 30s. In the other hand, Tankavaara's official history of gold started at the beginning of 1930s.  Certainly, gold mining became popular in Lapland before the travel industry, as we know it, was born. Ivalojoki's gold finding in 1868 started Lapland's official history of gold.
– Lapland's gold panning tradition as a 150-year-old continuum is rather unique in Europe, curator Hanna Mattila from Tankavaara's Gold Prospector Museum explains the history of gold mining.
The Gold Prospector Museum primarily saves, researches, exhibits and stores information related to Lapland and Finland's history of gold but also to gold itself and Tankavaara's tourism history. In addition, it has international collections from around the world. It's the only museum in the world to focus on the international history of gold.
People travelling to Lapland are interested in gold panning because it's not quite common to experience it in Europe. In northern Lapland, a traveller can pan gold in Tankavaara but also Lemmenjoki and the region of Saariselkä and Laanila. Marko Touru, an entrepreneur in the travel industry and Tankavaara Gold Village's owner, thinks that gold panning is definitely an advantage in Lapland's tourism.
But how lucky can a tourist get? In August of 2020, a traveller visiting Tankavaara Gold Village happened to find a gold nugget weighing in 61.9 grams and worth of at least 30,000 euros from the Aurum's land just around 400 metres next to the restaurant and accommodation. People have been digging through the land for some centuries.
– Nobody thought something like that would even exist. When you're dealing with gold panning you think everything's possible but you don't actually believe in that type of chance, Touru tells about his amazement when the gold nugget was found.
Before the giant nugget, the biggest nugget found at Aurum was weighing in at 3.2 grams. Usually, the lucky findings have been from one to three grams.
Because of Lapland's extraordinary environment and gold panning opportunities, Touru decided to build his business, which has been growing and improving annually, around it.
A brave decision worthwhile
Gold and Lapland's nature made Touru move from Lahti, southern Finland, to Sodankylä in 2009. He was interested in gold panning and so he ended up panning for three summers until he was met with another opportunity: to open Tankavaara Gold Village.
The original Gold Village was waiting for someone to take over the business. At first, Touru wasn't that keen on the idea since he already had business activity elsewhere but something changed his mind and he daringly stepped up to the occasion. His decision proved to be the right one.
– Looking back at it, the timing was excellent even though I wasn't sure of it at the time, Touru reflects.
Tankavaara Gold Village celebrates its 50th year in 2020.
In the beginning, Touru had a restaurant-cafe and cabins but most of the guests came to visit Tankavaara in the summer. The entrepreneur wanted customers to find his place also in the winter so he improved the selection of winter activities and focused on marketing to an international audience. The effort paid off since nowadays both seasons bring in significant revenue to the company.
Most of the visitors in the summer and fall time are domestic travellers and in the winter season international tourists. During summer seasons, around 25,000 to 30,000 guests visit the Gold Village. The summer season appeals to guests especially because of gold panning. There can be approximately 80 tourist panners per day at Tankavaara. Also, the World Gold Panning Championships originated from Tankavaara and the Finnish championships are held in the middle of July and August yearly.
As of late, the business employs six people and from three to four seasonal employees during a season.
The Gold Prospector Museum had over 12,000 visitors, half of which were international tourists, in 2019. The year-round open museum's main season is also summer, from June to September, when around 80 percent of the whole year's customers visit.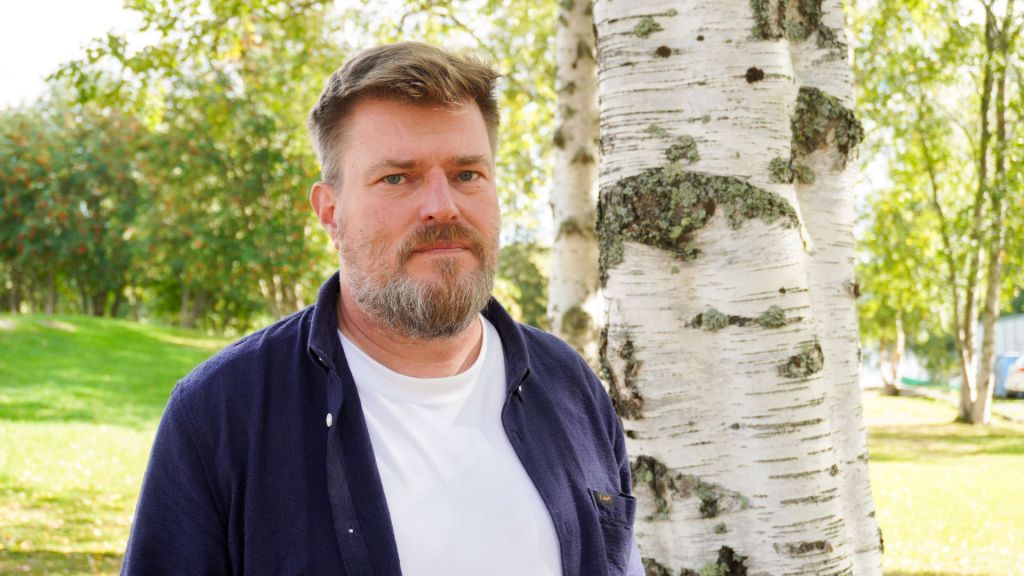 Marko Touru started his business, Tankavaara Gold Village, in Sodankylä 2013.
Changing tourism creates development
Due to the growth of revenue and number of customers, Touru decided to invest in a new accommodation facility. The Kultaränni hotel was opened in December of 2019. Over twenty modern hotel rooms were built to suit an active traveller.
– It was around a million-euro investment, describes Touru.
The total capacity for customers who stay overnight rose to just over a hundred after the investment. Besides the hotel, the older cabins' roofs were overhauled.
The next stage in developing Tankavaara Gold Village is broadening the destination's selection of activities. For example, in addition to having gold panning and guided tours in the summer season, there could be arranged fishing trips and boat rides. Also, the former nature center which is currently used for gatherings and conferences could have nature and yoga retreats.
– There's clearly an opening for improving the programme services, Touru says. – Domestic travel truly needs to be given even more thought.
Tankavaara Gold Village has received a development benefit from Business Finland for improving the business and piloting the latest changes.
The coronavirus pandemic moved the Gold Prospector Museum's exhibitions and stories of the history of gold online and so, the museum plans to keep up with producing quality online content even in the future. The museum's second focus point is going to be bringing collections, archives and that information more easily available to the public via, for example, national Finna service.
– The women of gold lands are going to be in the spotlight next summer but I can't tell anything more yet, museum director Kaisa Nikkilä hints about the upcoming exhibition.
Efficient networks support businesses
Working together in different ways with other local companies and the municipality is crucial in a small town. Among other things, Sodankylä municipality has supported arranging the Finnish gold panning championships in Tankavaara and rented out the former nature center to Touru after it was passed from Metsähallitus to the municipality. Touru works together with other businesses especially when it comes to his programme and activity service, such as Northern lights safaris are done by Purnumukka cabin and reindeer services.
The Gold Prospector Museum also collaborates with many different operators, such as municipalities, educational institutions and national organizations. Additionally to Gold Village and Sodankylä, one of the museum's most important marketing regions is Saariselkä and its travellers.
– Another collaboration has been our 'Gold Rush to Lapland – 150 years' touring exhibition. It has been to libraries in Lapland and Northern Pohjanmaa 2019–2020 and to last year's World gold panning championships, Nikkilä tells.
Businesses in Lapland receive great help for their marketing from regional organizations which is the case also in Sodankylä. Local companies and the municipality founded a travel association, Visit Sompio, a few years ago. Seventeen businesses joined the association. It, for example, focuses on joint marketing which goal is to attract travellers heading to Norway and find new customers.