Mining operations are on a strong growth trajectory in Sodankylä. Mainari North and Mainari South mining service centers will provide mining industry operators with a sustainable growth platform at the heart of Lapland's greenstone belt. 
Mainari North
A cluster of heavy mining service operations, construction, maintenance and planning services
5 km north of Sodankylä center
The size of the area approx. 13 ha
Mainari South
A cluster of prospecting, analysis and geo-service businesses
8 km south of Sodankylä center
The size of the area approx. 12 ha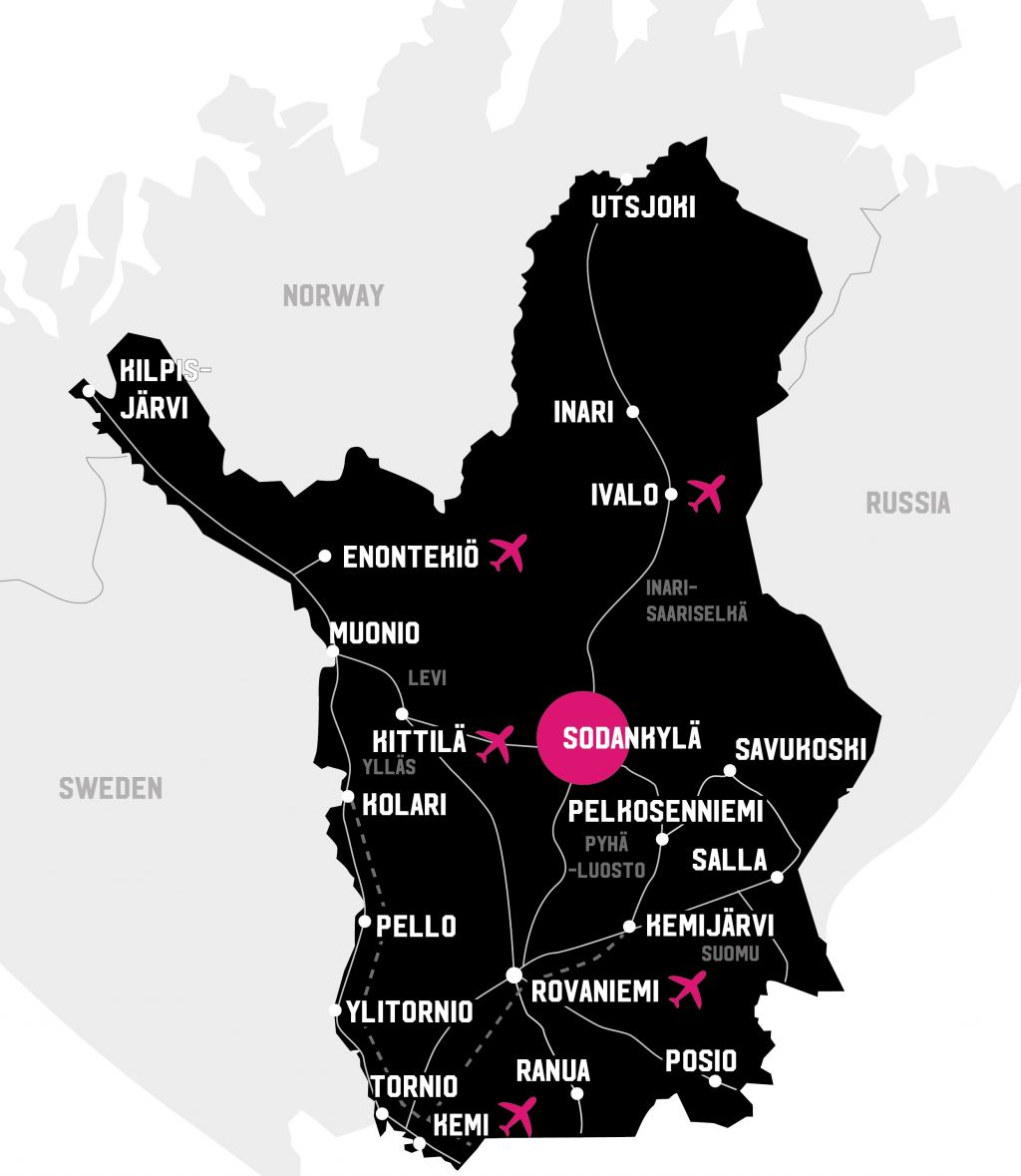 Sodankylä is located in the middle of the so-called Central Lapland greenstone belt. The location has significant growth potential on a national and even global scale, and two metal ore companies are currently operating in the area: Boliden Kevitsa (copper, nickel, PGE) in Sodankylä and Agnico Eagle Suurikuusikko (gold) in Kittilä.
Both mines have made sizeable investments in growing and constantly developing their operations. The area also has several significant ongoing mining projects at various stages and ore finding operations are becoming increasingly active. Rupert Resources, which operates in the Pahtavaara mining area, has re-surveyed the geology of Sodankylä and discovered new major deposits. Anglo American's sizeable mining project Sakatti is currently in the planning and permit processing phase.
In addition to mining companies, several other businesses in the industry are already operating in Sodankylä. Examples of such companies include the prospecting companies Magnus Minerals, Firefox Gold and Aurion, as well as numerous versatile mining service and solution businesses, such as Palsatech.
Due to promising projects and increasing demand, the Municipality of Sodankylä is developing two industrial areas for mining industry businesses. The areas are located near Kevitsa, Sakatti and Pahtavaara.
Tools for success for businesses from the Mainari centers
Sodankylä is gathering subcontracting and service businesses of Northern Finland and its surroundings to the industrial areas, the location and functions of which will provide strong advantages and potential for decades to come. In addition to the mining projects in Lapland, businesses can operate in other parts of the Cap of the North from Sodankylä.
─ Sodankylä is well on its way to becoming the mining center of Finland.  Now is a good time to locate to Sodankylä and ensure your place in the growing business, says Mayor of Sodankylä Petri Härkönen.
On the northern side of Sodankylä, the Mainari North area has been designed particularly for heavy mining service operations, infrastructure and civil engineering operators, and various maintenance and planning services.
The Mainari South area, on the other hand, will be built particularly for the needs of prospecting, analysis and geo-service businesses. Two such businesses are already operating in the area, and four plots have been reserved. In the future, operators such as functions of Rupert Finland, the owner of the Pahtavaara mine, will be located in the area.
─ There is demand for the plots, and they will be occupied quickly, Härkönen predicts.
Both industrial areas will be planned in co-operation with operators in the industry, ensuring that the plots, infrastructure and premises will meet businesses' needs in an optimal manner.
The Municipality of Sodankylä has a mining program, the purpose of which is to maximize the benefits of mining operations in the area.
─ Sodankylä is a pioneer municipality in terms of mining operations. Mining is vital to us, and together we want to make sure that the operations are carried out in a sustainable manner.
Mainari South
Mainari North
(The maps are indicative)
Contact
---
Municipality of Sodankylä
Mayor Petri Härkönen
petri.harkonen@sodankyla.fi ;  +358 40 177 5069
www.kaivos.fi
---