The popular Nordic crime thriller series Arctic Circle filmed its second season in Finnish Lapland in autumn 2020 and winter 2021, despite the global coronavirus pandemic.
International and domestic success brought the return of investigative Nordic thriller series Arctic Circle (Ivalo in Finnish). Filming took place in Finnish Lapland during the autumn of 2020 and early 2021. In the first series of Arctic Circle, fictional characters try to prevent a deadly virus from spreading beyond Lapland. By the second series, cast and crew were following real-world protocols to prevent COVID-19 from spreading on and beyond the film set.
Our interview with the producer and director continues after the season 2 trailer.
Refusal to be Upstaged by a Virus
While the culture and entertainment industries have largely been at a standstill due to the pandemic, the film and TV world was able to respond to the challenges. Yellow Film & TV's Jarkko Hentula, producer of the series, tells us:
– The whole Finnish audiovisual industry was very quick to establish strict guidelines, under which we have been able to continue shooting films and series from summer 2020 onwards.
Hentula goes on to explain that although none of the cast or crew contracted the coronavirus, there were some delays in the schedule due to common colds and not wanting to take any risks. Two directors were used throughout the series, Juha Lankinen and Jussi Hiltunen, to make more efficient use of time. Both directors shot all of the episodes and it worked seamlessly according to Hentula:
– The end result turned out very good, and there is no way of knowing which director has done which series.
Lapland a Versatile Player
Travel restrictions due to coronavirus meant that crew were not able to travel abroad, but with a little imagination even the Murmansk peninsula in Russia could be recreated in Lapland.
While Lapland's vast wilderness is its appeal, it can seem to present logistical challenges. With creative location scouting carried out by a local scout who truly knows the area, this was easily overcome. Unlike the first series, a large proportion of series two filming happened on the Arctic Circle, so when a cabin needed to be set on fire in the fells, Pyhä in Pelkosenniemi offered the ideal spot. Hentula points out:
– Fortunately (or unfortunately) in Lapland there are no Eiffel Tower or London Bridge type of unique locations. So you can shoot Ivalo in Utsjoki or Saariselkä for western Lapland if you have to, and the audience don't know the difference.
With much of the series set in autumn when there is no snow even in Lapland, it also meant that some locations could be doubled up in Southern Finland, where most of the crew are based.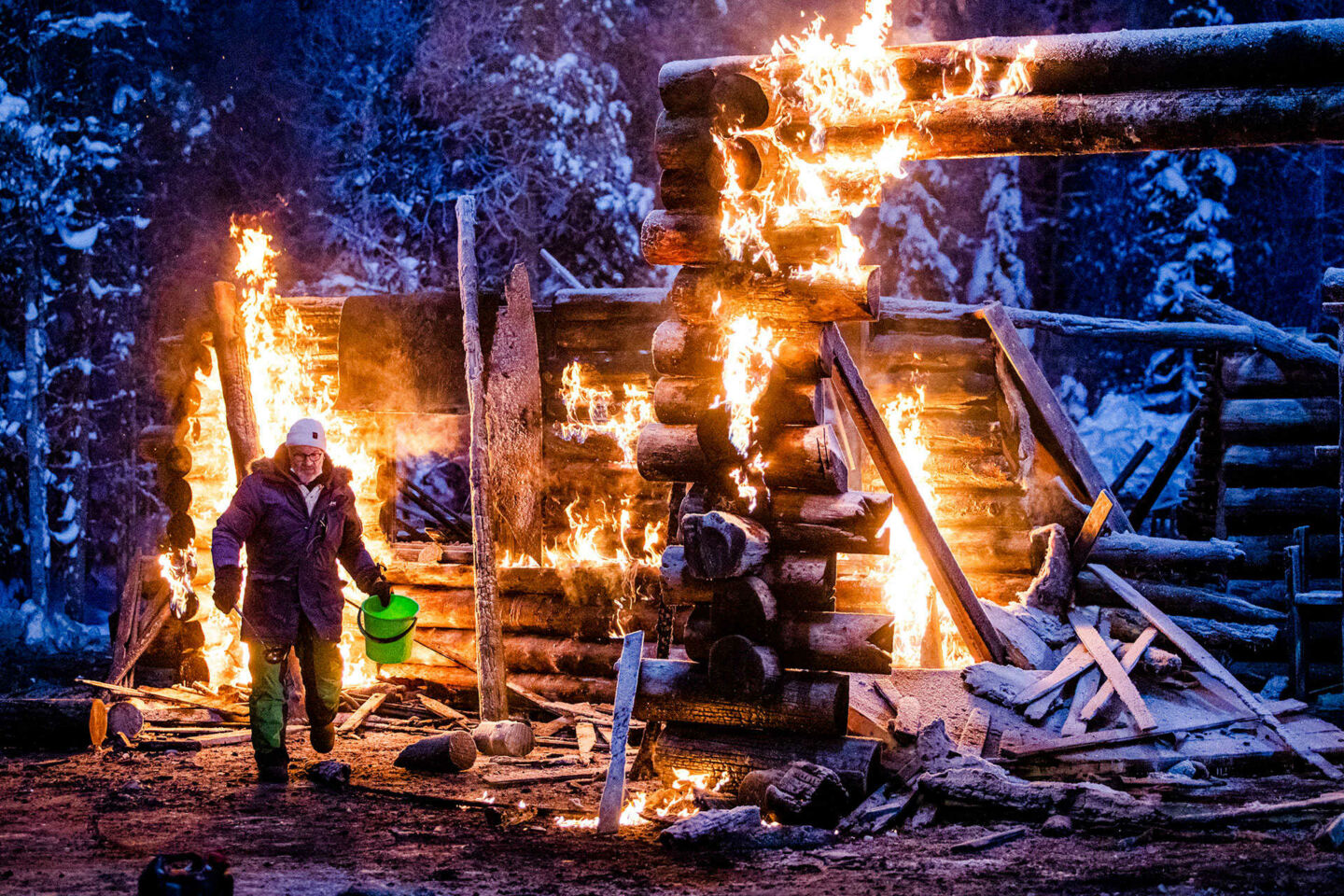 Photo by:
Lapin Kansa | Anssi Jokiranta
Lapland inspires, even among local crew
Crew usually jump at the chance to work in Lapland, claims director Jussi Hiltunen. In Helsinki, the atmosphere is more subdued, as people are in a familiar environment. Once in Lapland the mindset changed. Many were dying to get to Lapland so that they could experience a true winter and spend their free time on the slopes. Actors were also enthusiastic; coming to Lapland is always a welcome experience.
Hiltunen was particularly pleased to be filming in his hometown, where the story's main character relocates with her family for the second series.
– I felt proud explaining 'the culture of Rovaniemi' and showing places to my 'foreign' co-workers.
This excitement extends to local crew who Hiltunen says are keen to show off their talents:
– For us Lapland folk, film and TV production still feels exotic and like an adventure.
He recalls the making of the dramatic opening scene with the burning cabin:
– We had to build a partially burnt cottage which was then set on fire for filming and where the police would find a series of key people badly burned. We wondered for a long time how that scene would be realized. The set builders that we found in Lapland did a great job and the scene turned out better than I could have expected.
Obtaining permissions for such a complex stunt went smoothly. Local location manager, Ilkka Mukkala, had good contacts with the authorities and even invited a couple of local mayors to watch the inferno. Jarkko Hentula notes:
– The authorities are more flexible towards film crews compared to Helsinki. This is probably because there is less harm caused by filming than in more densely packed city areas.
Lighting crew members, construction workers, the set dresser and extras casting director were all locals.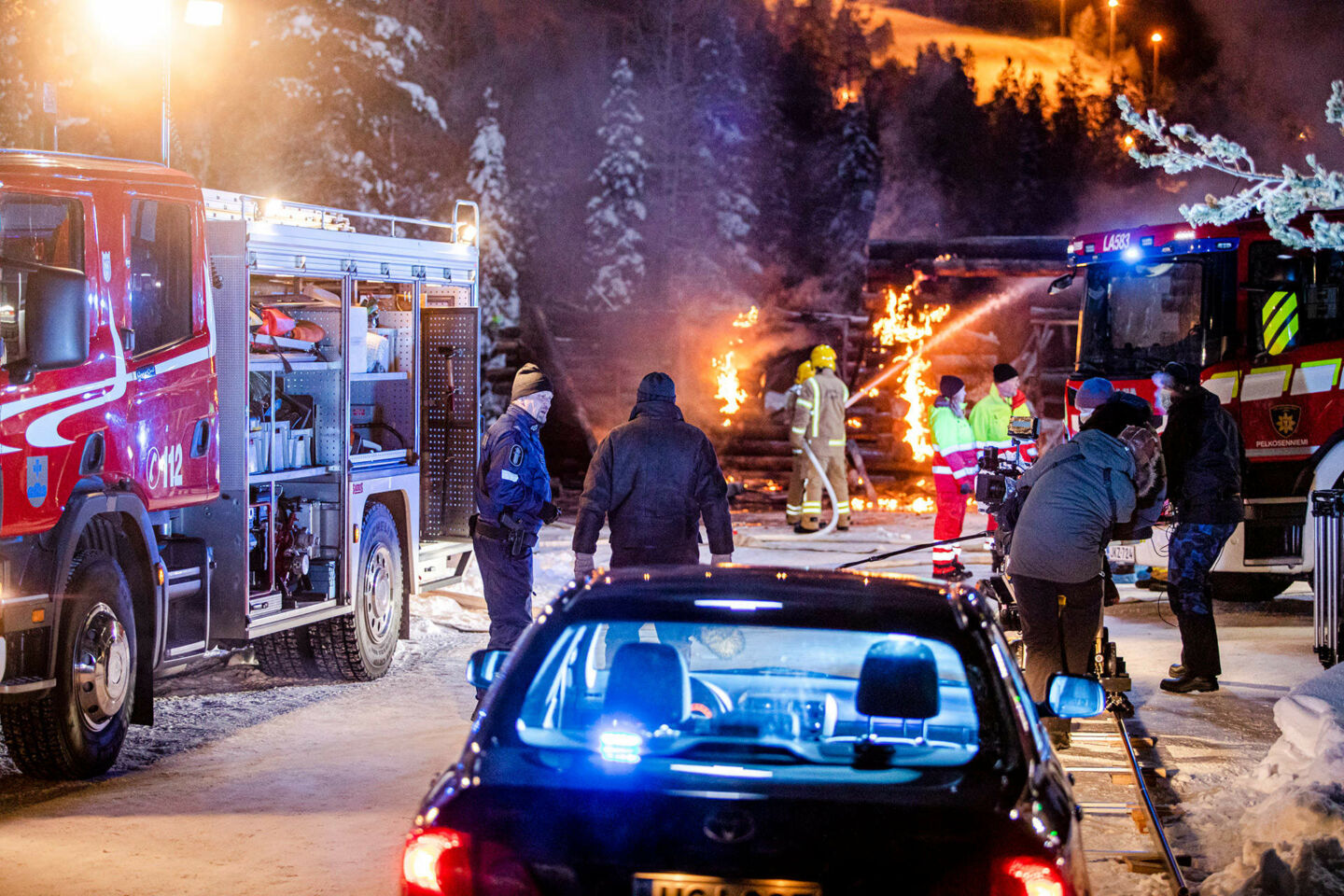 Photo by:
Lapin Kansa | Anssi Jokiranta
Lapland's Leading Role
Despite the pandemic's presence both on and off screen in the series, neither virus has overshadowed the true star of the show.
Lapland plays a central role in both series. Hentula goes on to explain:
– The landscape embodies the main characters' inner feelings and struggles. Just as the landscape is empty, cold and beautiful, you could say the same about the characters. They are at the same time lost and saved by the majestic wilderness. We wanted to keep the landscape in an equally big role also in the second season.
In the second series, a different side of Lapland is revealed:
– Naturally the big difference is, that the first season took place in winter and second season takes (mostly) place in fall. So nature looks very different, but still very beautiful. We were able to capture autumn colors quite beautifully.
Viewers Want More of Lapland
While a universal rise in demand for television series, combined with audiences' wish to see new locations creates more opportunities for Lapland's wilderness to shine, according to Hentula, it could be that the pandemic has helped set the scene:
– I also think that the current pandemic has turned people more towards 'unspoiled nature' and that can be found from Lapland in spades.
Jussi Hiltunen confirms that the whole essence of the series is in the landscape and this is what attracts viewers.
– Lapland's nature is untouched and rugged, honest and genuine wilderness.
Although Lapland's vast empty spaces and wilderness are the perfect setting for the dark stories of the Arctic Circle, Hiltunen is keen to avoid typecasting the location. Possibilities are endless, he says, ranging from a ski-resort comedy to a Revenant-style period piece. When asked if there were any particular locations he would like to film in, he responded:
– I'm more interested in the feeling and atmosphere of places than specific locations.
Jarkko Hentula feels that it is not just the landscape that makes Lapland such a unique location, but also the mentality. When asked how the series fits in the Nordic noir genre, he replies:
– Nordic noir is usually associated with big cities, darkness of tone, grimness of visuals and coolness of locations. The Lapland landscape – and likewise importantly – also mentality offers quite a striking difference to that. Therefore I would not label Arctic Circle as Nordic noir. If you want to give it some label – which I personally don't like to do – you can call it Arctic Noir.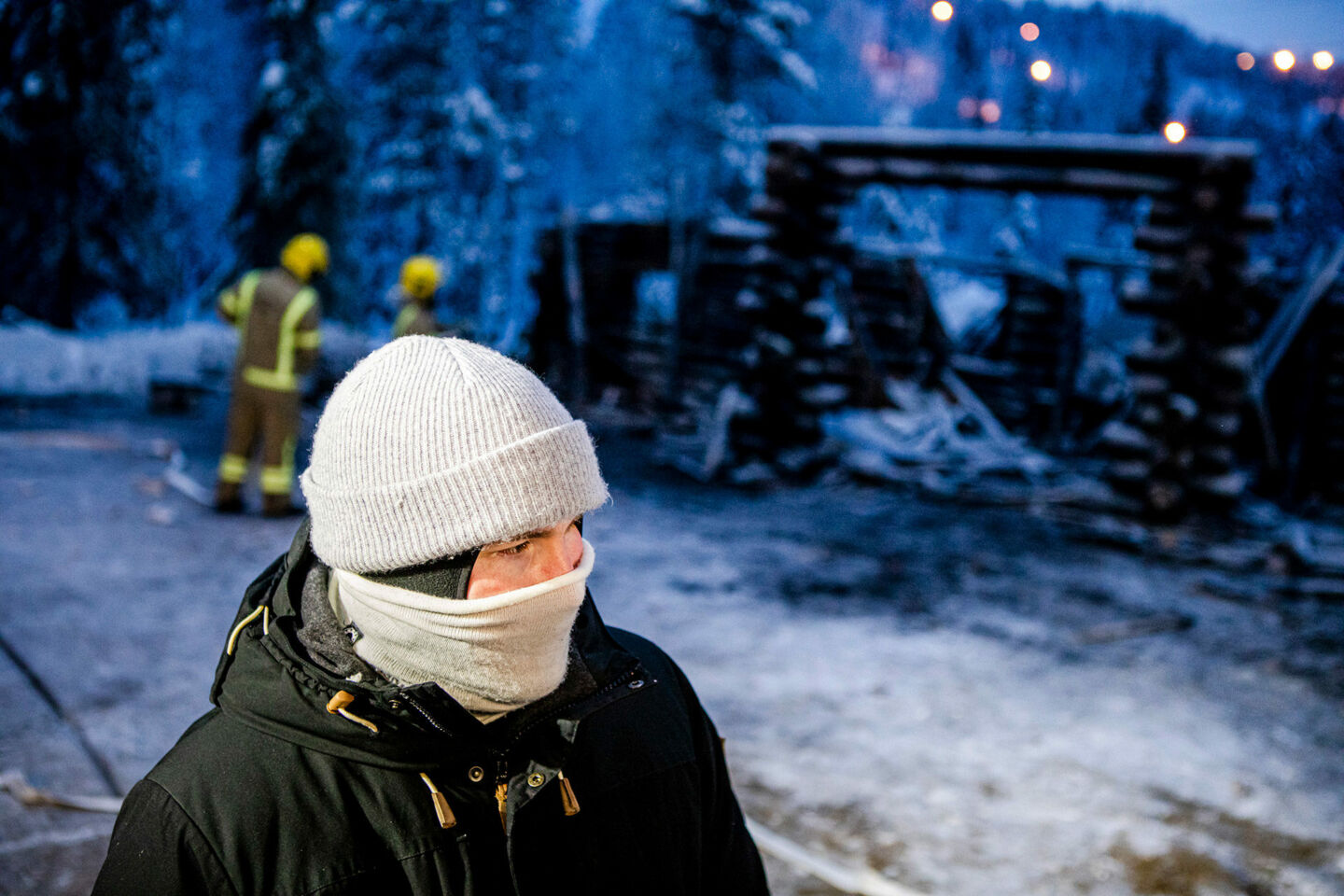 Photo by:
Lapin Kansa | Anssi Jokiranta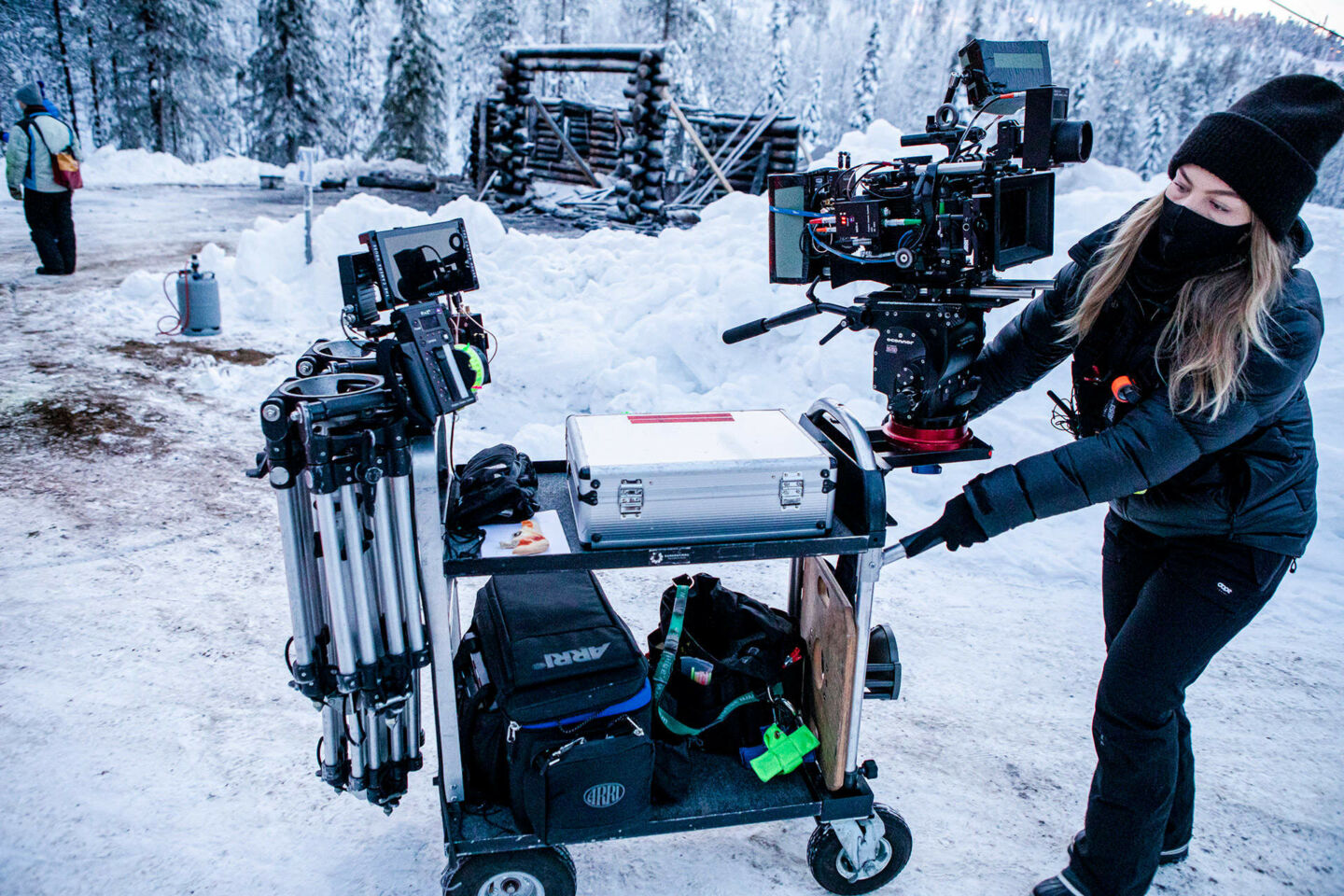 Photo by:
Lapin Kansa | Anssi Jokiranta