Salla
Small villages, rural charm & boundless wilderness, with mighty fells rising in the horizon—that's what Salla offers as a northern filming location.
The small villages in Salla offer authentic small town charm, with the Arctic twist of ancient fells rising in the distance. The countryside landscapes are characterized by large fields, dirt roads, rivers and lakes, and picturesque yards with wooden houses. The buildings are mostly log houses, representing traditional Nordic architecture. Although the villages have been inhabited for hundreds of years, many of the houses and buildings were (re)built in the 20 century. This is due to the damage caused by the wars that took place in Lapland.
Some of the most picturesque Salla villages include Saija, Onkamo, Aatsinki, Vallovaara and Naruska – all within a 30-minute drive from the town center.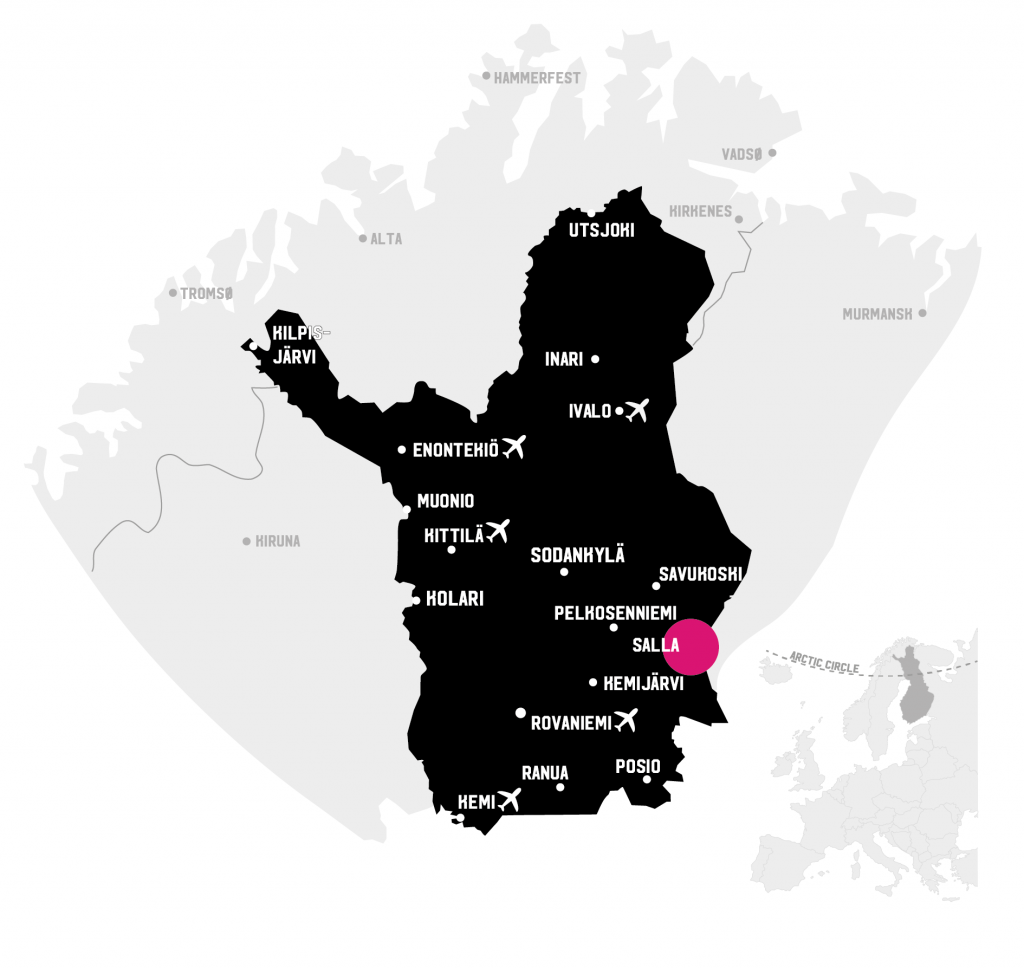 Accommodation
Thanks to its blooming wilderness tourism, Salla offers a good selection of accommodation, especially in the the Sallatunturi travel area. Accommodation options include hotels, cottages and holiday apartments.
Salla Eats
You'll find many different restaurants in Salla, from small cafés and pubs to à la carte restaurants. Catering is available from some local restaurants.
Other Services
Additional services that may be useful for filmmakers in the villages of Salla include:
Guide services
Transportation services
Wilderness and activity equipment rentals
Snowmobiles and ATVs
Reindeer farms
Boat and kayak rentals
For more information on the services available in Salla, Visit Salla.
Salla is part of the Arctic's most well-connected wilderness. Though this municipality sits among a vast taiga forest in eastern Lapland, our five airports and vast network of roads and highways makes getting to Salla easy throughout the year.
By Plane
The nearest airport is in Kuusamo (1 h 30 min by car); the second-nearest is the Rovaniemi International Airport (1 h 45 min). Rovaniemi's airport has daily connections with Finland's capital, Helsinki, as well as other European cities. In the busy winter season, both Kuusamo and Rovaniemi offer additional connections to cities worldwide.
By Train
Salla's nearest railway stations are Kemijärvi (50 min) and Rovaniemi (1 h 45 min). You'll find tickets and timetables at VR.
By Bus
As a booming tourism destination, Salla is easily reached by bus. You can find timetables and tickets at Matkahuolto.
By Car
Salla sits about equidistant from both Rovaniemi and Kuusamo (just south of the Lapland border), and connects to both via state highways and public roads.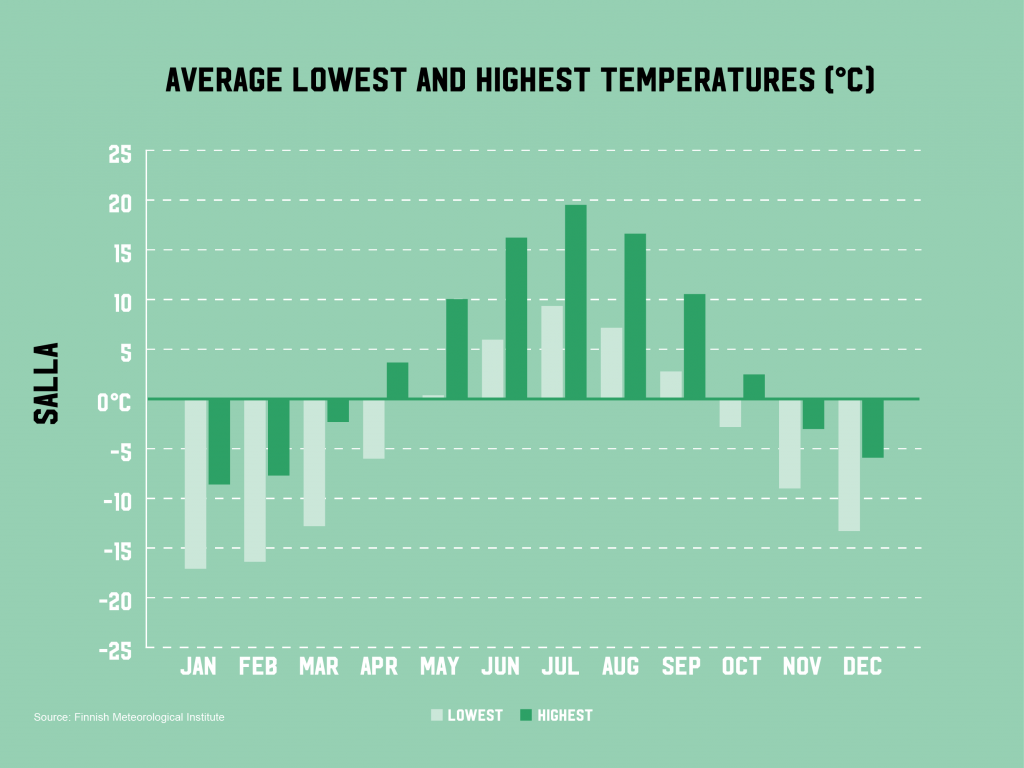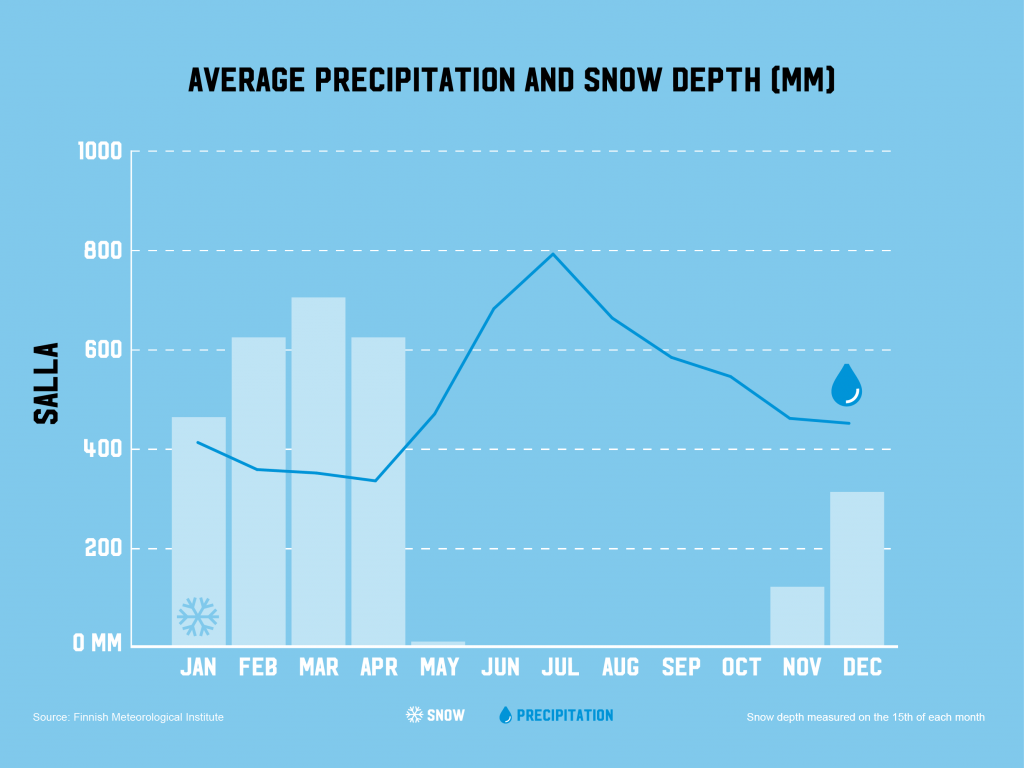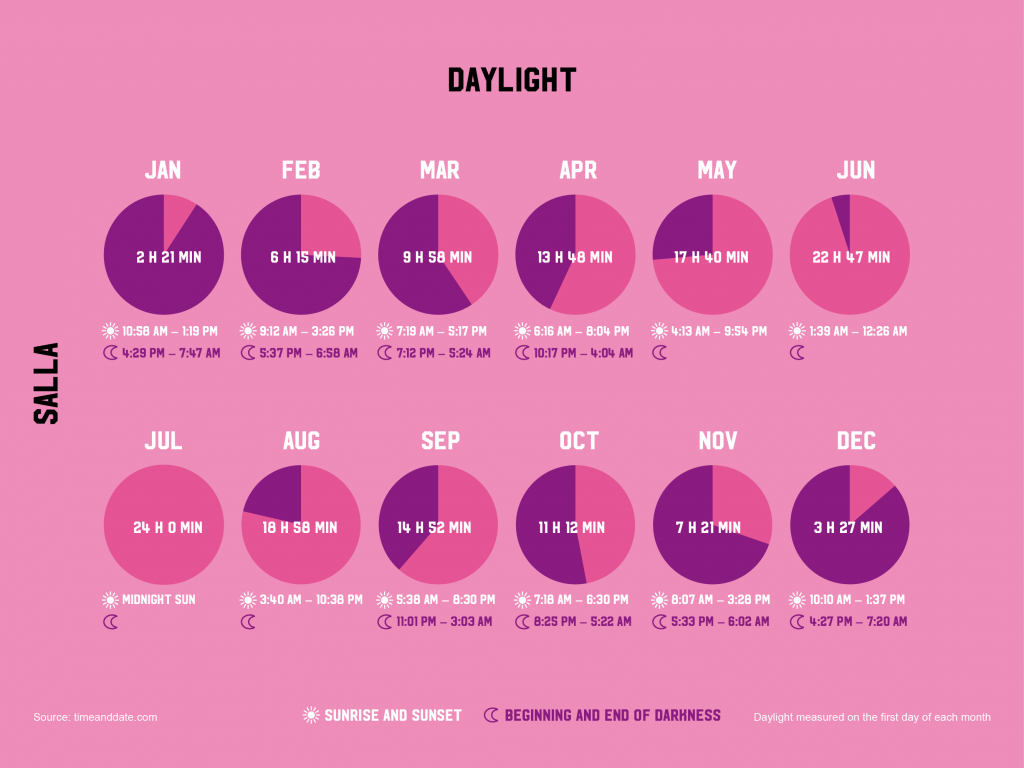 Film Equipment & Crew
Lapland may have more reindeer than people, but we have plenty of production service companies, too. Whatever you need, we're happy to help you find it.
Permits
Permits for filming in the streets and other public areas of Salla are granted by the municipality. However, there is a chance you might not need them. Everyman's Right gives you the right film in public, as long as you don't disrupt business or traffic. You can freely film streets, roads, and buildings, but you will need permission if you want to shoot on private premises. If you're unsure of your rights and responsibilities, just ask.
Film Lapland cannot issue permits, but we can help you figure out if you need one and how to navigate any permit process. Feel free to contact us.