Inari
Lake Inari is the perfect location for picturesque summer waters. The lake is surrounded by peaceful forests and Arctic fells, as well as many free-to-use wilderness huts. In the summer, its waves reflect the rays of the Midnight Sun for weeks on end, offering 24/7 sunlight for capturing water activities such as swimming, canoeing and cruising.
The shoreline of Lake Inari extends to some 3278 kilometers, making it the largest lake in Lapland and the third largest in all of Finland. Thanks to its considerable size, the lake can even resemble a sea from carefully chosen locations. With its versatile surroundings, Lake Inari offers different kinds of beach locations, from sandy to rocky and open to wooded. It is also home to some 3300 islands, including the iconic Ukonkivi, which has special significance in the Sámi culture.*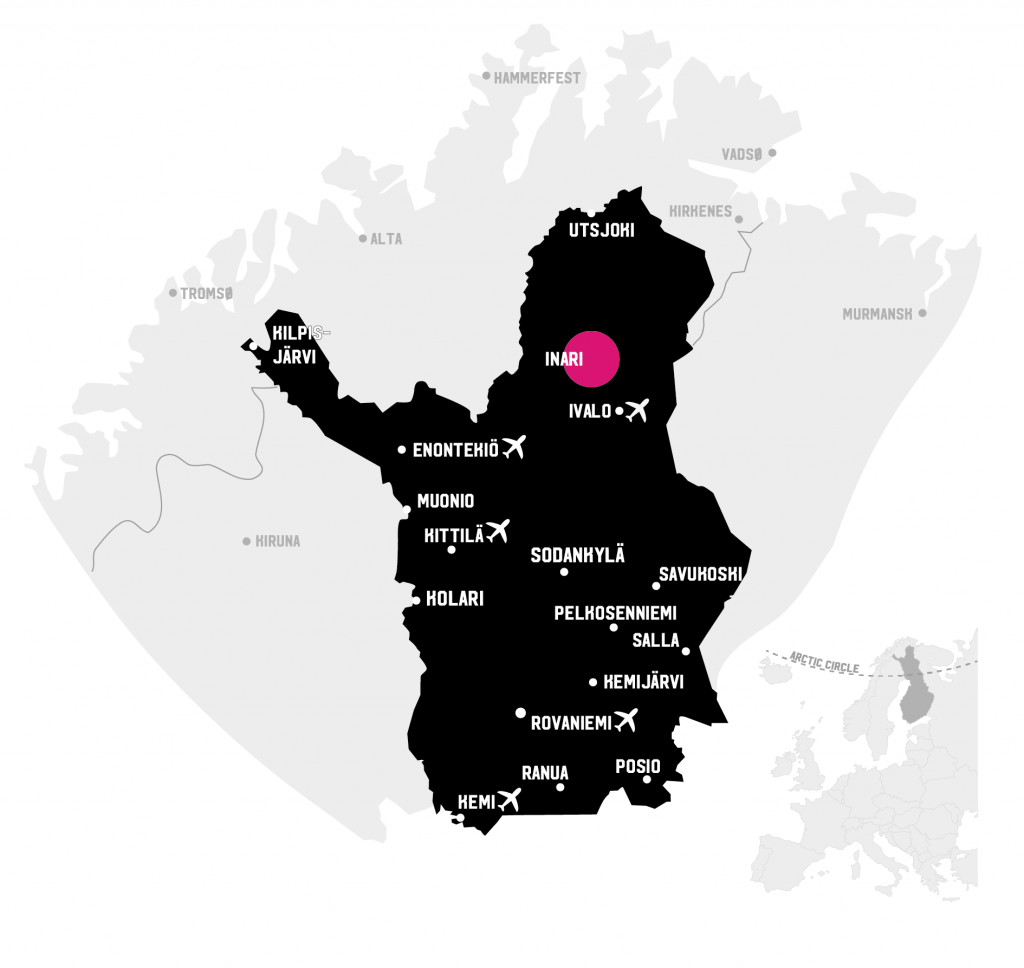 Accommodation
The municipality of Inari is one of Lapland's most popular tourist destinations, so it's easy to find a bed here. There are many great accommodation options located directly on the shores of the lake. The nearby village of Saariselkä (about 30 minutes from the southernmost tip of the lake) has plenty of hotels, cabins and holiday villages. In total, Inari has about 9300 beds.
Lakeside Lunch
Alongside accommodation, Inari offers plenty of restaurants, ranging from french fries to Restaurant Aanaar, which has been awarded Finland's best restaurant multiple times. You can also order catering services from various local businesses.
Other Services
Some additional local services that may be useful when filming at Lake Inari include:
Guiding services
Transportation
Kayak, canoe and rowing boat rentals
Fishing equipment rentals
Boat cruises
For more details on the myriad services available in the area, visit Lapland North and the Metsähallitus listing of local services.
Lake Inari is one of Finland's most attractive locations and part of the most connected Arctic wilderness in the world. This is thanks to five airports, a wide-ranging and well-maintained road network and comprehensive public transportation.
By Plane
The Ivalo International Airport (40 min by car from the Inari village and 20 min from the Saariselkä travel area) connects daily with the Finnish capital, Helsinki. In the busy winter season, there are additional connections to various European cities. The second-nearest airport is in Kittilä (2 h 30 min).
By Train
Both the nearest railway stations, Rovaniemi and Kemijärvi, are about 4 hours away by car. If you need info on tickets and timetables, check out VR.
By Bus
Buses are a common way of traveling to Inari, and there are many routes to choose from. Matkahuolto has all the info you need on bus travel in Finland.
By Car
Lake Inari is very accessible by car in summer, as the western of the lake touches highway E75 at multiple spots.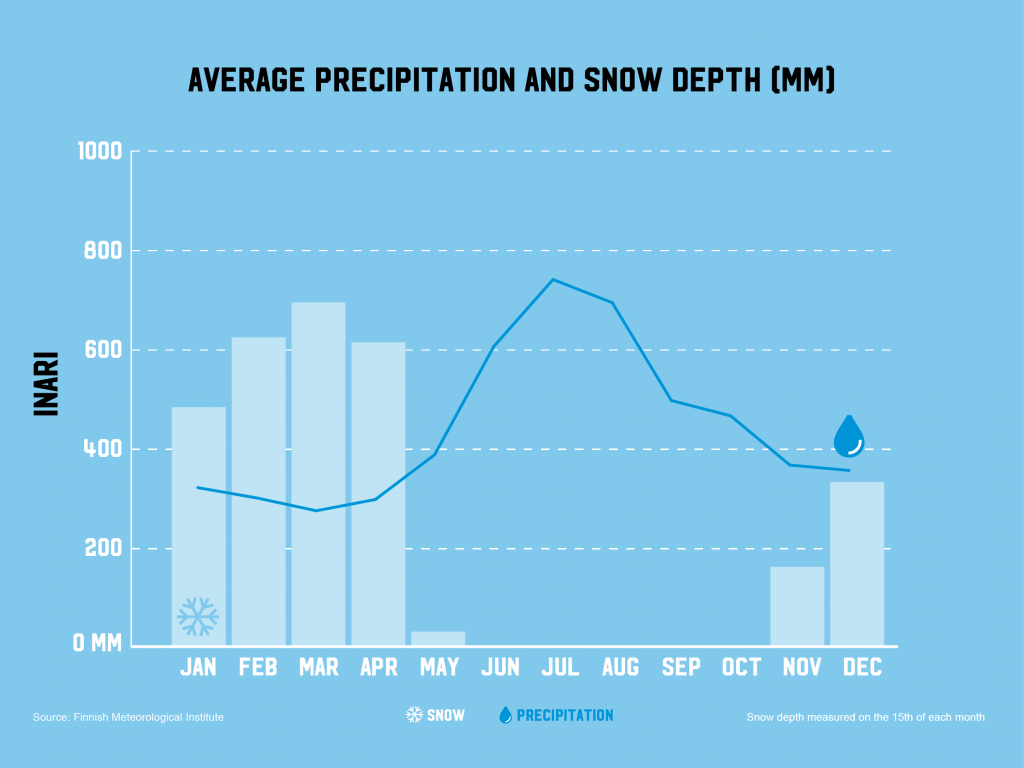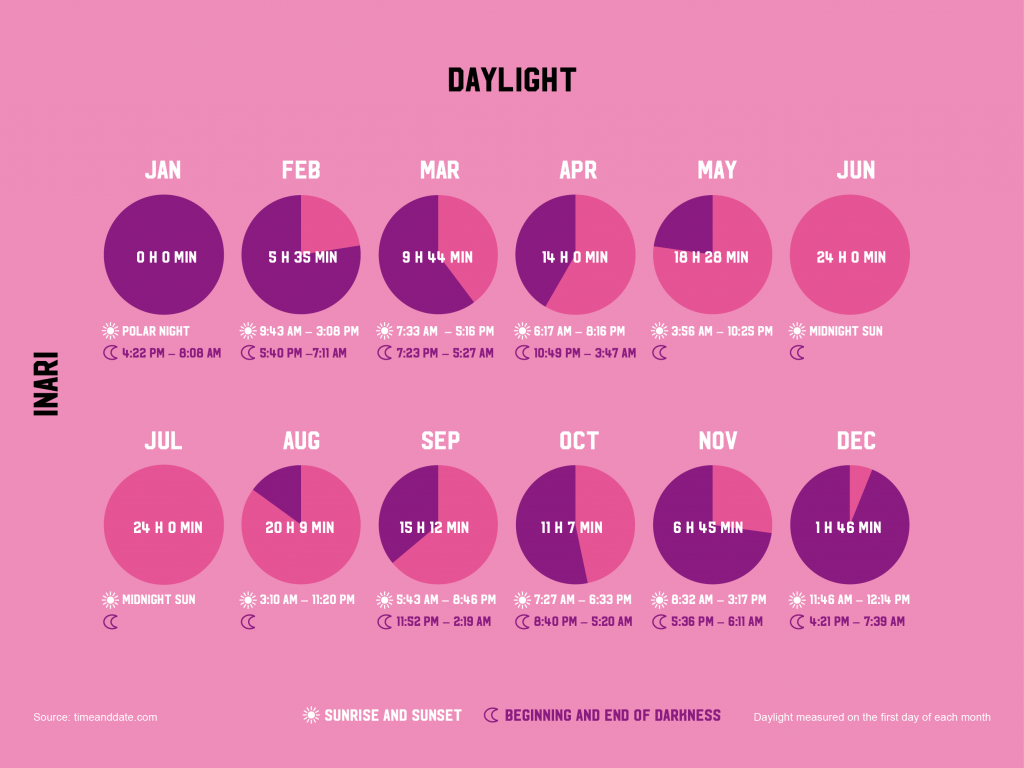 Film Equipment and Crew
Production companies are like mushrooms in summer. You'll find them all across Lapland. We can help you connect with the right services.
Permits
Everyman's Right aka the Right to Roam means you are free to film in most of Lapland's nature. This applies to waterways like Lake Inari, especially if your production is small and doesn't disturb nature or animals. If you're unsure about your responsibilities and rights to film, feel free to ask.
The Vätsäri Wilderness Area, the Inari Hiking Area, and the multi-purpose forests in the Lake Inari surroundings are managed by Metsähallitus (Parks & Wildlife Finland). In areas controlled by Metsähallitus, permits are required for off-road traffic and any temporary buildings or structures. They handle permits directly, on a case-by-case basis. Check out their instructions for permit applications.
The Everyman's Right covers hook-and-line fishing, but you need a permit for all other fishing activities. For permits and more information on fishing at Lake Inari, visit Eräluvat.
Film Lapland does not issue permits directly, but we can help you determine if you need one and the permit process, so contact us today.