We snagged a rare interview with an elf at the Santa Claus Office on the Arctic Circle. We asked Vanilja about her experiences helping guests, what kind of boss Santa is, and her own Christmas wishes.
How do you become an elf? 
Well, one way is to be born an elf. But anyone who recognizes elf-like traits and characteristics in themselves can be helpful and the elf of their own story. This means, you lead by example in showing others how to be friendly and attentive to people, animals and even nature! If you want to work alongside Santa, you can also apply to be an elf. And help is needed, especially now around Christmas! We are looking for new helpers regularly.
It's hard to say exactly which qualities are needed for a Christmas elf, because there are tons of different kinds of elves helping Santa! Some of us are very social, others are exceedingly artistic, and some of us are remarkably crafty. And there's a number of elves who are just excellent in finding out who has been nice and who has been naughty!
The most important job here at the Santa Claus Office in Finnish Lapland is to help Santa with all the guests, since we have almost 500 000 visitors every year! The elves who work here need excellent social skills!
Working at Santa Claus Office
How did you end up at your current job? 
I wound up here after various twists and turns. I've always held my singing skills in high regard, but Santa Claus has told me that I'm not as good as I think. In other words, I'm not musically gifted but musically enthusiastic. I always sing until Santa tells me that I should probably stop. That usually doesn't take long.
I also worked in our gift-making department, but I wasn't very talented there either. Luckily, I found "my thing," which is talking to people! That comes extraordinarily easily from me, and I can small talk with anyone, so that's what I've been up to for last six years.
What is the best part about working as elf? The most challenging part?
The best part is by far that I get to meet people from all around the world, and every day is different. On the other hand, when people arrive from all over, the language barrier can get pretty high at times. Especially with toddlers and dogs. For example, if I don't speak German, it is super hard to tell German shepherds that even though I do not have treats for them, I'd love to be their buddy and pet them. Still, sometimes they just bark at me.
Overall, I'm glad that so many dogs visit us. I hope even more of them would come to see Santa, especially puppies.
Santa Claus is the most anticipated guest in many homes, but what kind of boss is he?
Santa is awesome at delegating things! We have a deal with him that we are workmates. He is a "mate" to everyone and we get all the "work". But we are fine with that!
So, are you already feeling elf-ish and think that this might be the right job for you? Read about work possibilities in Lapland from our Seasonal Work in Lapland FAQ.
(article continues after photo)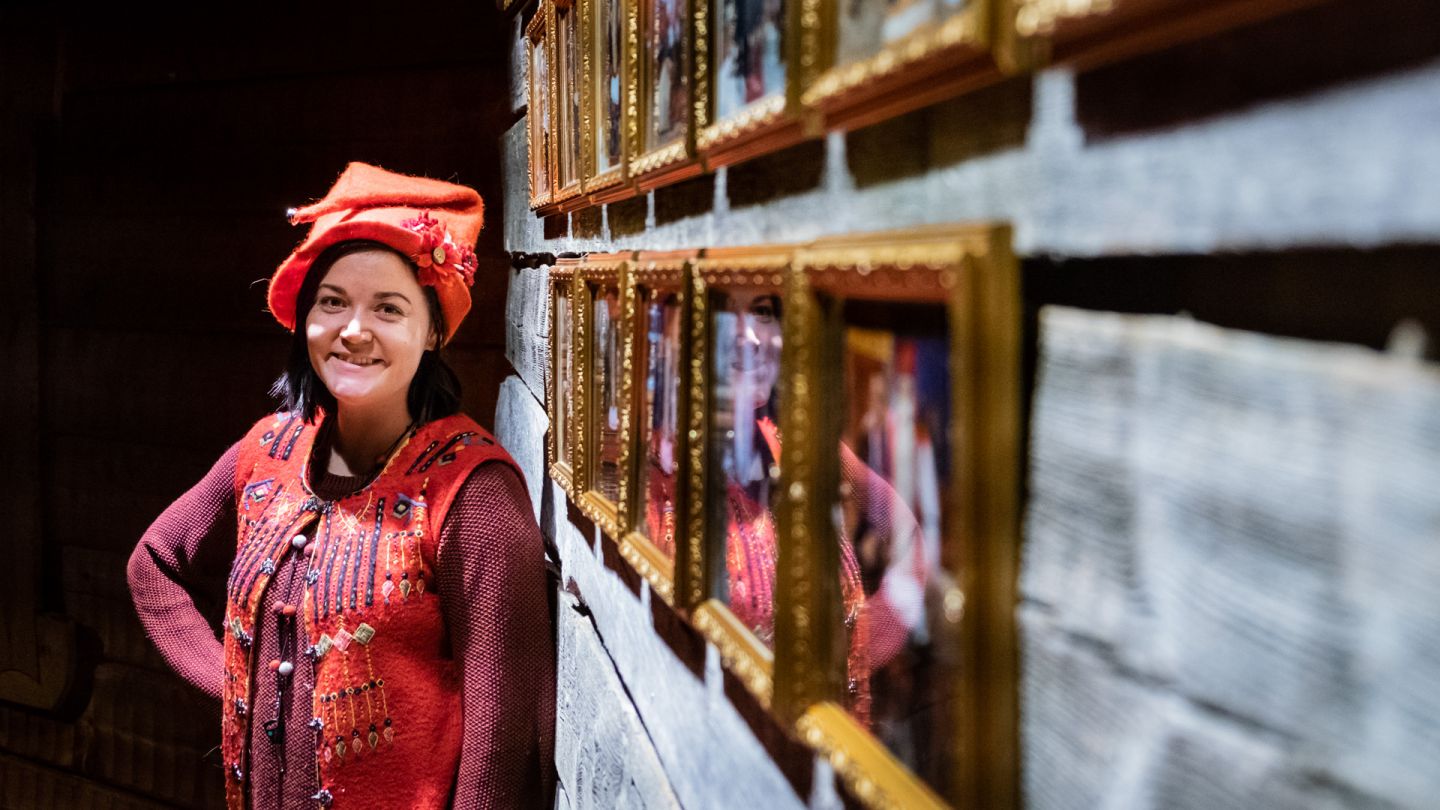 Christmas every day of the year
On the way to meet Santa in his chamber, guests walk past a gallery with several dozens of pictures of celebrities meeting Santa Claus, including the current president of China, Xi Jinping, and Finnish Eurovision winner, Lordi. Do the celebrities ever stress out about meeting Santa Claus? 
No one in particular comes to mind. The great thing about Santa Claus Office is that people come here from all over the world, and everyone just gets to be themselves. As an elf, I've noticed that in Finland, and especially here in Lapland, celebrities are left in peace and no one really bothers them. But something I have noticed is that almost everyone, be it a dog, a baby, a child or even a public figure, is always a little nervous when it comes to meeting Santa Claus.
What kind of visits have stuck in your mind over the past six years?
Lots of people get engaged while meeting Santa! Also remarkable are when people see Santa Claus for the first time. It's not necessarily only small kids, but even 70-year-old ladies cry tears of joy when they meet Santa for the first time!
Do you have any tips regarding Christmas foods? What are your must-eat dishes?
Liver casserole, ham, rice porridge, rutabaga casserole…. And one really good is potato-sweet potato casserole. Did I already mention rice porridge? The last one with raisin-plum kissel! And gingerbread cookies! Or did I already mention them? And you have to fill every gap between dishes with chocolate!
As elves, you work with gifts and help Santa with logistics so they get delivered, but what kind Christmas present do you wish for yourself?
A unicorn and my own island from the Philippines. The Philippines has around 7 000 islands, so I believe they could spare one for me. And it only has to be big enough for me and my unicorn to visit it every now and then. In other words, just the basics.
I'm not so keen on sharing these because some other people might get the idea for the same wishes. On the other hand, you'd think that Santa would know I was first, but I've been wishing for those same things for a few years now… and if I get that island, I probably could arrange some small-scale Airbnb-thing there, so others could enjoy it as well.
Here at the Santa Claus Office, Christmas is happening every day of the year. Do you get fed up with Christmas songs?
Never! Outside, in the courtyard, Christmas songs begin playing well before Christmas, but here on the inside, there's so many people I can hardly hear my own thoughts.
Do you have any tips in general about how to spend Christmas?
If I wasn't such big part of Christmas here at the Office, I'd start my day with rice porridge and sauna. It is important to spend quality time with one's family, and eat, and rest, and eat, and to go out, and eat. But the only thing that's mandatory is to charge your batteries. People should calm down, be nice to each other and not stress out like they do the rest of the year.
Christmas decorations are a big thing in lots of different countries, and people tend to stress out about them quite a bit. What's Santa's take on that, do people need to stress so much, and how does Santa feel if he visits a home with hardly any decorations? 
Santa Claus feels privileged to visit the homes of so many people over Christmas, and of course, he loves everything Christmas-related, like Christmas lights and decorations, but more importantly, he appreciates the Christmas atmosphere that comes from people.
Ready to lace up your pointy boots and wear a jaunty felt cap? Read about work possibilities in Lapland from our Seasonal Work in Lapland FAQ!
If meeting Vanilja and Santa Claus sound more like your thing, check out our article How to meet Santa and our Visit-page for all the necessary information and tips before your holiday in Lapland.