Stand atop the rocky Sammal fell. To the south, the glistening waters of Pallasjärvi, to the east, unbroken forests. Take a breath of the cleanest air you've ever tasted.
It's not hyperbole to call Finnish Lapland one of the cleanest places on Earth; it's a proven fact. Lapland and Finland take great pride in maintaining our natural resources, from the old growth forests in the Syöte National Park to the uninhabited rocky fells of Kilpisjärvi. Hike to the top of the Pallas-Yllästunturi fells and experience it for yourself, or take a boating trip on the wide Tornio River, the world's northernmost natural habitat for zander.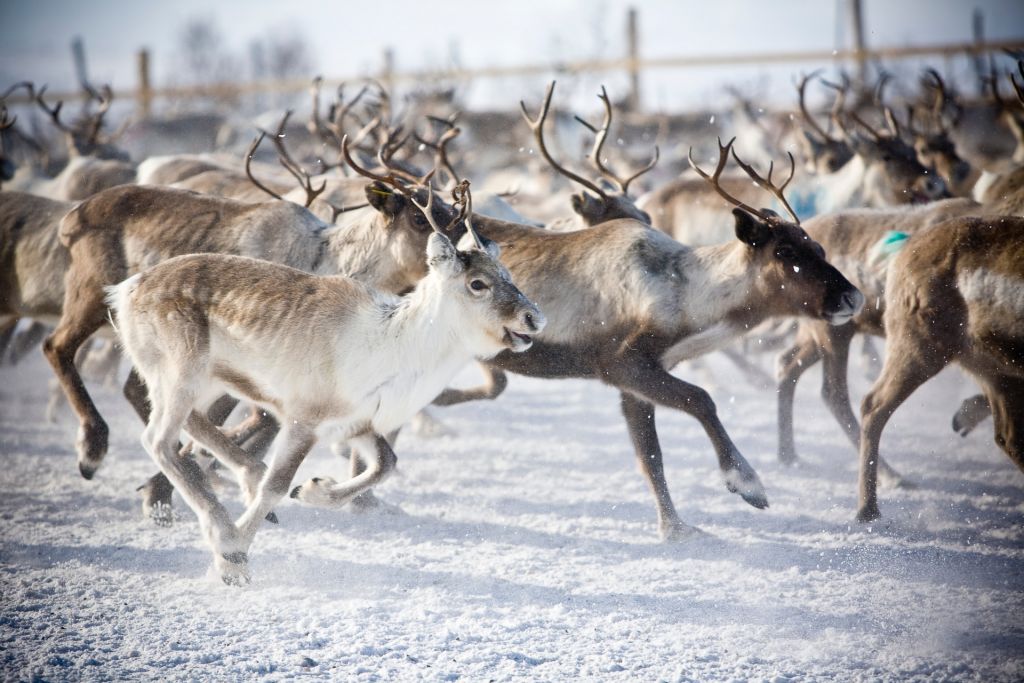 Wild and not-so-wild
Just because humans haven't planted a flag and built a Starbucks doesn't mean the land is completely uninhabited. But the scarcity of people in Lapland allows for wild animals to flourish. Tufted-eared lynxes and silent packs wolves prowl the hidden shadows in the deep forests of southern Lapland. In the national parks in Kuusamo, bears rumble and make their marks on trees older than the Republic of Finland itself. A common sight on the blue waters of Lake Inari is a flock of swans enjoying a warm summer day. When cycling or driving around Utsjoki, you might even encounter an elk or a herd of foraging half-wild reindeer. Remember always to share the road; there are more reindeer in Lapland than there are people!
Of course, if you want to get up close and personal with Arctic wildlife, there's no better place than the Ranua Wildlife Park, where you can see live polar bears and otters amid a wide range of Arctic animals.
The taste of Lapland
Every summer and autumn, the Sámi people, Finns and visitors to Lapland grab a bucket, a berry picker and a mosquito hat, and head into the forests to pick mushrooms and berries. The bounty of Lapland offers cloudberries, lingonberries, blueberries, raspberries, strawberries … the list goes on and on. Mycophiles could not ask for a more perfect place to find mushrooms, as ceps, chanterelles, brittlegills (russulas), milkcaps, brain mushrooms and more all grow naturally in the forests and bogs of Lapland. The purity of Lapland nature extends to the salmon and burbot caught in the Tornio River valley and the wild game from the forests of the Ruka-Kuusamo region. Take a big bite; you won't forget it anytime soon.
Everyman's Right (and Everyman's Responsibility)
Lapland is one of the world's few regions where most of its natural land is free for anyone to explore and enjoy. Anyone may walk, ski or cycle freely in the countryside without damaging private property or land. You may pick berries, mushrooms and flowers. You may angle for fish or swim or boat in most waterways.
It is also your responsibility to leave Lapland nature as wonderful as you found it. This means no disturbing animals or their homes, and no unauthorized hunting or fishing. You may not harm trees, collect wood or start fires.
Learn more about Everyman's Right & Responsibilities at Visit Finland.