You might not find any elves (Santa's workshop under Mt. Korvatunturi is top-secret), but you'll find plenty of reindeer, forests, stony fells and Arctic wilderness in Savukoski.
If you're looking for an unforgettable Arctic experience, far from the lights and noise of towns and cities, then Savukoski and the mystical Korvatunturi are perfect for you. Savukoski has a population numbered in hundreds and is home to the country's second largest national park, not to mention the secret workshop of Santa Claus. Explore some of Finland's most stunning nature trails and breathe the world's cleanest air.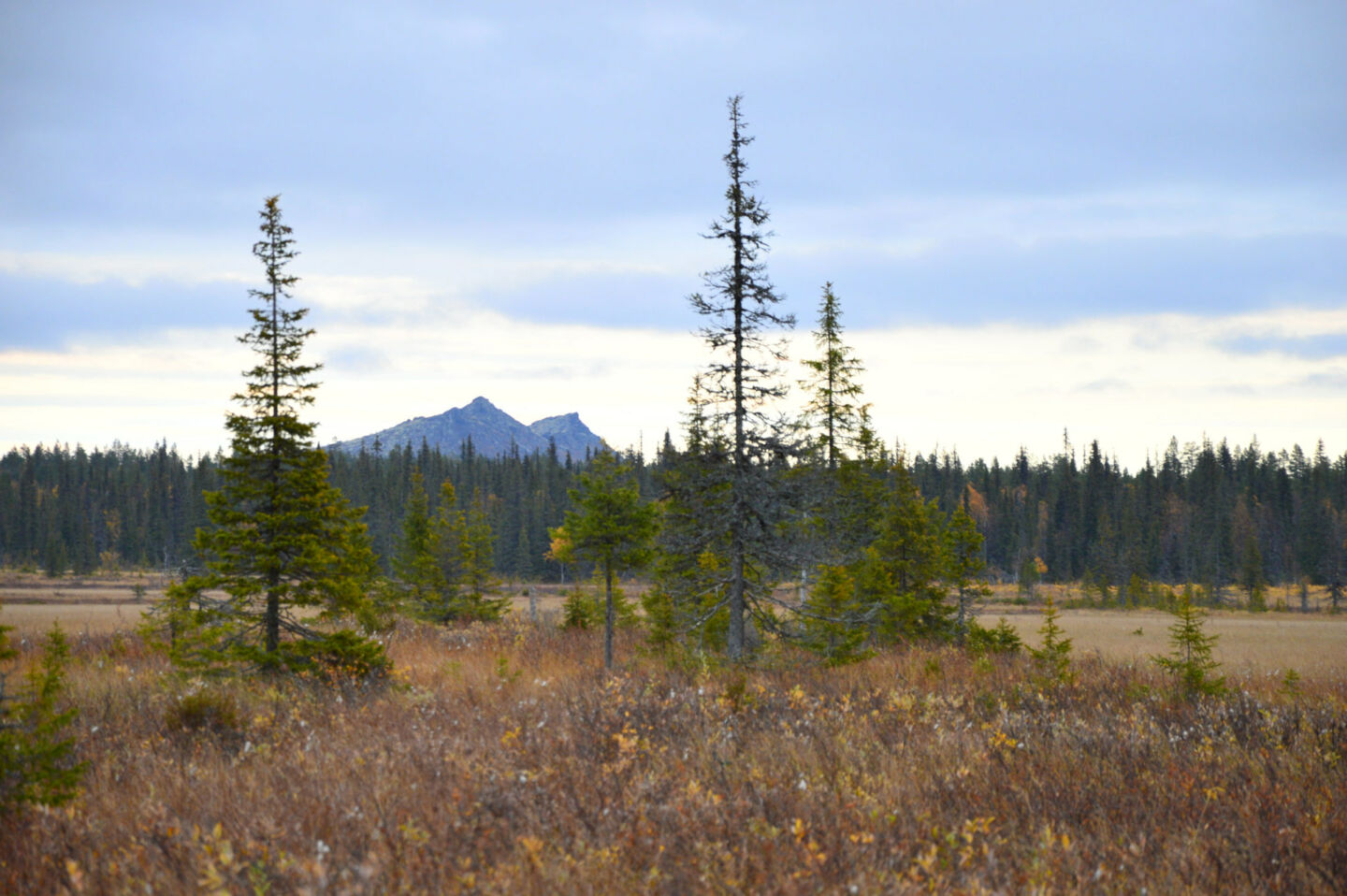 Photo by:
Visit Savukoski-Korvatunturi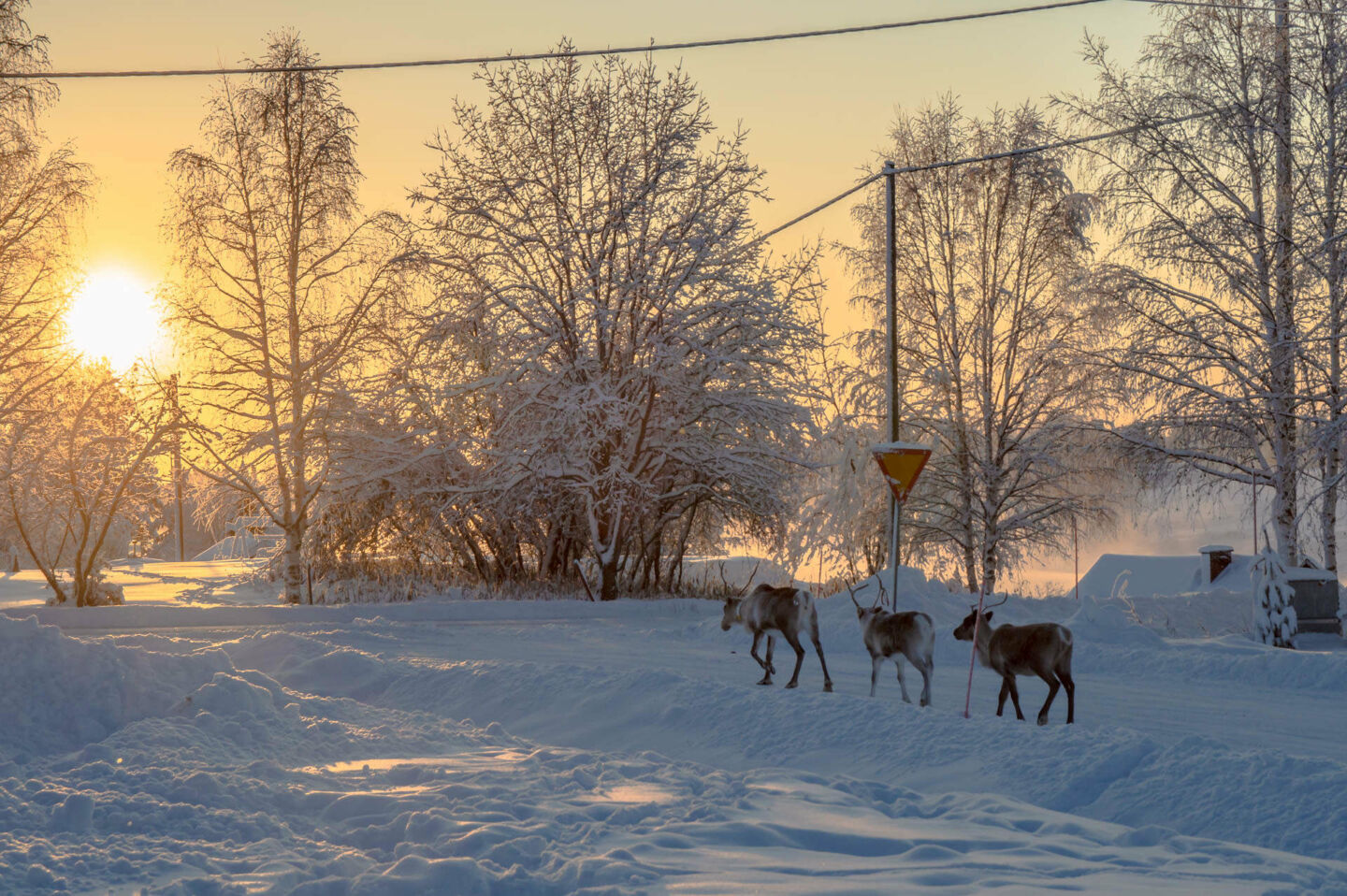 Photo by:
Visit Savukoski-Korvatunturi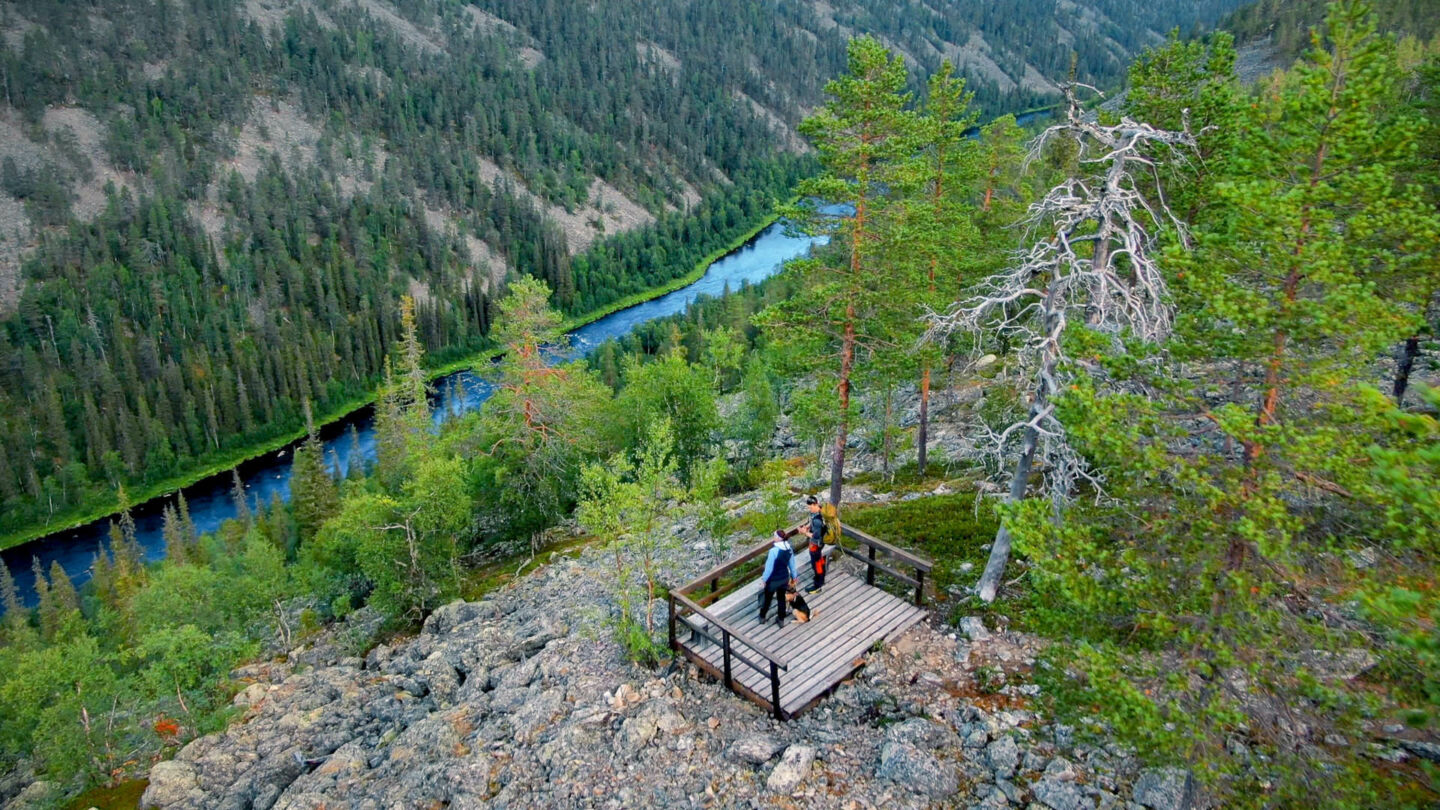 Photo by:
Visit Savukoski-Korvatunturi
ABOUT SAVUKOSKI & KORVATUNTURI
A tunturi is a fell, or a hill carved by Ice Age glaciers. There are fells all over Lapland, but there's none quite so magical as Mt. Korvatunturi. Named for its fox ears-like appearance, Korvatunturi sits on the border between Finland and Russia. Known to children as the location of Santa's secret workshop and to adults as an untouched winter playground, Korvatunturi is one of Savukoski's most beautiful, mysterious and thrilling destinations.
Note: Traveling to Korvatunturi requires a special border zone permit. The permit is free, and multiple people can be added to a permit. There are many local businesses happy to arrange the trip and the permit for you.
The second largest national park in Finland is Urho Kekkonen (UKK) National Park. The park is, of course, massive, connecting the Arctic taiga forests that band central Lapland to the stunted trees and sparse landscapes of the lower tundra. Listing all the attractions of UKK would take days, so here's a few highlights.
Kemihaara – Drive right up to the gates of UKK and begin your adventure on the multi-day hiking trail that leads toward Korvatunturi.
Nuortti Canyon – Nuortti is a perfect representation of what northern Lapland is. The river meanders through a winding canyon, green and alive in summer, frosted and magical in winter.
The Gorges – With names like Paradise, the Devil's Gate, and Ugly Gorge, you know you're in for a treat. UKK has many gorgeous gorges and uncanny canyons.
Historical homesteads – Life in northern Lapland has always been a balancing act, steadfast folk versus an inexorable environment.
If you're a seasoned pro or a daring adventurer, you can tackle the wilderness of Savukoski by yourself. The hiking trails of summer become the cross-country tracks and snowshoe routes of winter. Of course, if you feel a bit daunted by the sheer size and isolation of Finland's most remote areas, there are guides and guided tours. As UKK features some difficult terrain and cell service is poor in some places, guided tours are recommended for safety.
Reindeer in Savukoski outnumber the population by twelve to one. So you might not expect to see many people—and you would be right. But there are villages sprinkled throughout Savukoski, great for starting snowmobiling adventures or kayaking trips, visits with Mrs. Claus, or pit stops on your way deeper into northern wilderness. Of course, you can also let a pack of howling huskies or a rambling reindeer take you on a sledge ride through the winter wonderland.
THINGS TO DO IN SAVUKOSKI
Your Arctic adventure starts here! Journey to the heart of Santa's home mountain. Trek through Finland's 2nd largest national park. Hop on a snowmobile and ride for … well, forever! Immerse yourself in authentic Arctic wilderness; in Savukoski and Korvatunturi, there's no limit to how far you can go.
PERFECT SAVUKOSKI SUMMERS
Kivitunturi Nature Trail
Fish Arctic rivers & lakes
Mountain biking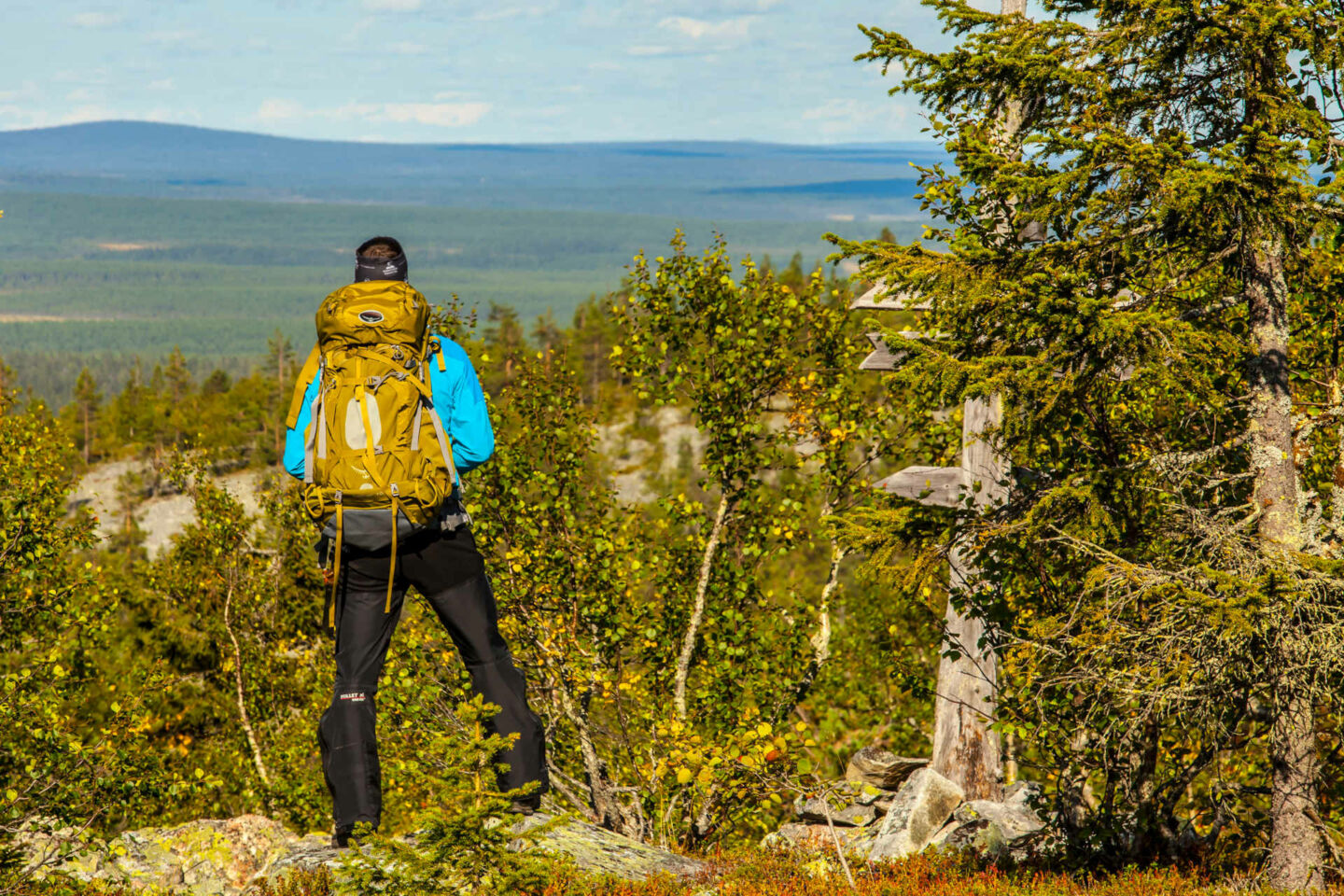 Photo by:
Visit Savukoski-Korvatunturi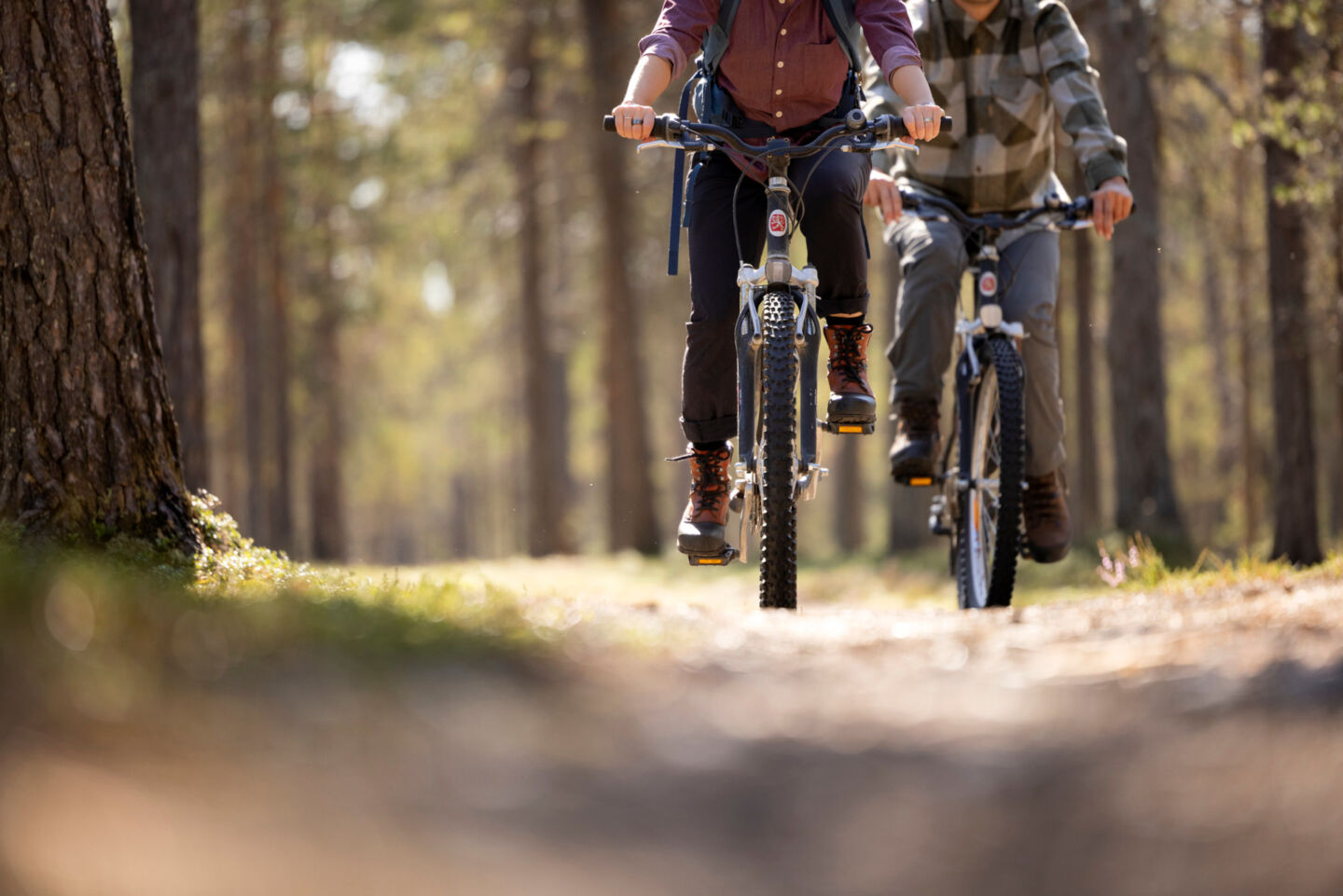 Photo by:
Visit Savukoski-Korvatunturi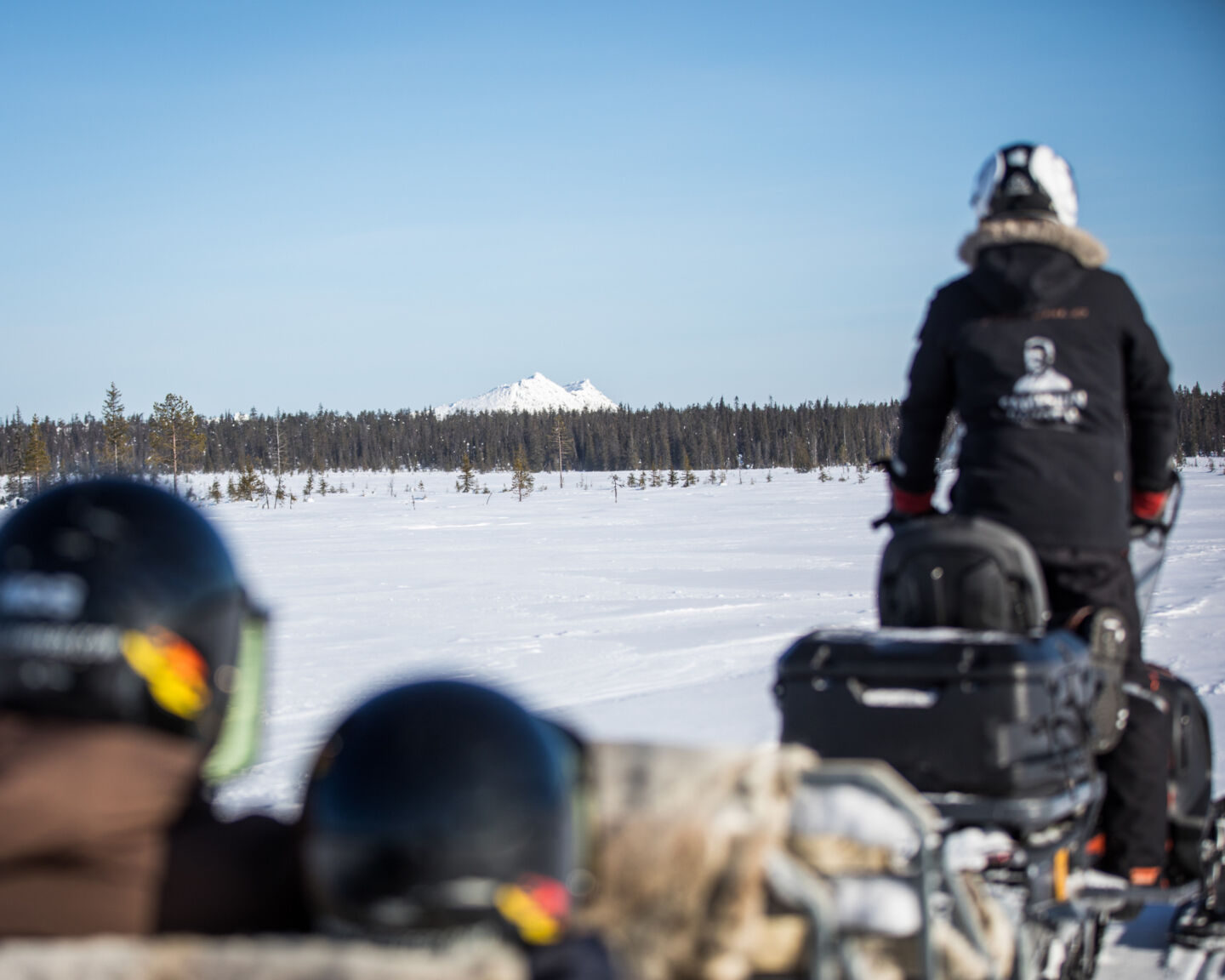 Photo by:
Samperin Savotta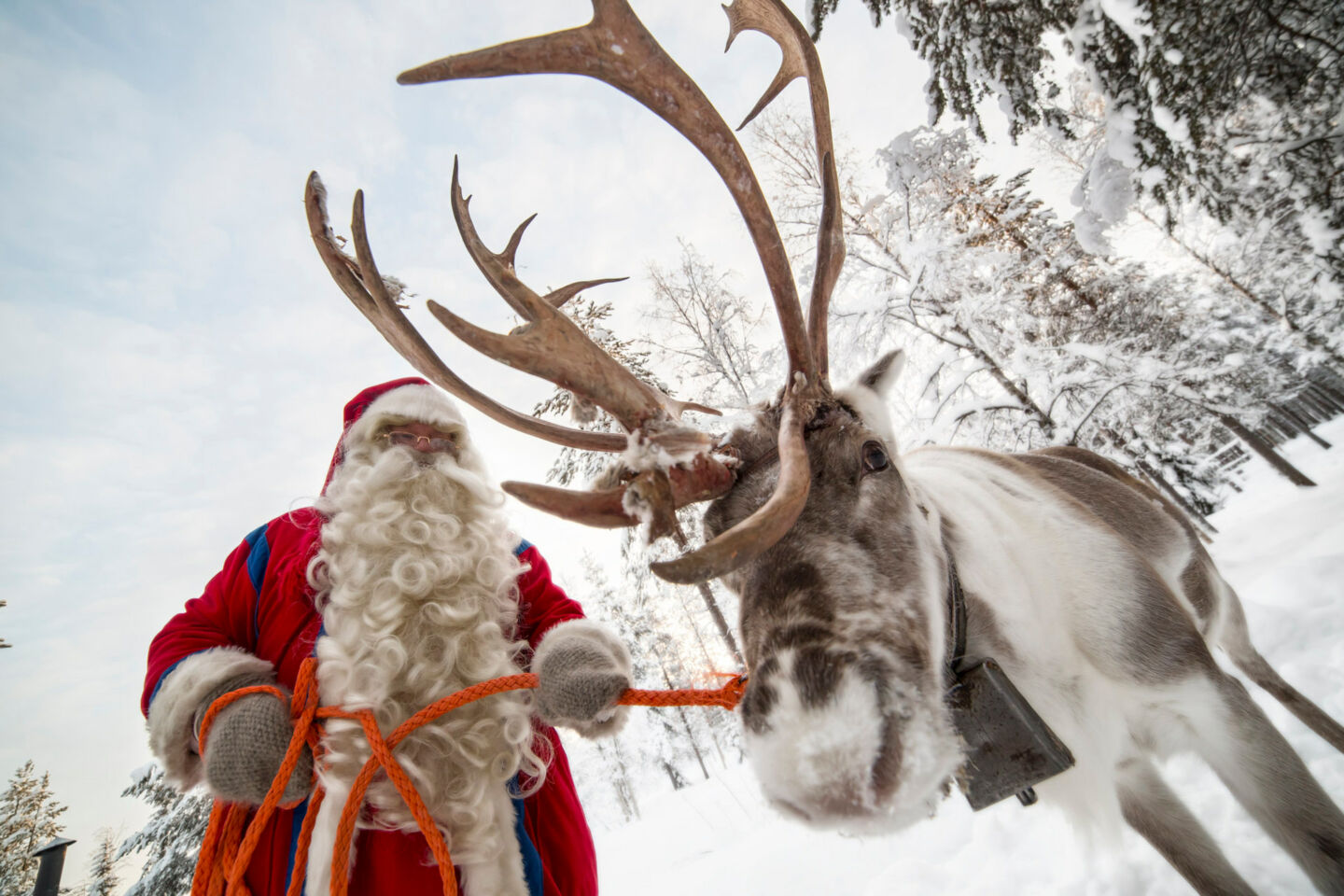 Photo by:
Visit Savukoski-Korvatunturi
SNOWFLAKES & SANTA CLAUS
Snowmobiling
Reindeer farm visit & ride
Ice fishing
PLAN YOUR STAY IN SAVUKOSKI
After a true Arctic adventure, it's only natural to be hungry. Grab a bite at Savukoski's cafes and restaurants, then head to the sauna for a relaxing evening. And when it comes time for bed, snuggle up in a Savukoski cabin or hotel room.
SWEET SAVUKOSKI DREAMS
Hotel Samperin-Savotta
Majavasokka Kairijoki
Tuppion Majat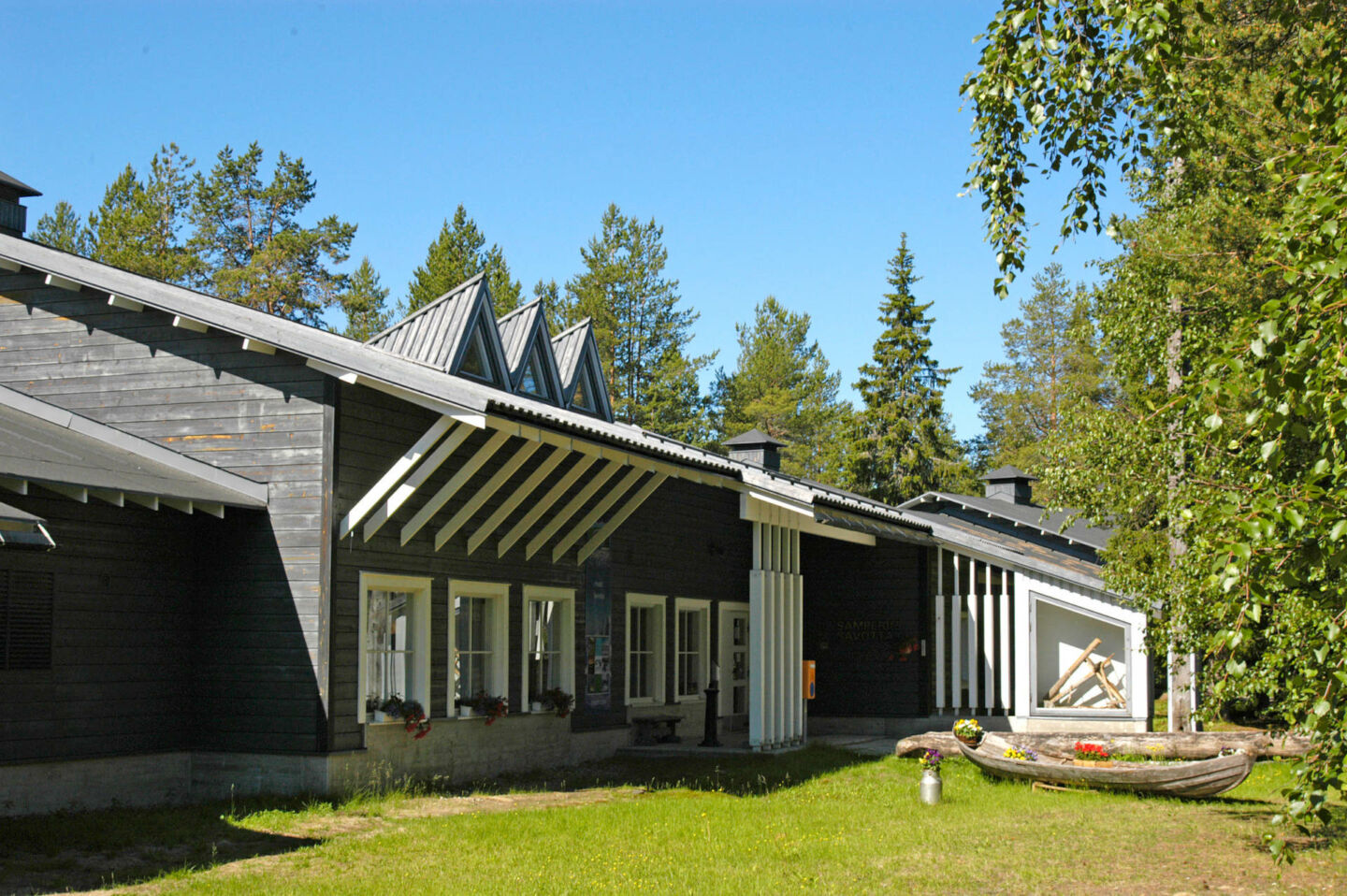 Photo by:
Visit Savukoski-Korvatunturi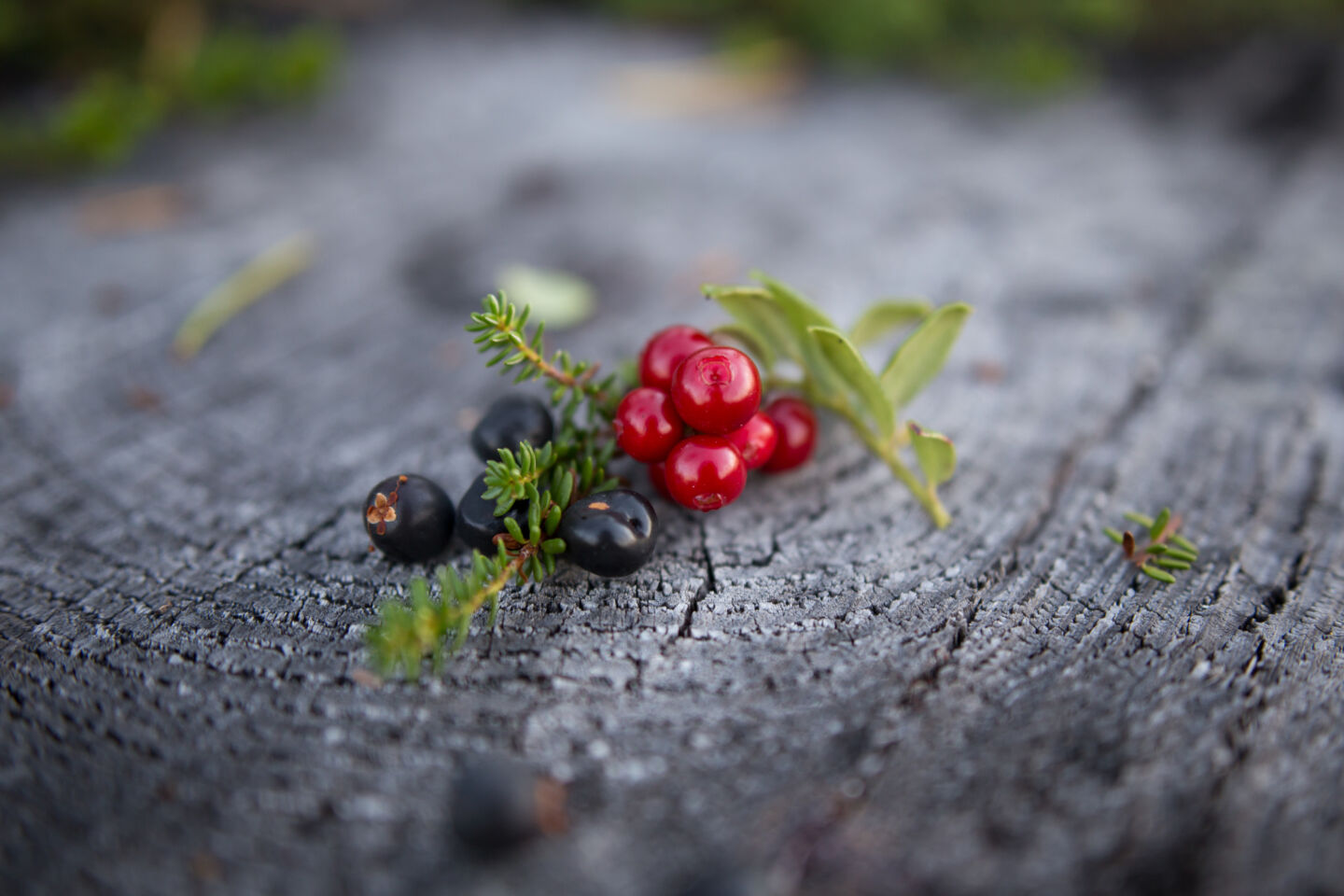 Photo by:
Lapland Material Bank | Terhi Tuovinen
DINING IN SAVUKOSKI
Restaurant Samperin-Savotta
Tuppion Majat restaurant
TRAVELING TO SAVUKOSKI & KORVATUNTURI
HOW TO GET HERE
The airports in Rovaniemi, Kittilä, Ivalo and Kuusamo are almost all the same distance from Savukoski (around 200km). You can book transfers from the airports to Savukoski through local service operators, or you can rent a car. From Kemijärvi train station, it's only 1.25 hours via E63.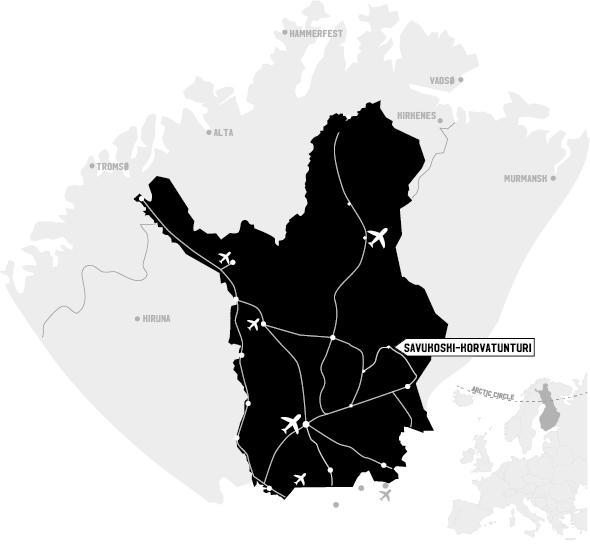 Looking for more Savukoski & Korvatunturi?
Whether you're snowmobiling to the fox-eared Korvatunturi or hiking through true Arctic wilderness, Savukoski & Korvatunturi have the perfect adventure for you.
Visit Savukoski-Korvatunturi and follow the stories on Facebook, YouTube and Instagram.