We are featuring a new guest photographer every month, with their top 3 photo picks and professional tips for filming in Lapland. Our photographer of March  2017 is Rayann Elzein, a Northern and Arctic Lights Chaser.
Since I was a child, I've been fascinated by the sky and the stars. In 2012, with the solar maximum approaching, I really wanted to see and photograph the Northern Lights, which had been on my bucket list for years. This is the main reason why I traveled to Inari in northern Lapland for the first time. That day when I arrived in Lapland could not have been better. It was a cold, crispy and sunny March day, with the low sun projecting fantastic shadows all over the landscape: a photographer's dream! This first day turned into a first night under the stars, which very quickly turned into a first meeting with the Northern Lights. That night, as the aurora danced fast and bright over Lake Inari, is still today one of the most impressive Northern Lights displays that I have ever seen. A new passion was born, and I would return to Lapland every year, in all seasons.
HERE ARE MY TOP PICS WITH TIPS:
1. Zigzag Aurora
This photo dates from 11 January 2016. The forecast for aurora was not very strong, and the weather forecast only gave some small cloud-free areas, making it incredibly difficult to be at the right place. Nevertheless I decided to go chase the auroras because it was my last night in Lapland for that trip. I literally had to drive a couple of hundred kilometers up and down the same road to find the clear sky. Suddenly, against, all forecasts, strong auroras started dancing in the sky for hours. In this picture, the aurora is "zigzagging", which is something that I had never seen before! In some northern cultures, it is believed that the Northern Lights are the souls of the deceased that come to say goodbye. This was the night after David Bowie passed away. So I thought: could it be Bowie showing his genius one last time?
Tip: I could go on for pages with technical tips, but they can easily be found all over the Internet. Instead, I give you some advice on the attitude that you should adopt to maximize your chances to see the Northern Lights.
There is no predefined time to see the aurora. It can happen at any moment during the night when the sky is dark between sunset and sunrise. It can last for hours at a time, but most of the times just a few minutes. If you really want to catch a glimpse of the Northern Lights, especially on a short trip, be patient and keep watching the sky when it's clear.
Another tip is that especially for the north of Lapland, aurora forecasts don't mean much: auroras often happen there even with a very low forecast!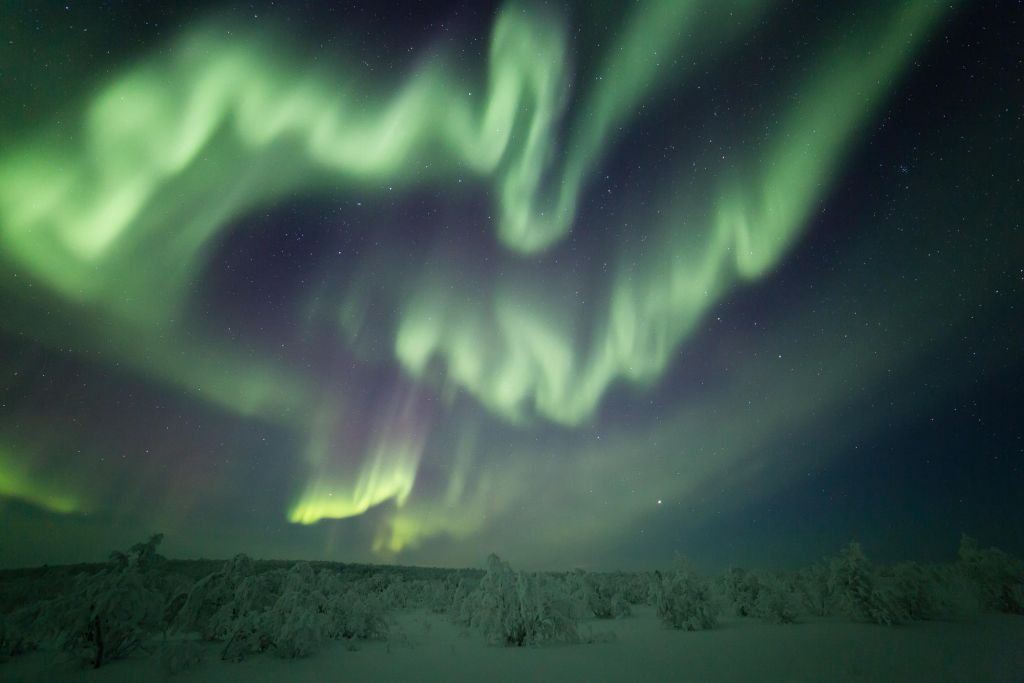 2. Winter flow
There are not only Northern Lights to photograph in winter in Lapland. Everywhere you look you can find some amazing gems in the landscape, like this wooden cabin near the river. I have been photographing aurora at this exact location countless times, but somehow until this very winter, the daytime conditions were never met for a successful photo. The soft sunset light was ideal to compose this photo, with the addition of a neutral gray filter to lengthen the exposure time and give the silky effect to the flowing water.
Tip: If one day the light is not right, come back the next day, or even the next hour when you are in Lapland. Light changes constantly throughout the day. There is not a single place there that I have seen twice under the same light. With some patience, you will surely be at the right place and the right time to capture some unique shots.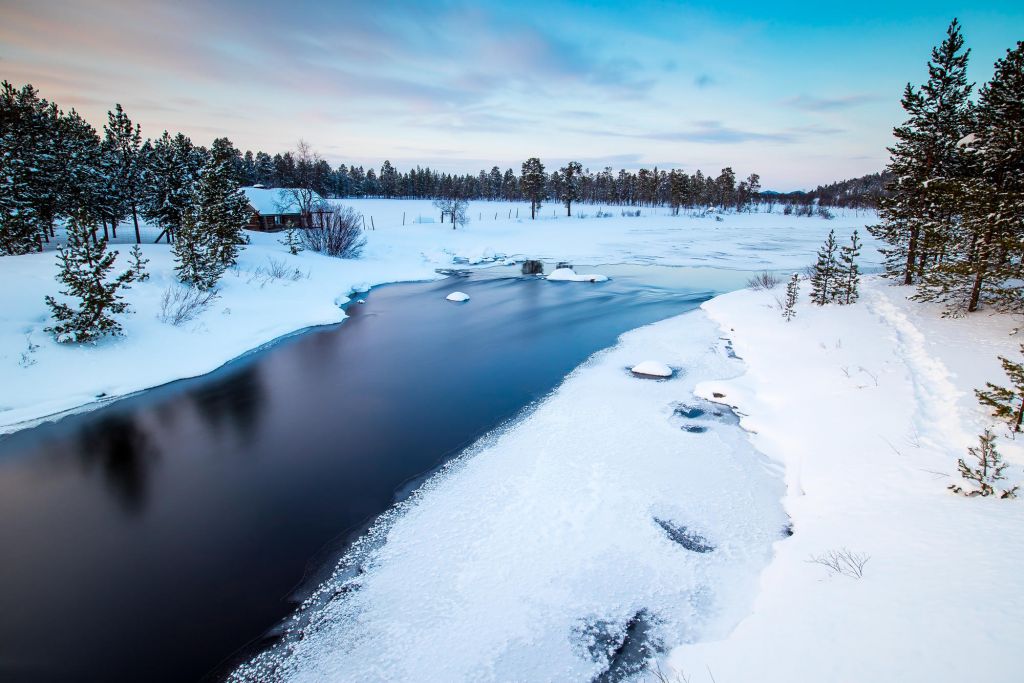 3. Midnight Sun and moon
Last year I discovered that summer in Lapland is as exciting as winter, and provides as many extraordinary photo opportunities. Thanks to the absence of snow, a lot of hiking trails are easily accessible. It allowed me to walk all the way to the top of the Otsamo fell nearby Inari (altitude 418 metres). As a photographer, I love high vantage points that give a view of the entire landscape around and beneath me. This opens up so many new angles for my photography. This photo was taken around midnight, when the sun was still above the northern horizon, painting the spruces with its warm golden light. On the other side of the sky, the nearly full moon was shining against a pastel sky.
Tip: When preparing a trip or a hike, I always check in advance the position of the sun and the phases of the moon. In this way, I know what to expect when I am on location, and I don't miss out on this opportunities! There are several apps that allow this, and I mainly use TPE or PhotoPills.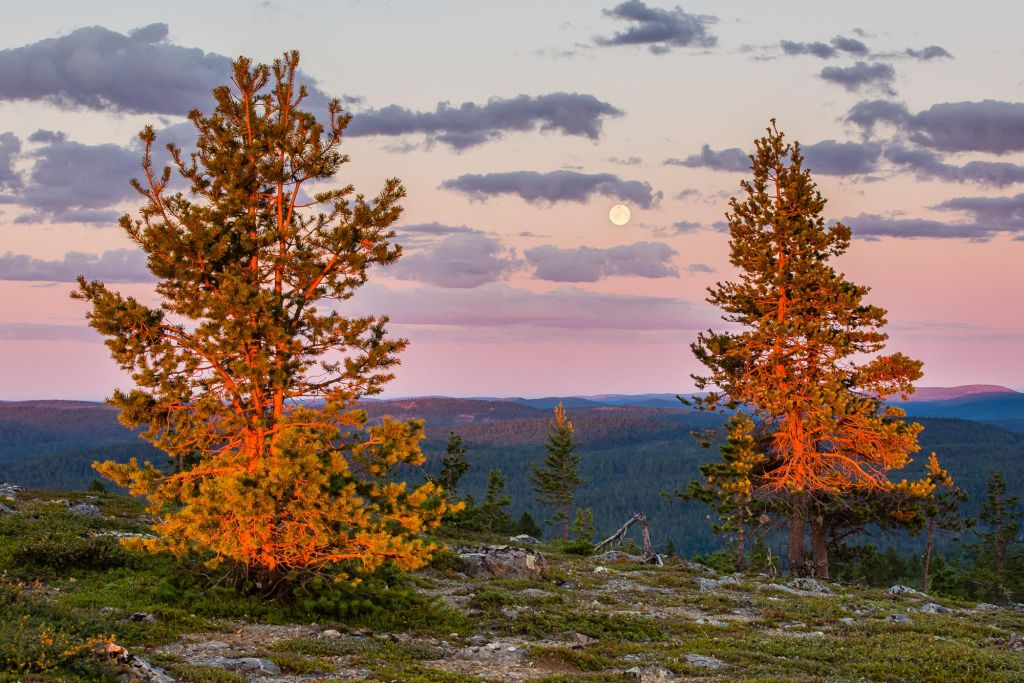 4. Reflecting the storm
I took this photo during my last trip in the first week of March 2017. For an entire week, strong auroras appeared in the sky night after night, leaving us photographers plenty of options to do our thing. I like to vary the composition of my Aurora photos to have a range of different foregrounds. The aurora reflecting on an open body of water remains one of my favorite compositions! But go find open water in the middle of winter… best places: on rivers nearby rapids, where the water flows fast enough to prevent the formation of ice. In such places, stay on the shore and don't venture on the ice though, as it might be too thin to support your weight.
Tip: I always try to scout aurora viewing locations in the day time. This allows me to visualize the landscape a lot better than at night, and get some composition ideas in my head. This also allows me to spot non-photogenic elements that you don't immediately see in the dark, like electric poles and cables, or unaesthetic fences.