Lapland is a location where successful international creative industry productions and projects are done. Local companies are masters of filming in arctic conditions and find their inspiration in the Lappish environment.
– Lapland is an excellent place for creative business. It offers plentiful inspiration and serves as a distinguishing factor in the international markets, says Miikka Niemi, the founder and CEO of Flatlight Creative House.
The creative industries form a multi-skilled group in Lapland, many of which businesses are micro-companies. The creative industries however comprise a significant part of the Lappish trade ecosystem.
Flatlight Creative House has been in business for over 15 years. Niemi started operations under a trade name and currently employs 20 people.
Flatlight does all kinds of productions in marketing, branding, and advertising. The company turnover for the financial year 2021 was 2.2 million euros. The company has such clients as Business Finland, BRP, Alibaba, and Polar.
The film, advertising, and TV productions filmed in Lapland reach hundreds of millions of viewers every year and provide plenty of employment for other businesses in the region. Productions by production companies arriving in Lapland generate a turnover of approximately one million euros every year for other companies and entrepreneurs in the region. Most of the money is spent on accommodations, rental services, and services provided by local AV freelancers and businesses. In addition to generating turnover, the productions also provide good reach, which supports, for example,  the tourism industry and the Lapland brand.
The movie production company Oktober located to Lapland recently. During its 17-year-long career, Oktober has always been registered at Rovaniemi, but in August 2021 founder Joonas Berghäll decided to move the headquarters from the capital region to Lapland.
A good time for the relocation occurred when personnel changes fell in place. Berghäll finds that Oktober has been well received in the region.
Oktober's turnover in 2020 was 2.2 million euros and the company has hired more than 2,400 employees during its entire existence.
The acquisitions of the workforce have been going well since August. New contacts come in all the time.
– I'm interested in keeping our operations as Lappish as possible and in keeping as much money as possible in Lapland, says Berghäll.
The documentaries and fictional films produced by the company have been successful and received awards. The productions invest in artistic quality and discuss social affairs. Productions by Oktober include Steam of Life (2010), Baby Jane (2019), and Canned Dreams (2012).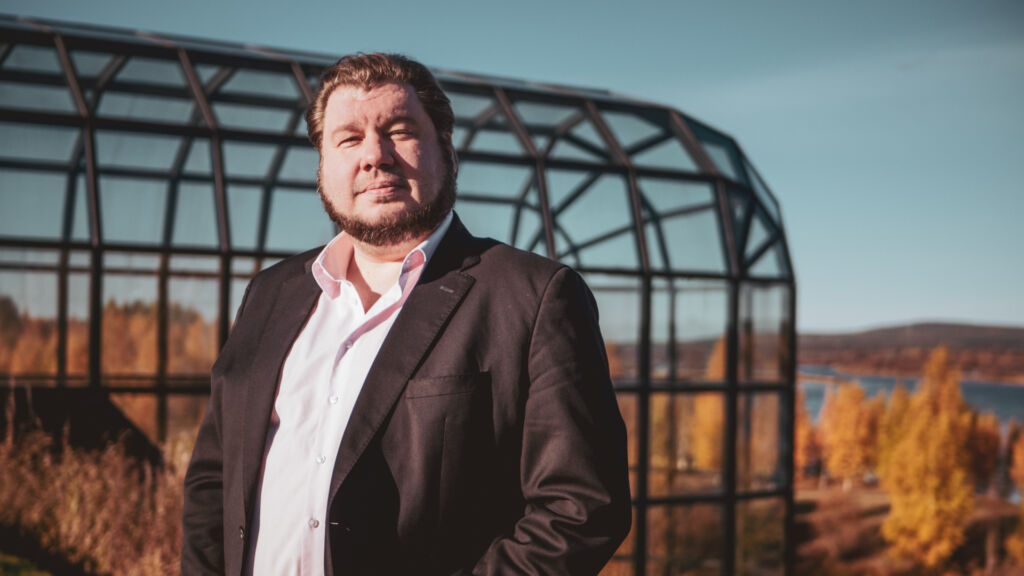 The founder and director Joonas Berghäll decided to relocate his film production company Oktober in Lapland.
Northern Lapland feeds creativity
A northern location provides resources for creative work. Niemi describes how the environment, nature, and seasons in Lapland feed inspiration. People from Lapland also inspire in story-telling work.
– It is often said that it is nice to work with northern folk. It is hard to explain, but maybe we convey the northern spirit and atmosphere somehow, Niemi laughs.
Berghäll is also of the mind that locating Oktober in Lapland increases the resources and inspiration for creative working.
In 2006, Oktober was working on a total of nine projects, most of which took place in Northern Finland and Lapland. It was at that time when Berghäll understood the significance of place in the creative work on story-telling.
– Where you come from and where your roots are is also where your stories are. I believe that moving to the north can only increase your creativity and story-telling ability. Then, you are surrounded by other people who also understand the north and Lapland.
From Lapland to international status
Being Lappish is a distinguishing factor on both the international and domestic markets. The Lapland brand and a positive image of the people can help in creating a company identity.
Niemi thinks that the new practices for working life introduced by the pandemic, such as remote meetings and remote working, have reduced the distance between Lapland and other destinations, so the separation does not seem quite as dramatic anymore. For example, it is easier now to compete with other businesses for big clients, as it has been found that work can be done just as easily from the north.
The creative industries in the region are reinforced by the University of Lapland, where the Faculty of Arts grants degrees to audio-visual media culture experts, graphic designers, and designers, among others.
Niemi emphasises that it is possible to work globally as well in Lapland, and not only regionally. The most recent international project by Flatlight was the World Expo 2020 in Dubai, where the company was involved in designing exhibition concept to Finland's pavilion. The exhibition arranged by Business Finland involved more than 100 Finnish enterprises.
Oktober is a very international operator. As early as in 2008 to 2012, approximately 55 percent of the film budgets came in from abroad.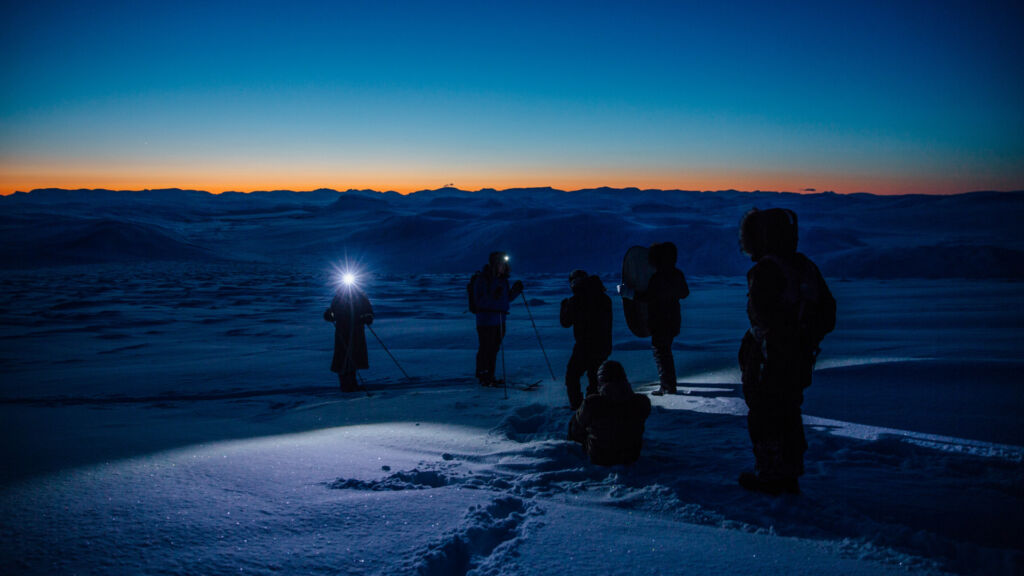 Photo by:
Flatlight Creative House
Flatlight filmed an episode of the series Metsien kätkemä by Yle in Enontekiö, Lapland.
Special skills for arctic filming conditions
Filming productions in arctic conditions requires special skills to guarantee the quality, efficiency, and safety of the work.
One of the first short films by Oktober was shot in Inari and Berghäll selected the team members carefully. He relates how the well-planned filming gig received many thanks.
– One of the most legendary cinematographers said that working with you felt like going on a summer holiday for two weeks, Berghäll recalls.
The coldest weather the Flatlight team has worked in was slightly over minus forty degrees Celsius.
– Conditions like that require a certain attitude and what you wear becomes of utmost importance, Niemi says.
Productions coming from abroad are always instructed in wearing the correct kit and its importance is emphasised, but the message is still not always fully received. Not wearing enough clothes in freezing weather is no playing matter.
Preparation and planning is important: breaks, warm rooms, hot food and drink, equipment, and spare batteries need to be in order. Needing to warm up batteries or replacing camera lenses in a snow storm are among the things to be prepared for.
Using the right equipment, having the right attitude, and planning properly result in successful shoots even in tough conditions. Flatlight was involved in shooting an episode for a nature series by the Finnish Broadcasting Company (YLE) in 2016 in the Kilpisjärvi wilderness in Enontekiö. The temperature was almost forty degrees below zero, but the shooting went on for nine hours. Niemi says that in such conditions one proceeds on nature's terms and by relying on creativity.
Creative collaboration in Lapland
The field of creative industries in Lapland is small, so everyone knows everyone and collaborations happen. Niemi for example founded the coworking space Y-North where creative industry professionals work among others.
Oktober does some collaborations already with other Lappish creative industry companies. Flatlight and Oktober collaborated some time ago as Flatlight designed international materials for the marketing of the film The Red Ring (2021). Berghäll hopes that networking continues and collaboration projects will happen more in the future.
The film industry in Finland is very concentrated in the Helsinki region. The Kemi-born Berghäll wants to be part of changing the current situation, so that aid money granted by for example the Finnish Film Foundation would be more evenly distributed. He wishes that various actors in Lapland and Northern Finland would get behind this so that the diversity of the audiovisual industry in Finland could be retained.
The coming year holds many plans and expectations.
– I am eagerly awaiting to see if my next documentary will get produced. The new year is full of work. Oktober's feature-length fictional film will be shot in between March and July, says Berghäll.
Flatlight also has much in store. Niemi says that Flatlight's new year 2022 includes many exciting projects and a company brand overhaul.