Want to know more about origins of the Northern Lights, exactly what they are, and how you can see them with your own eyes? Here's a glimpse into one of Lapland's most spectacular visions.
Myths and stories of the Northern Lights abound, across every Arctic culture on Earth. What better way to pass the time when the air is cold enough to steal your breath away, and the expanse of the heavens opens to offer a glimpse into another world? But while the ancient Finns and the Norse explained the auroras with fire foxes and rainbow bridges to Valhalla, the scientific origins are no less fantastic.
Aurora Borealis – the Science
The events leading to auroras begin about 150 million kilometers away, on the surface of the sun. Particles created in the heart of the solar forge escape, carrying a bit of electrical charge with them, and the energy of the sun flings them deep into space. While the Earth's magnetic field protects us from this solar wind, some determined particles make it through. On their way to the ground, some of these intrepid travelers strike molecules in our atmosphere, transferring their energy. Most often, oxygen gets tagged, releasing the solar energy in sheets of green fire. Sometimes, however, particles penetrate deeper, hitting nitrogen molecules and releasing busts of violet.  But on rare occasions, particularly energetic solar winds can create blood-red auroras, even as far south as central Europe. Auroras are quite common in Finnish Lapland, appearing on average every other night in a clear sky, even more often in the Far Far North.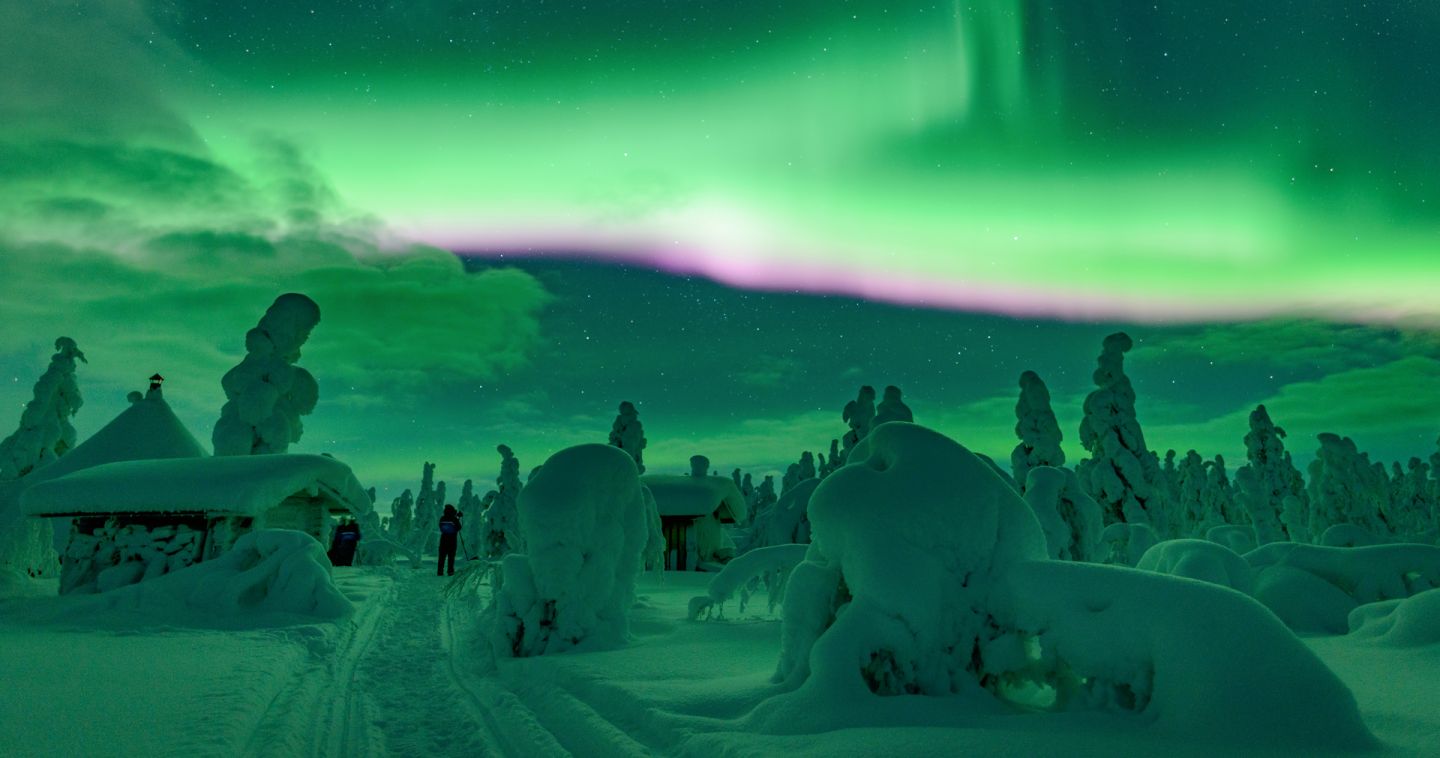 Photo by:
Thomas Kast | Visit Finland
Catching skyfire – observing and predicting the Northern Lights
Due to the chaotic nature of thermodynamics, predicting planetary weather can be difficult. Patterns that seem almost set in stone can change on a whim, turning a sunny forecast into a thunderstorm. Predictions for the weather of our solar system are no less chaotic or simple.
The Sodankylä Geophysical Observatory in central Lapland is one of the world's leading research stations taking and analyzing geomagnetic and ionospheric observations. You might recognize those last two terms as being 99% of what make up auroras: Earth's magnetic field and charged particles in our atmosphere. The SGO knows auroras, and they even have a camera pointed at the Lapland sky 24/7, for research and general enjoyment.
Check out the SGO's auroral cameras for the latest images of the sky above Lapland!
Another great source for information and aurora alerts is the Space Weather Prediction Center. This NOAA site offers you the ability to watch up-to-date videos on X-rays coming from the sun, coronal mass ejections (aka the sun flinging its unwanted protons, electrons and other particles into deep space), and aurora forecasts. You can also check out Nordic Weather's aurora forecast.
Something you might come across a lot when researching auroras is the Kp index. This is a measurement of the Earth's magnetic field, with a range of 0 to 9. Zero indicates weak magnetic activity, and therefore the least possibility for auroras. Once the Kp index rises above 4, this indicates a geomagnetic storm, and your chances of seeing green fire increase. At Kp levels of 8 or 9, you might even see auroras in the skies above Spain! In northern Lapland, however, 2 is usually sufficient for visible Northern Lights.
Northern Lights services in Lapland
Now that you're armed with information and resources, it's time to head north to capture the Lights. While you can see auroras many nights anywhere in Lapland, the farther north you travel, the more likely you are to hit the lightshow lottery. You can find Northern Lights tours and service providers in virtually every corner of Lapland.