Snowfall and safety. Unbroken wilderness and environmental responsibility. Lapland in winter is like nowhere else on Earth. Here's why it's perfect for your next winter holiday.
If you asked three travelers what's the best reason to visit Finnish Lapland during winter, you'd likely get three different answers. For some, it's the boundless nature and experiences exclusive to the Arctic like the Northern Lights. For others, it's the safety afforded anyone who visits Lapland, no matter creed, gender or sexual orientation. And for some, it's just the fun of snowballs, reindeer and Santa Claus.
We've collected some of the best reasons to spend your holiday in northern Finland, so read on and find out why your next adventure should be Arctic.
Our Wilderness & Nature
Finnish Lapland is bigger than the countries of South Korea, Hungary or Jordan, and the vast majority is unpopulated, as it has been since the Ice Age. Wilderness that dates back to a time before written language is virtually around every corner. With so much space and so few people, it's easy to find isolation and privacy in the snowscapes and frozen forests. In fact, unless you're downtown, you're more likely to run into an errant reindeer than another person.
Ultimately, our wilderness allows you to experience the peace and quiet to sooth your mind, body and soul. It's an integral part of Lapland's culture, and after a few minutes breathing clouds of mist in one of our national parks or just the fairy tale forests that grow just outside our cities, you'll understand. The last wilderness in Europe, and all the things you can do there, is the number one reason to visit Lapland in the winter.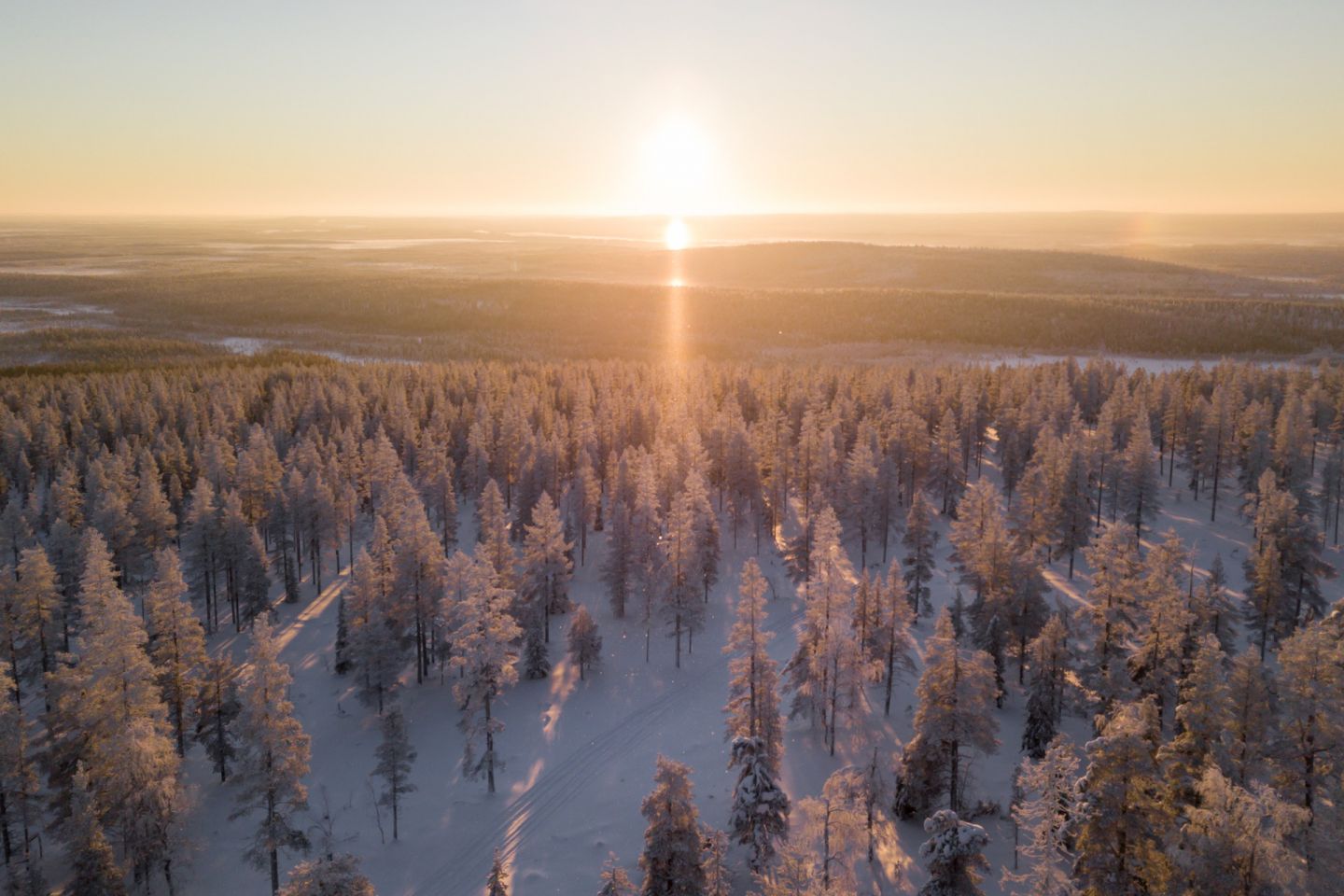 Come experience the crunchy snow and gentle winter winds at Virtual Lapland.
Safe and Sound
No one likes to think about whether their holiday is going to be safe—you just want to know that you won't have to worry about cheating taxi drivers, pickpockets, typhoons or anything else you might see on a Buzzfeed article or exposé. Here are some of the ways Lapland is one of the safest places in the world to visit.
According to Travel Safe Abroad, Finland (and by extension Lapland) "is a very safe country to visit." Finnish culture emphasizes law and rules, so you don't have to worry much about trickster transports or street crime, as you might in other destinations. According to the US State Department, Finland has a low rate of crime and violent crime is uncommon. And the tourism industry is generally regulated, and those rules are regularly enforced. Of course, common sense is a must, but by and large, Finland is a very safe country for a traveler.
If you read that previous section about the scale and isolation of Lapland, you might wonder how safe it is to travel by car (or bus) in mid-winter. But fear not, Lapland maintains its roads, streets and highways all year round, snow and ice be damned.
Speaking of winter, you might be concerned about weather-related events or problems. But Lapland has thousands of years' experience dealing with snow and sub-zero temperatures, and there are very few surprises in winter.
What about health, you ask (because you were a living, breathing human in 2020). Finland has a modern and efficient health care system. Health care in Lapland suffers somewhat due to the long distances between villages, towns and cities, but all the major destinations have health care services and transportation can always be arranged for more serious problems. The long distances between population centers also acts as a buffer against viral and infectious disease transmission.
Finland is a member of the European Union and has a stable economy. According to US World & News, Finland has a very transparent government, in line with the other Nordic countries (and our brother from another mother, Canada). Any dealings you have with police or other officials are open and honest. Finns wouldn't accept it any other way.
While some other European countries struggle with internal strife or extremist violence, according to the 2019 Global Peace Index, Finland has a high state of peace, ranking Europe's 9th most peaceful country. While no one can predict tomorrow, the trend in Lapland points toward more peace and lasting safety.
Women travelers can rest easy in Lapland, as Finland ranks as the 3rd most gender equal country in the world (and we're always top 5 year after year). Women are full members of society and are treated with the same respect and courtesy due everyone. People are generally helpful, and if there are problems or trouble, help is never far. Some service operators like Discover Lapland even offer women-exclusive tours and events.
LGBT travelers visiting Lapland are welcome to express themselves openly and honestly. According to Rainbow Europe, we rank 6th in Europe in terms of laws and policies that protect the rights of the queer community. Discrimination is illegal here, and Finland is considered one of the safest countries for LGBT travel. While the locals of Lapland can skew a bit more conservative than metropolitan Finland, there are regular pride parades and queer events and celebrations at destinations across northern Finland.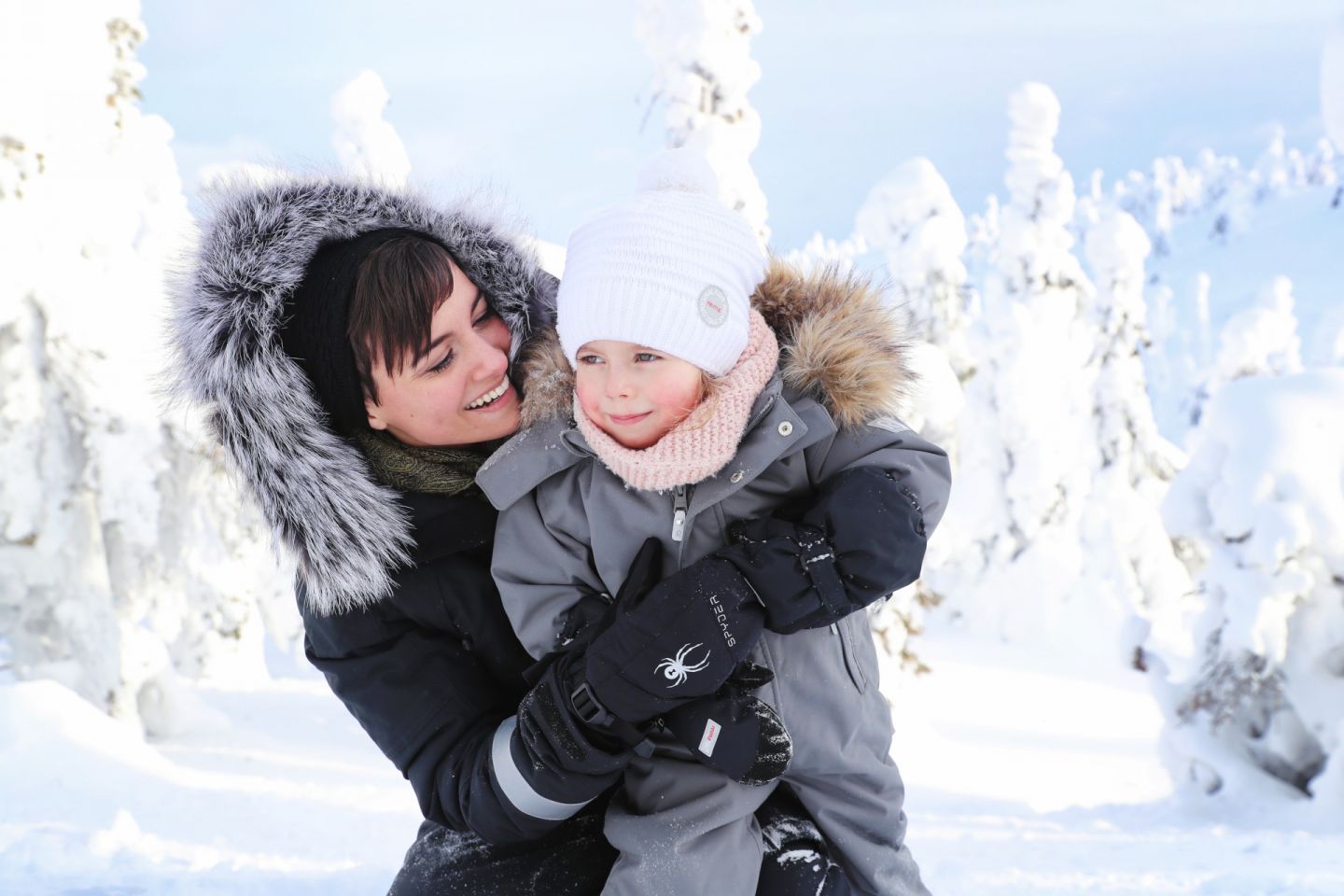 Photo by:
Ruka-Kuusamo | Harri Tarvainen
Snow
When you think of Lapland, there's a good chance you're also thinking of snow. That's natural—snow covers Lapland for six months a year. The first snowflakes drift down in September and by January, the ground is blanketed and stays that way until May. With all that snow, there's no end to the kinds of fun and adventures you can have.
Winter outdoor activities are one of the biggest draws to Lapland. When you step off an airplane to a world covered in half a meter of snow and ice, your first thoughts turn to skis, snowshoes, toboggans and frozen waterfalls, fatbikes and ice-skates. Those looking for more speed can hop on a snowmobile and drive across frozen rivers and expansive lakes, not to mention explorations of snow-capped forests and rising fells. Combine a trip across the snow with a furry friend and take a husky sleigh ride. Or you can travel like Santa Claus and have a reindeer take you on a gentle journey. No matter what your speed, you'll find fun and exciting things to do in northern Finland.
With all that snow lying around all winter long, it's no wonder some Finns have taken to using it as a construction material. Finnish Lapland is the best place in the world to see, enter and experience snow buildings such as igloos and ice saunas, as well as bigger buildings like snow hotels and the famous Lainio SnowVillage. And of course, you can't talk snow buildings without mentioning the biggest in the world: the Kemi SnowCastle.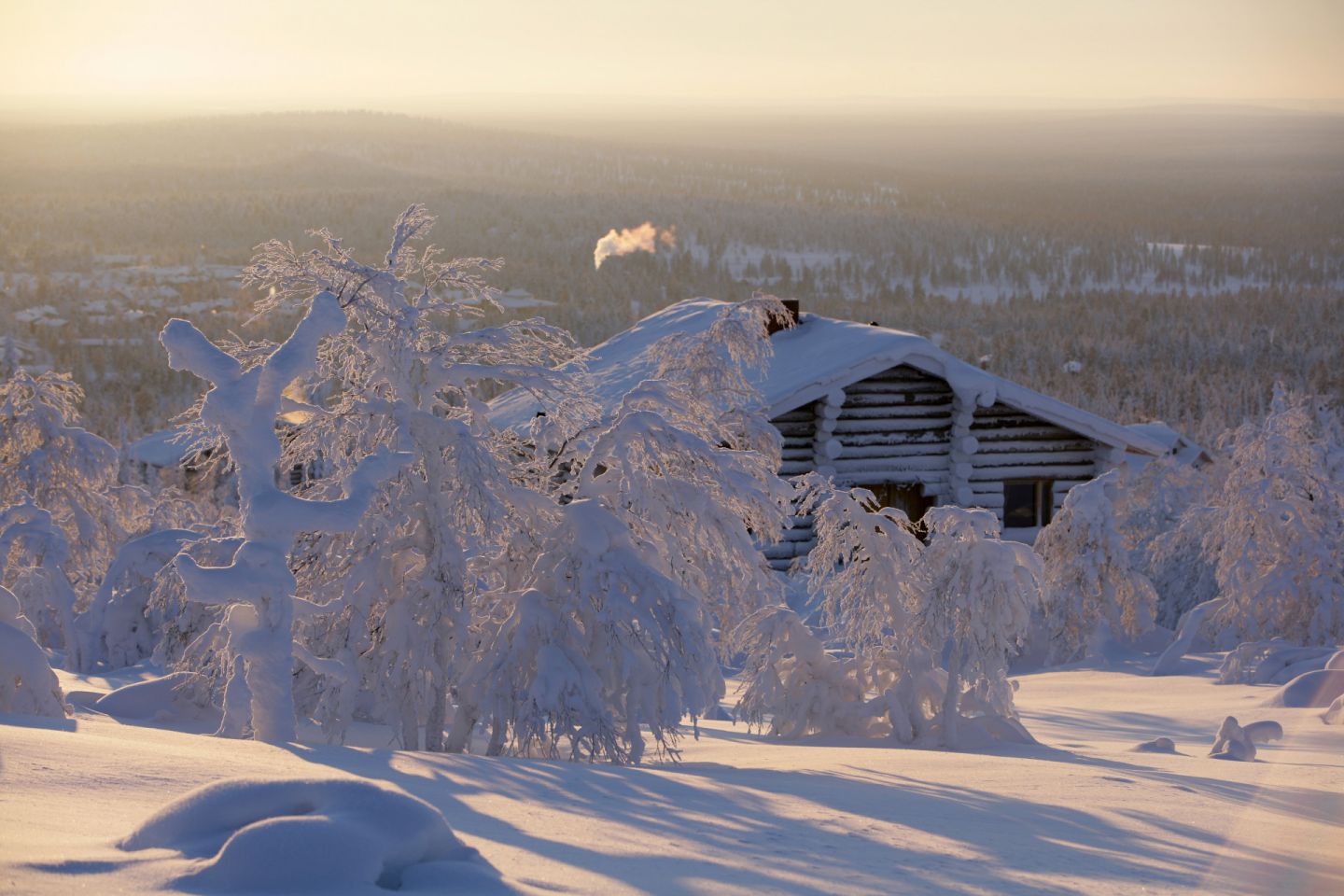 Photo by:
Inari-Saariselkä Tourism Ltd.
Sustainable Travel
Balancing the desire for an unforgettable Arctic holiday and the necessity of responsible travel is not always easy. Luckily for you, Lapland has always kept sustainability a priority. It's not just a matter of bring visitors to Lapland—we take great pride in our magical forests and snowswept landscapes. There's a lot we could say about our responsible tourism operators, our eco-hotels and green adventures. That's why we wrote a Sustainable Travel Guide.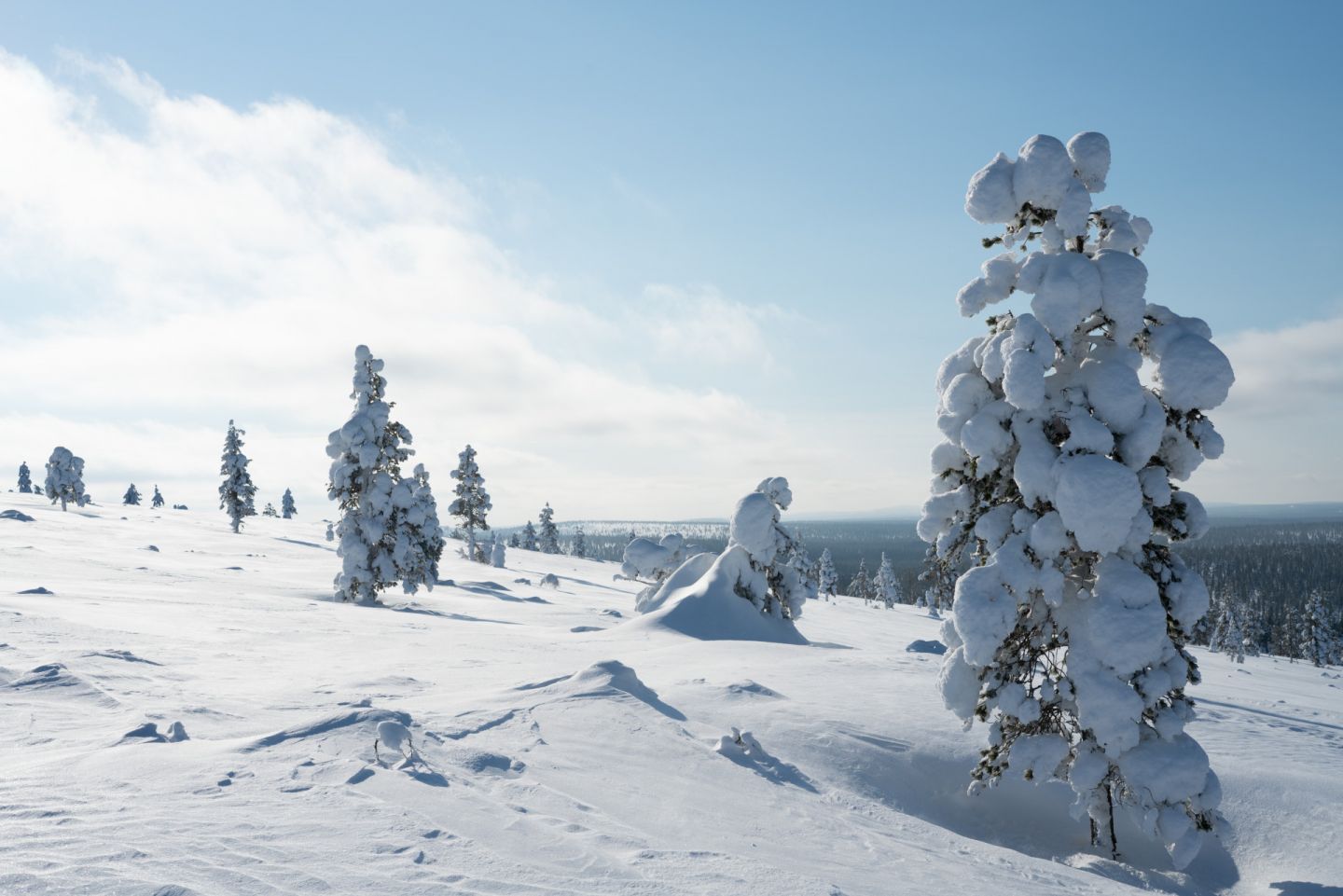 Northern Lights & #darkskies
If you visit Lapland anytime around Christmas, you might notice … the sun doesn't rise. Well, not really. Instead, the horizon glows in pastel colors. This is called Polar Night, and it's one of the reasons it's so easy to experiences the dark skies and Northern Lights. From September to March, nights grow longer and longer, and if you look to the north, chances are very good you'll see the magical aurora borealis swirling in front of the majestic Milky Way. At the Arctic Circle, the Northern Lights appear about every other night, but increase in frequency the farther north you travel. In northernmost Lapland, auroras are an almost nightly occurrence. Virtually anywhere you go in Lapland, you'll find operators who are happy to take you to their favorite spots for seeing skyfire for yourself.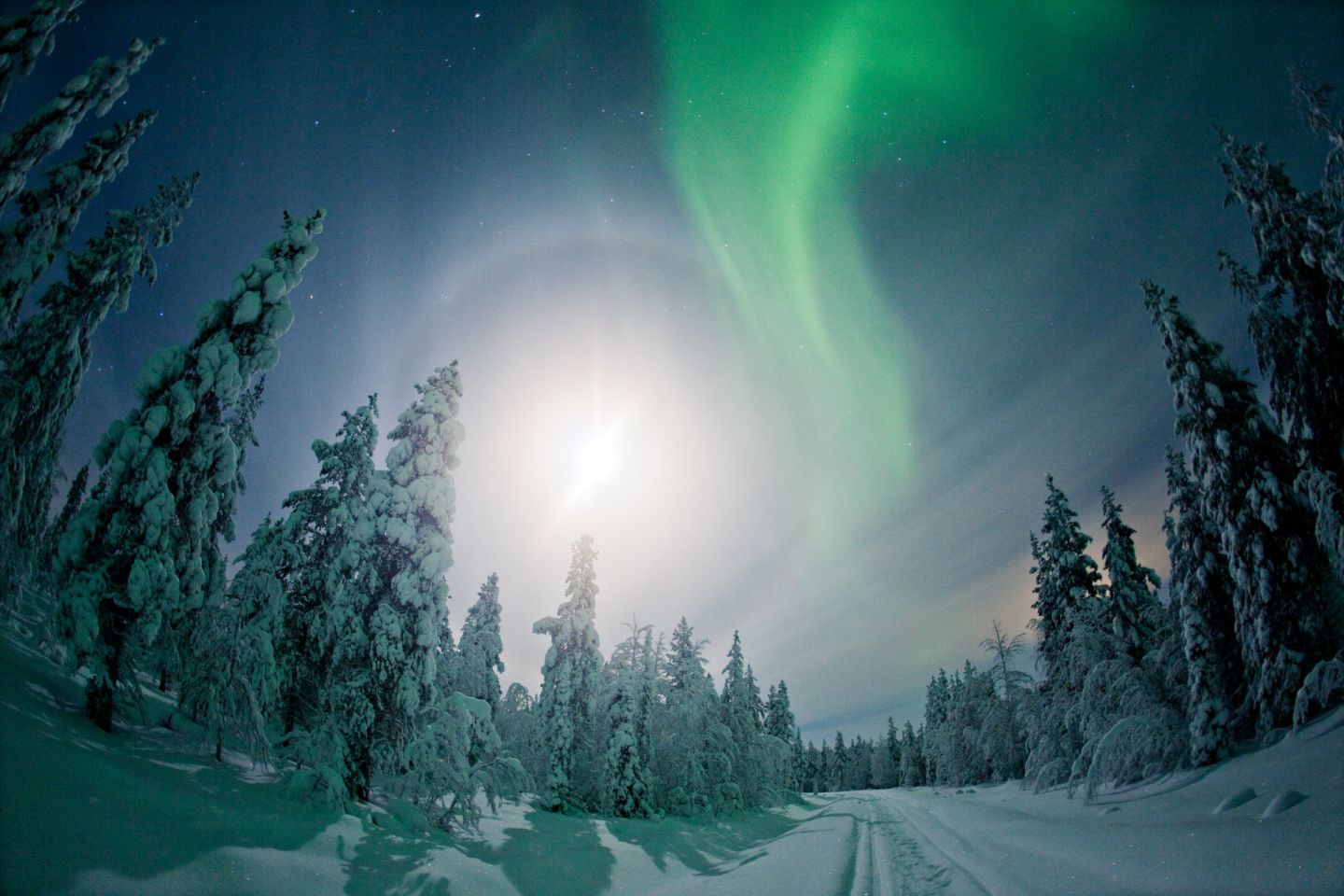 Photo by:
Visit Finland | Miikka Niemi, Flatlight Films
Special Accommodation
Here in Lapland, we know that hotel rooms are pretty much the same everywhere, whether it's desert sands, tropical jungles or snow-crowned trees outside your window. That's why you'll find many different places to rest your head that you can't find anywhere else. Like aurora igloos, for example. These glass domes combine modern, minimalist design with large glass domes that reveal the sparkling stars and (fingers crossed) the Northern Lights.
Lapland is also home to many different glamping sites, where you can sleep in luxury while still being only a tent flap away from the endless snow and thrilling chill of winter. For those that prefer fireplaces and bear skins, you'll find log cabins ranging from traditional, rustic cubes far from the civilized world to modern alpine chalets slopeside.
And there's no shame in wanting to spend your nights in a hotel—that's why they exist. But Lapland offers a variety of suites to make your hotel experience as memorable as any reindeer ride or Northern Lights trek. For those who want the convenience of a hotel and the novelty of something truly Lapland, try a night or two in a SnowHotel, snoozing on a bed made of ice and snow.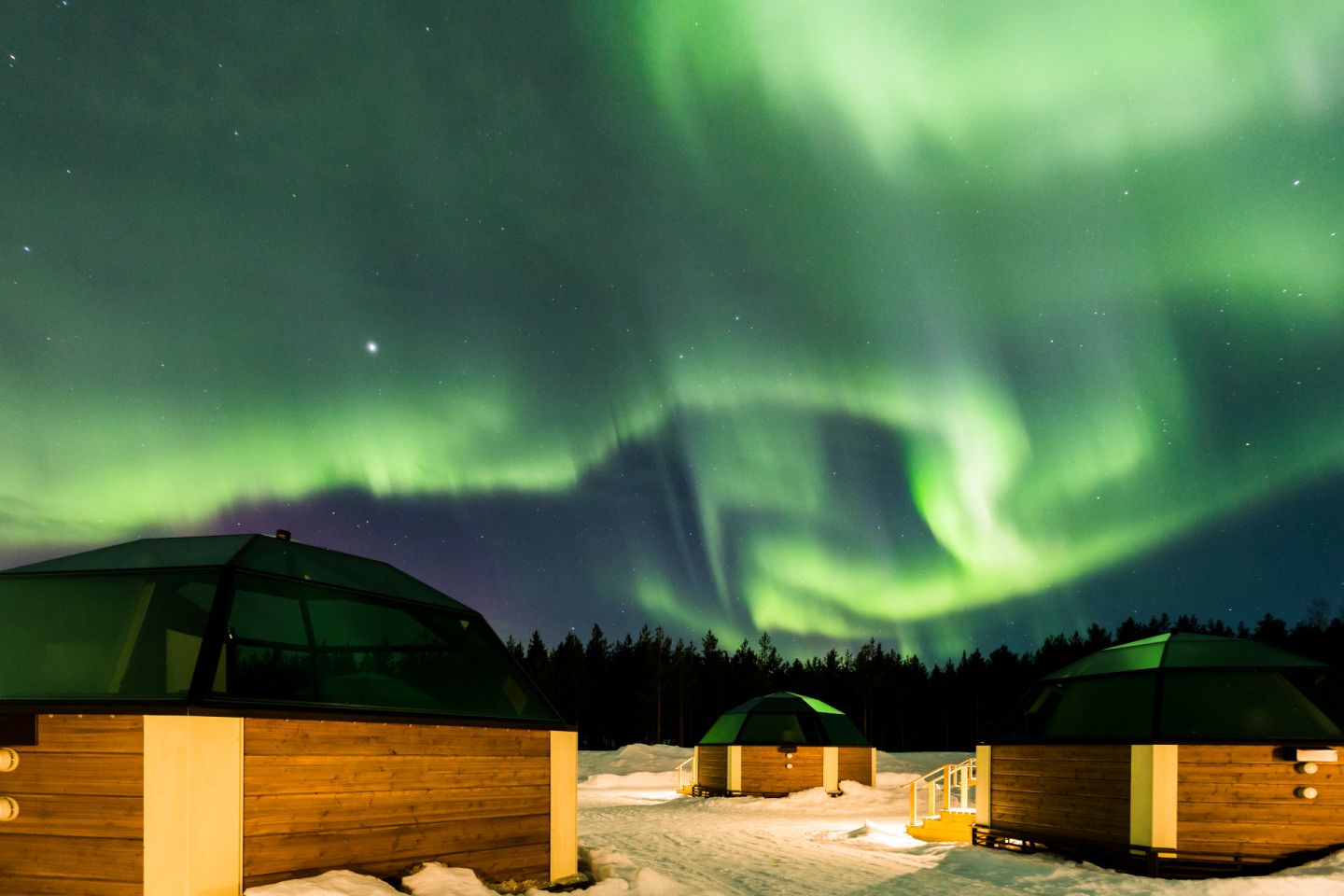 Photo by:
Visit Rovaniemi
Winter Events
Finns don't just pack up and head inside when the snowflakes start falling. Winter is full of sport competitions, parties, celebrations and more. Ski competitions are the norm at many ski resorts across Lapland, followed by After Ski parties and events in April as the season winds down. Ice hockey games—not overly dependent on the weather—happen in many cities and towns throughout winter. And far to the north, there's the Skábmagovat Film Festival, no doubt the coolest film festival you'll ever attend.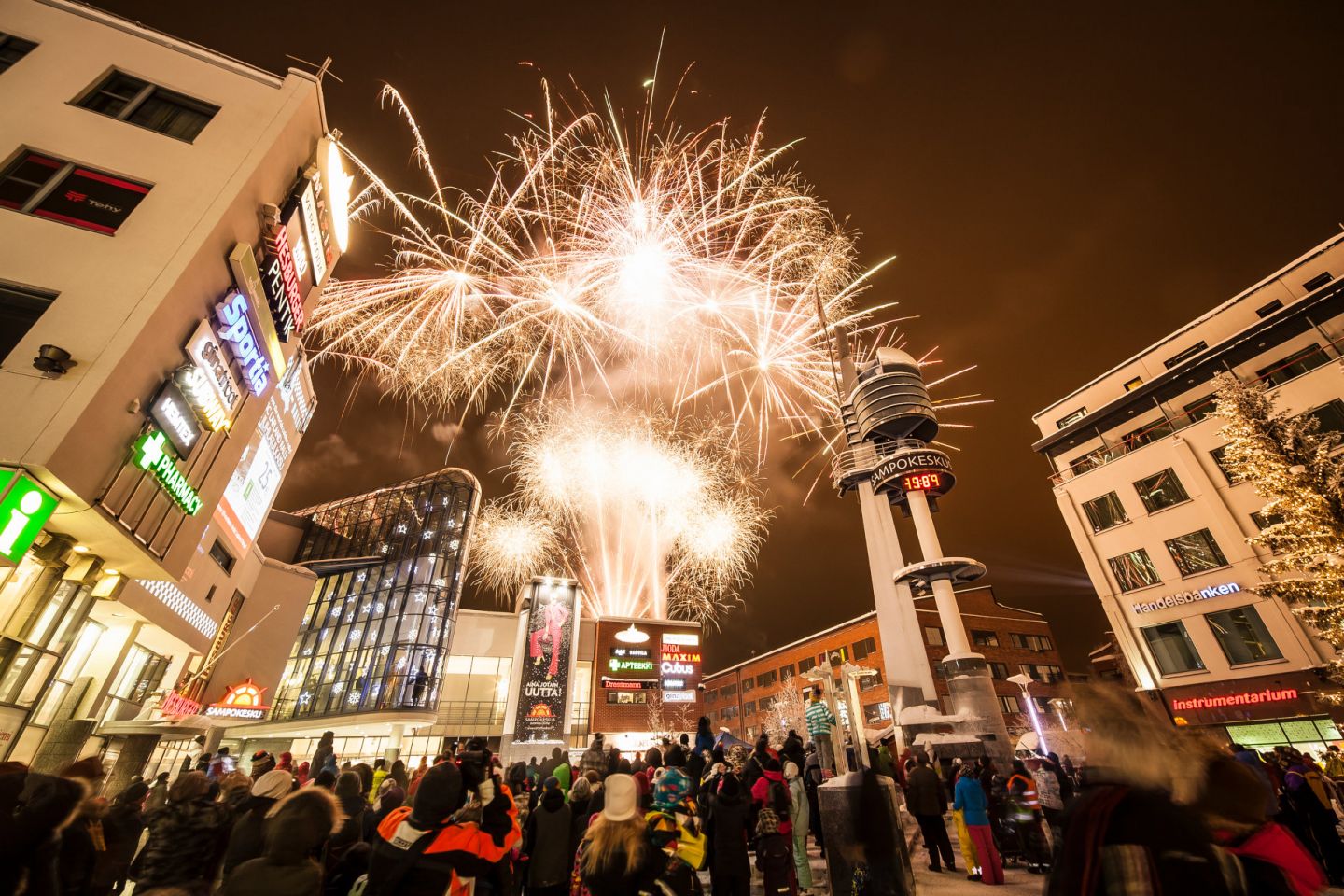 Photo by:
Visit Rovaniemi
Culture & Wellbeing
Winter is such an important part of Finnish culture, from the sports that are part of our active lifestyles to age-old traditions that have existed for thousands of years. Cross-country skiing, or as Finns refer to it—skiing—has been practiced in Lapland for nearly five thousand years. But some other winter sports that Finns and winter travelers love include ice swimming. This is when some crazy person has carved a hole in the ice, and you're expected to voluntarily enter that hole and not die. Fortunately, ice swimming is almost always paired with sauna, and a few trips back and forth is just the thing to get your skin tingling and your heart pumping. Another fun sport in the winter is ice fishing. This too involves a hole in the ice, but it's the fish that swim, not you.
Part of Lapland's winter culture also includes the notion of well-being, or as Finns might call it, just being. Saunas, a Finnish creation, come in different sizes and shapes, smoky and steamy, (and occasionally Turkish for some eastern flavor), and you'll find them everywhere. Many apartment buildings, if not the apartments themselves, have saunas, as well as many hotels rooms and cabins. There are unique saunas like the ice saunas at the Arctic SnowHotel & Glass Igloos, or the and tent saunas that pop up wherever someone needs to disrobe and steam themselves alive again.
There is no place like silent Lapland for yoga, no disturbances and clean air to cleanse the body while breathing in and out…. A modern fusion of wellbeing practices is Arctic Yoga, which can help you focus your mind and energy among silent Arctic landscapes and extreme conditions.
And lastly, who doesn't love a hot tub? There's nothing better than melting under the bubbles as snowflakes alight on your nose. You can find hot tubs just about everywhere in Lapland, but they are also sometimes offered by accommodation providers and in some apartments. And nothing compares to sitting outdoors, in a wood-fired hot tub, as the auroras celebrate in the dark sky.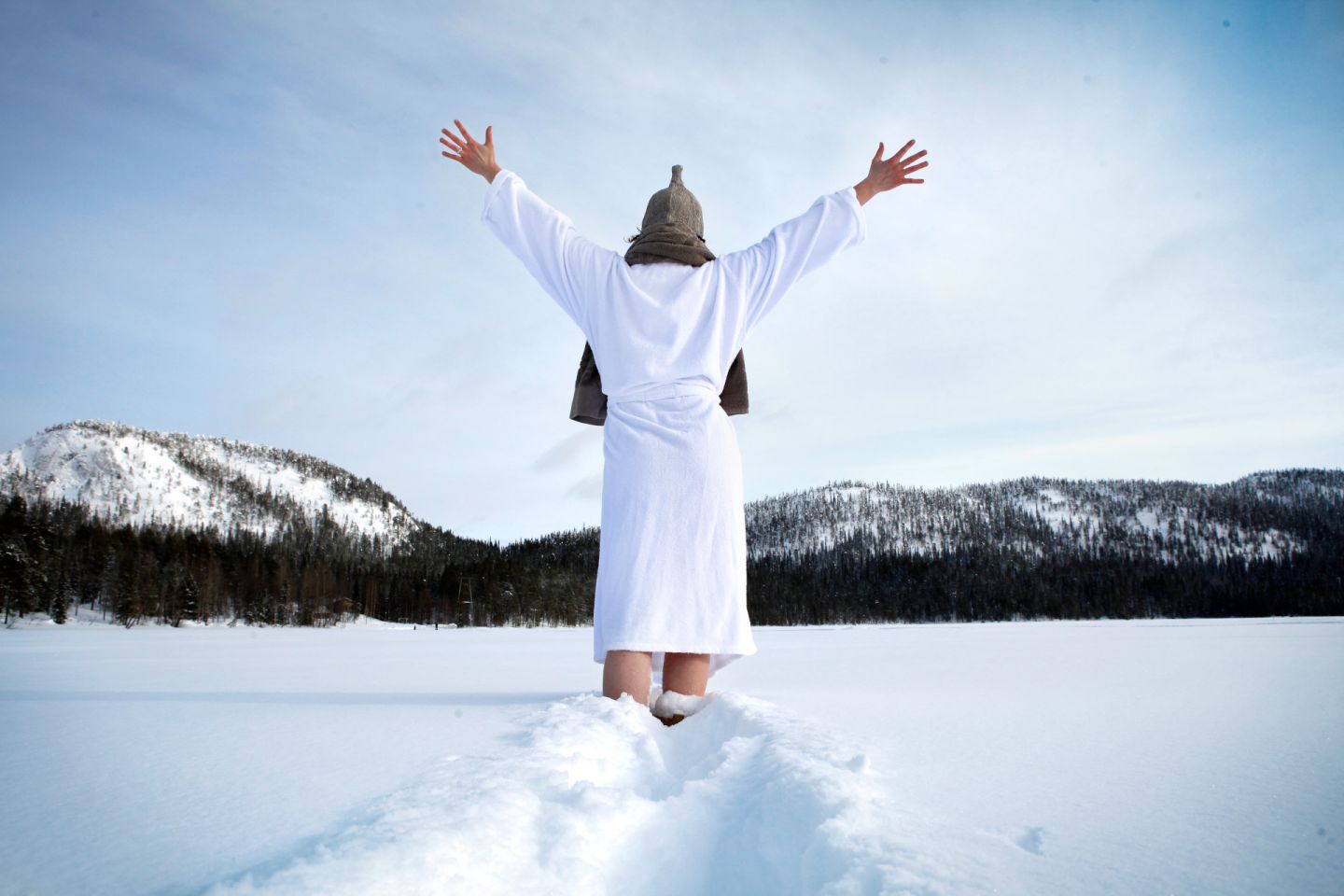 Photo by:
Harri Tarvainen | Visit Finland
Christmas & Santa Claus
One of the main reasons people come to Lapland in winter is because we're home of the most famous holiday icon of all time: the Easter Bunny.
Just kidding, of course. Lapland is the home of the real Santa Claus, with his secret workshop under Korvatunturi Mountain, and his hometown in Rovaniemi. You can visit Santa any day of the year at Santa Claus Village, but to really understand how beloved our most famous resident is, you'll have to come in the weeks before Christmas, when it seems that every other person in the world stops by to give holiday greetings to Big Red.
Santa Claus Village in the winter is the perfect place to stay, with holiday cabins, aurora igloos, the Arctic TreeHouse Hotel, and more. You can even have Santa stop by and say a few words. Santa Claus Village is also a hub of winter activities, whether it's snowmobiles, husky dogs, reindeer rides, aurora hunting … whatever winter wonder you're looking for, you'll find it at Santa Claus Village.
The rest of Lapland is also a magical place to spend the darkest days of the year, as snow covers the world—especially the farther north you travel. Twenty-plus hours of dark means sparkling stars and great opportunities for spending time with your loved ones.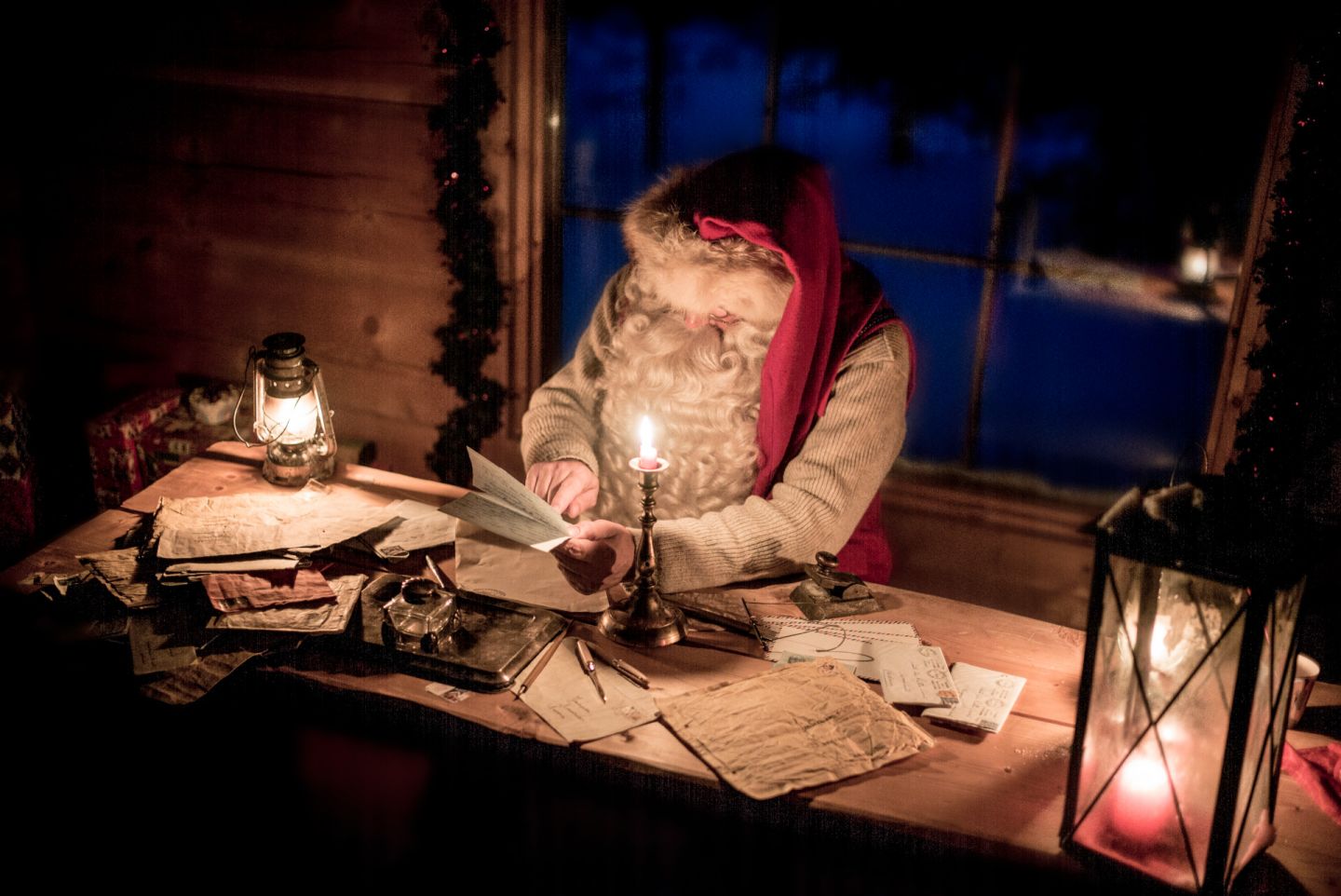 Photo by:
Visit Finland | Kimmo Syväri