Finnish Lapland is home to dozens of igloos, ice saunas & snow castles. Professional ice sculptor & builder Ilkka Karttunen leads us through some of Lapland's magical winter constructions. 
Have you ever made a snowball and wondered … what else? A snowball is easy enough to craft, but how do you make a cube? A cylinder? The Arc De Triomphe? Luckily, Lapland's own Ilkka Karttunen is here to guide us through the technical and magical world of sculpting masterpieces, from snowballs to snow villages, using only snow and ice. 
SNOW-HOW
In Ranua, just below the Arctic Circle, temperatures drop to freezing for the first time usually in October or November. When Ilkka sees the frost crystals creeping up his windows and frost flowers blooming on the bare trees, he knows the season for snow sculpting is almost here. In the warm summertime, his company Pohjoinen Disain works the land, but when the weather turns cold, they shift to working with snow and ice. His company packs up their chainsaws, wheel loaders and excavators—the same equipment they use for shaping the land—and work across Lapland constructing snow and ice environments.  
So how does it begin? First, you need molds, and these are made from wooden boards. You build the box and then you reinforce them with more wood and screw it all together tightly. Next you pack in the snow, compressing it while you add more and more. When the box is full, you just remove the boards and voila! Now you have a block of packed snow, ready to be sculpted. Ilkka uses just about anything he can get his hands on for sculpting: shovels, saws, axes, chisels, even excavators for bigger projects. The sculpting is done according to the wishes of the designer. Sometimes you start with a sketch painted onto the snow, and sometimes you just dive right in. 
Ice, on the other hand, is a bit different. First you get the ice, sometimes from a company, but Ilkka prefers pulling it straight from the frozen lakes or rivers. Rivers produce the best ice, as the flowing water clears the bubbles and impurities away, leaving only crystal-clear ice. For ice, you use different tools, like axes, chainsaws or chisels specially designed for ice sculpting. Drills and other power tools really come in handy. Ice-sculpting demands more from the tools than snow sculpting, but the sculpting itself is quite similar. 
For an up-close look at ice sculptures, visit the Ice Gallery at SantaPark in Rovaniemi. Every year, a new collection of stunning sculptures is erected. And don't worry about the cold—the Ice Queen is happy to loan you a warm jacket before you head inside. 
If you're itching to try your hand at snow and ice sculpting yourself, Ilkka organizes courses for interested parties. And the University of Lapland in Rovaniemi even offers multiple courses and workshops under its Arts & Design program.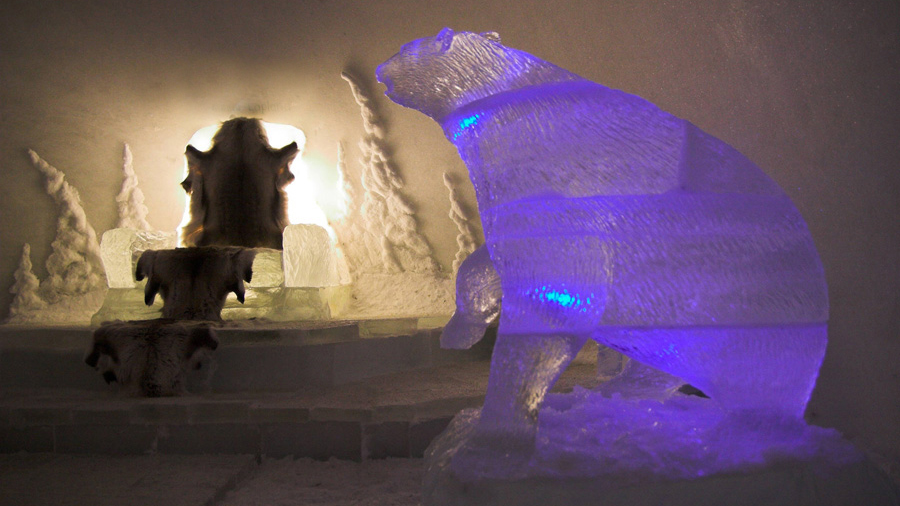 Photo by:
Arctic Wild Ice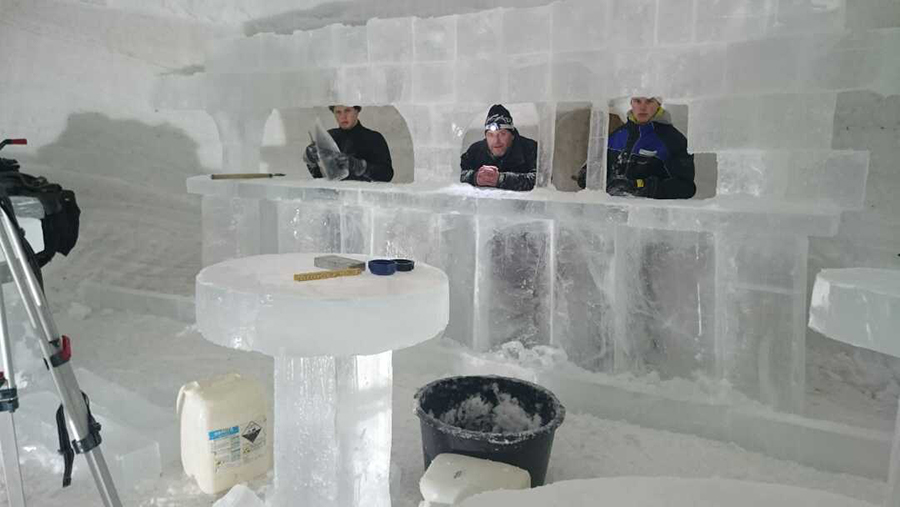 Photo by:
Arctic Wild Ice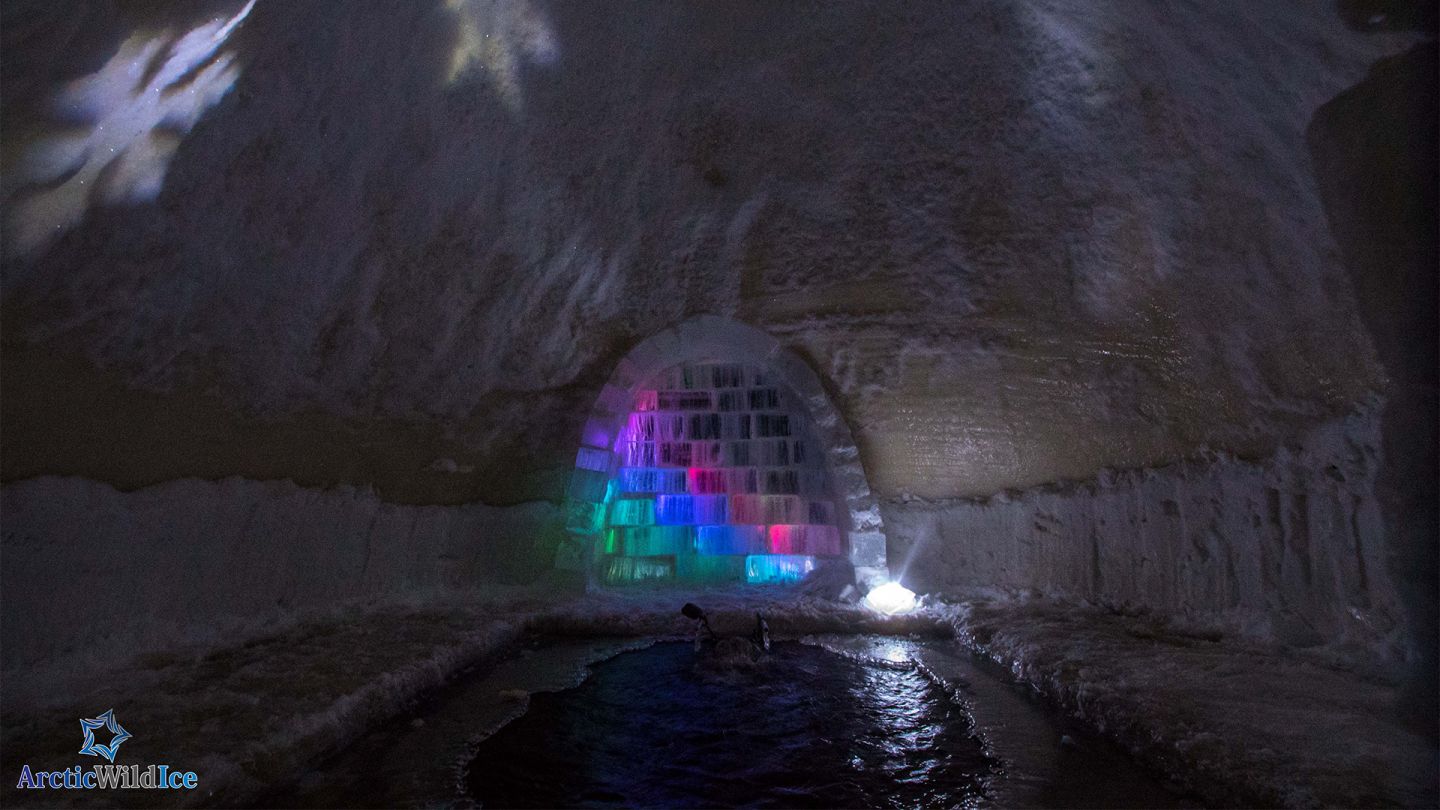 Photo by:
Arctic Wild Ice
ONE BRICK, TWO BRICK, WHITE BRICK, BLUE BRICK
As with any material, the properties of snow and ice determine what you can do with it. Just as you can't build a skyscraper from Legos, you can't build a flat horizontal roof from snow or ice. This forces snow architects to think ROUND.  
Because snow bricks and blocks are very hard and versatile in construction, Ilkka and his crew can build walls, often topping the buildings with vaulted ceilings or cupolas. 
Snow and ice igloos are a popular winter attraction in Lapland. At the Lucky Ranch horse farm in Pyhä, you can snuggle up and spend the night inside an igloo. Of course, you can always pay a visit to the Arctic Wild Ice Snow Village, where Ilkka and his crew create a village of igloos every winter.
The last time to visit igloos is usually around April, when the weather begins to swing toward the warmer end of the thermometer. 
SPIRES OF SNOW & ICE
The Inuits, who gave us the word 'igloo', used to connect igloos with tunnels in order to create larger igloos. All across Lapland, you'll find snow buildings that range in size from a few connected igloos to the largest snow castle in the world. 
At the Ranua Wildlife Park, you can see Ilkka's handiwork at the Ice Restaurant, complete with frozen bear sculptures. In northern Lapland, take a snowmobile sledge-ride to the Hetta Snow Castle. Inside you'll enjoy a warm drink among the pillars of of hard snow.  
In Rovaniemi, the Arctic SnowHotel is an entire hotel made of snow, with tunnels of snow, bedframes of ice and even a sauna made of snow.
Head north to visit Lainio Snow Village. This Snow Village became world-famous in 2018 and 2019 for its Game of Thrones-inspired sculptures and rooms. What frosty wonders will they carve this year?
Luvuttumaa erects a snow castle every winter, including an ice gallery, an ice chapel (for a real white wedding), and even ice hotel rooms.
And of course we can't talk about snow castles without talking about the Kemi Snow Castle, the largest snow fort in the world. Since 2019, the experience has been open year-round, even under the warm Midnight Sun. The Snow Castle combines impressive architecture and a myriad of snow sculptures and reliefs, as well as a Snow Restaurant that seats 200, and a bevy of hotel rooms made of ice and snow.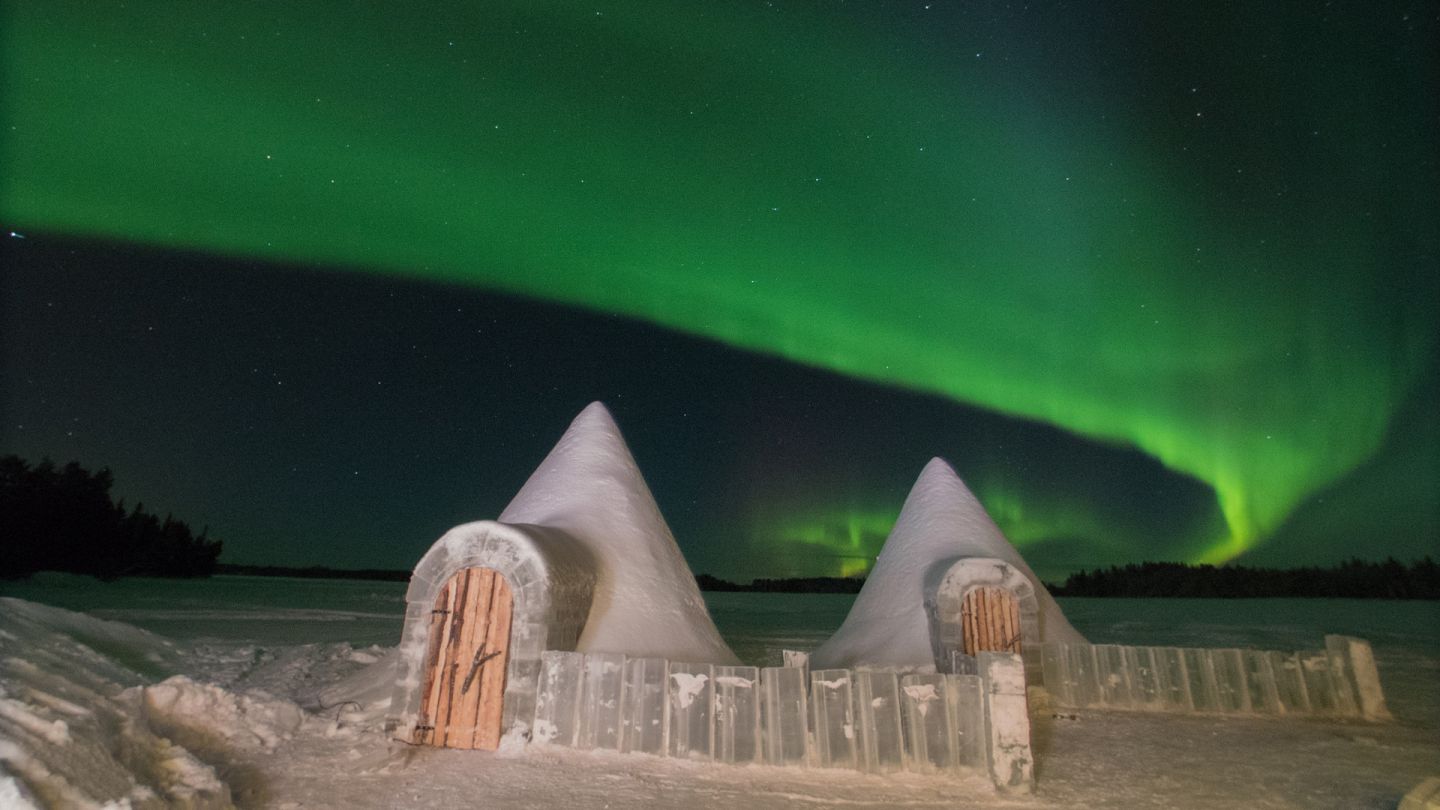 Photo by:
Arctic Wild Ice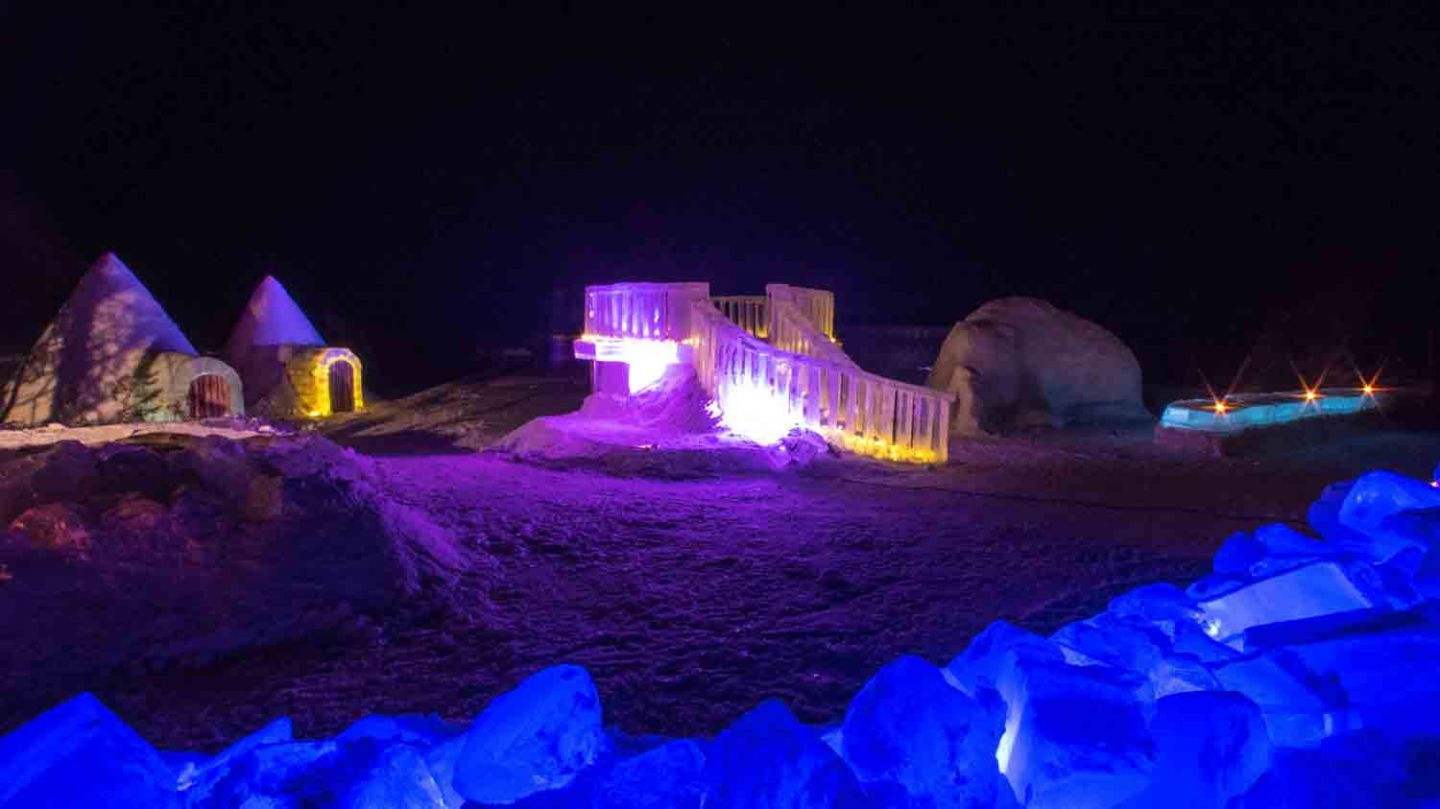 Photo by:
Arctic Wild Ice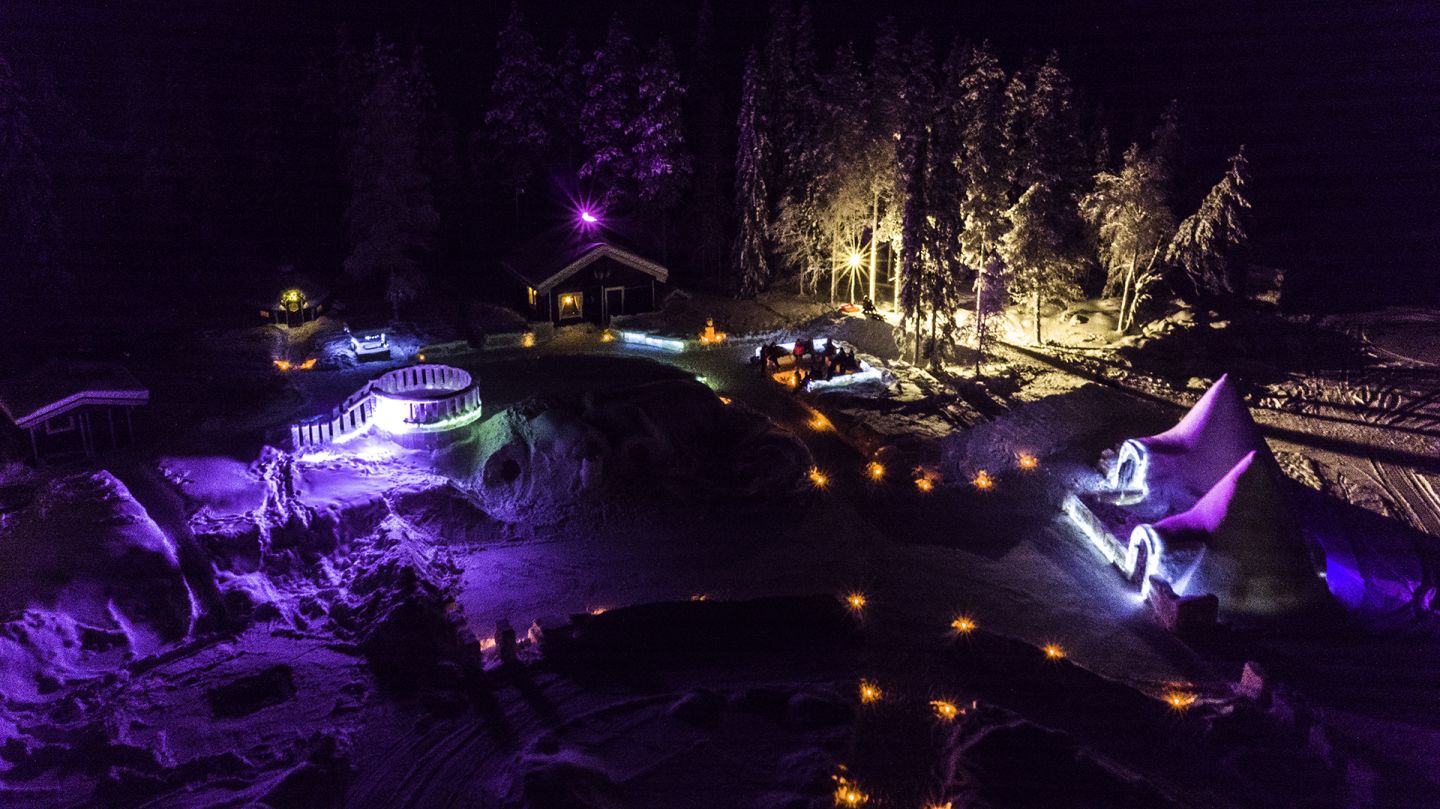 Photo by:
Arctic Wild Ice