We are featuring a new guest photographer every month, with their top 3 photo picks and professional tips for filming in Lapland. Our photographer of August 2017 is Eeva Mäkinen.
I was born in Liminka, Oulu Region, but I live in Helsinki at the moment. Right after high school I moved to Mexico and traveled the world as much as I could. At the age of 24 I remember counting over 50 countries that I had already visited.
Photography came along when I booked my flights to Galapagos Island in 2012. I though it would be silly to go there and bring souvenirs when the actual interesting part of the trip was the nature. I went to the store and bought my first camera which was one of the cheapest in the market. In five years I have updated my camera four times and lenses even more than that.
After traveling a lot I started looking for some new direction for my photography. I found a wilderness guide school and it felt like I was meant to go there. I got in and during that year I really learned how to use my camera, read the light and create the mood that I wanted for my photos.
Since that I have become a full time photographer and couldn't be more happy about that. I also love to do a lot of storytelling in different ways like writing articles to magazines and working as an outdoor producer.
HERE ARE MY TOP 3 PICS WITH TIPS:
1. A weekend full of frames
I was shooting Syöte National Park photos during last autumn and I had couple days time to get a lot photos. It was interesting to really focus on the light and how it's changing during the day. I was lucky with the weather and got to shoot from the first rays of dawn until the last shooting star. I slept only few hours in a day just to be able to see and capture everything that the landscape has to offer. One morning I slept in my car, and I woke up when a group of elder ladies were staring at me through the window and talking to each other "Is she still alive?"
Tip: Location scouting
Find out what places you are surrounded by. Lakes, rivers, view points, huts, everything that can make the photo interesting. Check where the sun rises and where it sets. Choose your night spot using that knowledge. Then just let the photo come to you. The more time you spend outdoors the more you have opportunities to shoot with the perfect conditions. If you find a nice spot, return to it.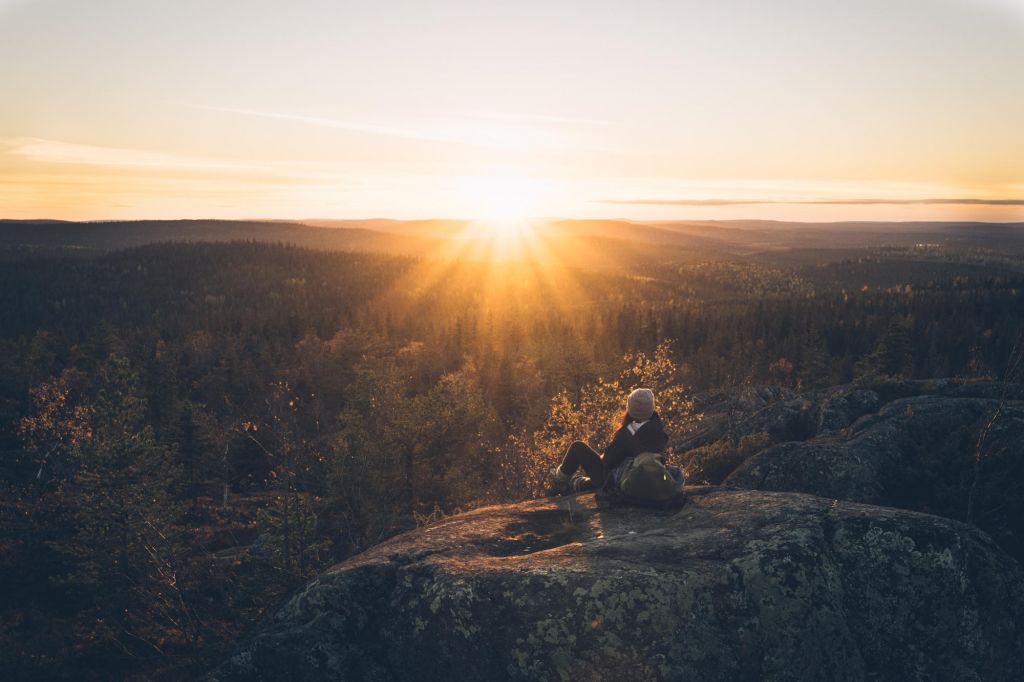 2. Chasing the midnight sun
I was in Inari during the midsummer and wanted to shoot the Midnight Sun. We went on a road trip and found a herd of reindeer in the woods. Even there is still light outside, the forest does get pretty dark during the night. I really loved the mood, the darkness and the challenge of course. One shot out of few hundred was a successful one and I caught this guy on my camera. This is definitely one of my favorite shots from the trip and it's pretty fascinating to think the it's been taken during the night.
Tip: Always take the shot
Even you think it's not worth it, take the shot. Your camera might be stronger than you think when it comes to harsh conditions or dark light. You can always see after editing the photos if it's usable. This shot was taken with high ISO but I was able to take the grain out and make it good to use.
It doesn't always have to be the most amazing sunrise or sunset of the day. Recently I have started to enjoy photos where the mood has been created with other ways. Simple color world works for me. Fog and dark forest are my favorite elements at the moment.
3. Enjoying challenges
When it comes to being alone in the woods, I love it and I hate it. Sometimes I get so scared that it's hard to focus on anything else. This was one of those nights when I had to push myself to think about good things. It was extremely windy outside and I was camping on a top of the fell so the wind made me feel a bit uncomfortable. I waited for hours in my tent to fall asleep but I just couldn't. Luckily my alarm was going on at 2am so I could finally get up and start shooting. Sound fun, right? The night and the morning turned out such an amazing spectacle that afterwards I'm super happy that I went there – and stayed even when I thought I just couldn't handle the fear anymore.
Tip: Have a model or tripod:
I use people in my photos to tell the stories better and to create the feeling that it could be you in the nature enjoying that same moment. I love to inspire people to go outdoors and experience life in the nature. Most of the time I travel alone so I carry a tripod for selfie shots. I can leave the tripod far away and hike up to the place where I need to have a person. Sometimes I also travel with friends and use them as a model.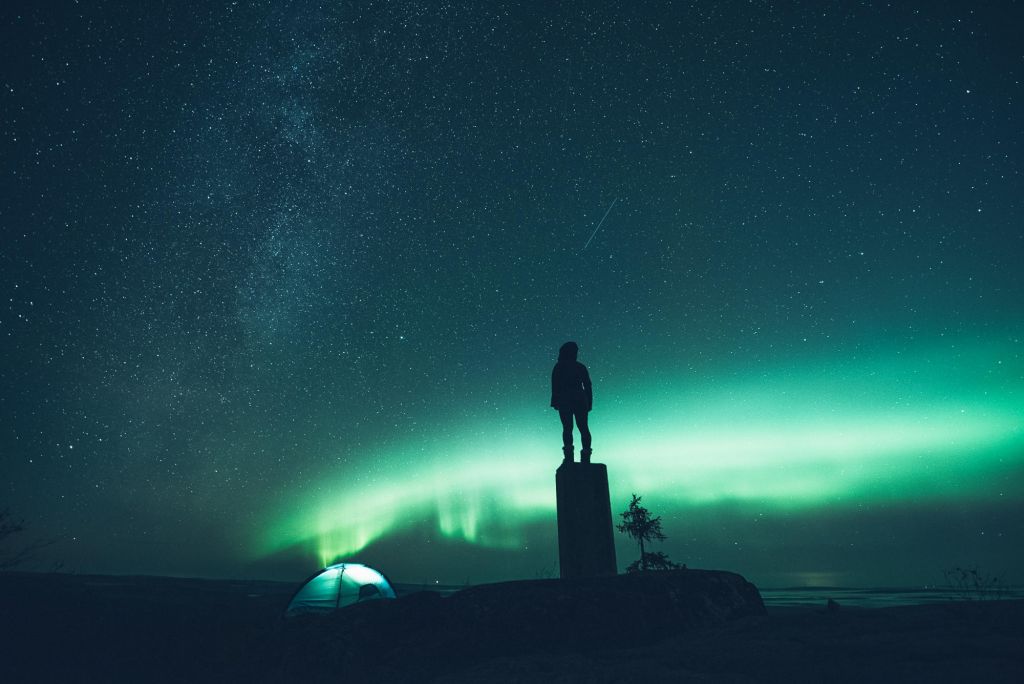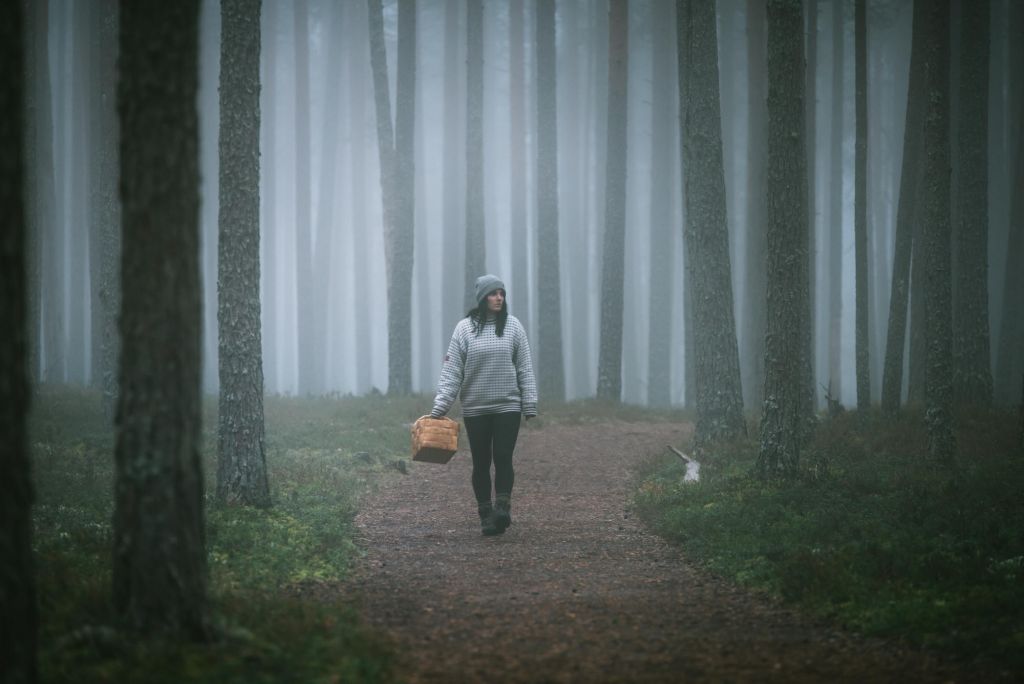 Name: Eeva Mäkinen
Age: 28
Based in Helsinki, Finland
Occupation: Photographer and Producer
Fun fact: I worked 10 years in VIP clubs as a hostess and Key Account Manager. During the last years I could sleep the previous night in the woods shooting and go straigh to work to the night club with some leaves in my hair.