We are featuring a new guest photographer every month, with their top 3 photo picks and professional tips for filming in Lapland. Our photographer of November 2017 is Tiina Törmänen, who says photographing is a lifelong journey.
I come from a remote village in Posio, in southern Lapland. My family has lived there for hundreds of years. I was fortunate to experience childhood amidst the woods and lakes. My family has always hunted, fished, picked mushrooms and berries, and the children have always been included in all that. For me, being in the forest is a natural part of life – like being at home.
I moved to Helsinki in 1997 at age 16 to study to become a restaurant cook. In the subway in Helsinki I saw posters of photographic exhibitions, and I became interested in photography. The next summer I bought a system camera with my summer job wages, and I took a course in black-and-white photography. I have taken photographs ever since, almost 20 years now.
When I lived in Helsinki, I only took documentary photos of people and life around me. I took my camera everywhere I went. I applied to art schools to study photography for several years, but I was never accepted into any of them. The last time I applied to a school was in 2006. In the last phase of the entrance examination for the Turku Arts Academy, I was told: "You are too good for this school; you are not going to have the motivation to photograph squirrels with the rest of the students."
So, I did not make it into school. In the early 2000s, when photography was going digital, it was difficult to embark on a career in photography without professional training. Cameras were expensive and poor-quality, the Internet was still in its early stages, and there was no social media like today. However, I continued photography along with everything else (which is another story, because I have lived a very eventful life). In 2011, I felt that I needed a change and had experienced enough of city life. I used all my savings to purchase a DSLR camera and moved back to the north.
I had never thought that landscape photography was for me, but during seasonal jobs in Lapland, I started to photograph the landscape around me, and I'm still on the same path. I have photographed northern landscapes with a passion for the past few years, travelling around for most of the year, and I have honed my skills to an international level. My future plans in terms of photography include teaching photography and leading guided photography tours around Lapland together with photographer Antti Pietikäinen.
HERE ARE MY TOP 3 PICS WITH TIPS:
1. Map-reading
Finland is a bit challenging when it comes to landscape photography, as we do not have massive elements in our environment, such as mountains, fjords or other immense landscape features. It is best to focus on smaller details and find interesting features in the landscape, such as the small pond in this photo.
Tip: Use terrain maps
One of the most important skills when moving about in nature is the ability to read a map and use a compass. Maps can also be used for finding subjects to photograph. Finland enjoys wide-ranging everyone's rights – anyone can freely enjoy the vast countryside – which is not the case everywhere around the world.
I like to study maps to find places that seem interesting, and then make an expedition to these sites. National parks may be great places for exploring the wilderness, but you may often find the best photography subjects somewhere else.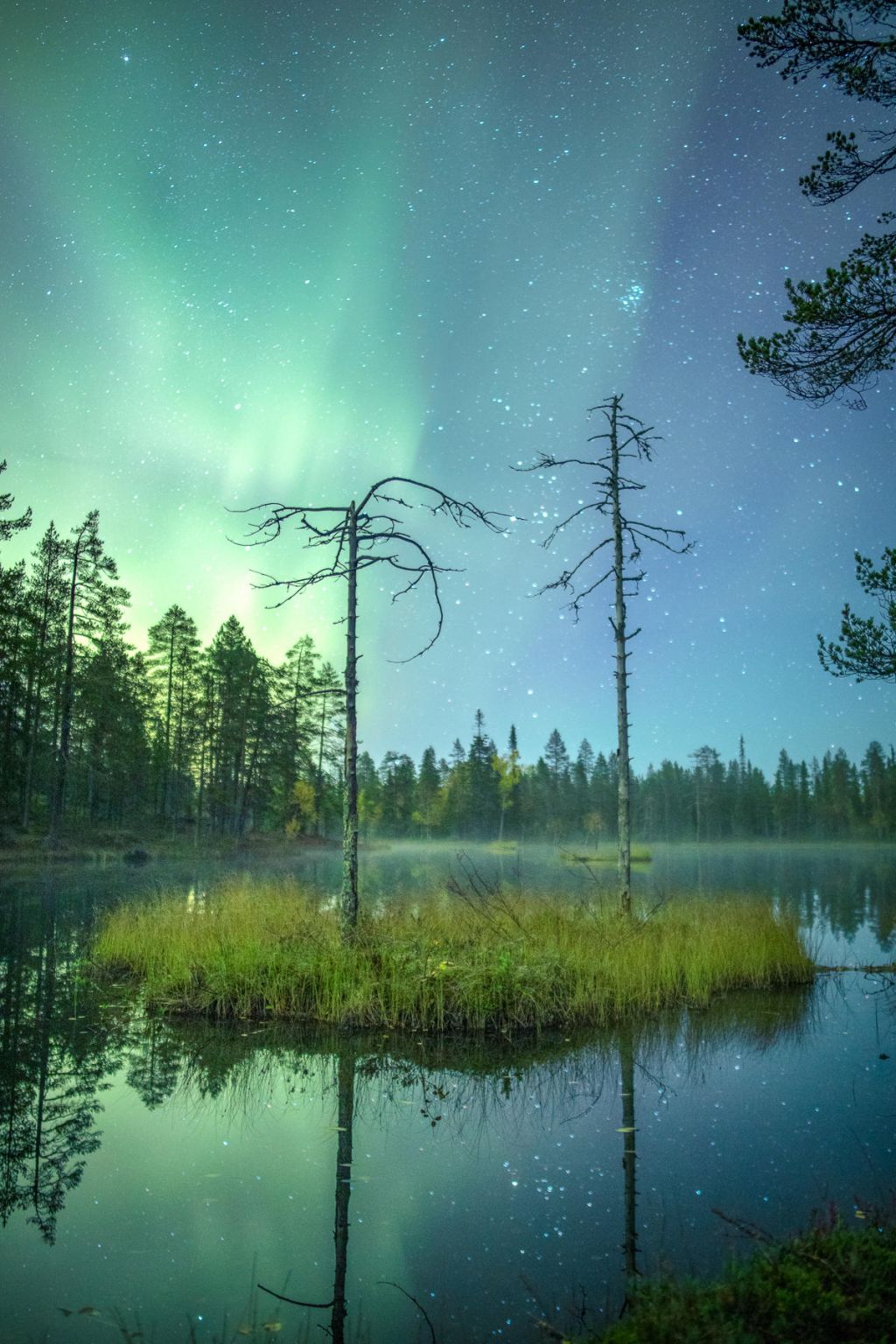 2. Experimental photography
When you have engaged in photography long enough, you start to get an itch for new and creative ways to produce photos.
Tip: don't be afraid to try different techniques at the time of shooting
This picture of the first snow of winter was taken using the ICM (Intentional Camera Movement) technique. The exposure time was set to be a bit longer and the camera was intentionally moved during exposure, so the result is a little blurred. With this technique, a painting-like atmosphere was achieved, quite on purpose.
Other fun effects that can be used when shooting include various types of filters and double exposure.
Nowadays, there is no limit to how much you can edit photos with a computer, but it is a totally different feeling when the material you get just with your camera, before image processing, gives you goosebumps.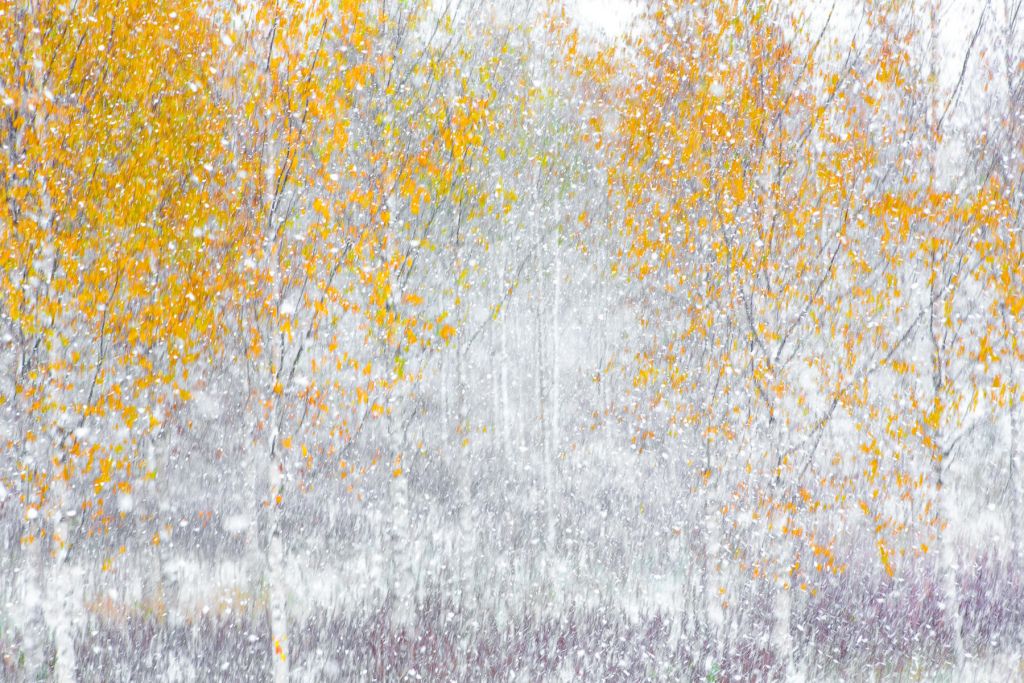 3. Photographing the weather
Last winter was a bit strange; the weather was very mild when I was in Kilpisjärvi in February. One particular day was really special. The morning started with a golden sunrise, then it rained, and I saw a rainbow over Saana Fell. In the evening, shining stars accompanied the Northern Lights, the moon rose, and, finally, nocturnal mother-of-pearl clouds appeared in the sky as storm winds of 35-40 m/s were blowing.
I had never seen mother-of-pearl clouds in the moonlight before; it was a really unique experience.
The photo looks so serene, but the wind was freezing. It was blowing so hard that I was able to lean on the wind. The atmosphere was cosmic, and despite the wind, I felt a deep inner peace. It was a meditative experience that I will never forget.
Tip: Take advantage of unusual weather conditions
Finland is an interesting place due to its weather conditions. The landscape and colors change depending on the season. Why not take advantage of the special weather conditions in photography? Everyone is familiar with the Northern Lights and shooting at night, but there are other weather conditions that you can study with your camera. I myself like mother-of-pearl clouds, because they appear less frequently than the Northern Lights.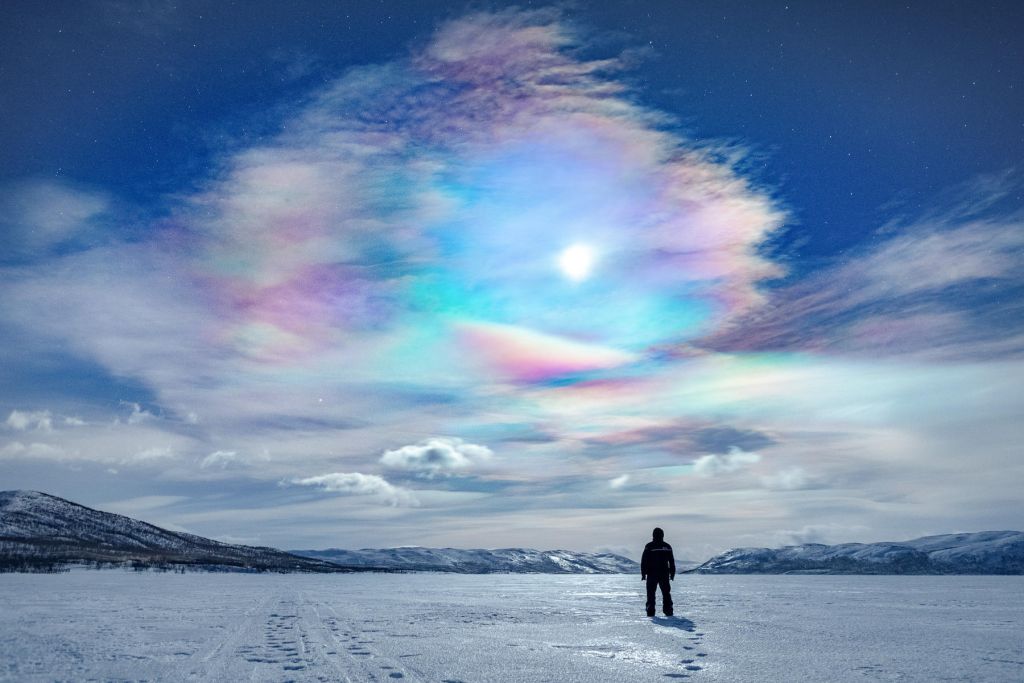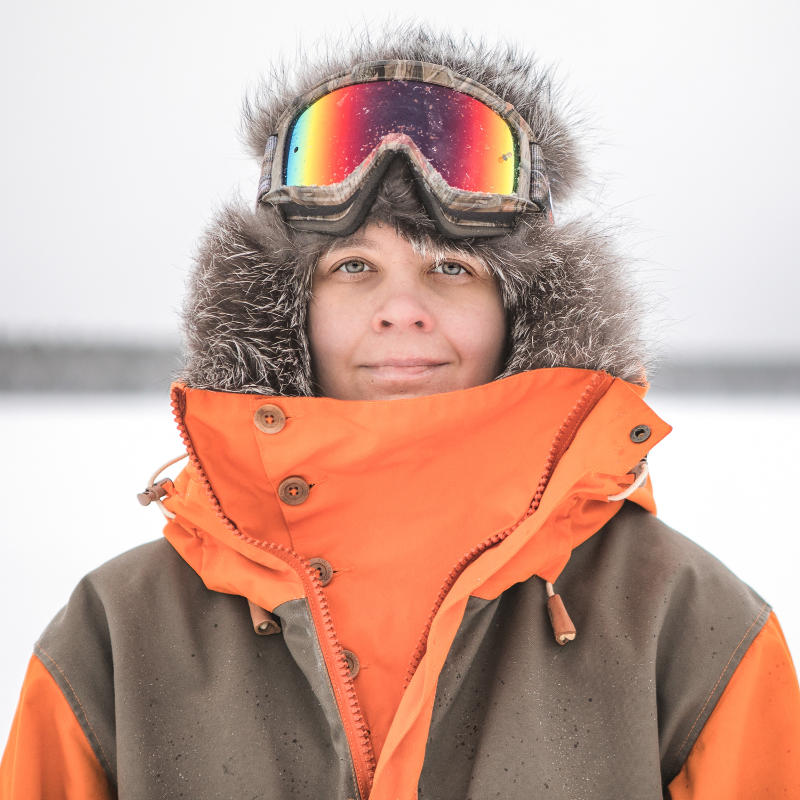 Name: Tiina Törmänen
Age: 36
Based in Oulu and around Lapland, Finland
Occupation: Photographer & Chef
Fun fact:  I learned how to use a knife and make a fire before I learnt to read.
Follow on
Instagram | Facebook
www.tiinatormanen.com