Tourism in Pyhätunturi area has grown steadily by two digits for the past four years. Lapland and Pyhä are constantly developing, but Pyhätunturi is so far still missing its first five-star hotel. The project Luxury Hotel Bassi is looking for an investor and an operator.
Mika Tenhunen, development manager in Pelkosenniemi municipality describes the planned hotel.
— Hotel Bassi will be a five-story and 108 room luxury hotel with large rooms, starting from 28 square meters up to 108 square meters. The exterior has a classic overall appearance, whereas the decor inside is comfortable and inspired by Lappish nature. Therefore, Hotel Bassi offers an ideal hideaway location with beautiful nature, breathtaking views and privacy – yet being close to all amenities.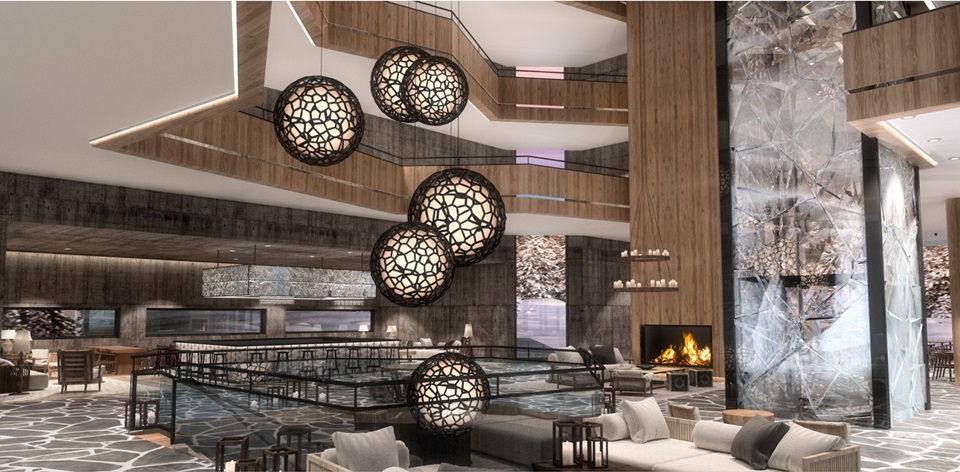 Photo by:
Pelkosenniemen kunta
A developing tourism destination within easy reach
Pyhätunturi is accessed via plane and train easily. Nearest airports are in Rovaniemi, Kittilä, and Kuusamo. Rovaniemi airport is located 90 minutes away from Pyhä, and the SkiBus shuttle operates after every flight.  Kuusamo airport (195 km / 121 miles) and Kittilä airport (155 km / 96 miles) are also quite near. By train, the closest stops are at Kemijärvi and Rovaniemi. The SkiBus shuttle operates also from these locations. During the winter season, the SkiBus operates four times a day from Rovaniemi to Pyhätunturi. During the summer season, the SkiBus operates twice a day. Thus, Pyhä is reachable all year round.
In Pyhätunturi (Pelkosenniemi municipality) there were over 104 000 registered overnight stays in 2018 and the yearly growth rate 2016-2018 has been strong. The share of international overnights is around 20% of the total overnights, but there are strong efforts in increasing the international tourism in the area.
Pyhä is a part of a larger tourism area, Pyhä-Luosto. In 2018 there were 176 000 registered overnight stays and the average length of stay in Pyhä-Luosto is longer than generally in Lapland. In Pyhä-Luosto, the average growth rate has also been faster than in Finland in general.
Winter season is stronger at the moment but summer tourism is developing positively. During the summer and autumn seasons, Pyhä has to offer many activities, including horseback riding, hiking, biking & canoeing. Finland's oldest national park Pyhä-Luosto is open all year round. Pyhä has development potential during the summer season.
Hotel Bassi as a response to the growing tourism demand
The registered accommodation capacity has grown really modestly compared to the growth of tourism demand in the area. Therefore, threre is a need for high-quality accommodation for all year round.  Tenhunen informs that at the moment Hotel Bassi is looking for an operator and an investor.
— Preliminary plans and feasilibility study for the project has been made. The gross building area is 20 000 square meters and investment would be 38-42 million euros.
Hotel Bassi, Pyhätunturi
108 rooms
135 apartments (chalet)
Spa
Gross building area 20 000 sqm
Budget 38-42 milj €
Contact
Pelkosenniemi municipality
Mika Tenhunen
mika.tenhunen@pelkosenniemi.fi
Tel. +358 40 195 0488