Whether you want to spend your holiday relaxing in the absolute silence and peace of nature, enjoying breathtaking views, or feeling a rush of adrenaline on our well-groomed slopes, Syöte hills and the surroundings: greater Pudasjärvi & Taivalkoski area is the place for you! You can get in touch with nature in the endless summer sun and have a good old-fashioned feast of reindeer afterwards.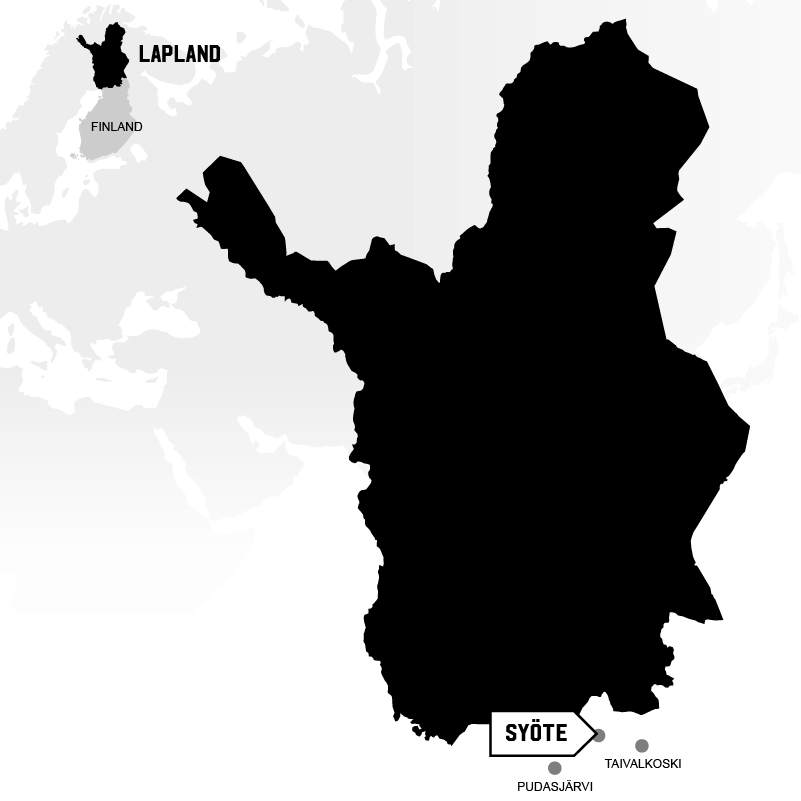 How to get here?
Flying to Syöte is a breeze, with the international Kuusamo airport only 1.5 hours away by bus or car. The Rovaniemi and Oulu airports are also not far, giving you the perfect chance to enjoy the endless rolling landscapes and Arctic nature.
Speed across the snow!
With a motto like "Winter Wonderland," you know you're in for some snow. But the Pudasjärvi municipality actually gets the most snow in all of Finland, year after year. This makes the region the best place for any kind of skiing holiday.
The Iso-Syöte Ski Resort lies atop Finland's southernmost fell, at the southern end of the Syöte National Park. This ski resort, and its neighbor Pikku-Syöte, feature 26 downhill skiing slopes, with gentle rides for beginners and harder slopes for intermediaries. Check out SnowWorld for family skiing, or the backslopes, if you're more into freeriding. Isö-Syöte is also home to Finland's longest versatile terrain park (1000m). Pikku-Syöte has 9 slopes, all rated for beginners, perfect to hone your skills before tackling a 1500m monster on Iso-Syöte.
Speaking of jumps, about an hour east of the village of Pudasjärvi lies the Taivalvaara Ski Resort in Taivalkoski. The ski resort is home to several ski jumps, ranging in difficulty from jumps for beginners and children (K10) all the way to world class jumps (K73). You can even get pointers from by World champion Tapio Räisänen. Dozens of kilometers of ski trails criss-cross Pudasjärvi village's beautiful untouched landscape and frozen waterways, including Lake Pudasjärvi.
When the snow melts, green unspoiled nature asserts itself. Escape the bustle and pedal to the top of Finland's southernmost fells to see the natural beauty growing far and away. Iso-Syöte is a hub for mountain bikers, as Finland's southernmost fells offers both challenges and rewards. Iso-Syöte is even home to a Bike Hotel Concept, which offers accommodation and services centered around the idea of mountain biking. Every summer, hundreds of mountain bikers climb the fells of the Syöte National Park under the Midnight Sun and compete in the Syöte MTB mountain bike race.
If you'd rather slow down than speed up, spend your days collecting cloudberries, blueberries, milkcap mushrooms and more. However you choose to spend your holiday, all of nature is on offer.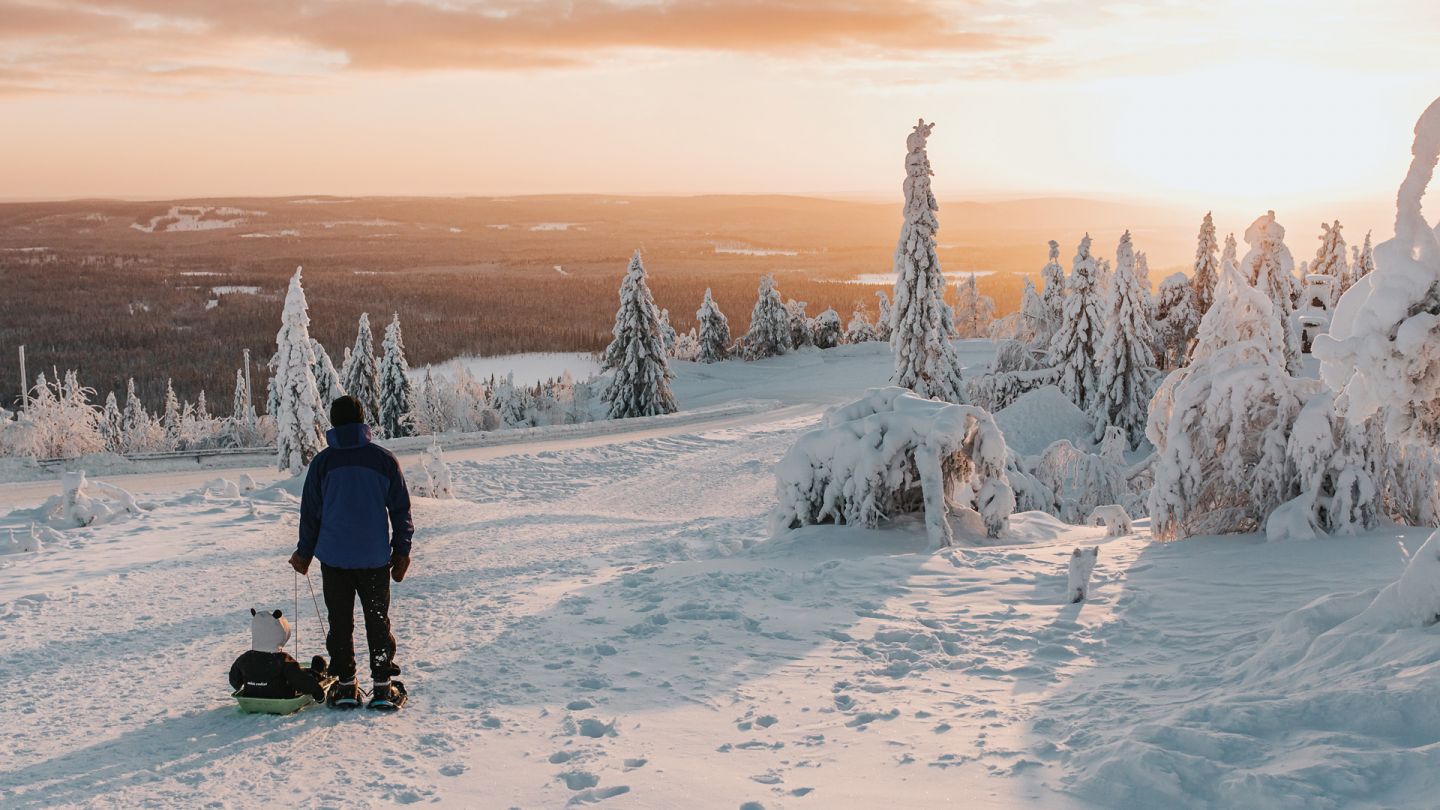 Photo by:
Marjaana Tasala | Visit Finland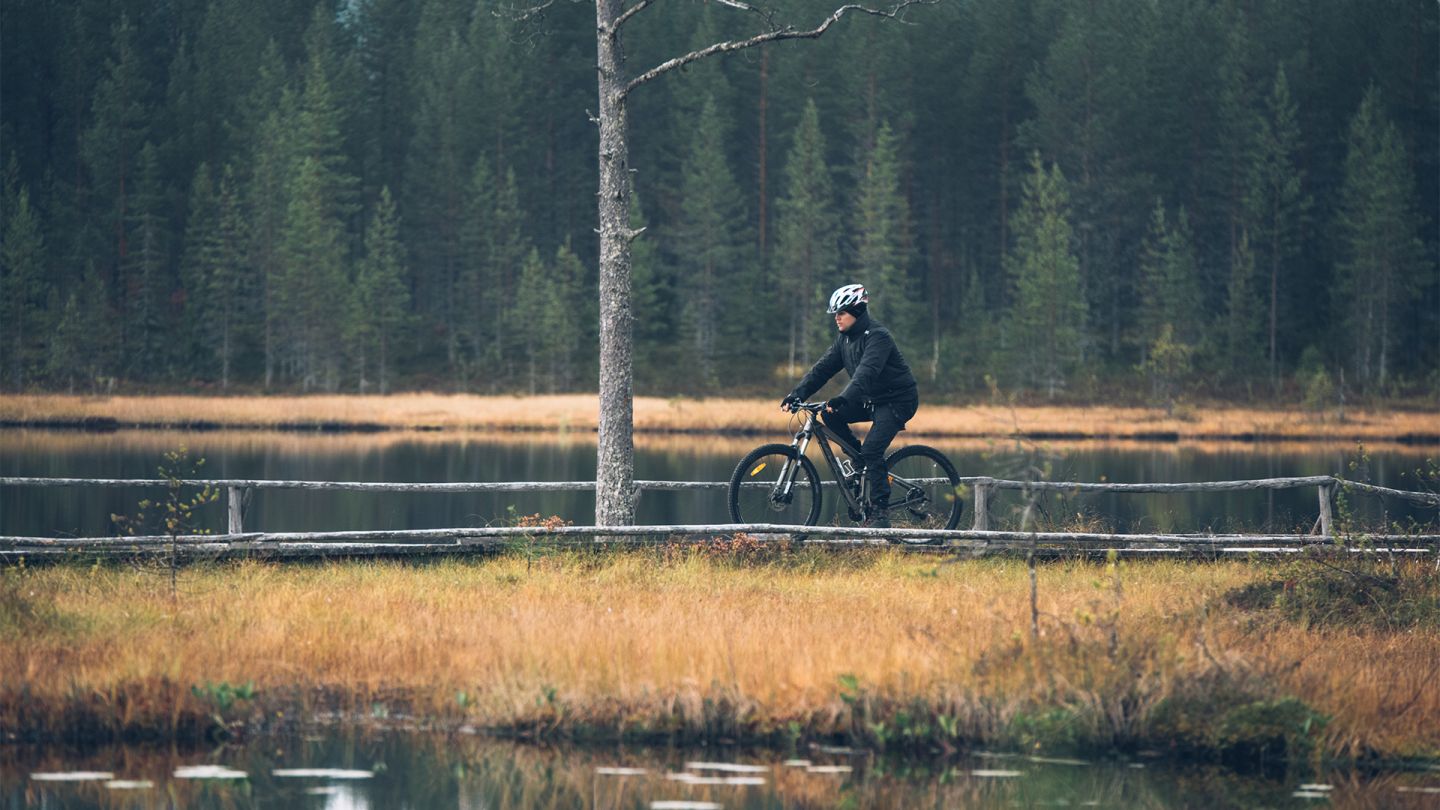 Photo by:
Photo by Eeva Mäkinen | Lapland Material Bank
Safaris & Sauteed Reindeer
What would a winter wonderland be without reindeer? Or husky rides? The holiday resorts throughout Syöte, Pudasjärvi  and Taivalkoski offer sledge rides pulled by either Santa's helpers or man's best friends! Or, if you want more speed, take a snowmobile safari and speed out across the unbroken snow. After a hard day playing in the snow, get a massage and melt into a hot tub at the Arctic Spa.
At the Hotel Iso-Syöte Panorama Restaurant, enjoy sauteed reindeer and an unparalleled view of the fells. In between skiing and snowmobiling, grab a pizza in Pikku-Syöte. When the sun goes down, grab a beer and sing your heart out at karaoke night!
In Taivalkoski, you can visit the oldest shop in all of Finland, Jalavankauppa, for coffee or a taste of 19th century Finland. (Note to travelers: Jalavankauppa no longer accepts imperial rubles or squirrel hides as currency.) Fans of literature may want to visit Kallioniemi, the childhood home of Kalle Päätalo, the most popular Finnish writer of the 20th century.
When night falls, rest your head in comfort and privacy at Iso-Syöte in one of their felltop cabins. The recently rebuilt Hotel Iso-Syöte has a range of Aurora View suites, with their revamped Eagle View Suite, Bear Cave Suite and appropriately named Phoenix Suite opening later this year. On the neighboring fell, Hotel Pikku-Syöte offers rooms with your own private sauna and a commanding view of the Arctic hilltops–from virtually every room! In Taivalkoski, the Kuuharju chalets combine rustic accommodation with easy access to sports and activities all year around.
Travel to Syöte & Pudasjärvi & Taivalkoski
Flying to Syöte is a breeze, with the international Kuusamo airport only 1.5 hours away by bus or car. The Rovaniemi and Oulu airports are also not far, giving you the perfect chance to enjoy the endless rolling landscapes and Arctic nature.
Syöte, Pudasjärvi and Taivalkoski all along Road 20, which connects Oulu (intersects with E8) and Kuusamo (E63). From Oulu, it's about 1 hours by car, and from Kuusamo, only 1.5 hours. If you're coming from the north, Rovaniemi lies about 2 hours away from Pudasjärvi.
If you're driving in winter, you might want to check out our guide on Driving in Winter.
Need more on Syöte, Pudasjärvi and Taivalkoski? Visit Syöte and follow the stories in Instagram  for Iso-Syöte and Pikkusyöte.