Let us tease your taste buds! We've collected 8 of the coolest Arctic eateries—from laid-back burger places to fancy restaurants boasting local ingredients, all with a unique atmosphere and culinary twist.
Hotel Kultahovi – pure local ingredients
Restaurant Aanaar boasts local ingredients. Fish come directly from local fishermen and reindeer from local herders, while wild herbs, such as garden angelica, come from the surrounding area.
Restaurant Aanaar is ranked eighth in Finland on the White Guide Nordic, which lists the best restaurants in the Nordic countries. No wonder it is famous for quality cooking among locals and tourists alike.
The dining experience is compounded by great views over the lowest rapids of the Juutuanjoki river in downtown Inari.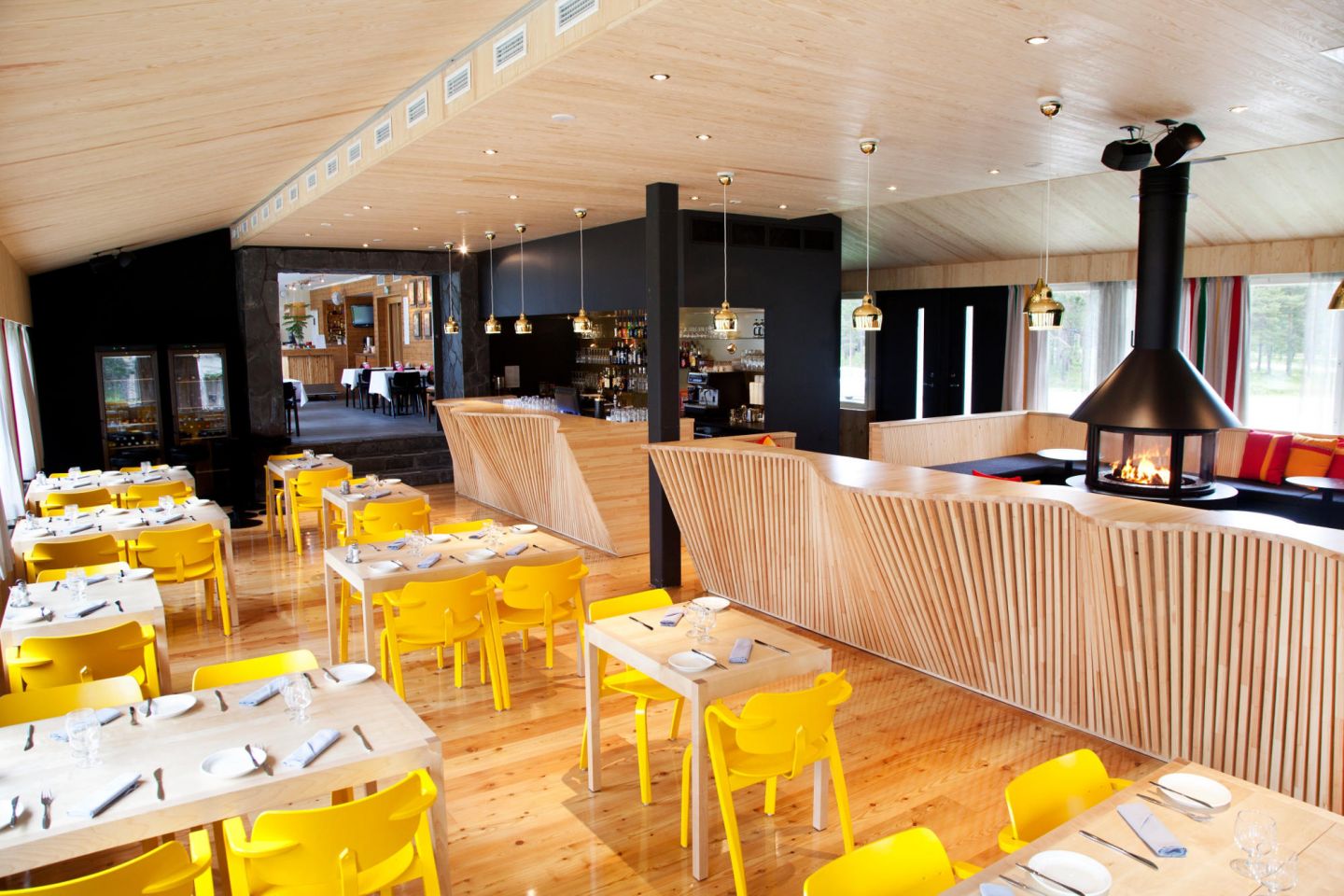 Rakas – love and be loved
Only a 10 minute drive from downtown Rovaniemi lies a restaurant which provides food for all sensibilities. Restaurant Rakas, which literally means 'darling' or 'sweetheart', has an inviting lounge with a fireplace and ambient music. The dark-toned decor combines typical Scandinavian simplicity with interesting details such as pine cone shaped lampshades.
The menu includes traditional Lapland dishes like fish, reindeer, wild berries and mushrooms with a modern twist. Even the ice cream for dessert is local.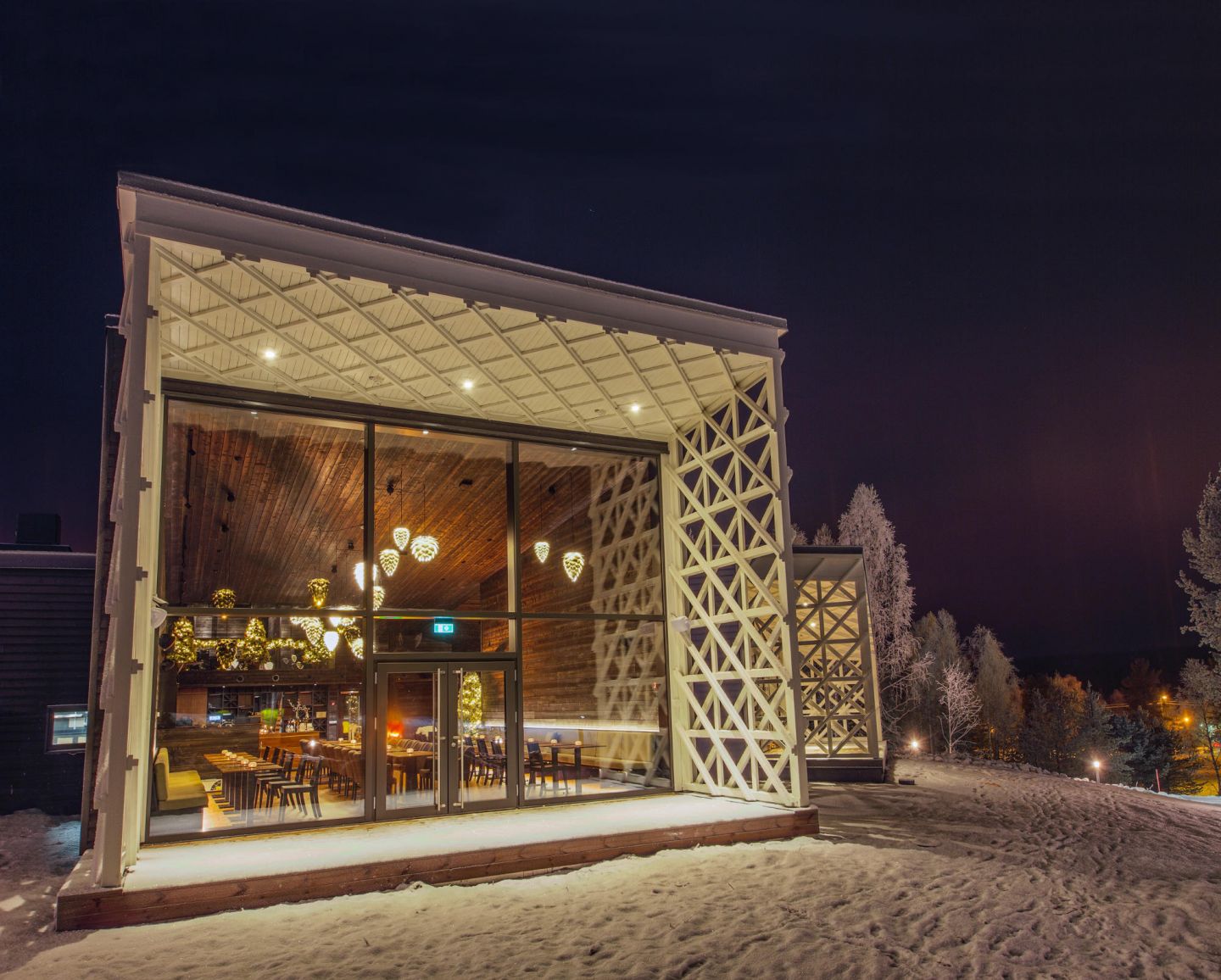 Photo by:
Rakas Restaurant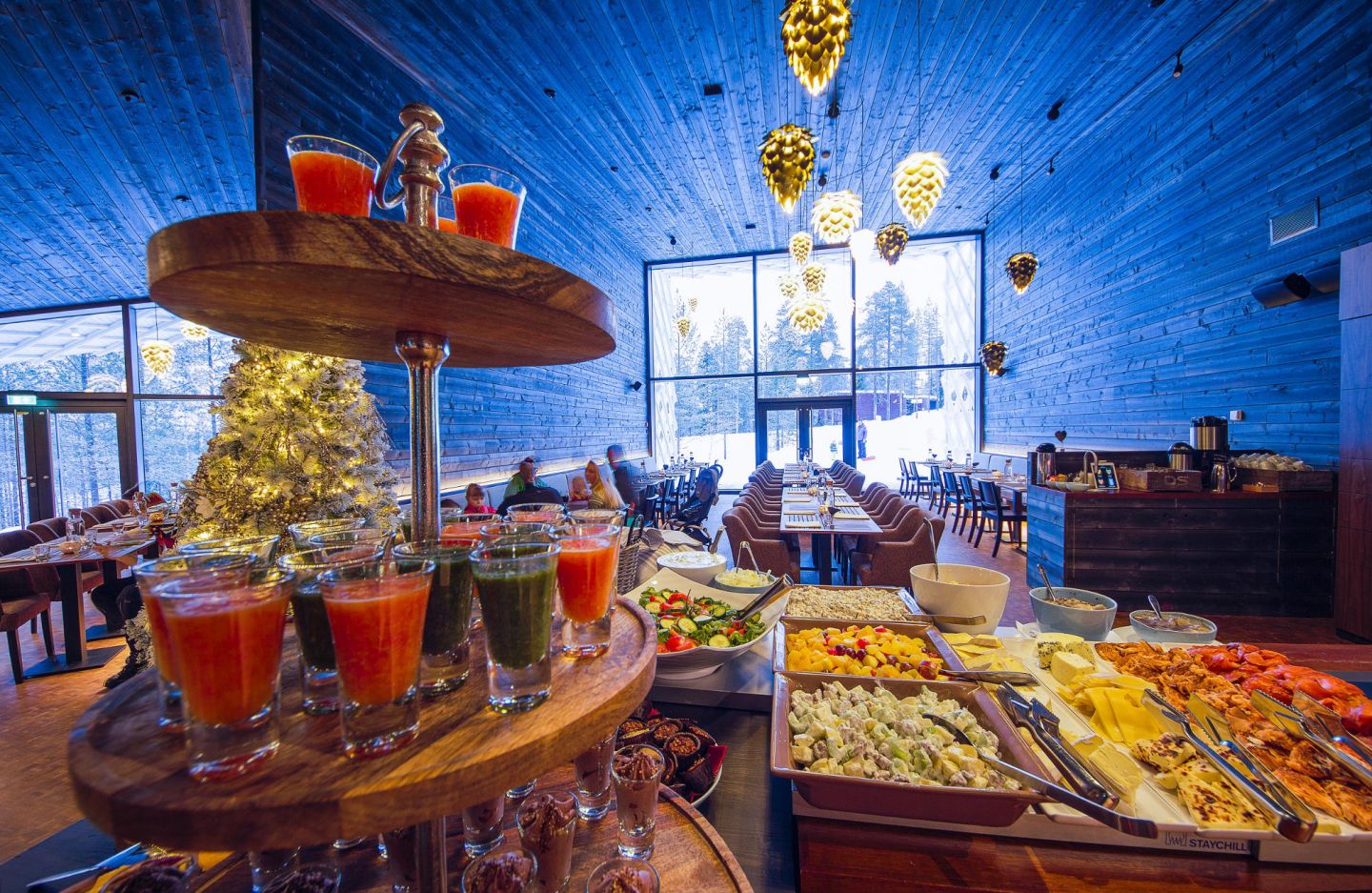 Photo by:
Rakas Restaurant
Restaurant Deatnu – delicacies by the river
The famous salmon river Tenojoki is quite a setting for a meal. Restaurant Deatnu (the Sámi word meaning Teno) lies next to this mighty river, so you can count on fresh fish.
The wide and vast wilderness of Utsjoki provides a unique source for ingredients used in the traditional Sámi dishes.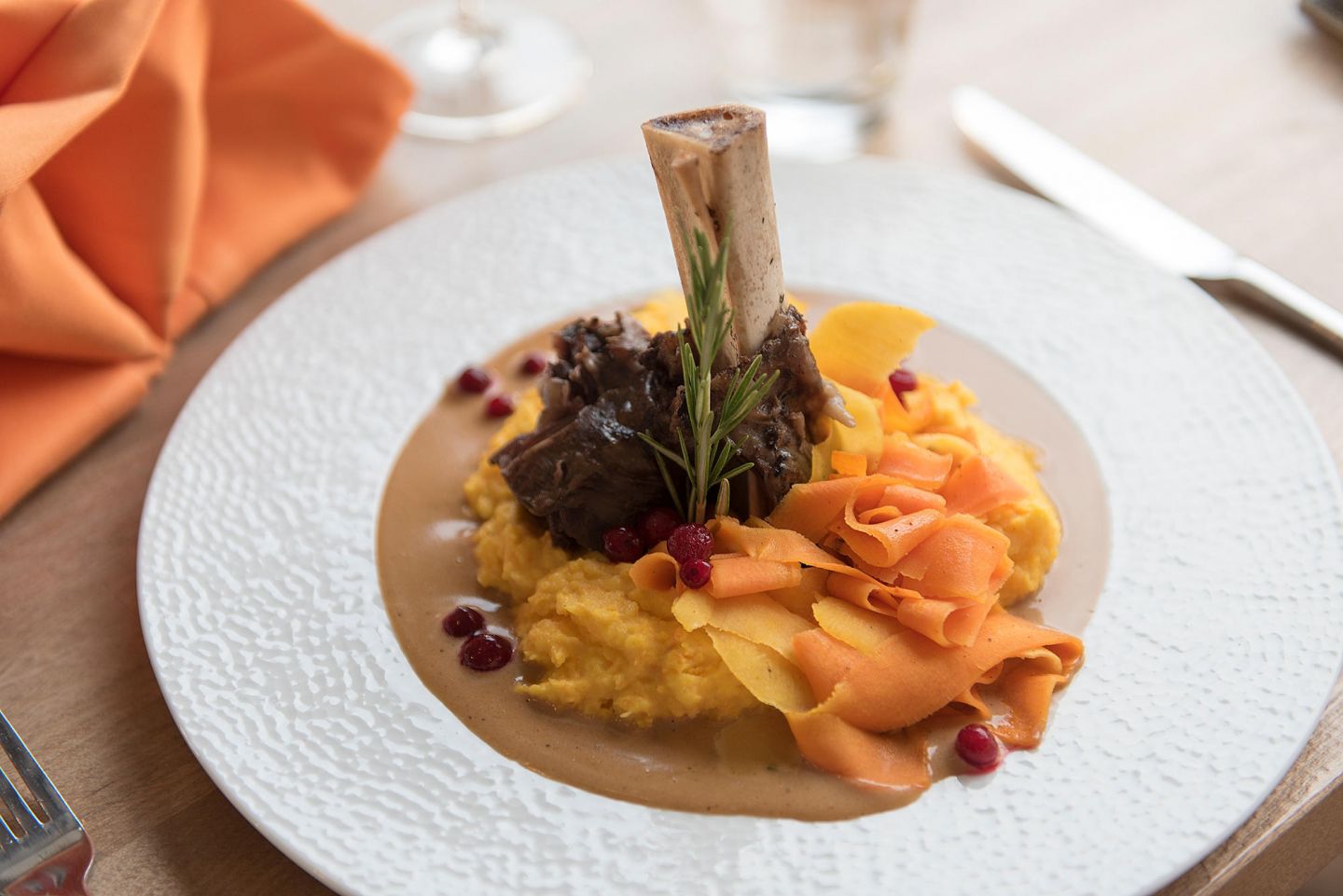 Photo by:
Restaurant Deatnu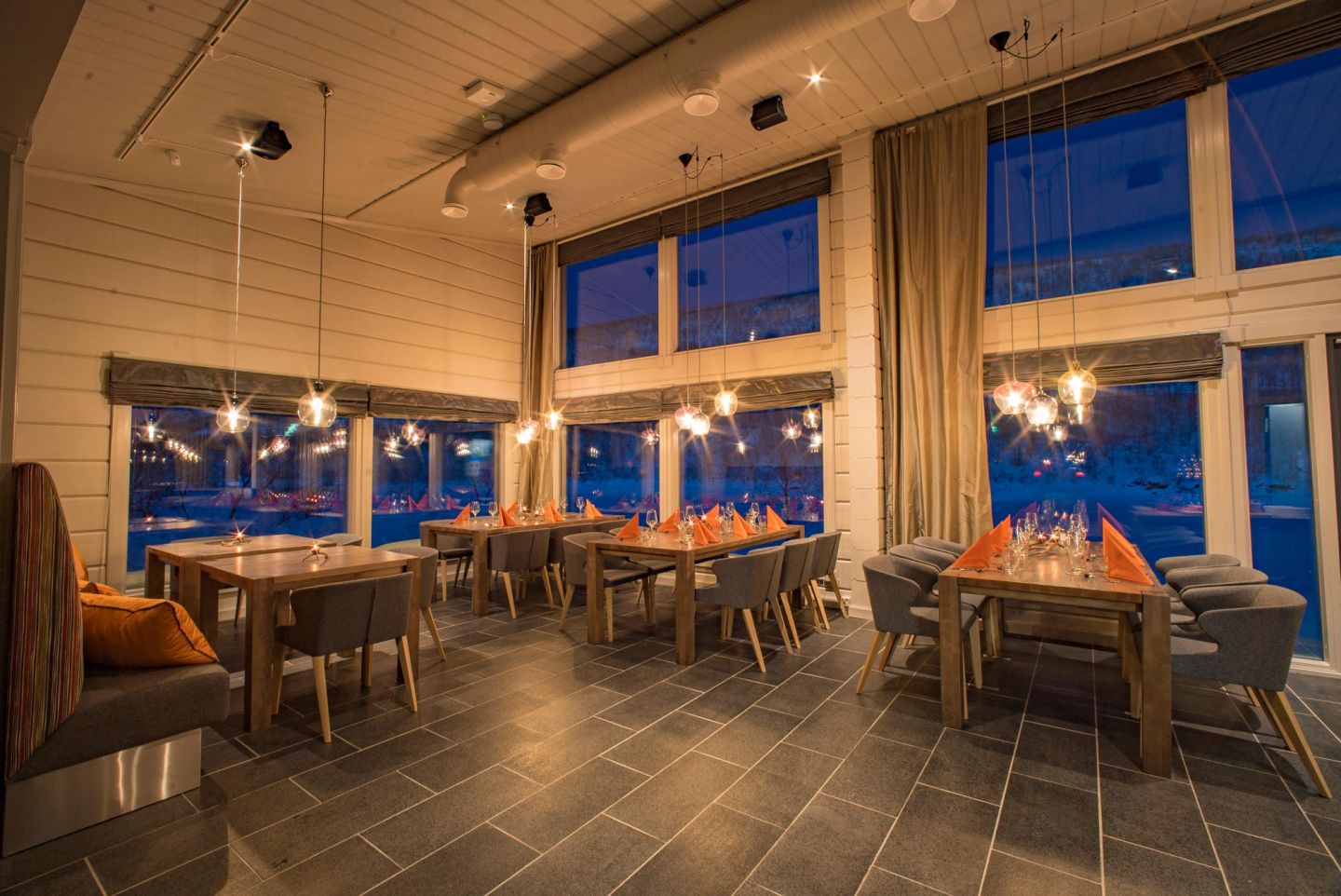 Photo by:
Restaurant Deatnu
Tsokka – delicacies with a view
Fancy a waffle? At restaurant Tsokka on top of Kultakero fell in Pyhä you will not only get a tasty waffle with sweet or savory fillings, but also breathtaking views over rugged arctic nature. Another delicacy to try out are the teepee-shaped donuts baked every morning, so you can count of freshness.
If a hike up to the top sounds like too much, no worries. The Pyhä Express ski lift takes you up and down while you just enjoy the views.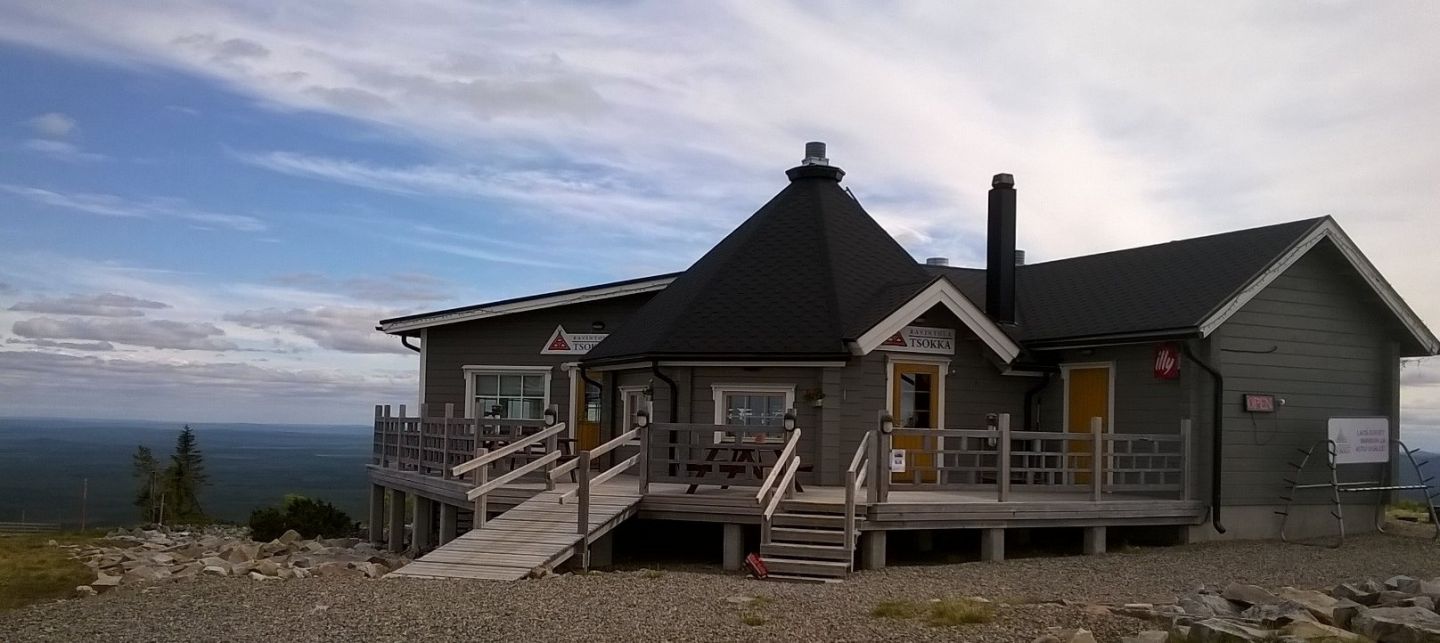 Photo by:
Restaurant Tsokka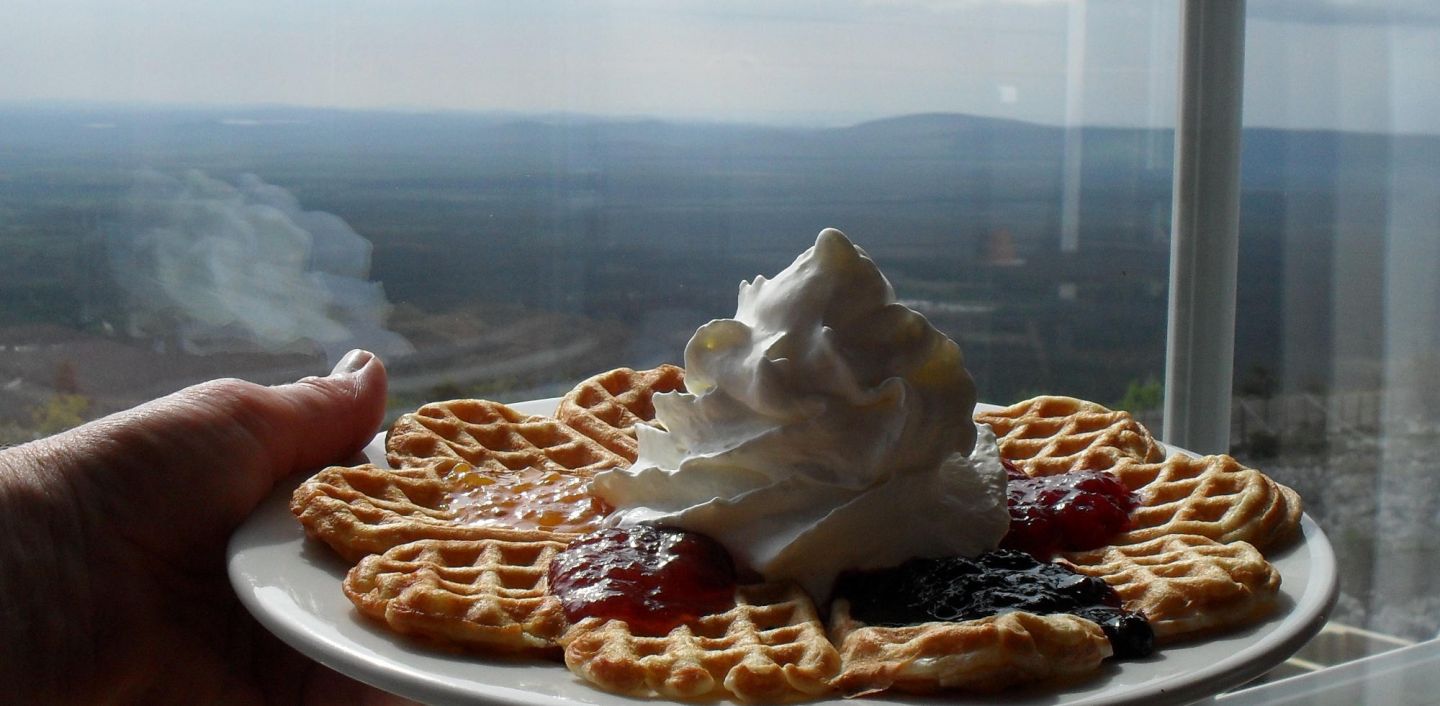 Photo by:
Restaurant Tsokka
Keloravintola – log cabin ambiance
It's easy to work up an appetite near Sallatunturi, whether you're skiing in the winter or hiking in the summer. Luckily, the log cabin restaurant Keloravintola is there to offer something fresh and delicious. This Green Key– and Sustainable Travel Finland-certified restaurant is committed to offering dishes that apply culinary imagination with the unmistakable flavors of Finnish nature.
Try a pizza topped with smoked and sauteed reindeer, or salmon and reindeer trout pasta. Both the reindeer and the fish are locally sourced.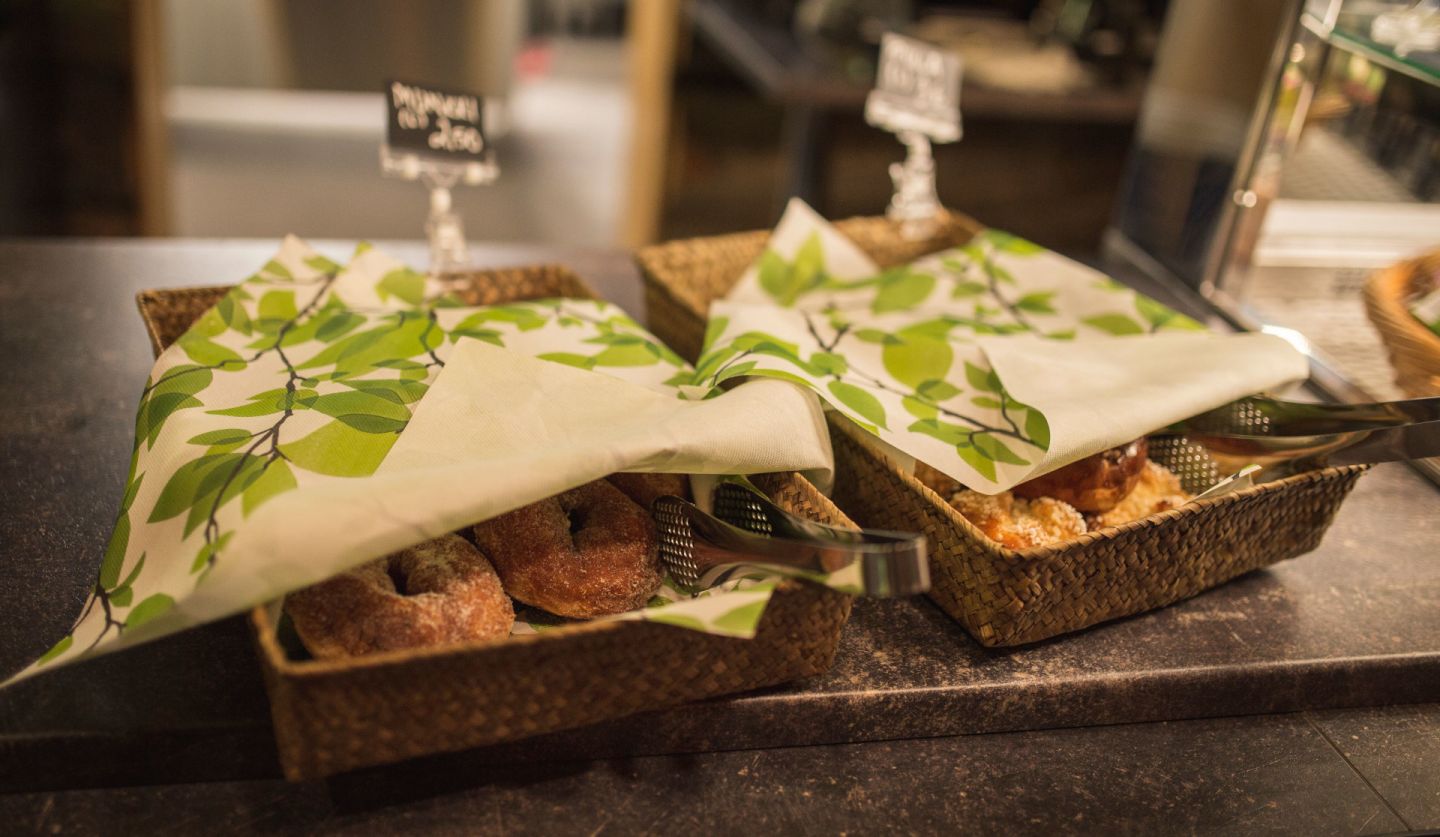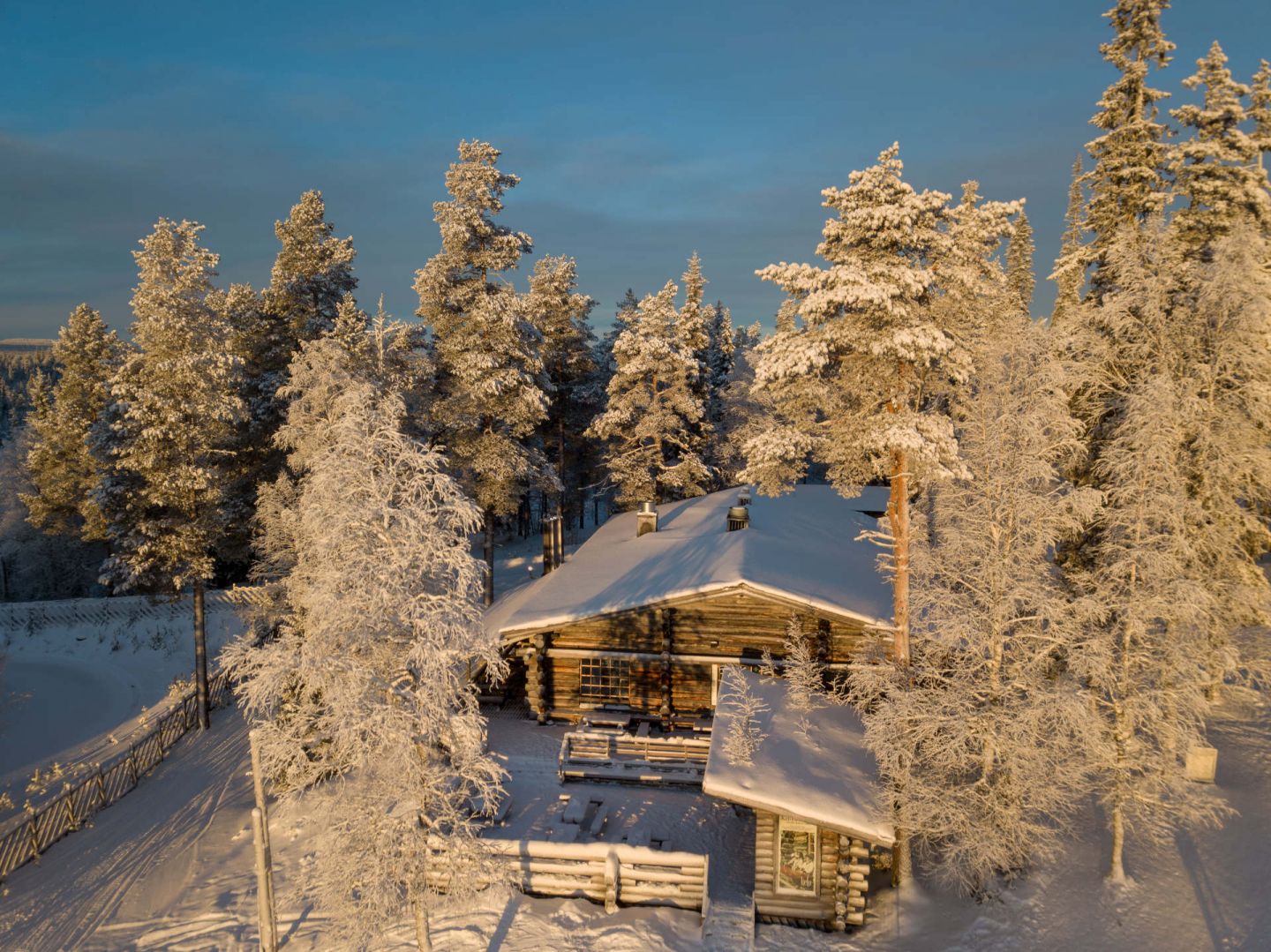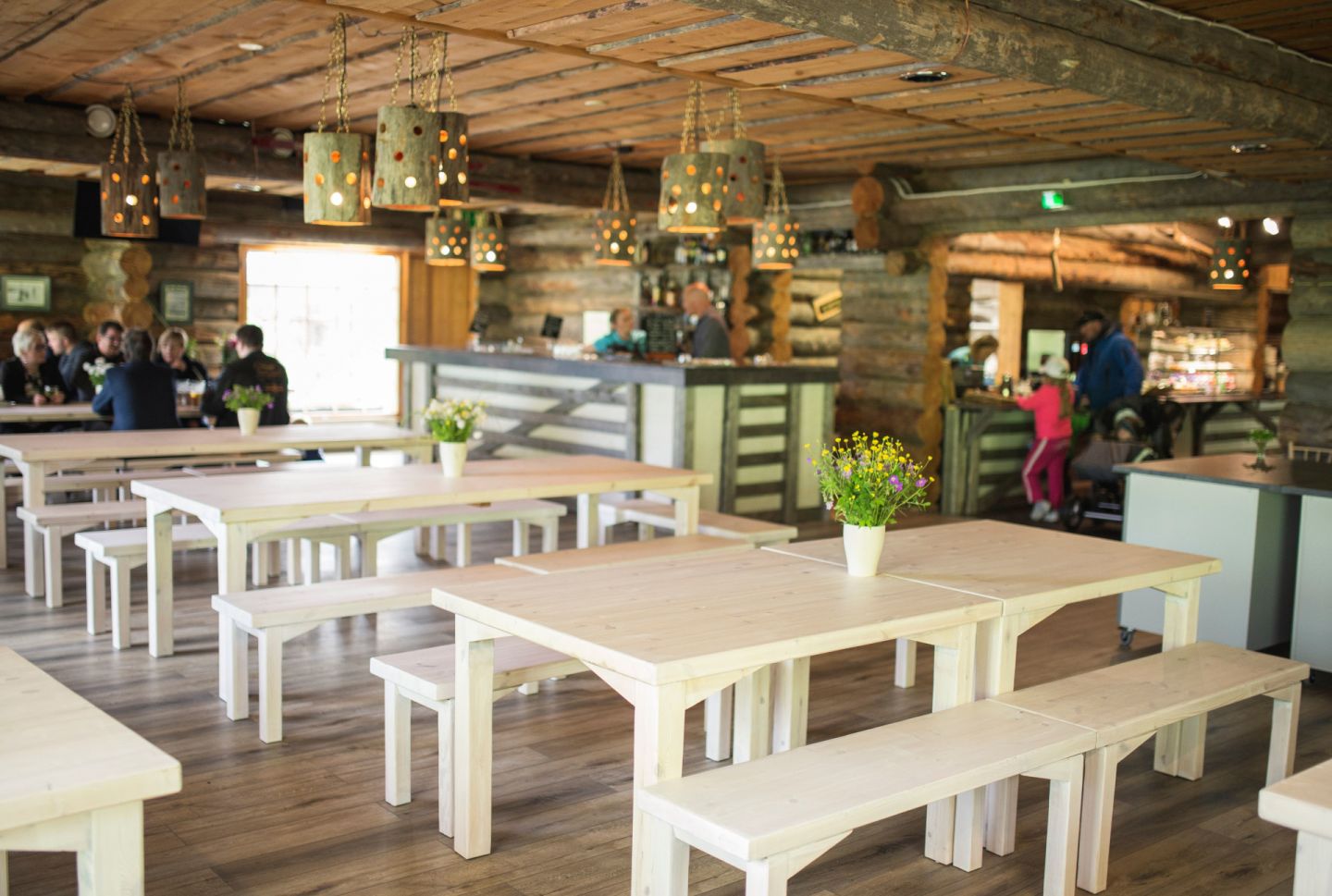 Restaurant Kammari – come as you are
Restaurant Kammari at the foot of Olostunturi fell is a laid-back place for both a light snack and a full course dinner. At Kammari you are never over or underdressed, just come as you are.
The hearty dishes fill the stomach and tease your taste buds. The menu offers something for everybody whether you are looking for pizza and burgers or local surprises.
The vegetarian options deserve a special mention.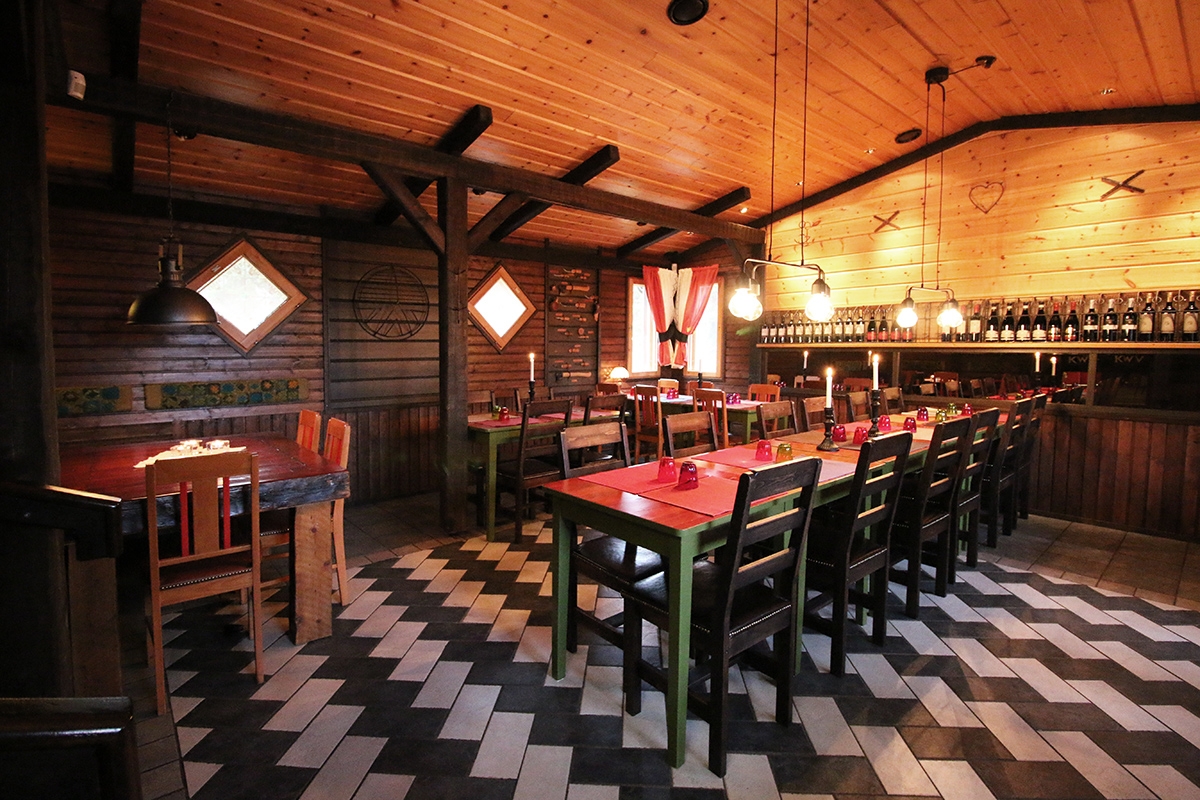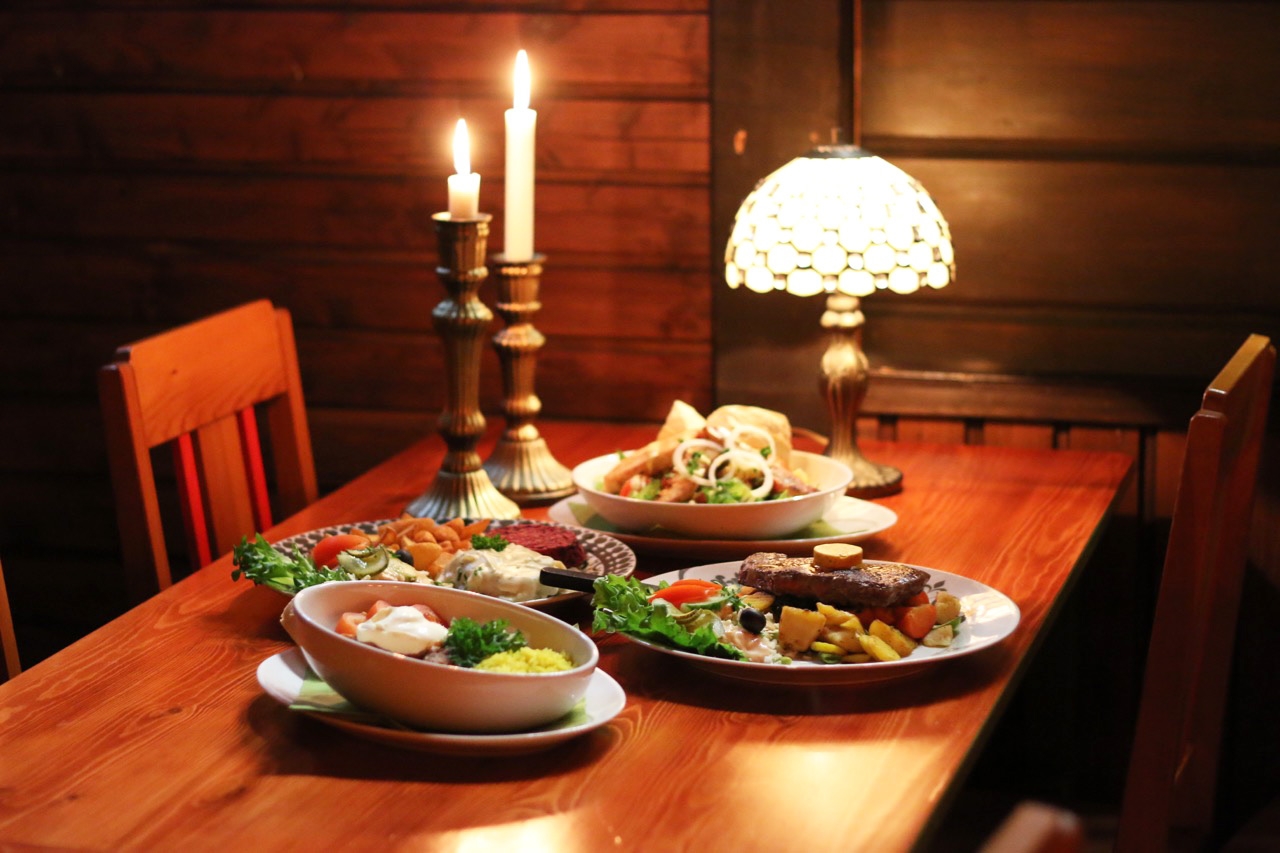 Restaurant Tapio – local and wild
Restaurant Tapio is a standalone restaurant on the grounds of the Naali Lodge in the forests of Posio. The Green Key-certified restaurant offers contemporary rustic cooking, natural wines and Finnish beer, all with a focus on nature. They source their ingredients responsibly, using local and wild ingredients where possible.
The menu is always changing, and even the restaurant owners themselves are sometimes surprised by the daily menu.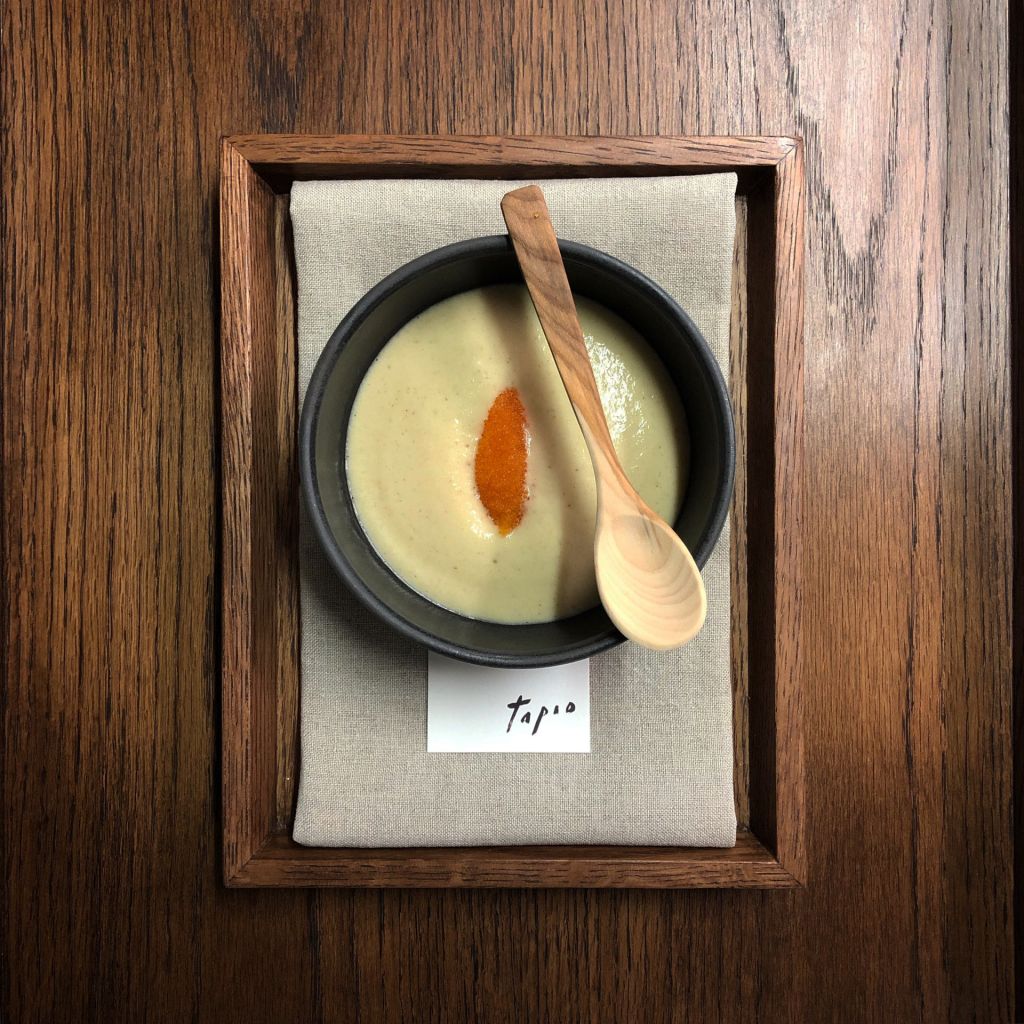 Photo by:
Restaurant Tapio
Kauppayhtiö – the café where everything is for sale
A charming old building in the capital of Lapland, Rovaniemi is home to a coffee shop like no other.
The colorful round tables of Kauppayhtiö, surrounded by groovy plastic chairs, fuzzy couches and tons of other stuff from typewriters to magazines make the place feel like your own living room. And they are all for sale.
Kauppayhtiö boasts the best burgers and stone oven pizzas in town. Vegetarians will find their own interesting options. Coffee and tea are served in a wide variety of tastes.