We may have swapped airtight hides & hollowed out logs for fiberglass & carbon fiber, but the thrill of exploring Lapland's waters by kayaking, canoeing and rafting hasn't changed.
The water giggles softly around you as you slice through the water, like a Lapland shark. The forests glide by as you get into the rhythm of rowing. The warm sun hovers in the sky, even when the rest of the world is sleeping. This is Arctic exploration by water, by kayaking, canoeing or rafting.
Kayaking Lapland
Finland is known as the Land of a Thousand Lakes, though it's more accurate to say Land of 100,000 Lakes. And Lapland, which takes up about 50% of Finland, has its fair share of lakes, great and small, not to mention long, wide rivers and the open sea. And a great way to explore Lapland's waters is kayaking.
Summon your inner salmon and traverse the Teno river, which begins about as far north as Finland goes. You'll straddle the border with Norway as you take in the sparse, stunted vegetation and bald fells. There's nowhere else in the world you could be but the tundra. Spend a few hours on the water, or take a week-long adventure and head to Utsjoki (130 km), then Nuorgam (150 km), where you can turn back … or continue to Tanafjord (200 km) and the Arctic Ocean.
At the other end of Lapland, you can simply start in the sea, or more specifically the Bay of Bothnia.
Starting from Kemi's old harbor, you'll secure your gear, strap on a life preserver and head out into the bay. The archipelago features both huge, forested islands, and glorified rocks that birds use as rest stops. Pull your boat onto a gravelly beach and have a cup of campfire coffee. You might even see a seal or two.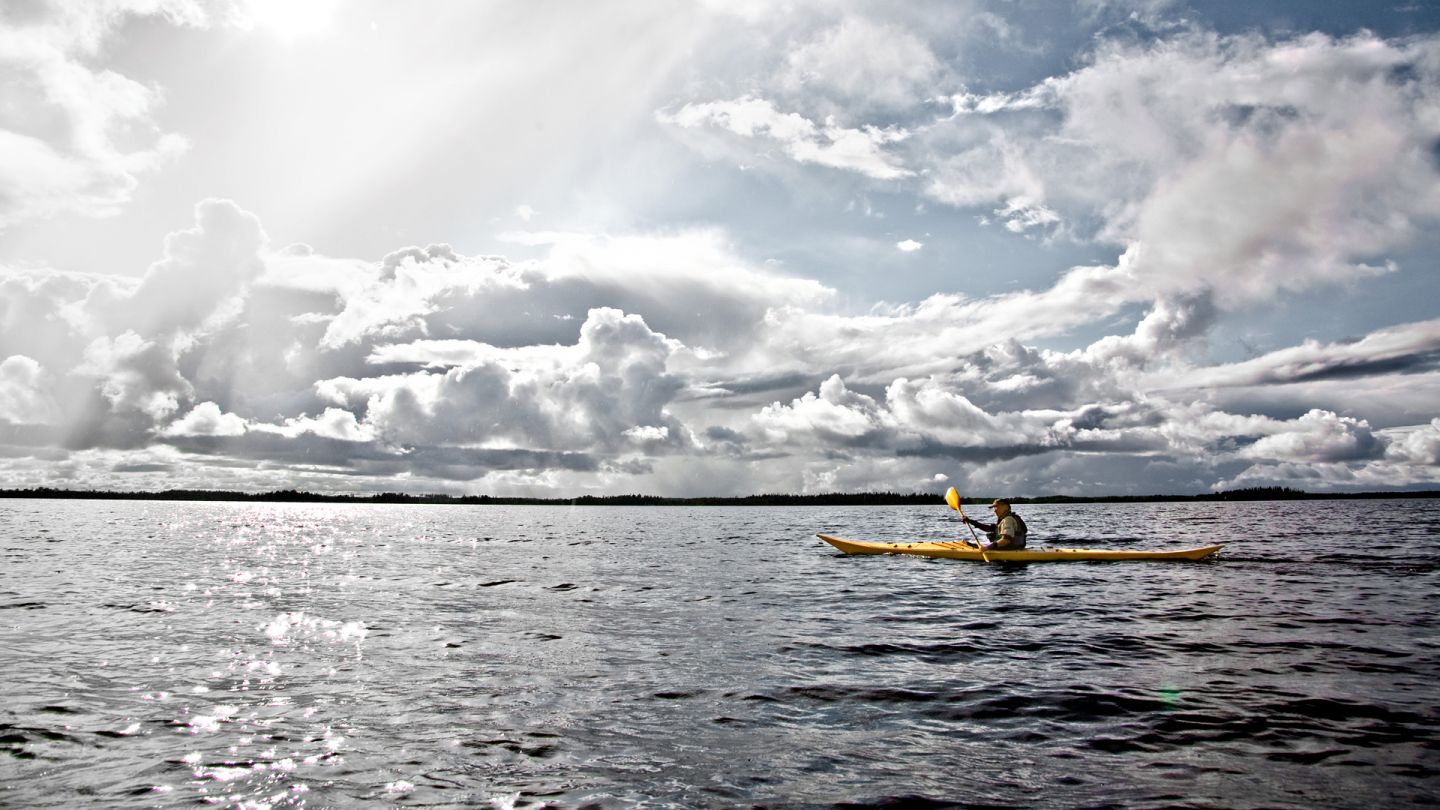 Photo by:
Lapland Material Bank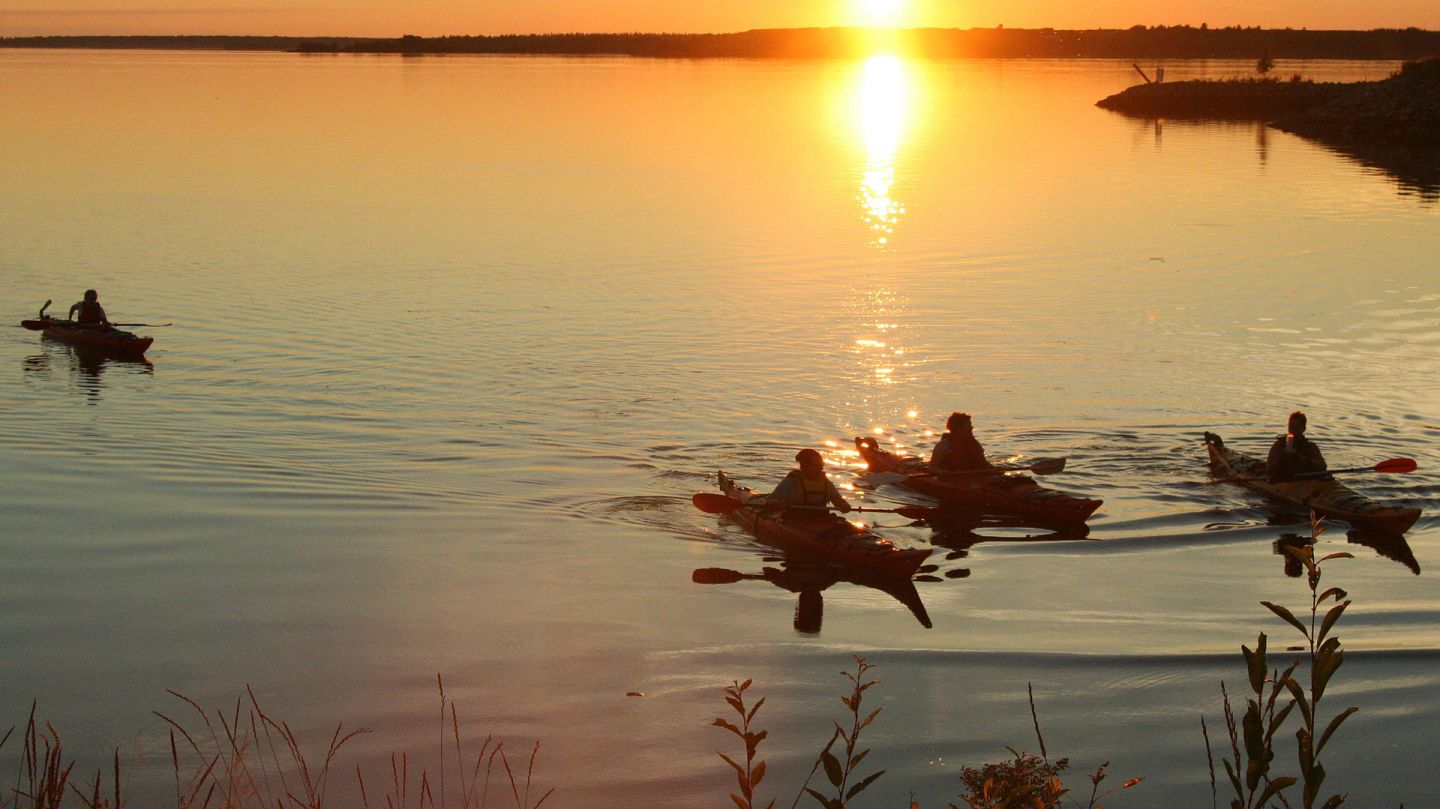 By Canoe
If kayaking has one drawback, it's the small number of people that can ride in one simultaneously. Luckily, our friends in the Netherlands came up with the solution about 10,000 years ago: the canoe! Lapland's backwoods rivers and lakes are perfect for canoeing, no matter your level of experience. Take the kids or take the plunge.
Perhaps the most popular canoeing area in Lapland is Muonio. One look at a map, and you'll see why. The Muonio river, Muonio Lake, Olos Lake, Äkäsjoki river … you could spend months exploring these Arctic waterways and still not know them all. Whether you've never set foot in a canoe, or you have "Grumman" tattooed on your chest, you'll find a great canoe adventure in Muonio.
Of course, canoeing is not confined to Muonio. Take the kids for a gentle canoe trip down Tankajoki river in Sompio. Or if it's a challenge you're after, spend a week tackling the rapids of Ivalojoki river in Inari. Farther north, you can traverse the same routes as intrepid golddiggers. The Lemmenjoki route lasts up to a week, revealing secret coves, lush shores and riverside settlements. In the wilds of Savukoski, you'll find Class I rivers perfect for beginners who want to delve deeper into Arctic waterways.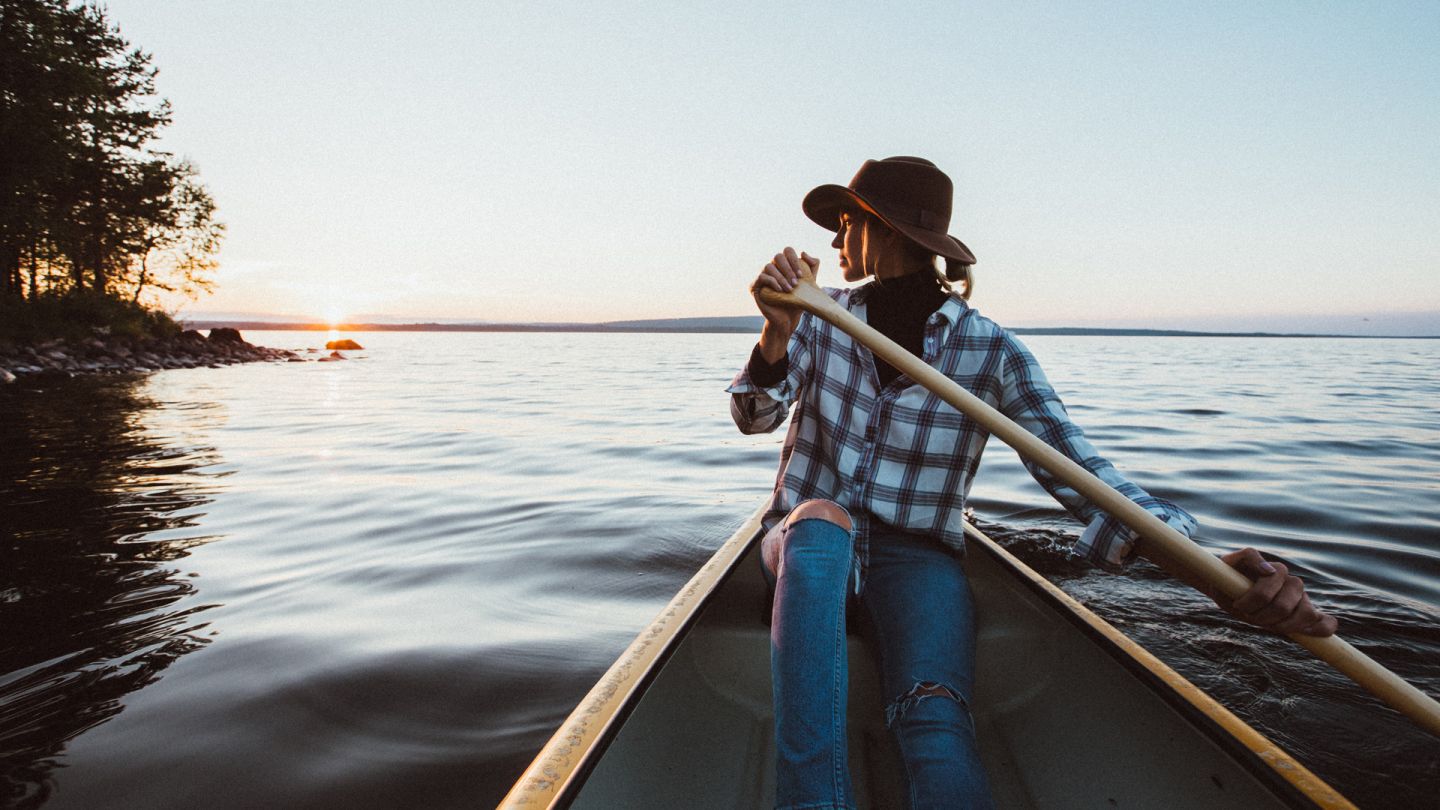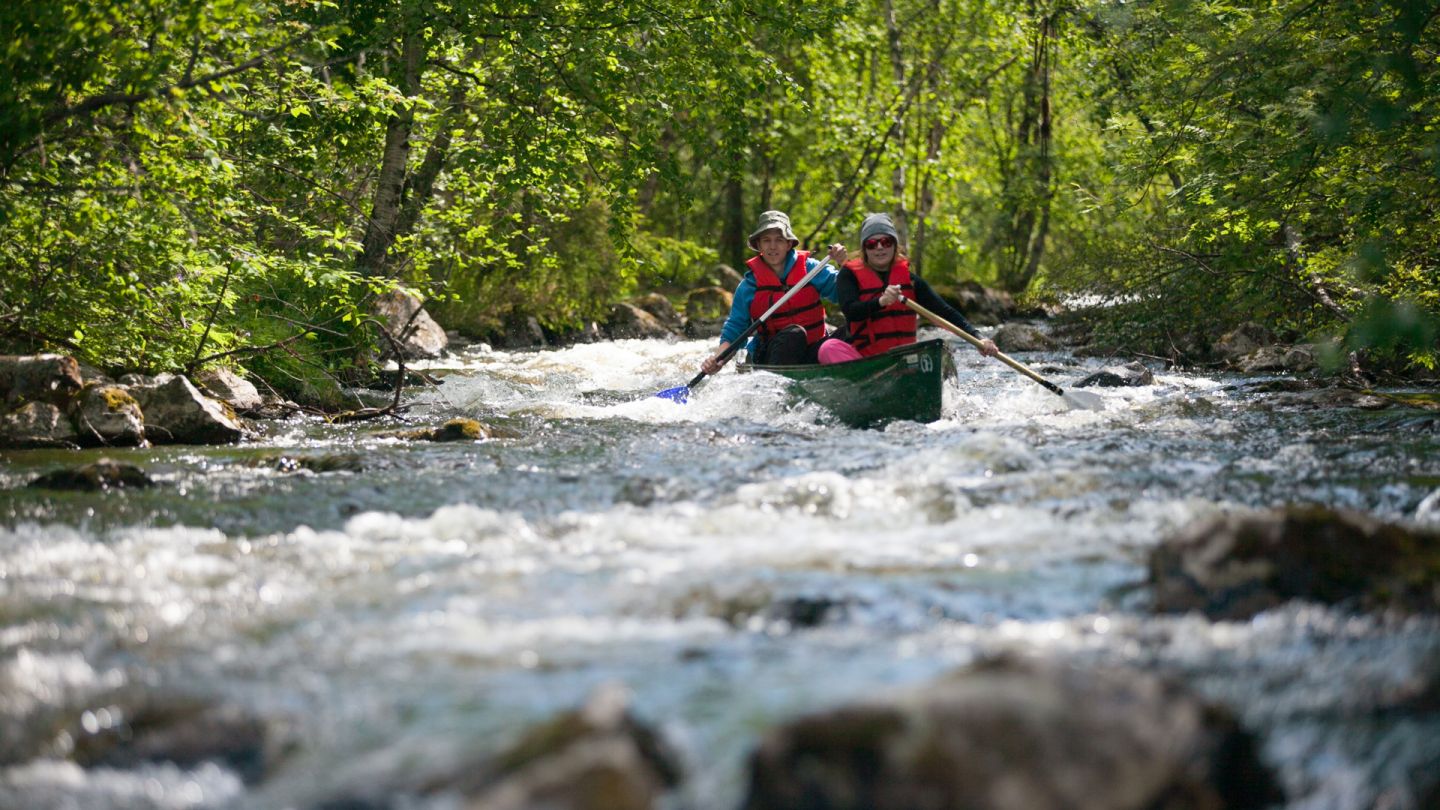 Photo by:
Antti Pietikäinen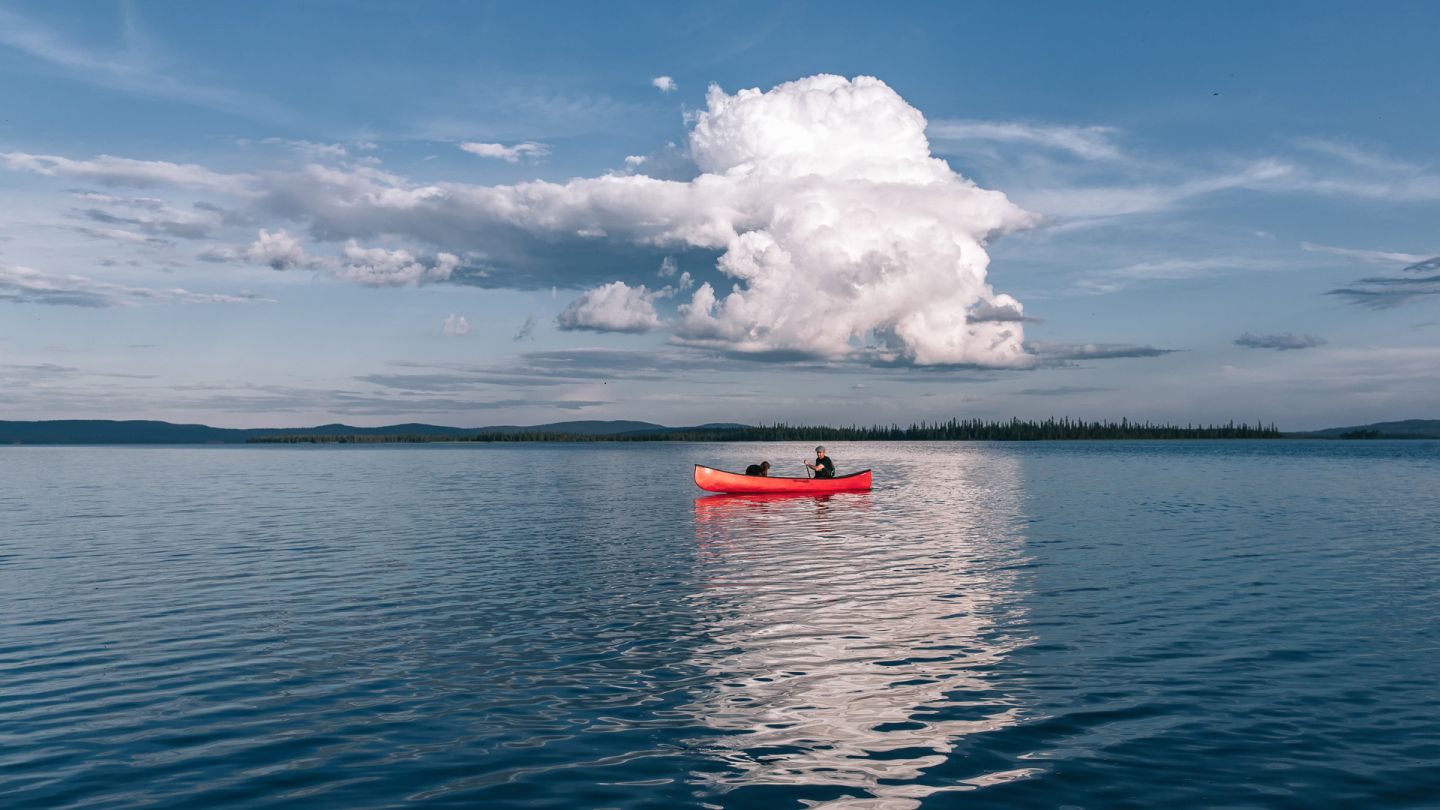 Paddling a Raft or Rowboat
There's almost no water in Lapland where you won't find rowboats floating along. Some do it for exercise, others simple recreation, and a great many love to fish the bountiful lakes and rivers.
The Tornio River is Finland's salmon fishing paradise, and fishermen from all over the world love to head out to the backwaters, rapids and sidestreams of Europe's longest free-flowing river to try their luck. Fishermen in Pello have their choice of experienced local companies with the latest technology or just tried-and-true traditional border valley fishing boats and tackle. Even if you don't catch a salmon the size of a toddler, you'll enjoy the river ambience of a Nightless Night.
But fishing's not for everyone, and sometimes you want more than paddling, more than serene waters and verdant vistas. Sometimes you want speed, excitement, the challenge of the rapids. And Lapland has a whitewater raft with your name on it.
In the far-flung corners of Lapland, the land begins to rise as the fells rise to meet the Scandinavian Mountains. Here in Kilpisjärvi you'll climb into a raft and pit yourself against the mighty Könkömöeno river, as tundra landscapes whirl by. On the other side of the country, rapids will try their best to fling you from your rubber perch into the Juutua river in Inari-Saariselkä. And the border rapids at Muonio are an adventure suitable for the whole family.
The Oulanka National Park and its surroundings feature whitewater rapids and river runs ranging from a family outing to the adventure of a lifetime. Take the kids on an memorable trip down the seven rapids of Kitkajoki river. Head toward the epic wilds of the Finnish-Russian border. Or strap on a helmet and challenge the largest rapids in Kuusamo.
In Savukoski, the Nuorttijoki river offers Class I and Class II rapids for those who desire a bit of rough and tumble with their river journeys.
But Lapland's best feature is that wilderness and adventure are literally around every corner. Not 25 km from downtown Rovaniemi, the capital of Finnish Lapland, you can hop in a boat at Vikajärvi and get your blood pumping. Take a break and cook some sausages over a campfire before heading back onto the turbulent waters.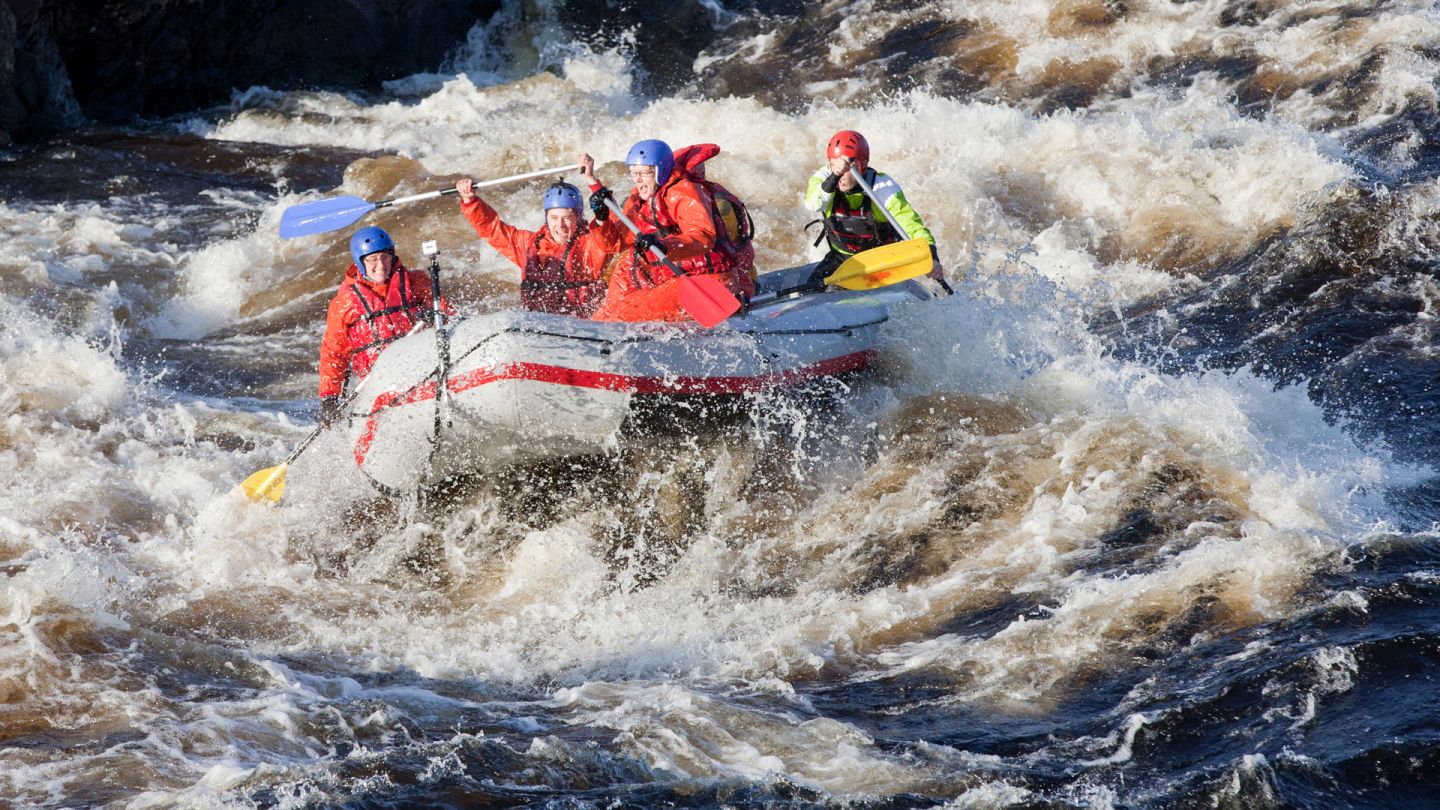 Photo by:
Antti Pietikäinen | Lapland Material Bank
Photo by:
Antti Pietikäinen | Lapland Material Bank